(Source: Facebook.com/OnTheBasisOfSex) 
Some of my favorite movies are those based on true stories. I was looking forward to seeing On the Basis of Sex which is inspired by the life and early cases of Supreme Court Justice Ruth Bader Ginsburg. I went to the screening last night and the film did not disappoint. It was entertaining and interesting.
The movie covers Ginsburg's time at Harvard Law School, where she was one of only nine women in a class of five hundred students. During her time at Harvard, she was married and a new mother. Her husband was also a law student at the school and became ill. Ginsburg helps him with his courses, while also continuing with her courses and caring for their young daughter. During her time at Harvard she experienced sexism, yet she was able to excel and be on the Harvard Law Review which is reserved only for students which are top of their class.
After graduating from law school, she struggles to find a job as an attorney at a law firm. She accepts the position of law professor and begins her career as an educator, yet she continues to have the desire to practice law as an attorney. It is when Ginsburg and her husband, attorney Martin Ginsburg, take on a groundbreaking tax case that her career changes direction.
The movie covers mostly her time at Harvard, the good marriage she had with her husband who was very supportive of her, her relationship with her daughter, the struggles and adversity she faces early on in her career, and the tax case which was the beginning of her work to fight for gender equality. I won't go into more details about the movie because I don't want to give away to many spoilers. The cast includes Felicity Jones as Ginsburg, Justin Theroux, Armie Hammer, Sam Waterston, and Kathy Bates.
If you don't know much about Justice Ginsburg, you may be interested in learning more about her. Her career is fascinating and has made an impact in the way the courts view gender discrimination. She is a role model not only for women, but for everyone. She has lived a life with purpose, drive, and determination. She was the second women to be appointed to the Supreme Court (appointed by President Bill Clinton) and continues to serve to this day. Many of the rulings she has made have had an impact on laws which affect many of us women and men as well. As I watched the movie it was almost unbelievable the discrimination and sexism women faced in the 60's and 70's. If you are a women or a man with a daughter or wife, or a man who care about equal rights, I highly recommend you watch this film. I went to see the film with my friend Pilar and we both enjoyed it greatly. Putting it in Pilar's word, "I hadn't seen a good movie in a long time. This movie was very good!" I am going to recommend the movie to my nieces and friends, and add it to the list of movies I want to watch with my daughter when she is older.
A surprising part of the movie for me was a brief performance by Ginsburg herself. Look for it when you see the movie. On the Basis of Sex opens today in theaters. I included a link to the trailer below. For more information on the movie and theater times, visit One The Basis of Sex. To learn more about Justice Ruth Bader Ginsburg, click here.
I hope you go see this movie. It is not only interesting and entertaining, it is inspirational! I left the movie theater feeling inspired!
Hugs,
Paola

PS: I watched the documentary RBG, produced by CNN Films, several months ago and also enjoyed it. If you haven't seen that one, you may want to look for it. It covers more of the legal legacy Justice Bader Ginsburg has accomplished during her career.
(Source: Youtube.com On The Basis Of Sex – Official Trailer Focus Features)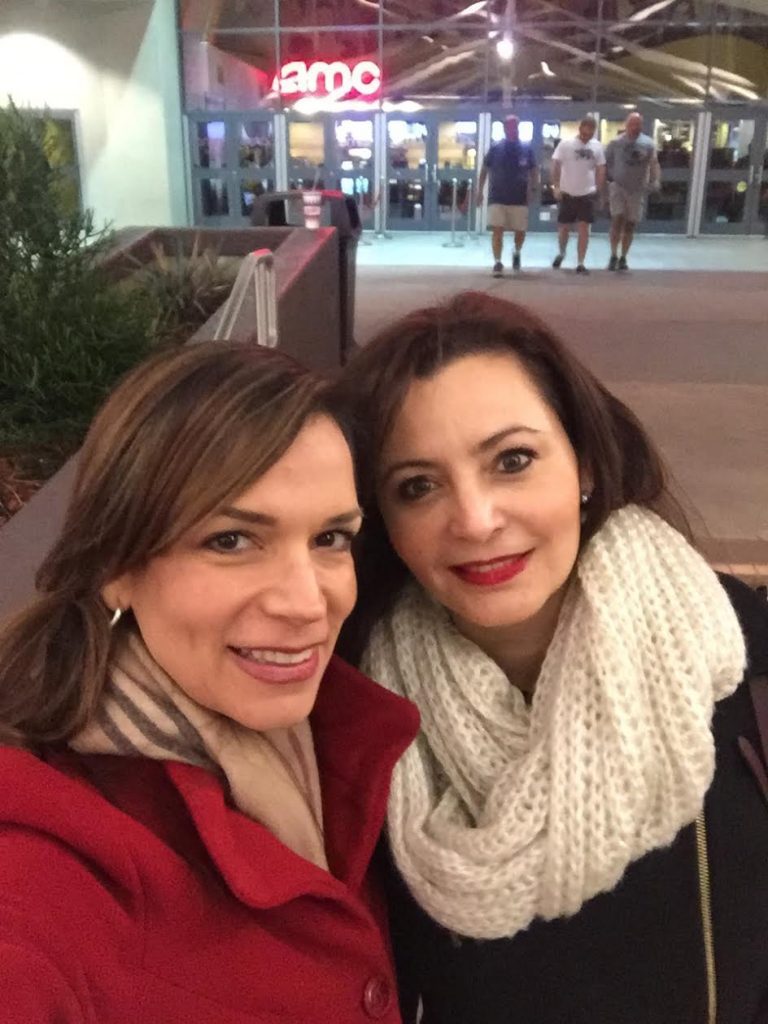 Pilar and me outside AMC Mission Valley theater, after watching the movie.