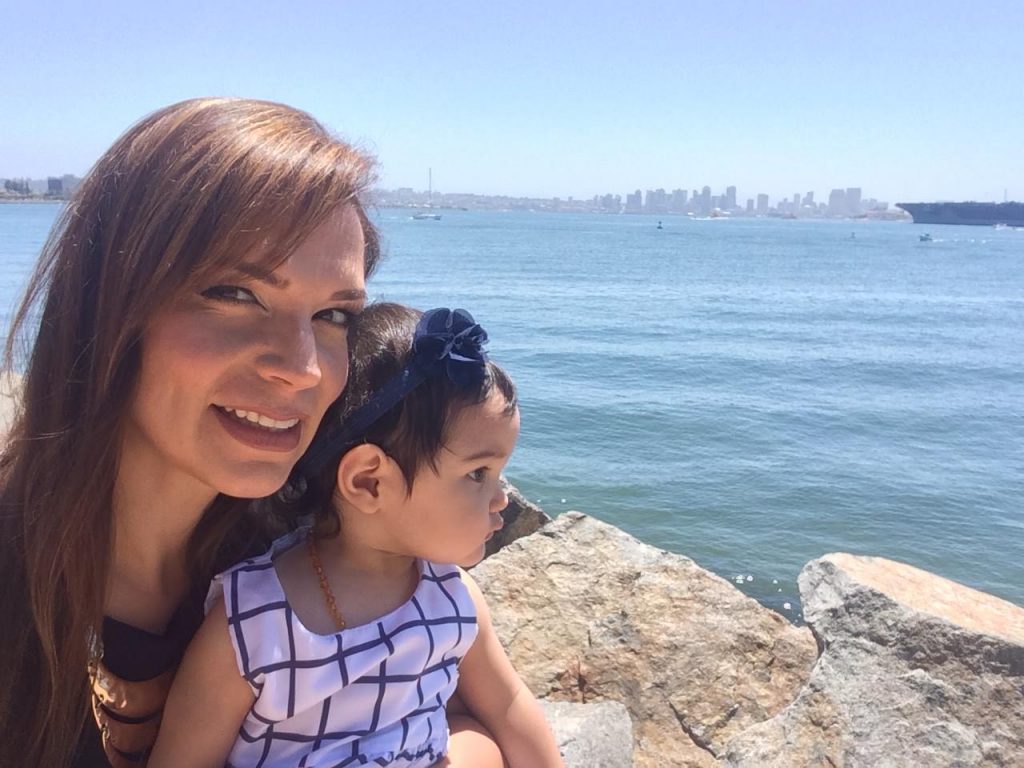 (Enjoying views of the bay, in the middle of the week, at a luncheon with my husband)
You may have noticed that I stopped blogging for a while. It wasn't intentional, it's due to motherhood and travel. I continued to think about my blog, every single day, and blog post topics would pop into my head, but I lacked the time to write. I have a long list of blog posts topics to write about, pictures, and lots of material which I have recorded for videos (see my videos on YouTube here).
My entire career, and pretty much my adult life, I have been an overachiever and driven. I am not saying this to toot my own horn. I sometimes wondered why I had the need to always be productive (and still do), and why I couldn't be less driven and relax more often. I was an overachiever in college and it pretty much stayed with me into my career. Don't take me wrong, I have enjoyed my career and life very much! I was one of those people which actually liked her jobs, and liked them a lot!  A common question I was asked when I worked long hours in politics and television is what I would do when I had children. Would I continue working those long hours? Would I continue working at all? My reply was, "I don't know. I probably won't know until I get to that stage of my life. For now, I know I really enjoy my career and don't mind working these long hours." And it was true. I really, really enjoyed my career. So much, that as happy as I am as a mother right now, I do miss my career. I miss certain aspects of it, but not everything. I know that I wouldn't be able to be spend as much time with Alessandra as I want to, if I was working the schedule I had in the past. I'd probably be rushing home from work just to see her awake every evening. My job required me to work several weekends every month as well, making appearances or hosting events, and that would have been very hard for me to do right now. If I would have continued with that demanding work schedule, I may have missed Alessandra's first words, her first steps, or the new developmental skills (and funny things) she does everyday.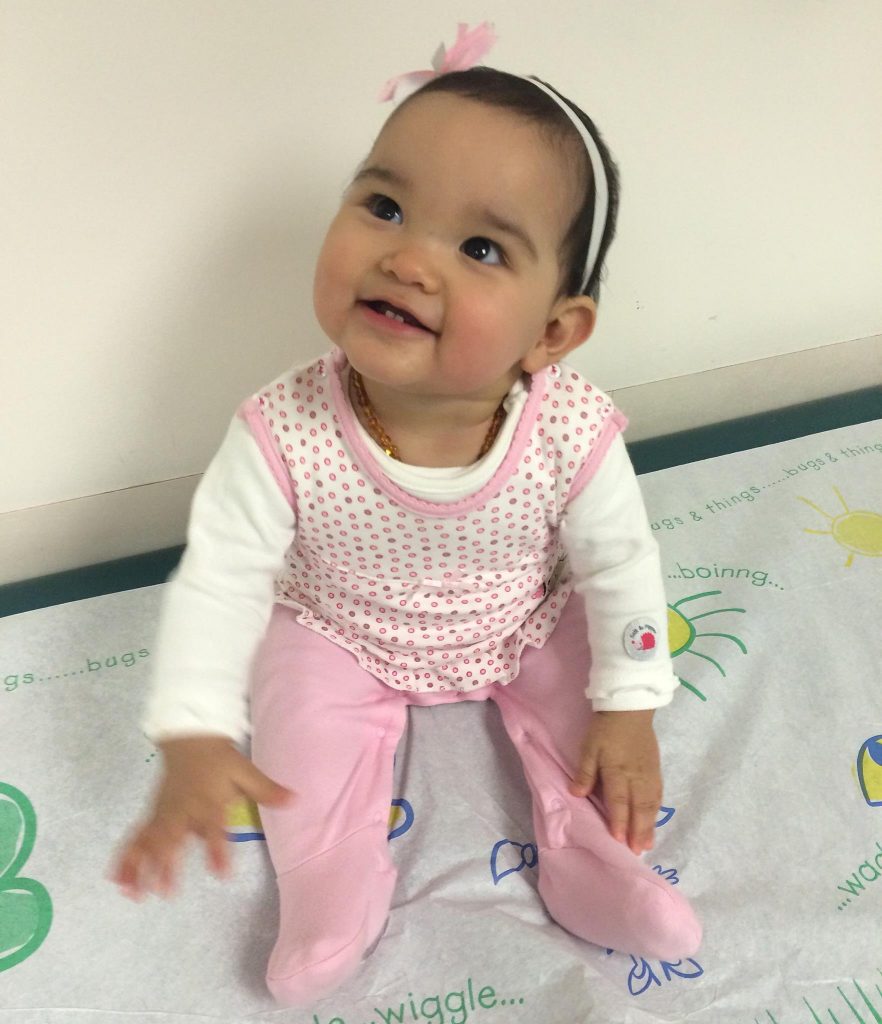 (At one of Alessandra's regular check-up appointments with her pediatrician, Dr. Reed, at Sharp, I was able to take my time and ask questions, I wasn't rushed to try to get back to the office, which was a welcome change for me.)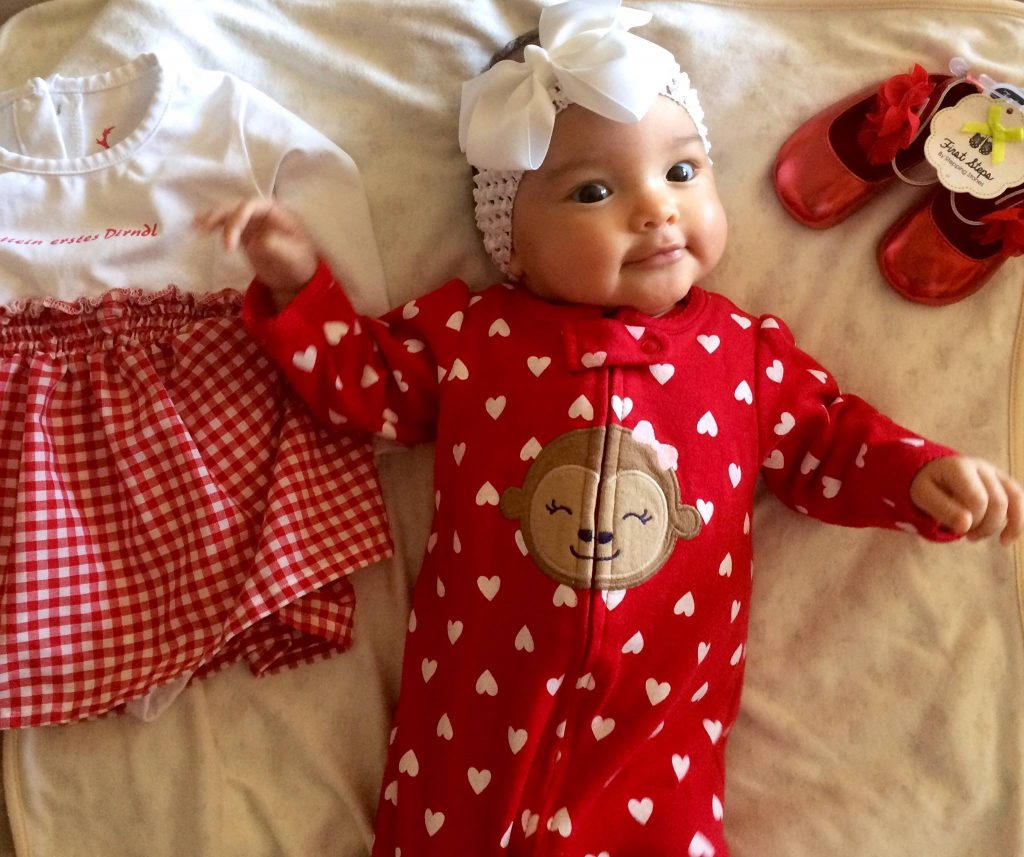 (When Alessandra was an infant, I would lay-out her clothes in the morning and try on her outfits – with shoes & bow, before a special occasion…I still do this sometimes)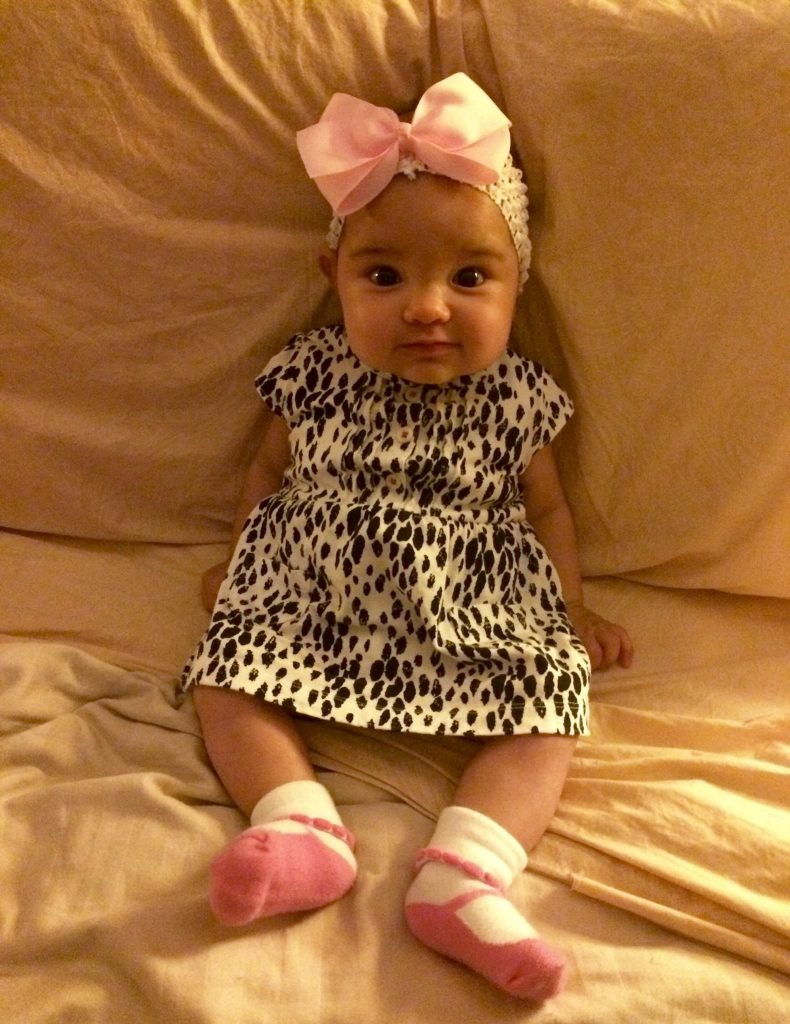 (I also enjoyed dressing her up even if we were staying at home)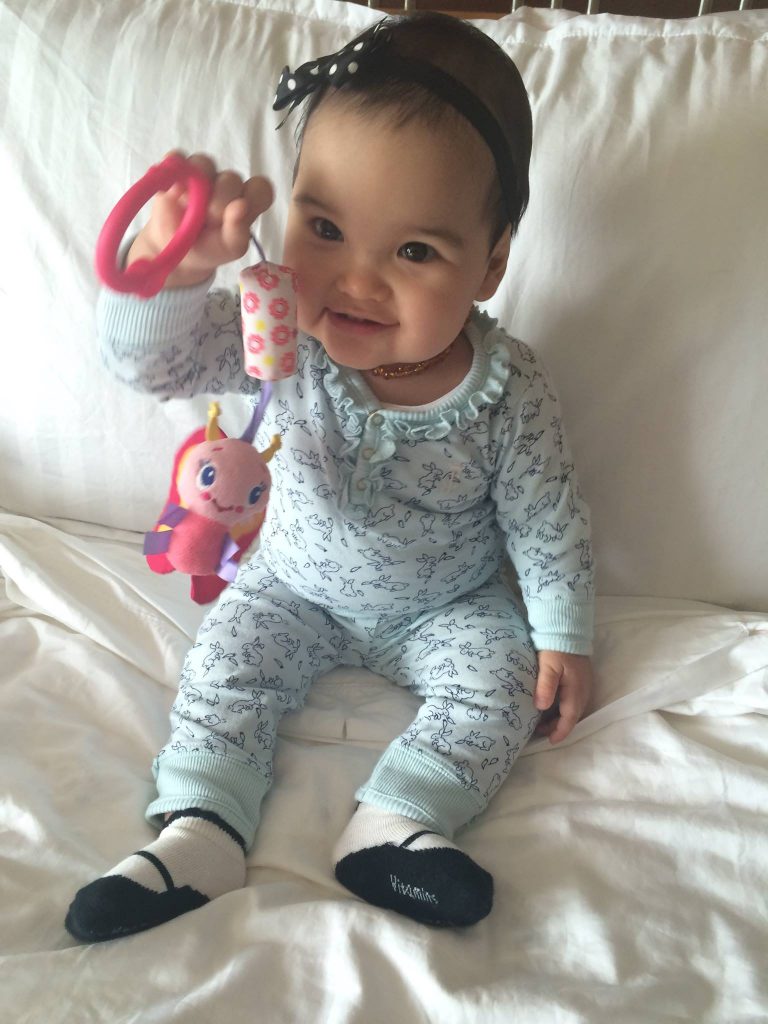 (It has been fun to see her grow and develop new skills, like smiling for pictures)
As much as I miss my career, I wouldn't change my current situation. I feel very blessed and fortunate to be able to stay home to take care of Alessandra. I am also thankful to my husband for being supportive of our decision for me to stay home to take care of her. I stay active in my career through my community and non-profit work, hosting the San Diego Latino Film Festival, emceeing events, a few consulting projects, and this blog. I am able to stay in touch with my media, community, and professional contacts. I know I don't have to do anything related to my career right now. I could take care of Alessandra and not worry about anything else, but that is not my personality. I have the need to continue to stay active in my career. It is just part of who I am. It is part of my happiness.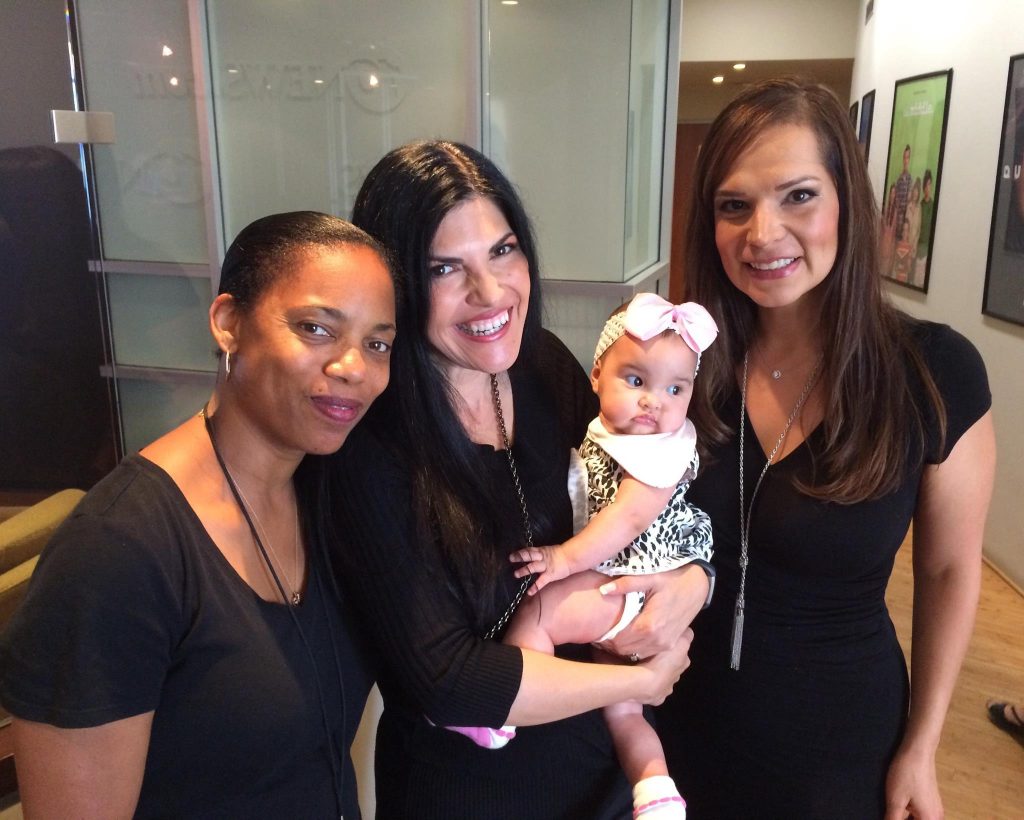 (During a visit to the ABC10 and Azteca San Diego studios, to do an interview for the San Diego Latino Film Festival to announce the winning poster and theme)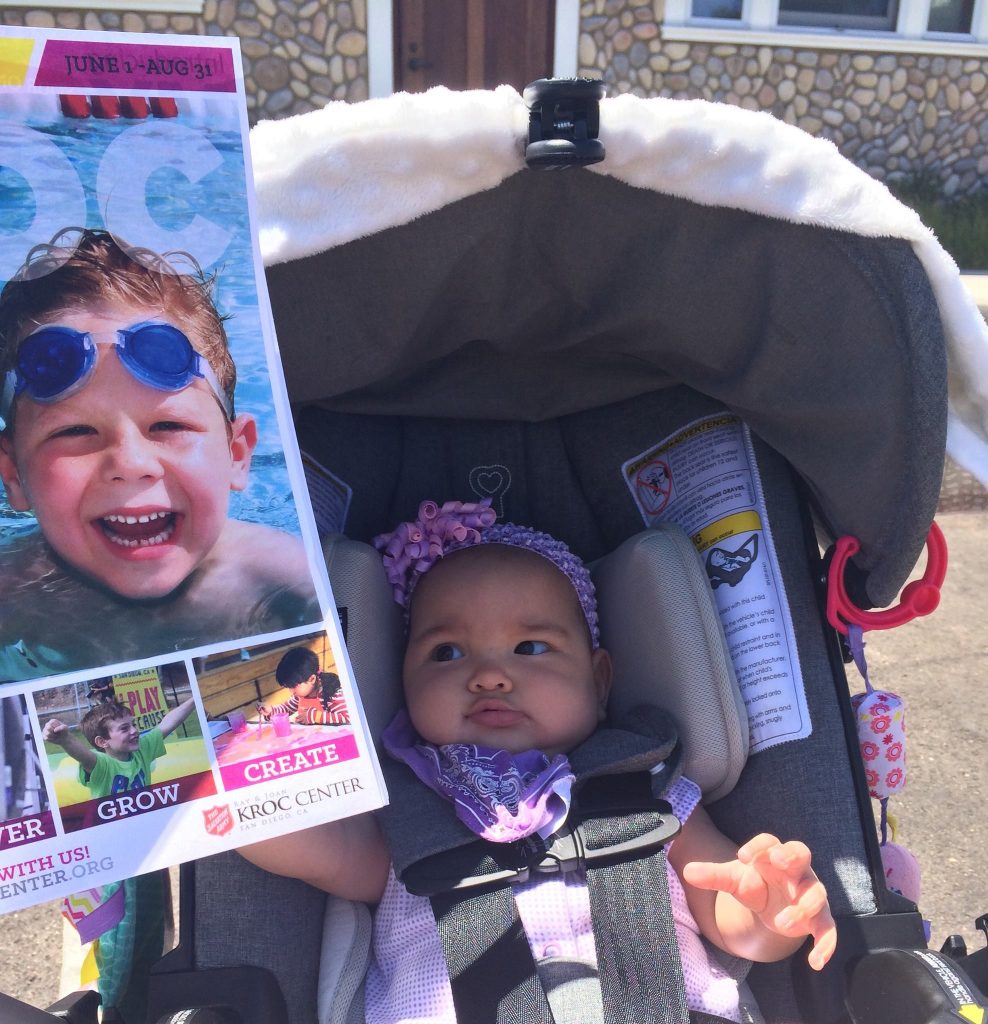 (Leaving a Salvation Army Public Relations Committee Meeting)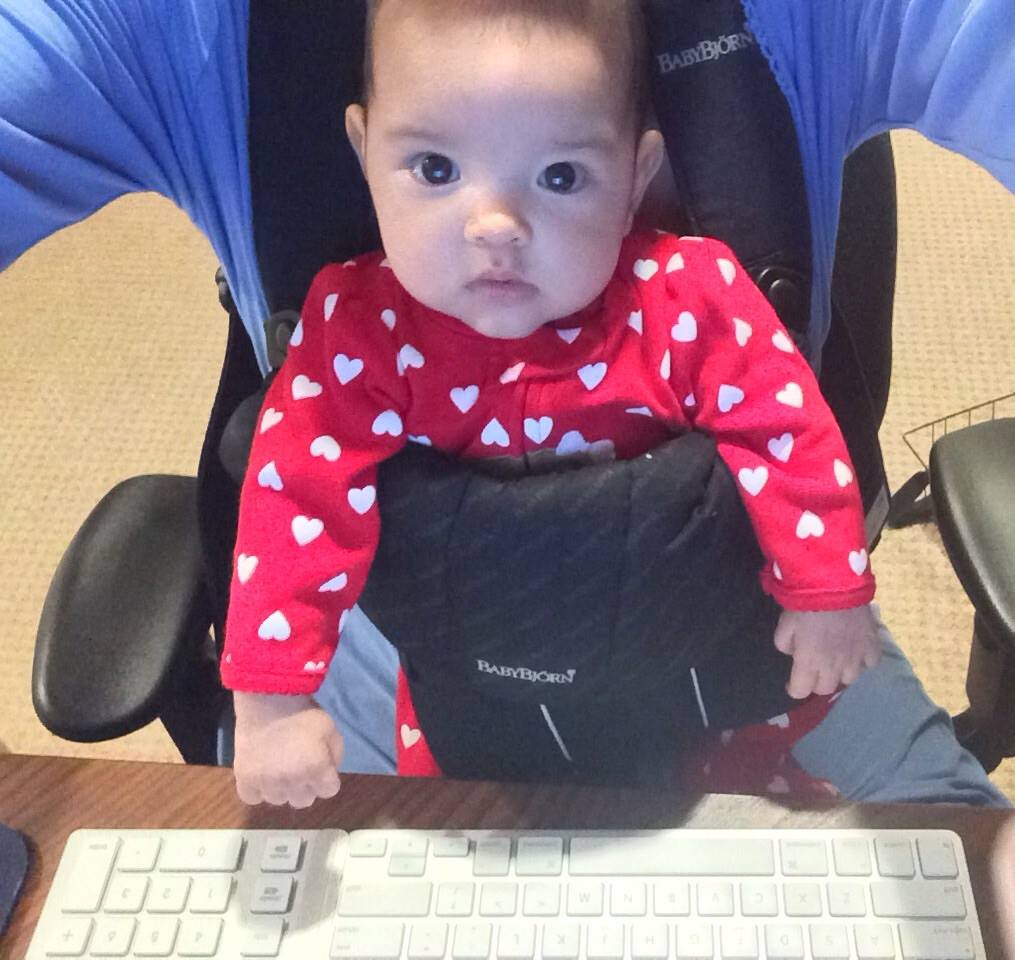 (Working on a consulting project in the evening and this little one wasn't going to sleep, so I put her in the baby carrier and got to work)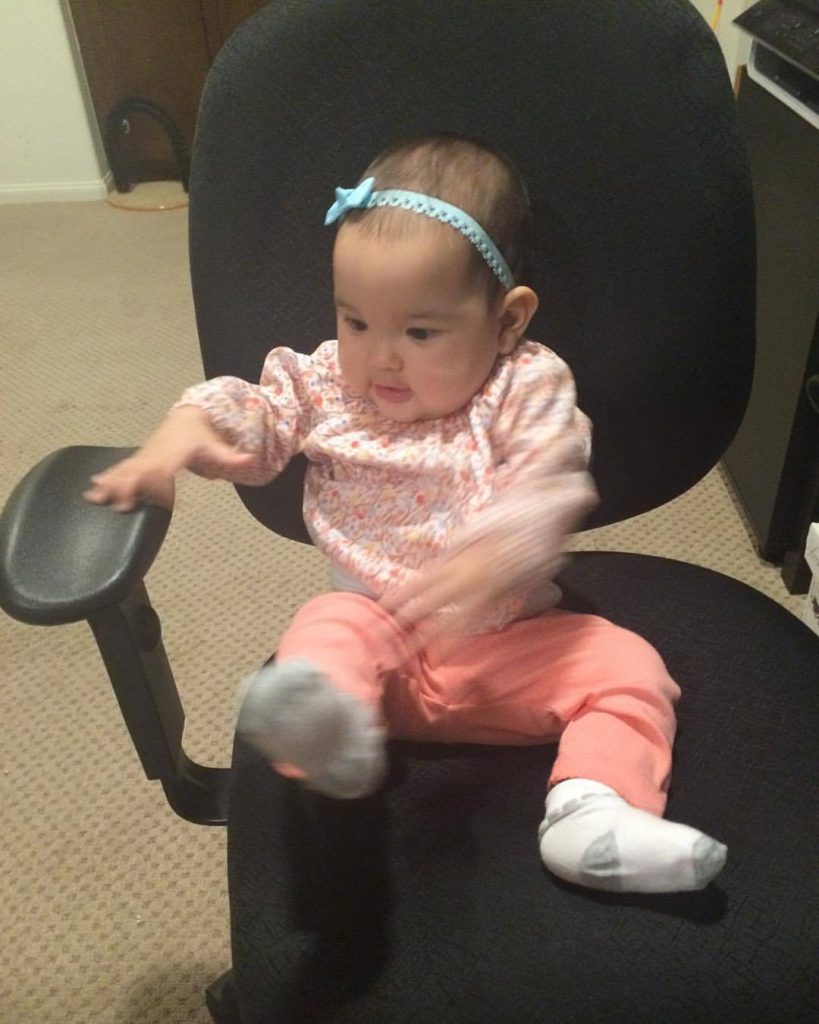 (Sitting in mommy's office chair, before I got on a Skype video conference call)
As much as I enjoy writing for the blog and other publications, and creating videos, I was having a challenging time finding the time to do it. I would write sporadically and would feel so good about myself on the days which I wrote. On some mornings, I would start the day saying, "today I am going to write and post on my blog," or "I am going to edit this video." Then the day would go by, I'd be busy taking care of Alessandra and our home, and you guessed it, I wouldn't write. Even though I had had a good day, I would feel a sense of lack of accomplishment when I would lay down to go to sleep. I was tired, from a busy day, yet felt upset with myself for not writing. On other days, I would start to write or edit a video when Alessandra was napping, then stop writing or editing to care for her when she awoke. As I have mentioned before (see blog post here), I like to be able to sit down and write an entire blog post or complete a video edit in one day. I have to learn to write or edit in pieces. A skill I have yet to master, but am working on. Other days, I would try to write in the dining room while I could see Alessandra playing with her toys, then she would come up to me and smile with her tiny teeth, and that was it, I'd stop what I was doing and go play with her. I did manage to write a few blog posts and produce a few videos every month, but not the quantity I am used to.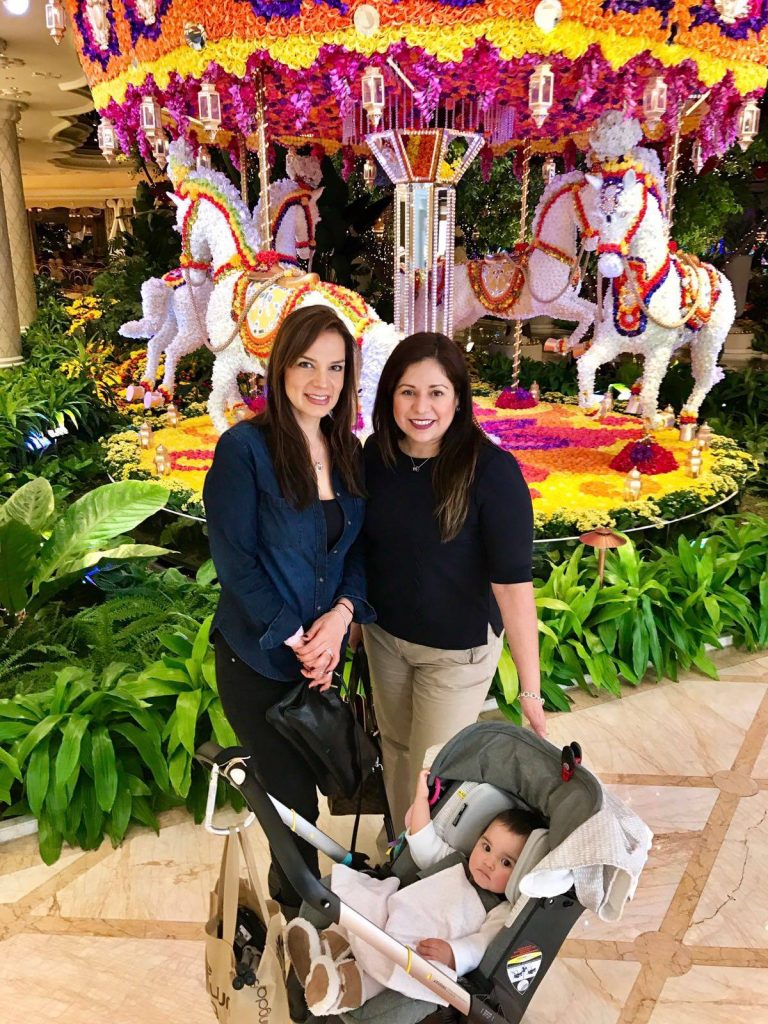 (With my friend Rosy, on a trip to Las Vegas)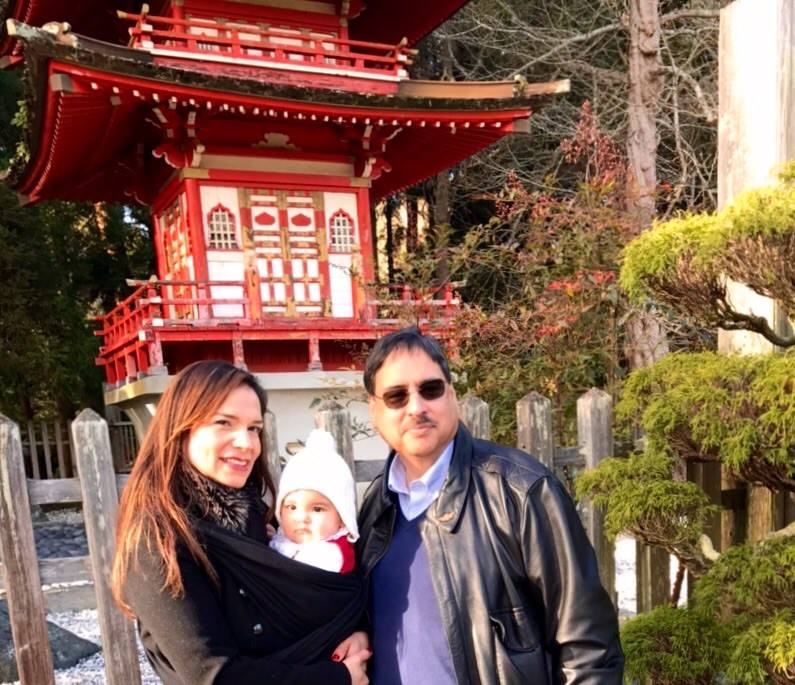 (On a trip to San Francisco)
(During a flight back from Germany, see travel post here)
Another reason I haven't posted as often, is due to travel. I have always enjoyed traveling. In the past, I would join my husband on some of his business trips, but sometimes my work commitments didn't allow me to travel as often. Now that I don't have those work commitments and Alessandra is still little and not enrolled in school, I want to take advantage of every opportunity to travel with my husband. I know in the future, this may be harder to do if I return to work full time or when Alessandra is enrolled in school. I am also visiting family more often. I had not stayed over to visit family in probably more than five years. Now, I pack the baby's portable crib and we stay for the weekend. It has been nice to be able to spend more time with family.
I always wondered what people who were at places such as the zoo or a park in the middle of the day did for a living. Maybe some worked part-time or the evening shift, maybe they were retired or didn't work, maybe they were stay-at-home parents (and by the way, this is a full-time job). On sunny days when I would return to the office after a meeting or outdoor shoot, I thought it would be nice to be able to enjoy being outdoors, particularly since we live in sunny San Diego! Well, now I have that opportunity and I am trying to take advantage of it. I will schedule a day or two each week when Alessandra and I go to the park or a play-date, even, the zoo on a weekday.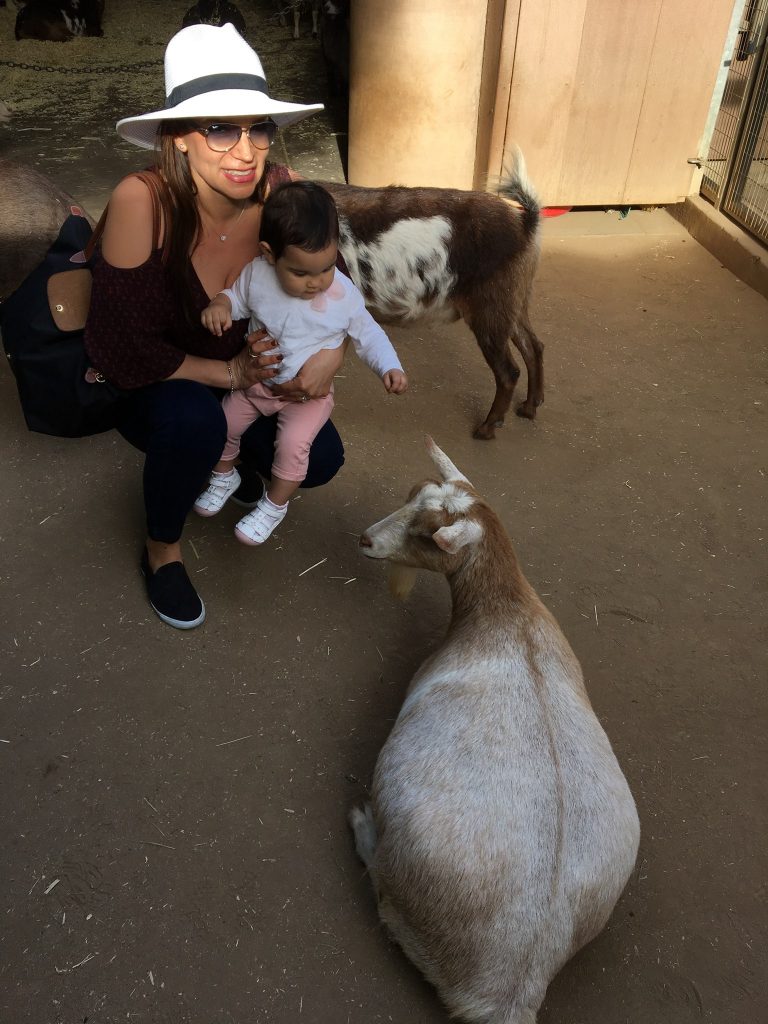 (Visiting the zoo, on a weekday)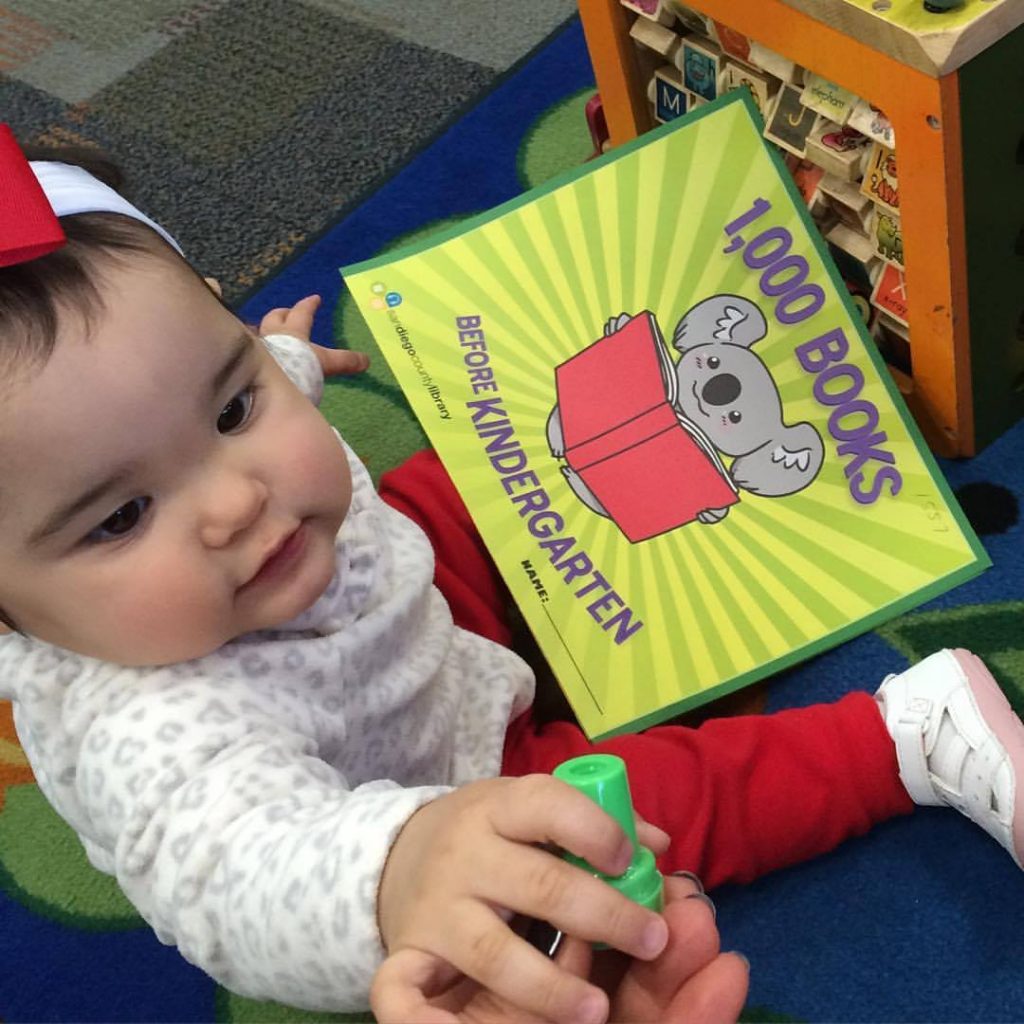 (Baby story time at the library)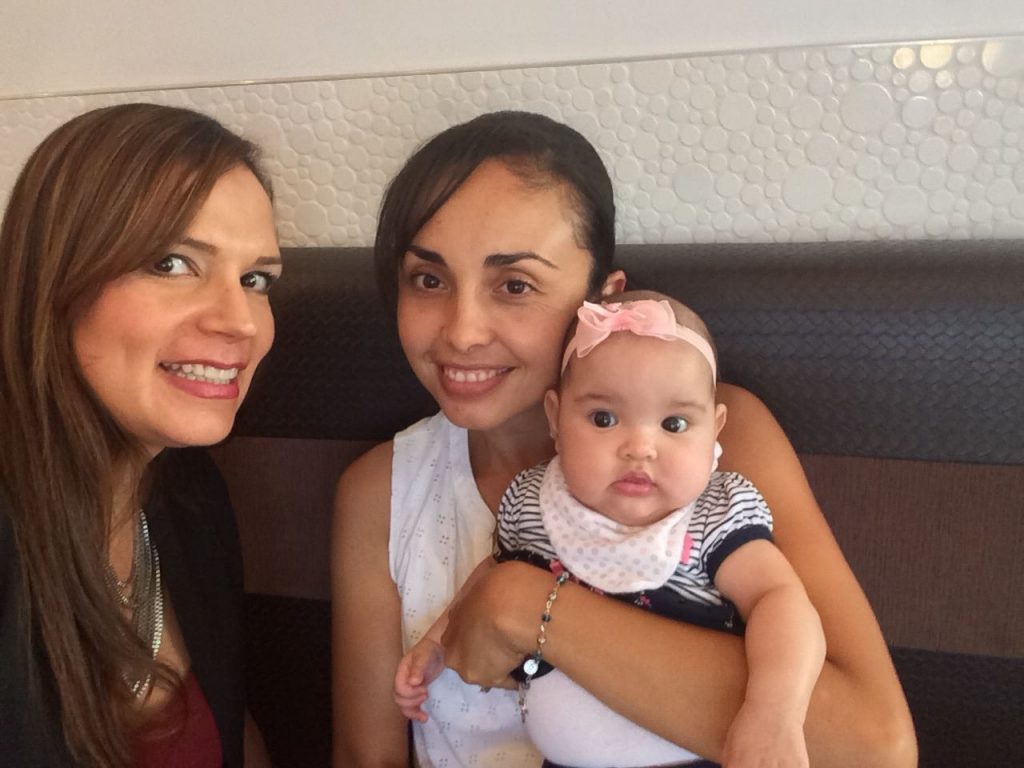 (Girls lunch on a weekday)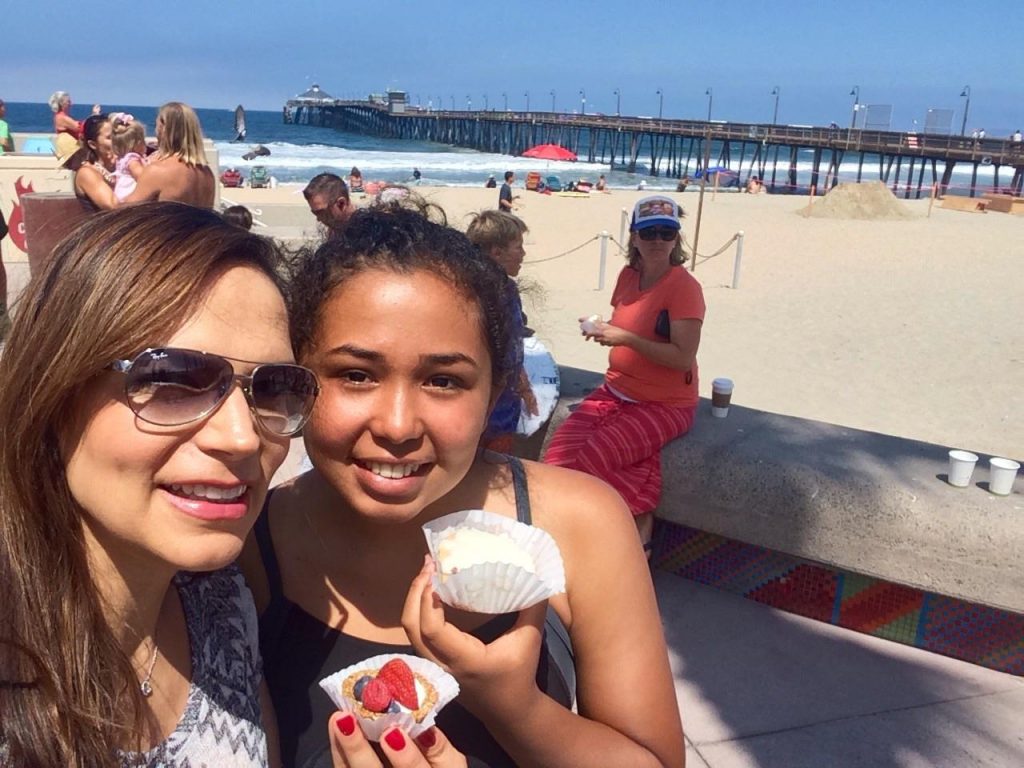 (At an event in the middle of the week, with my niece)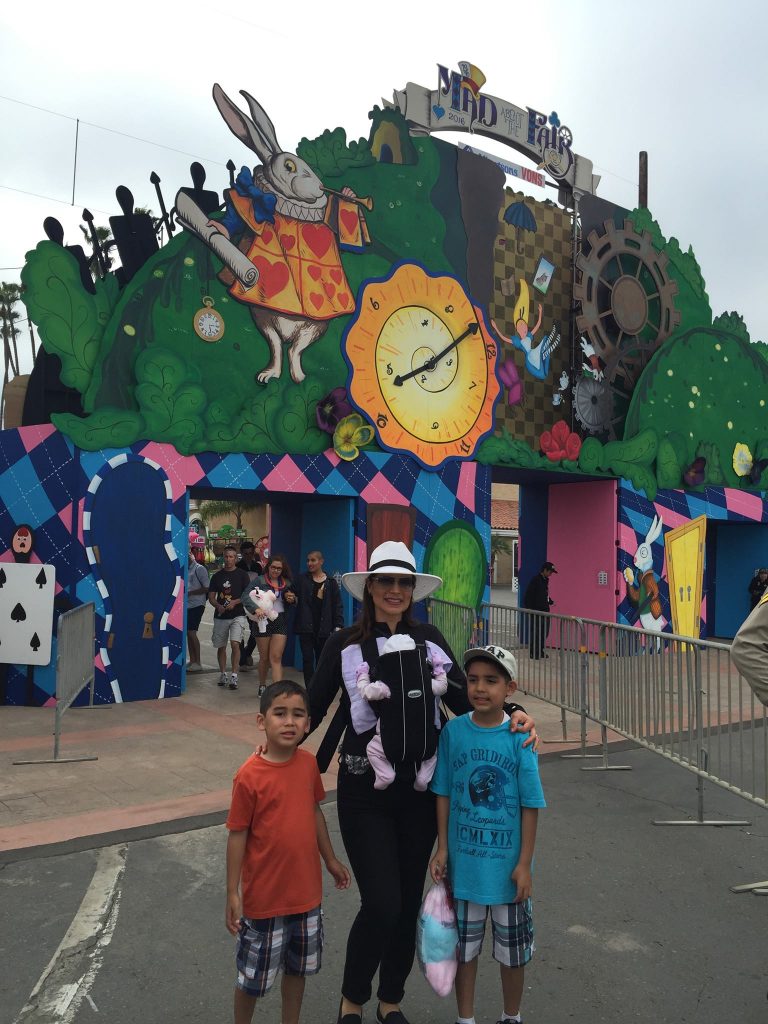 (At the San Diego County Fair on a weekday, with my nephews, see post here)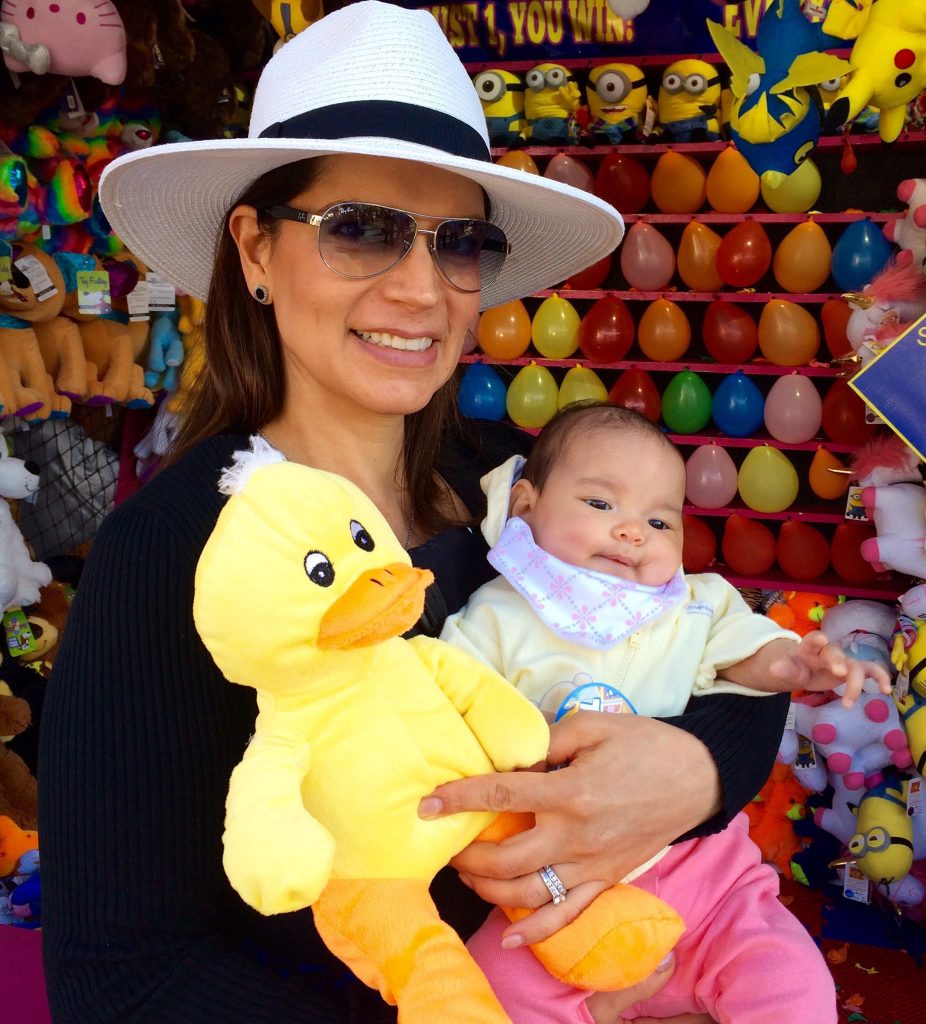 (At the Fair on a weekday, with hubby and friends, he took the afternoon off work)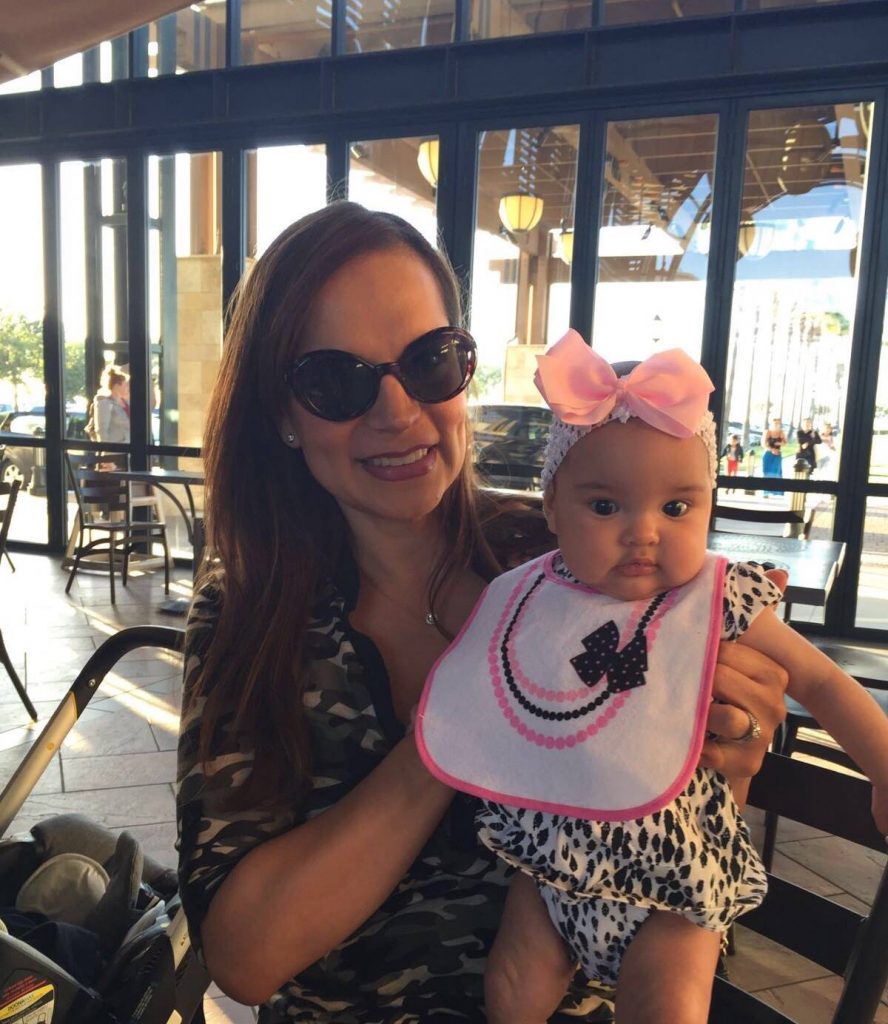 (At the Farmer's Market with my sister and nephews, during a weekday summer afternoon)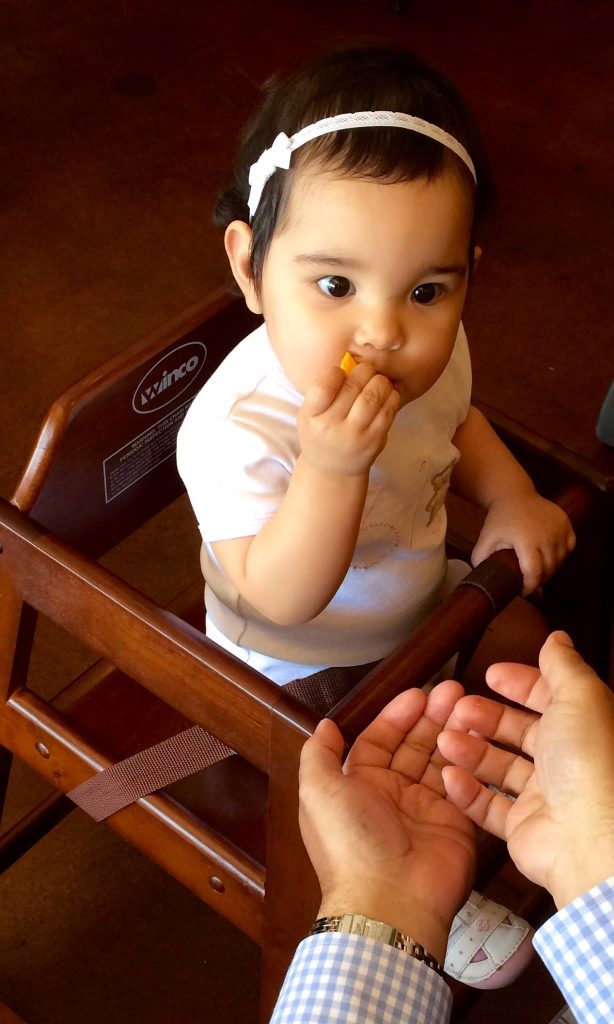 (Meeting dad for lunch on a weekday)
What I did realize, is that writing and using my professional skills, my abilities, is something which I need to be doing. It brings me happiness. During one of our walks, my friend Lorena suggested I maybe set more realistic goals for myself. Yes, at one point I was writing five to ten blog posts per week, and writing a newspaper column, but that was before I was taking care of our daughter full-time. Things have changed and I have other responsibilities now. Perhaps, I could set a goal to write one blog post per week, Lorena suggested. That seems so low for me! But, she said, "maybe you can start two write it Monday and don't beat yourself up if you don't finish it, write more Tuesday and maybe set a goal to post it by the end of the week." As small as this goal seems to me, it is higher than zero posts per week! I gave her suggestion further thought and decided to find a mid-point which would satisfy my creative needs (and the need to feel professionally productive). I set a goal for myself to write at least one blog post per week when we are in town. It is not because I want to get a good evaluation, get paid, or get a promotion, like I would get if I was working for a company. It is because, it is good for my soul. When I write or upload a video, even when I go to sleep very late and feel exhausted, my smile is bigger and my heart is fuller, than on days when I don't write. I write and produce videos, not because I have to, I do it because I want to.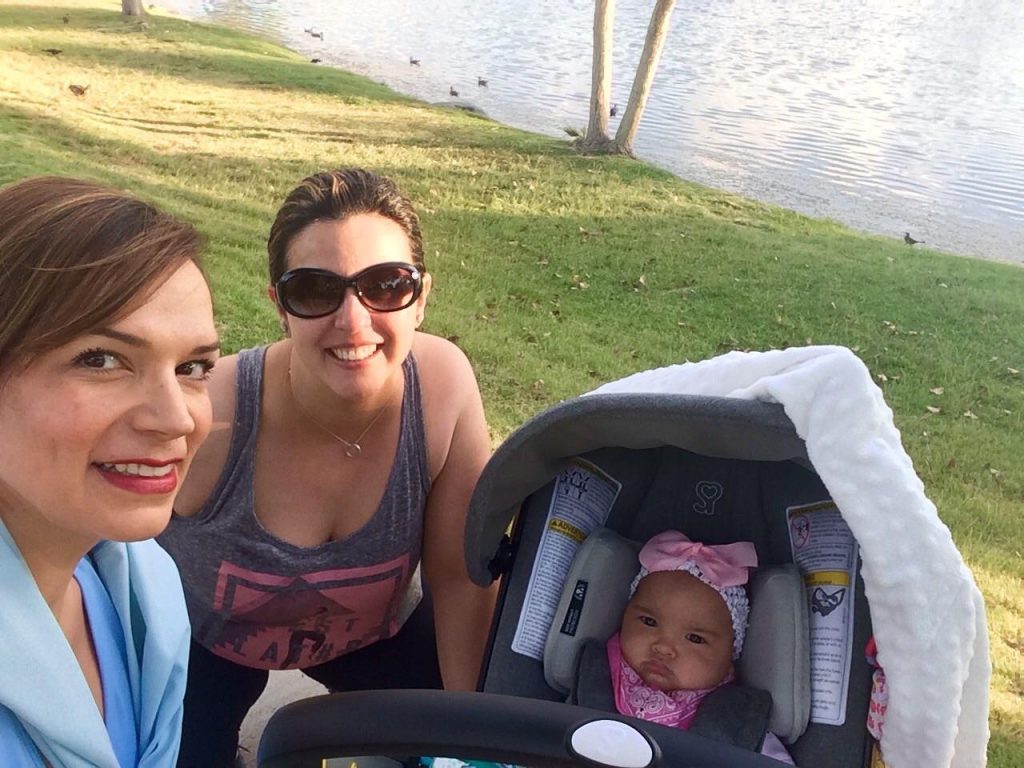 (On one of my weekday afternoon walks with Lorena)
It has taken me some time and patience with myself to make this transition. It is not easy for a person with my personality. I am trying to find that balance, if it even exists, with being the best mom and wife I can be, but also fulfill some of my professional desires and needs. I know I can't have it all, not at the same time. I have had many years of a fulfilling career and may be able to go back to that level of professional achievement later on, but for now, I am enjoying being a mom to our beautiful Alessandra and reminding myself I can always go back to work full-time when she is older! So, if you don't see as many posts from me as in the past, know that I am enjoying motherhood, traveling, and life! I will continue to write, as a matter a fact, I just renewed the url for my blog. So, you will continue to hear from me, and hopefully, it will be more often! I appreciate your support, readership and video views more than you know! Each view makes me smile. I hope you enjoy reading this blog and it is somehow helpful to you. That is my goal, to share my experiences, in hopes of helping others or simply, brighten their day!
Would you (or did you) stop working full-time if you could to stay at home to take care of your children? If you retired, would you stay active in your career? How?

Hugs,
Paola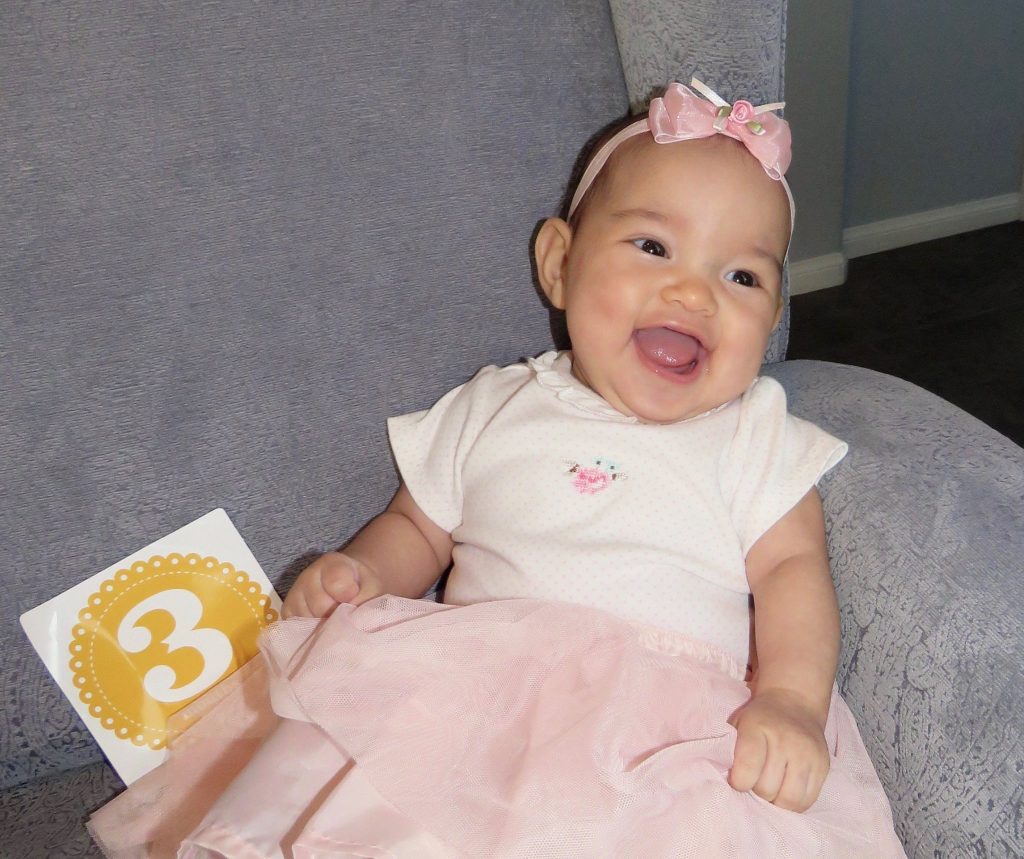 Every month, I would dress up Alessandra and take her picture with the number corresponding to that month…it touches my heart to see how she grew every month, see First Month post here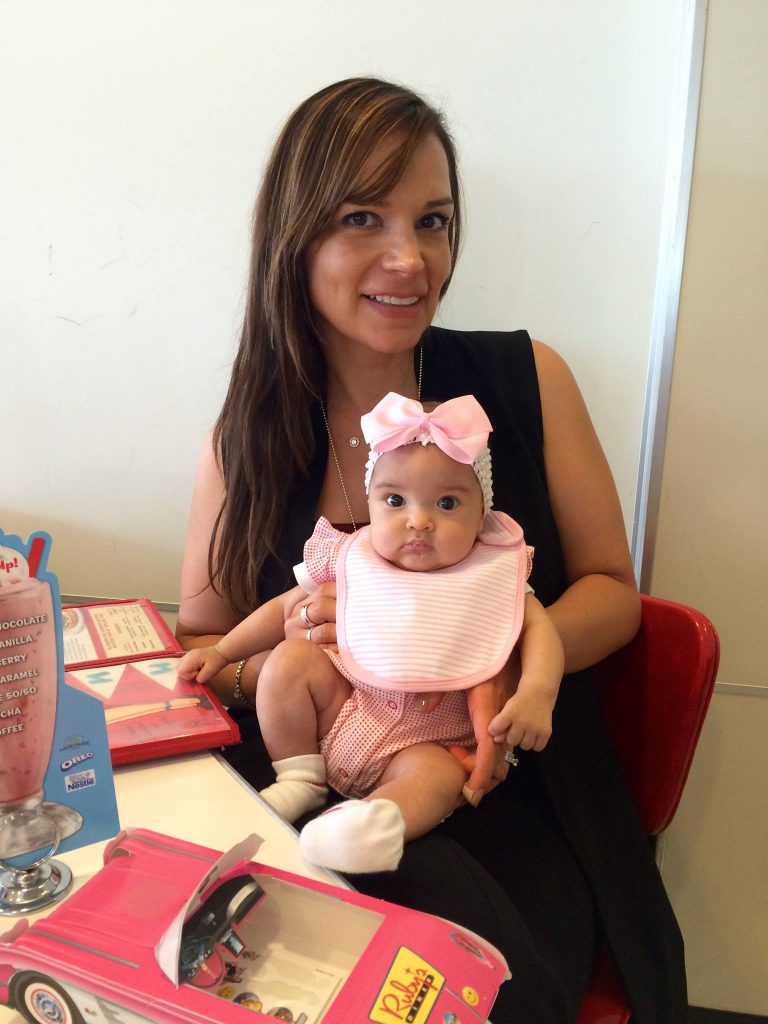 On a trip to Los Angeles with hubby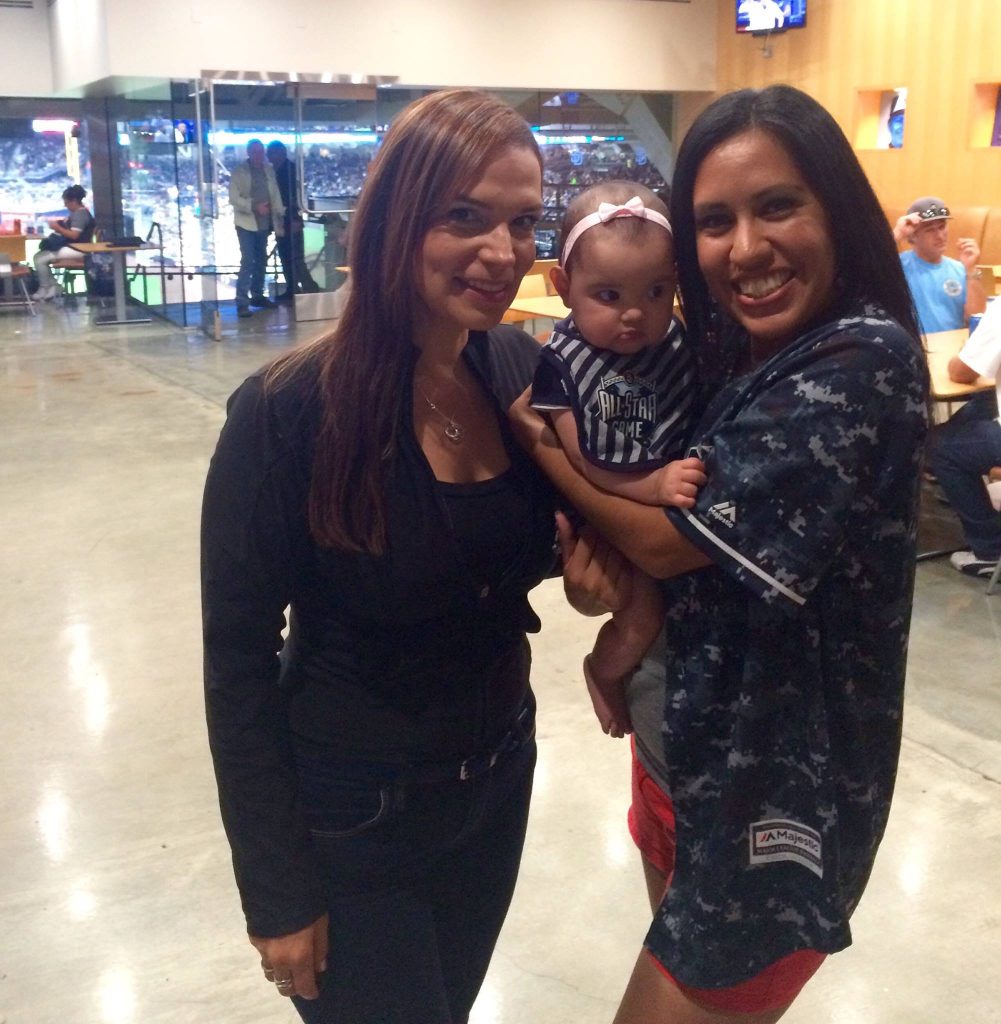 At a San Diego Padres game on a weeknight, I probably wouldn't have gone if I had to go home to pick up Alessandra after work, then drive back to downtown, and get up early the next morning to get to the television station to work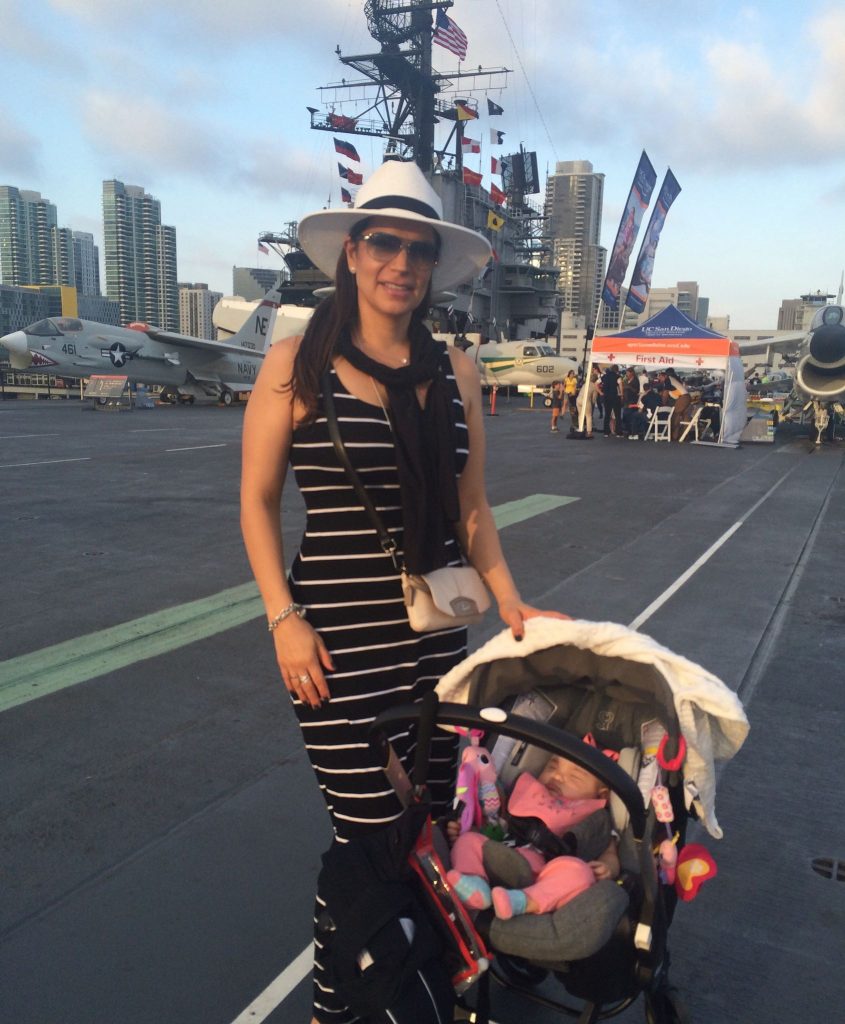 At an event on the Midway Museum, on a weekday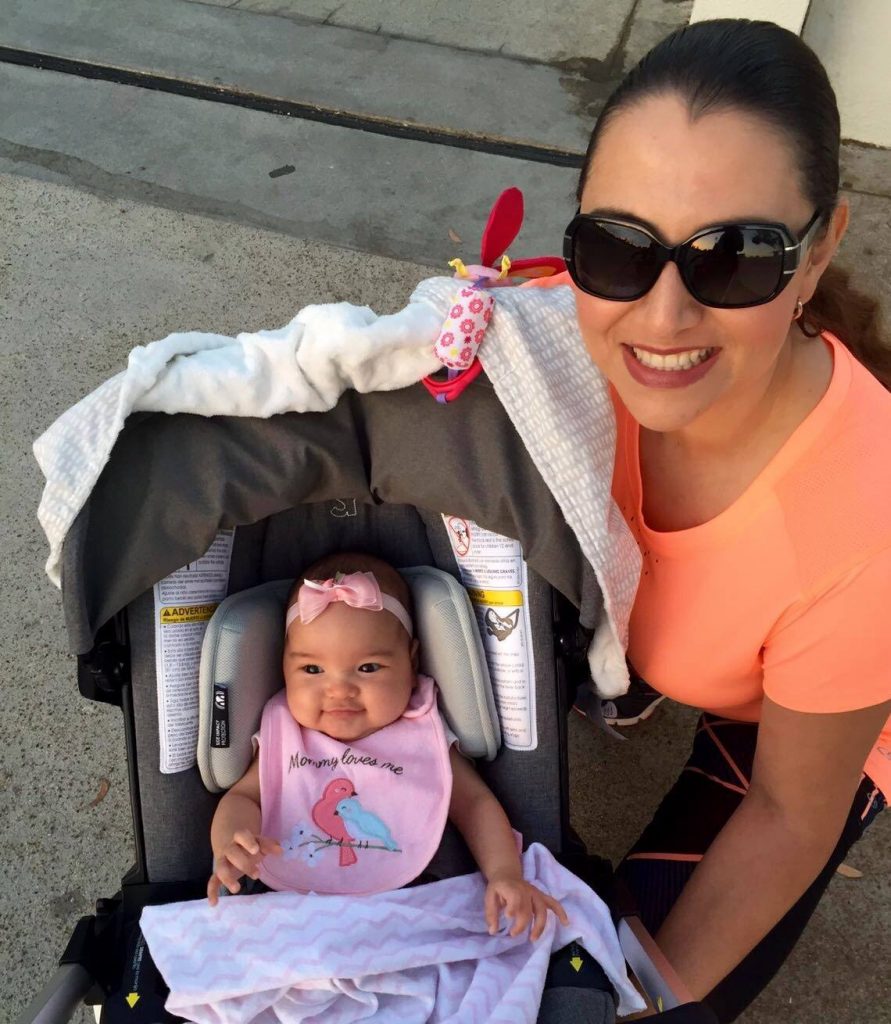 At Balboa Park, enjoying a walk with Lizeth in the middle of the week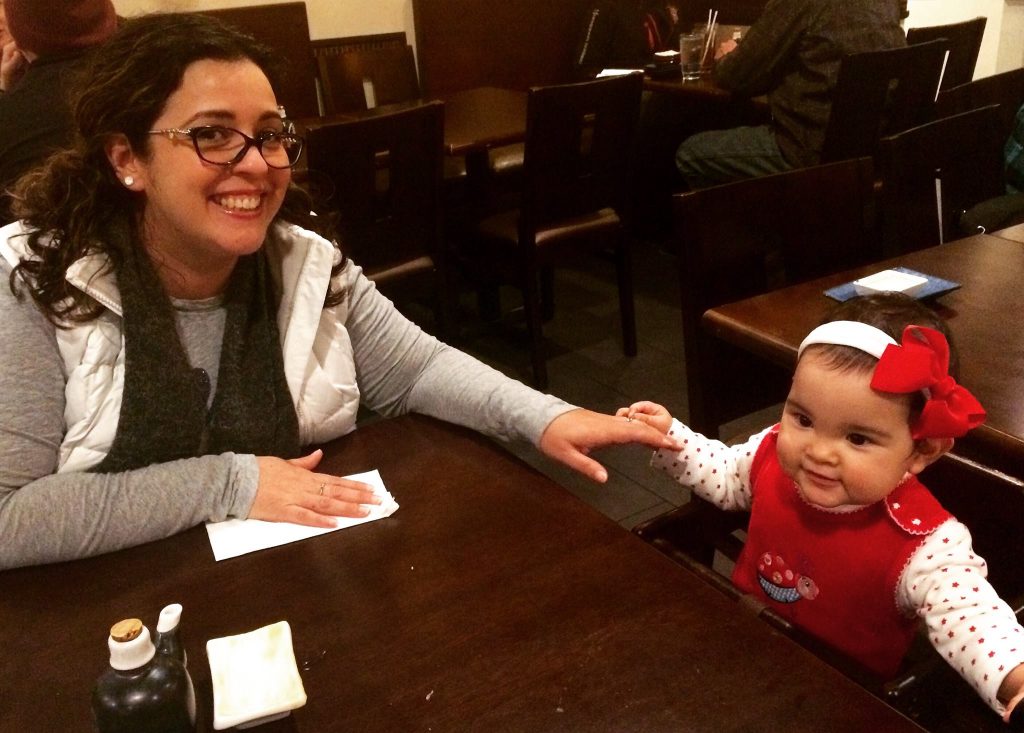 Meeting Lorena for a late lunch – early dinner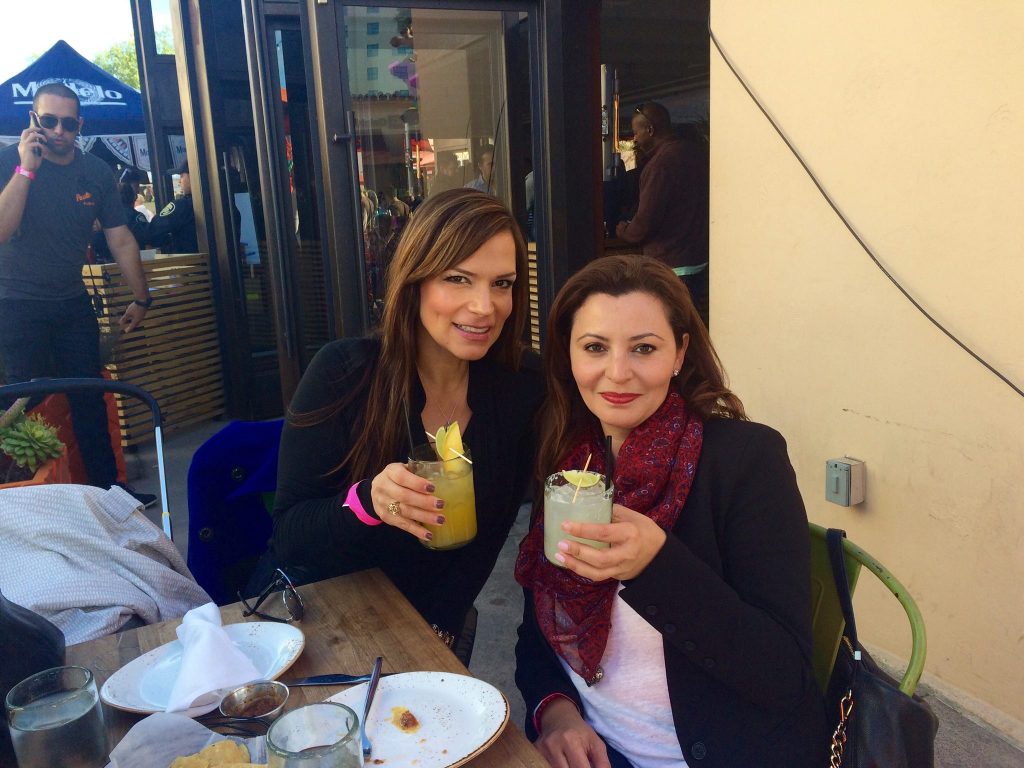 In the middle of the afternoon, on a weekday, as special guests at Puesto's Cincoteca event – my drink was non-alcoholic because I was still breastfeeding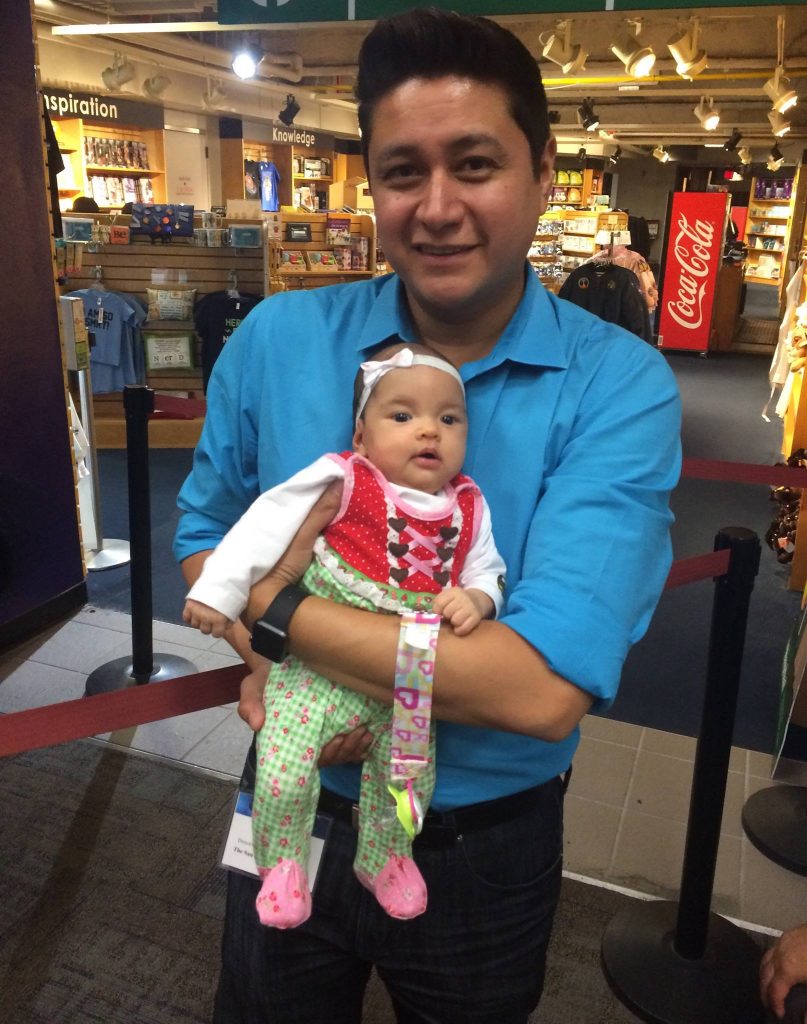 At VIP/Media Opening Night Reception of a new exhibit at the Fleet Science Center, see post here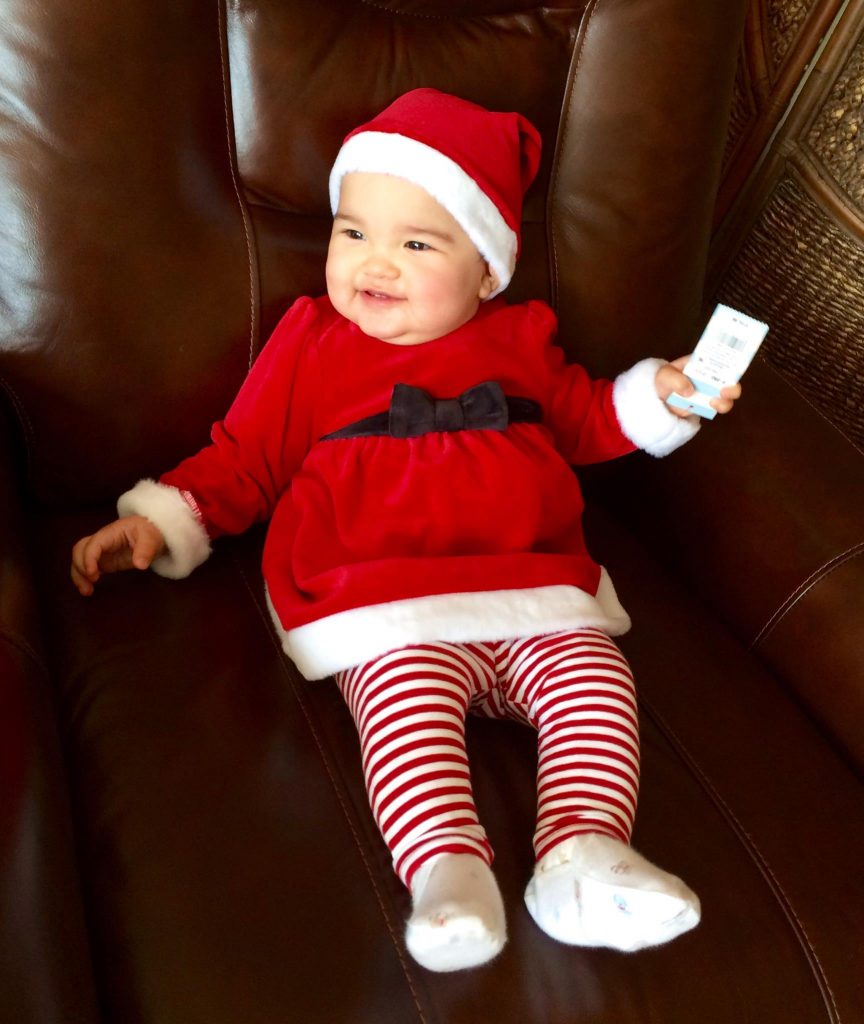 Trying on her Santa's Helper outfit, see Alessandra's First Christmas Video here and First Time Meeting Santa video here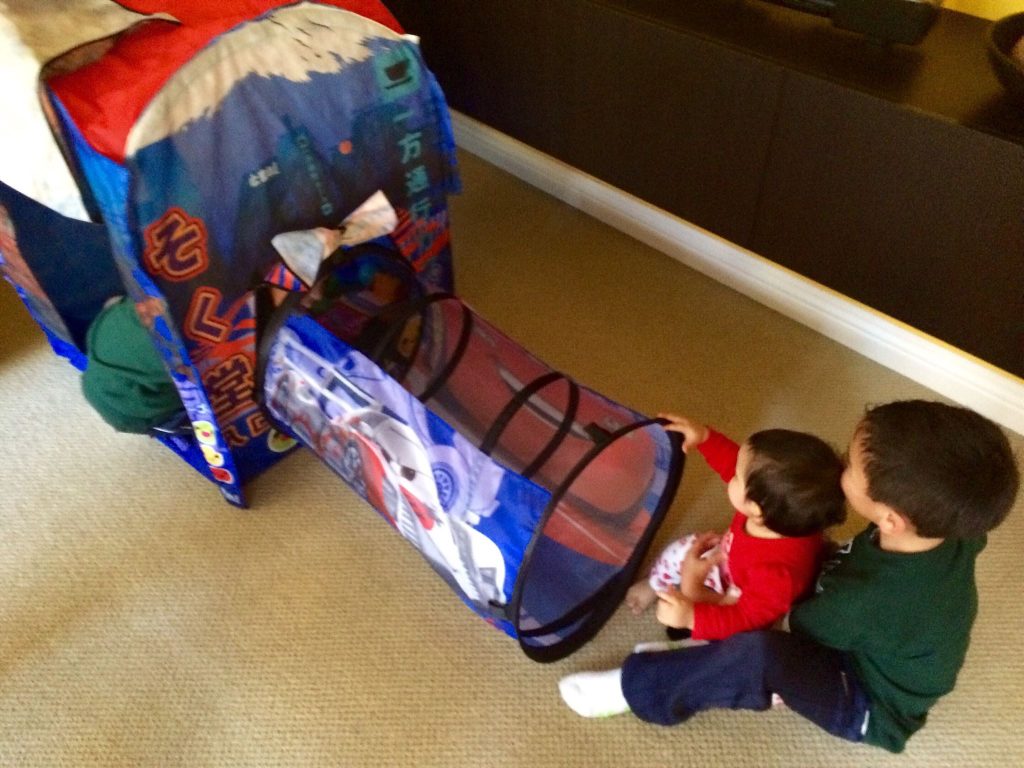 Playing with her cousins on a weekday after school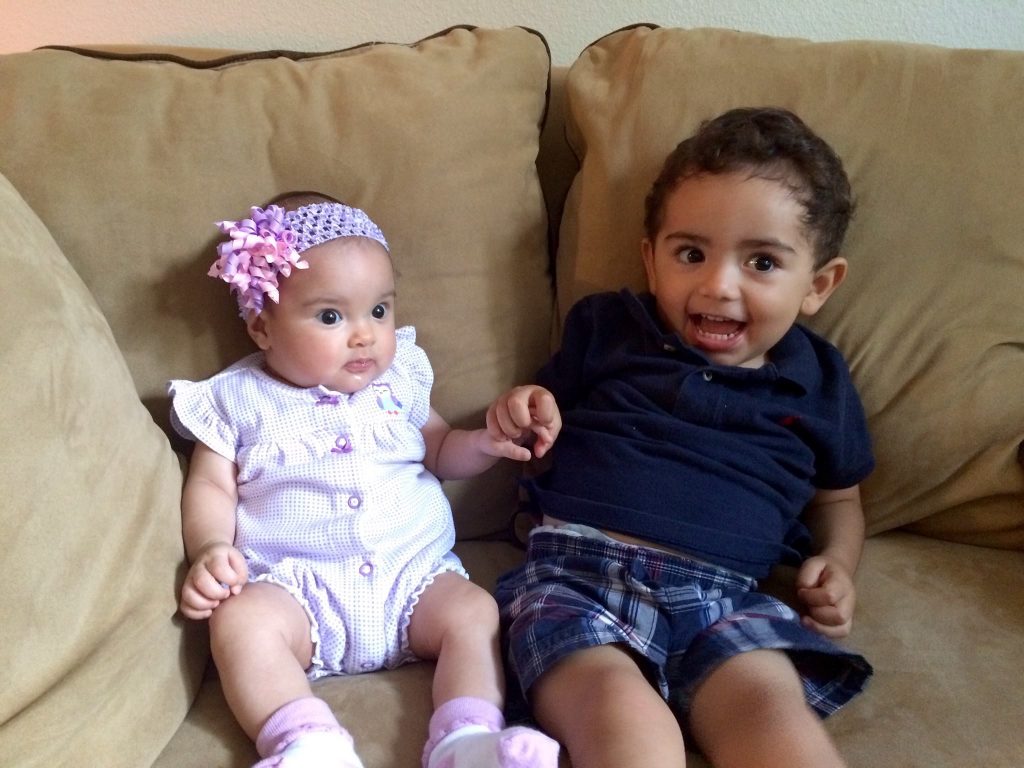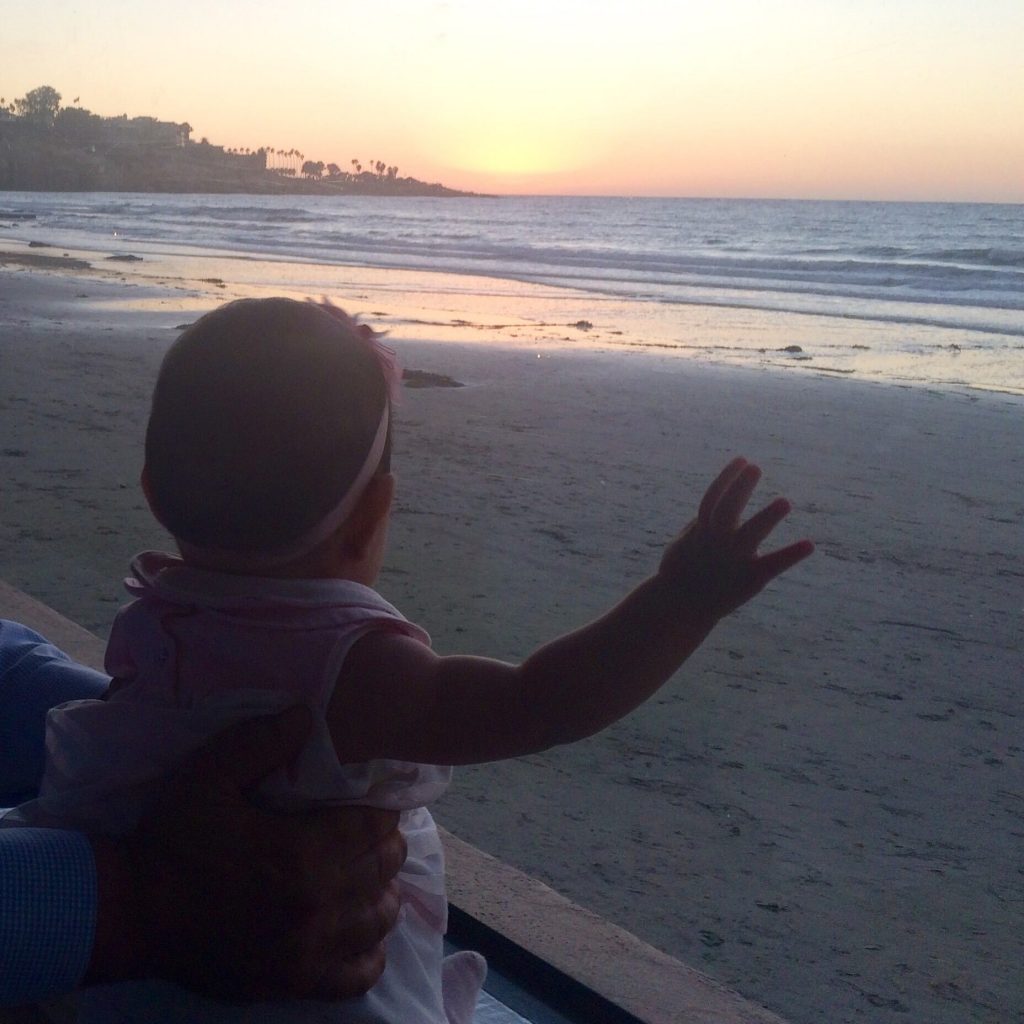 Dinner (and sunset) with dad and friends, in La Jolla, something I probably would have been unable to attend had I been working full-time 
Having fun at home while I organized her toys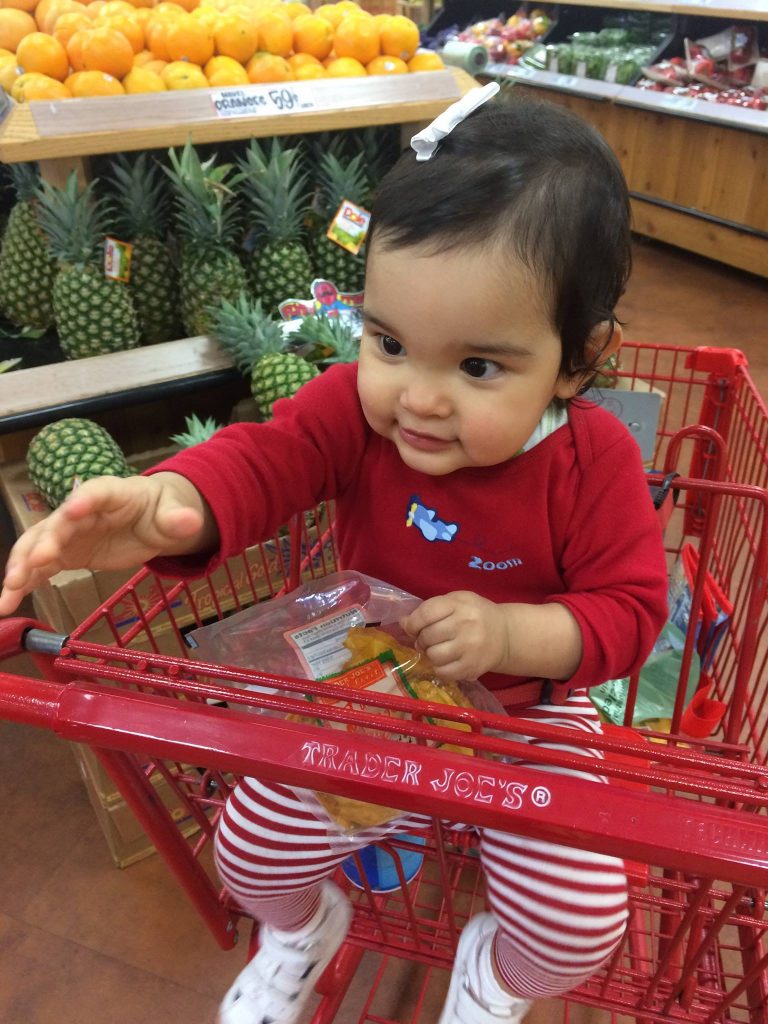 Even the most mundane activities, such as going to the grocery store, are fun with this little one, this was her first time sitting in the cart at Trader Joe's, she became my little helper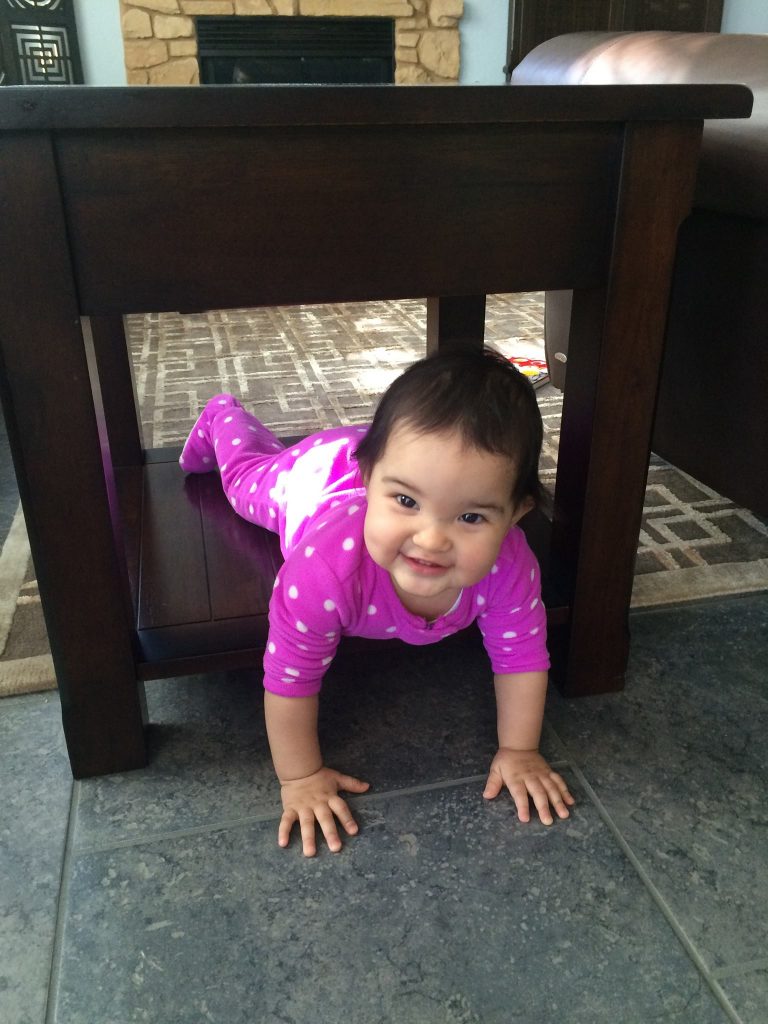 These are the everyday moments I cherish, discovering she can crawl on the side table in the living room….watching her while I enjoyed my morning coffee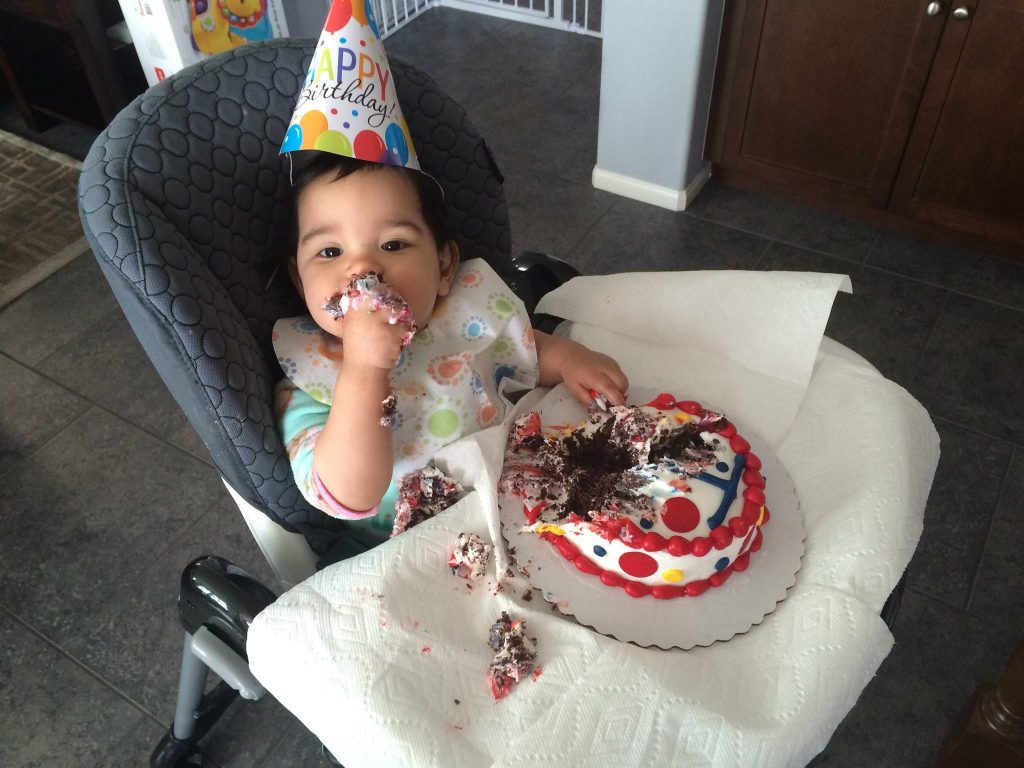 The Monday after her first birthday party, my mom stayed over, and we let Alessandra really enjoy her smash cake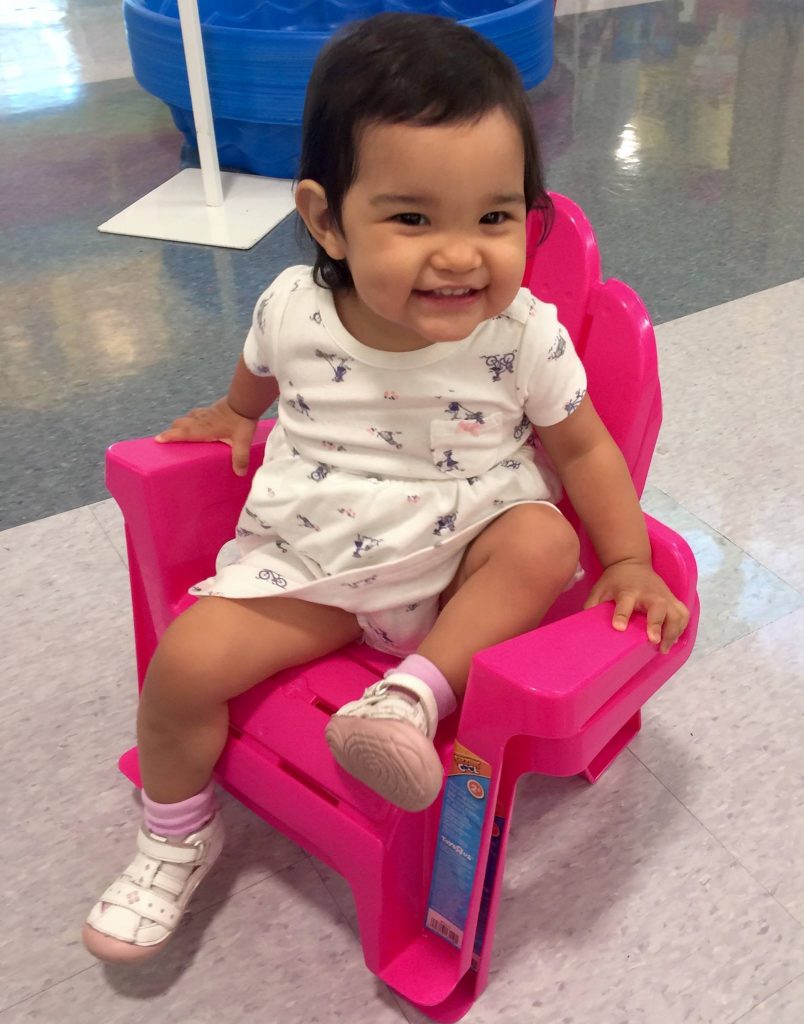 Just yesterday, while shopping for summer gear at Babies R' Us, this little one made me laugh by pulling a chair off the display rack and trying it out….memories I cherish 
To see more pictures and videos visit my social media pages, I post almost daily, let's connect:
–You Tube: Paola Hernandez-Jiao
–Instagram: Paola Hernandez Jiao
–Twitter: @paolahernandezj
–Facebook: Paola Hernandez-Jiao
–Pinterest: HernandezJiao