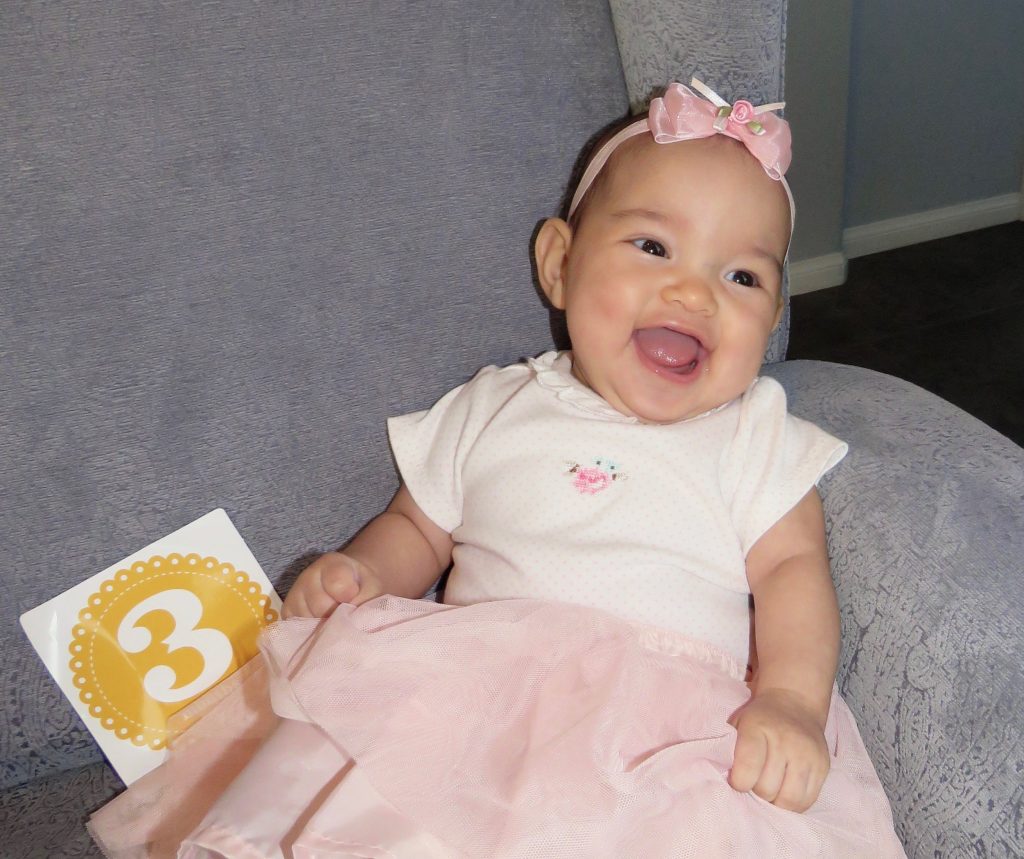 Our baby girl, Alessandra, turned three months recently. Here's our update:
Our third month together: I didn't think it was possible to love Alessandra more, but it feels like everyday that passes I love her more and more! I am truly enjoying motherhood. Even though she is still an infant, there have been many changes in the past three months. I find myself saying things like, "when she was little" referring to when she was only a few weeks old. She is a happy baby and smiles often! Alessandra continues to sleep in our room, in her bassinet co-sleeper which is located next to my side of our bed. Luckily, she sleeps through the night, which is heaven for us! Now, when she wakes up, she doesn't cry, she starts to coo, play with her hands, and look around. Sometimes, she falls asleep again, others she stays there for a few minutes until one of us comes to get her out of her bassinet. Now that she is a little older and her immune system is stronger, we have gone out more often, from restaurants to parties and walks. Our baby is growing fast and I am enjoying the time I get to spend taking care of her!
Physical Changes: Alessandra now holds her head up pretty well, she has for the past few weeks. Even when she was a newborn, when people (other mothers) would hold her, they'd comment on how strong she was and how well she would try to hold up her head. She feels much sturdier now. This will continue to increase as she grows. It is nice! I feel a lot more comfortable carrying her and at bath time because she doesn't seem as fragile anymore. She has discovered her hands and plays with them all the time, and puts them in her mouth. She has begun to suck her thumb as well. She is learning to roll over, so we have to keep a close eye on her. She's been kicking more, which is a good sign. It is fun to see her hold some small toys and play with them. This seems to be a skill she is developing quickly! The hanging butterfly rattle on her stroller is one of her favorite toys! She enjoys playing with it while she is on her stroller. It is wonderful for me because she is entertained while in the stroller and this gives me a little more time to do some grocery shopping when she is with me. She is expressing herself more, with coos, oohs, ahs, and other single-syllable sounds. It's adorable! I recognize every new sound! She is also laughing more. Her giggles bring joy to our day!
Motherhood Challenge: I was trying to breastfeed exclusively (read about it here), but at Alessandra's two month regular check-up with the pediatrician, we were told she had gone through a growth spurt and had grown in length, but was below the fifty percentile in weight. The doctor recommended we supplement with formula. We agreed. I am continuing to breastfeed multiple times per day and we supplement with a bottle with formula after almost every feeding. This has been an emotional challenge for me because I wanted to breastfeed exclusively. It is a longer story, so I will dedicate a blog post to the topic of breastfeeding. On a separate note, I broke my toe in mid-June. I hit it hard on the leg of the baby's bassinet. It has been painful, but it is healing. My toe is bandaged to the toe next to it, it's called a buddy bandage. I am wearing an orthopedic shoe and flat shoes on the other foot (see picture here). The doctor indicated I should try to stay off my foot for the first few weeks and to keep it elevated. It really hasn't gotten in the way of taking care of Alessandra. It has though, impeded me from exercising (even walking), so I am at a plateau with my weight loss and still have eight pounds to lose to get to my pre-pregnancy weight. Most of my regular (pre-pregnancy) clothes fit me, even my skinny jeans, but they are tight. I know I will get back to my pre-pregnancy weight, I just need to exercise more often in order to get my body back. Soon I hope! I have three more weeks to go for my toe to heal, but it is still swollen and it still painful.
Outings: Now that she is three months and has gotten more of her shots, her immune system is stronger, which makes me feel more comfortable to take her out. Now that my toe is getting better, she accompanies me on my walks with Lorena about twice a week. This month, we had several fun outings! She accompanied me to my nephews' school recognition ceremony and our family dinner afterwards. We went to the San Diego County Fair twice. She was admiring everything and taking it in! We've been out to multiple lunches and dinners, family gatherings, Padres' games, and a graduation party. She behaves well in social settings, which makes it easier for us to take her to events with us. We are lucky that she is not a fussy or colicky baby. I have been able to go out solo a few times with my hubby's support, since he stays home to take care of Alessandra. I went to the San Diego County Fair Media Party (see post here) and to a birthday party (see picture here).
Favorite Outfit: Tutus! The pink tutu skirt which my friend Lorena gave her finally fits! It is adorable! I matched it with a top from Bloomingdale's which my friend Lizeth gave her, along with the bow and socks from an outfit my sister gave her (full outfit picture included above). She is my doll and I am having fun dressing her up every day!
Favorite Motherhood Moment: When she holds my fingers when I am breastfeeding her. She seeks out my hand and holds on to a finger or two. I give her little kisses on her hand or sometimes I'll rub it lightly with my other hand. I want to keep a mental memory of her tiny hand wrapped around my finger. Such cuteness!
What were your favorite moments as a new parent? And your challenges?

Hugs,
Paola
PS – In case you missed it, Alessandra's first month and second month updates, and see more pictures of our everyday life on my Instagram (@paolahernandezjiao) and Facebook pages.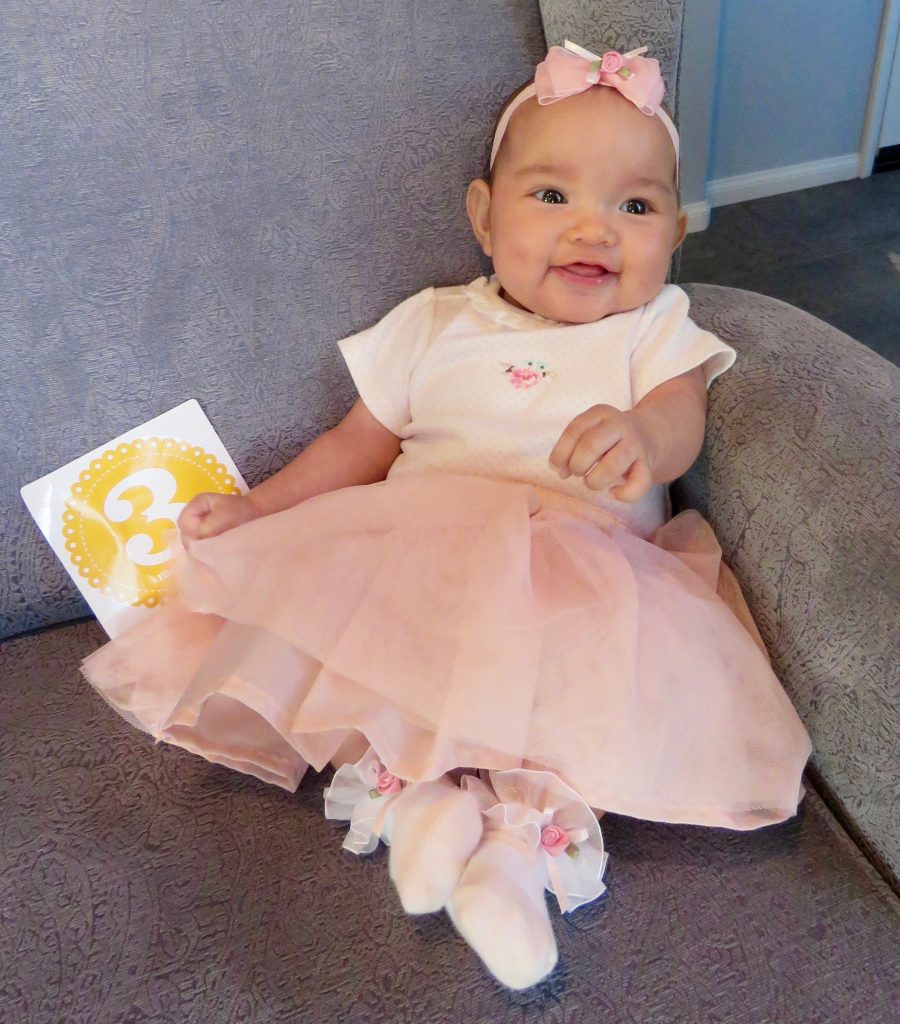 My favorite outfit this month! Tutu gift from Lorena (Old Navy), top gift from Lizeth (Bloomingdale's), bow and socks gift from my sister.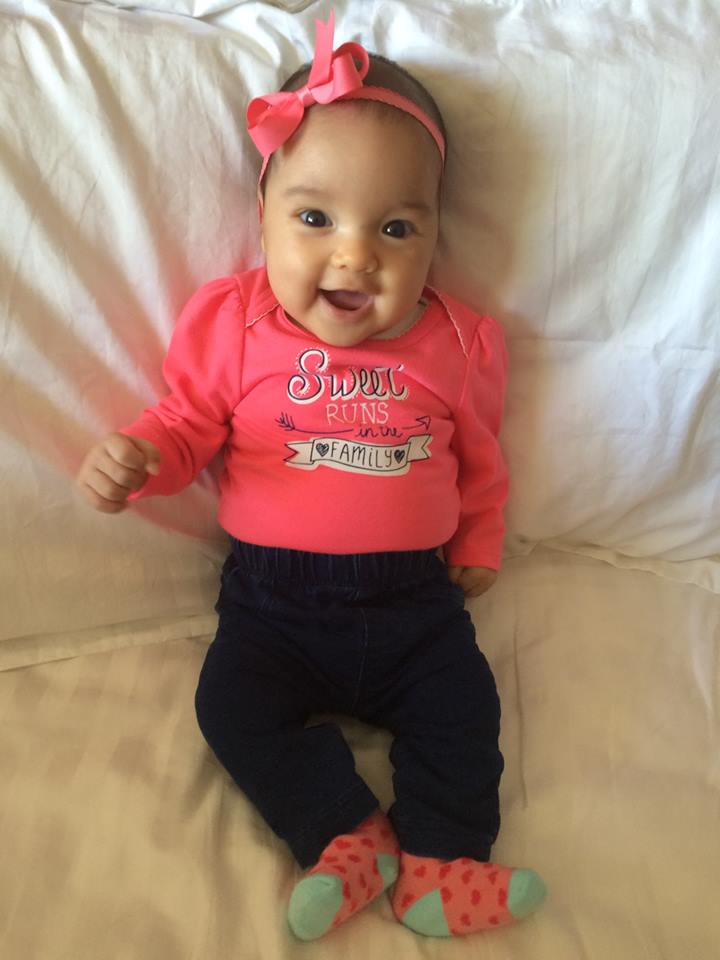 Ready for one of our walks with Lorena.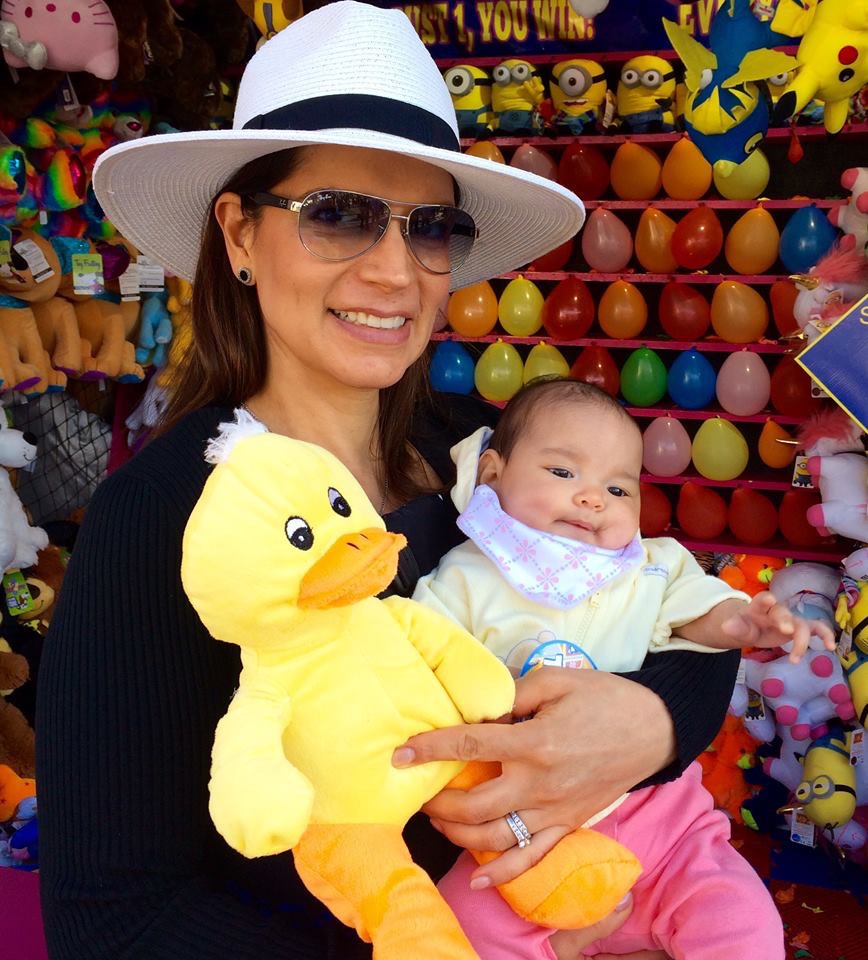 Daddy won this duck for her at the Fair.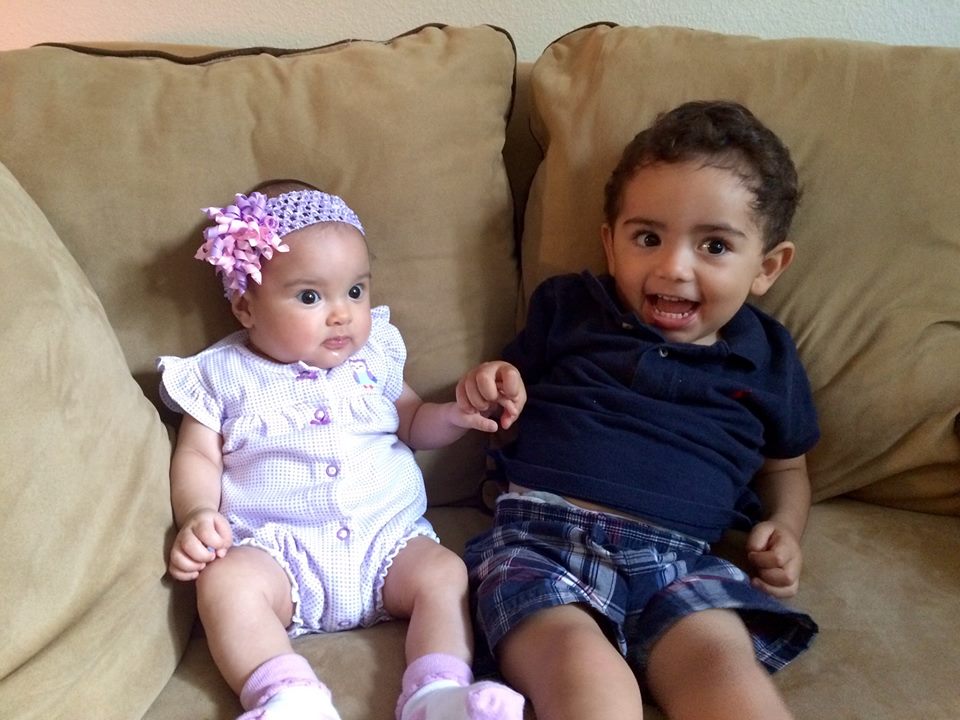 Visiting her cousin. Her little Carter's romper was a gift from my friend Lizeth and the bow was a gift from my sister, so cute!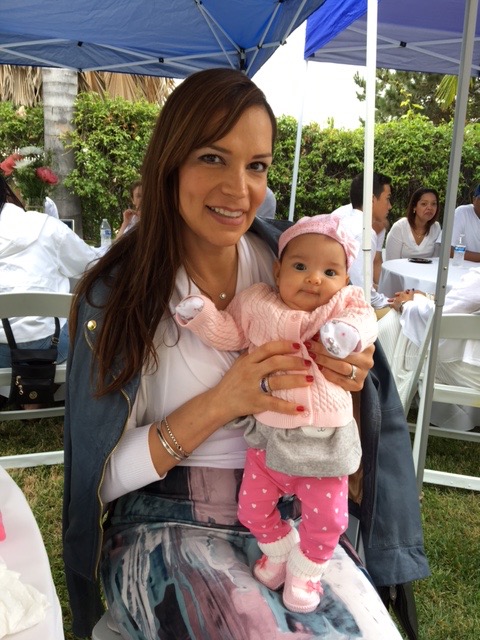 At a graduation party. It rained that day, so we bundled up the baby. The little booties were a gift from grandma (my mom). This sweater has been very useful as she has worn it several times, it was a gift from our family friend Mary.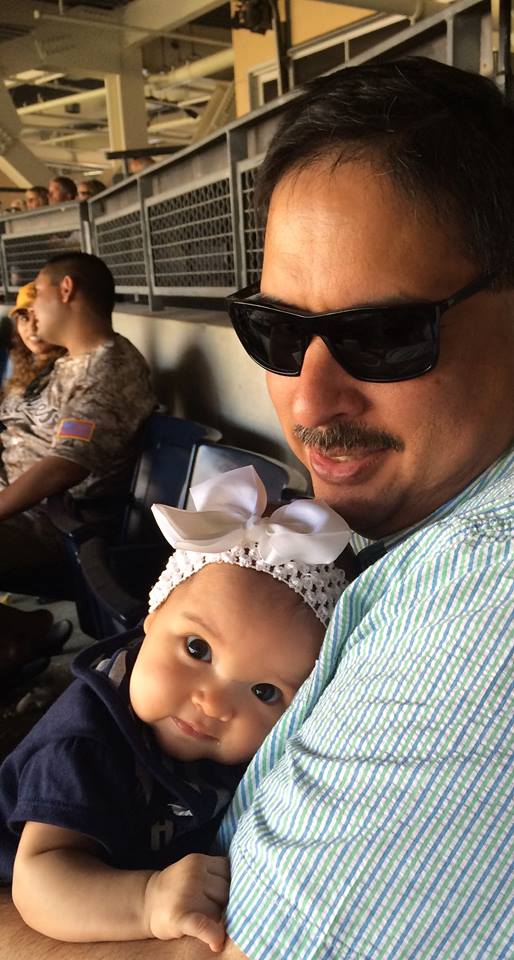 Cuddling up to daddy at a Padres game. Such tenderness!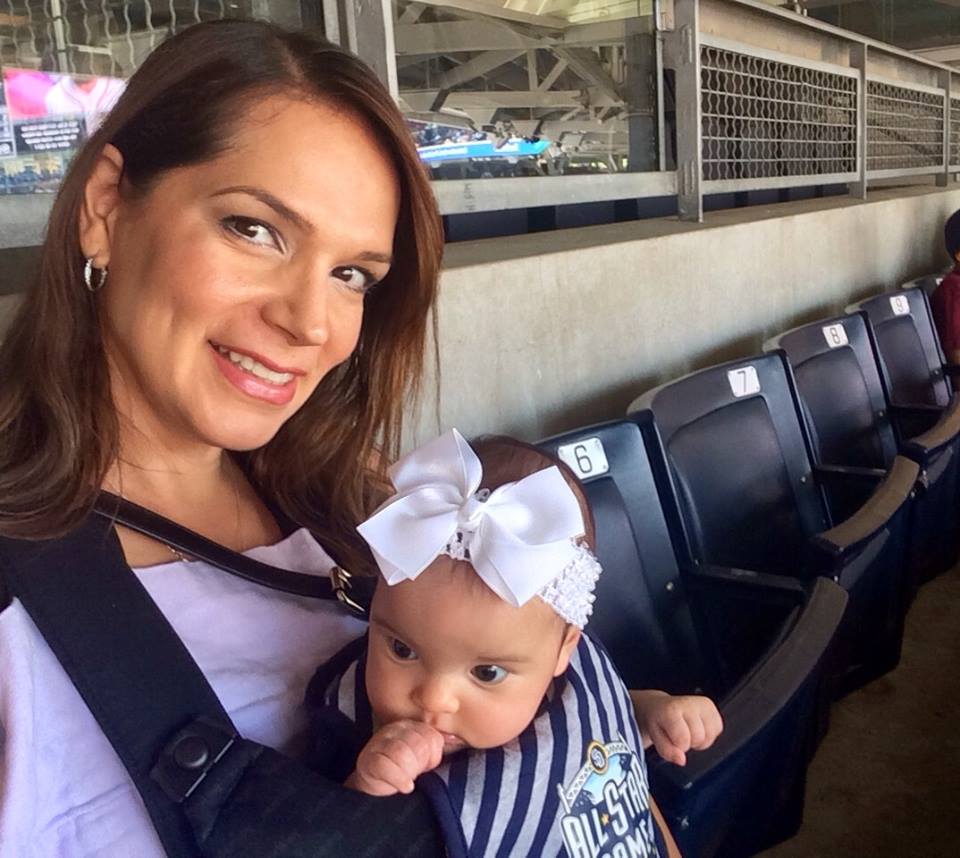 She behaves very well when we take her to Padres games (see pictures from another Padres game outing here). Not any crying or fussiness! We got lucky! I'll wear her for a while, then we'll take turns carrying her or sitting her on our laps.