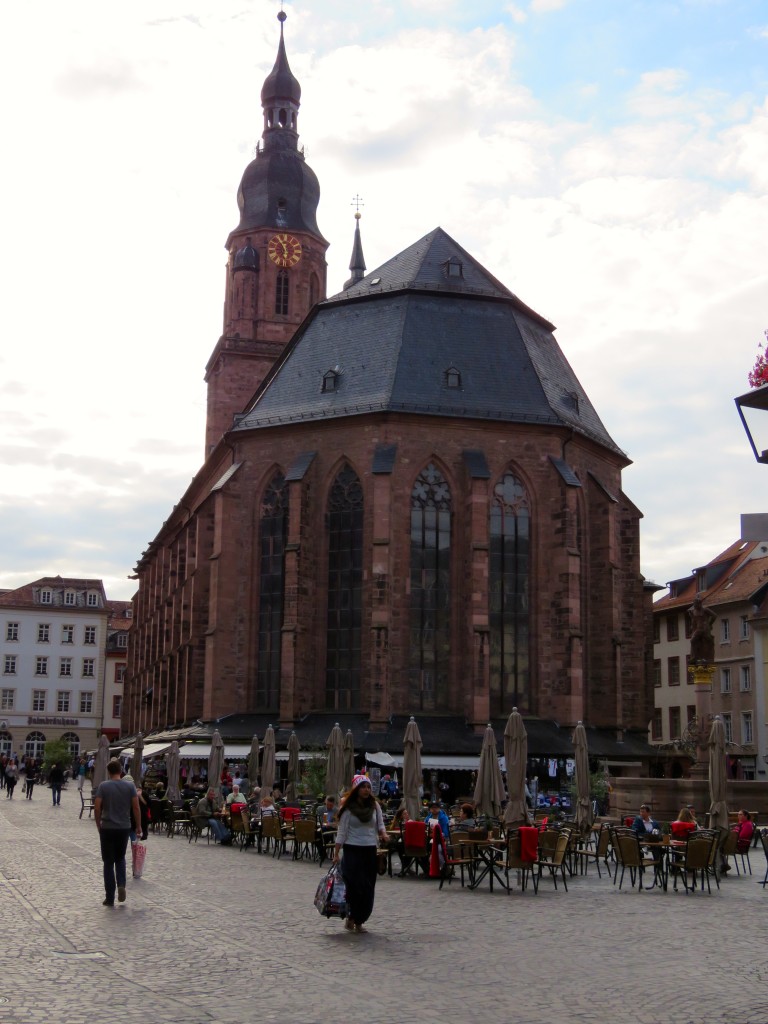 Finally, I am looking through our pictures from our trip a few weeks ago to Germany. My hubby had business meetings, and I accompanied him to visit my mother-in-law and our friends. It is always nice to visit Germany with my hubby. I had been there a few times when I was single, but traveling there with him is a completely different experience. He is German-American and lived In Germany for many years. My mother-in-law is thrilled that we are pregnant, this is her first grandchild! It was nice to share these special moments with her!
One of my favorite cities to visit in Germany is Heidelberg. It is very picturesque and enchanting! My hubby on the other hand, would prefer to skip Heidelberg because it is quite touristy. But, he still takes me every time I ask him. He had business meetings during the day and in the evening we went to Heidelberg for an early dinner. After dinner, we took a walk around the shops. He had a conference call to take and I continued my exploration of Heidelberg. I can walk and walk, and still be amazed by the beauty of the city! It is old and well-preserved. There are old shops and new shops, like a Starbucks under construction, and lots of pastry shops and restaurants. Some restaurants serve authentic German food, which is what we had for dinner. You can also find cuisine from around the world! From Asian food, to Indian, and even Subway sandwiches. And, the gelaterias offer lots of options in flavors to sweeten your palette. We were there just before Oktoberfest and some of the shops had authentic German and Bavarian outfits, such as dirdls and lederhosens. We were looking for one for the baby, but by the time we got to the baby store, they were closed. Luckily, we can order it on-line. We went to one of our favorite specialty stores which has beautifully decorated window showcases. The store already had some Christmas decorations, such cute items! If you visit Germany, I recommend visiting Heidelberg, you can get lost just walking down the cobble stone pedestrian streets! If you have more time, I suggest going to the Old Bridge (Alte Bruecke) and the Heidelberg Castle (Schloss Heidelberg), see pictures of both below. I visited the Castle more than ten years ago, on a trip to Germany with my sister, it was snowing and it seemed very majestic. Visiting Heidelberg again was one of the highlights of our trip for me. I always seem to find something new!
Have you visited Germany? How about Heidelberg? What was the highlight of your trip?

Hugs,
Paola
PS – Pictures from our previous trips to Germany, visit to the Porsche Museum in Stuttgart, our Spa Day in Baden Baden, and Kurhaus Casino and Kaefer's Restaurant in Wiesbaden.