Today's Cup of Happiness comes from the Happiest Place on Earth, Disneyland! My hubby & I had a short courtship before we got married. We only dated for two months before he proposed….more about that in another post. When we were dating he affectionately started calling me Minnie. I can't recall why he called me Minnie, but I thought it was cute. He even bought me a few items with Minnie Mouse on them. I still use the pink Minnie sweatshirt and the tote bag.
A few weeks after we got engaged, I went on my annual visit to Disneyland with my younger brother, sister-in-law, and nieces. It had become our little annual trip and we would make a long weekend out of it, staying at a hotel in Anaheim for two nights. During that trip, I searched and searched the stores at Disneyland for something to bring back as a gift for my husband (fiancé at the time). He is a difficult person to shop for since he practically has everything he could want. To this day, even after being married for more then four years, I have a hard time buying gifts for him. Then it occurred to me, if I am his "Minnie," then he is my "Mickey," and decided to buy him a set of Mickey & Minnie mugs. I didn't want to get the regular theme park mugs, I wanted to try to find something more unique. The sketches on the mug seemed interesting and as an added plus, the set came in a nice box presentation with a ribbon. My hubby is very smart, creative, & is always learning new things. I liked these mugs for him because they demonstrate how Mickey as a character is constructed, the creative process done by an artist, drawing by drawing. Plus, I liked the simplicity of the white mug with black text & sketches. I have a preference for mugs that have white or light colored interior because it allows me to see the color of the beverage. I like them because I can see the intensity of my tea or coffee, if they are strong or weak. If a mug's interior is too dark, it may sometimes be hard to see the color of the beverage, particularly for tea. Just one of my quirky personal preferences.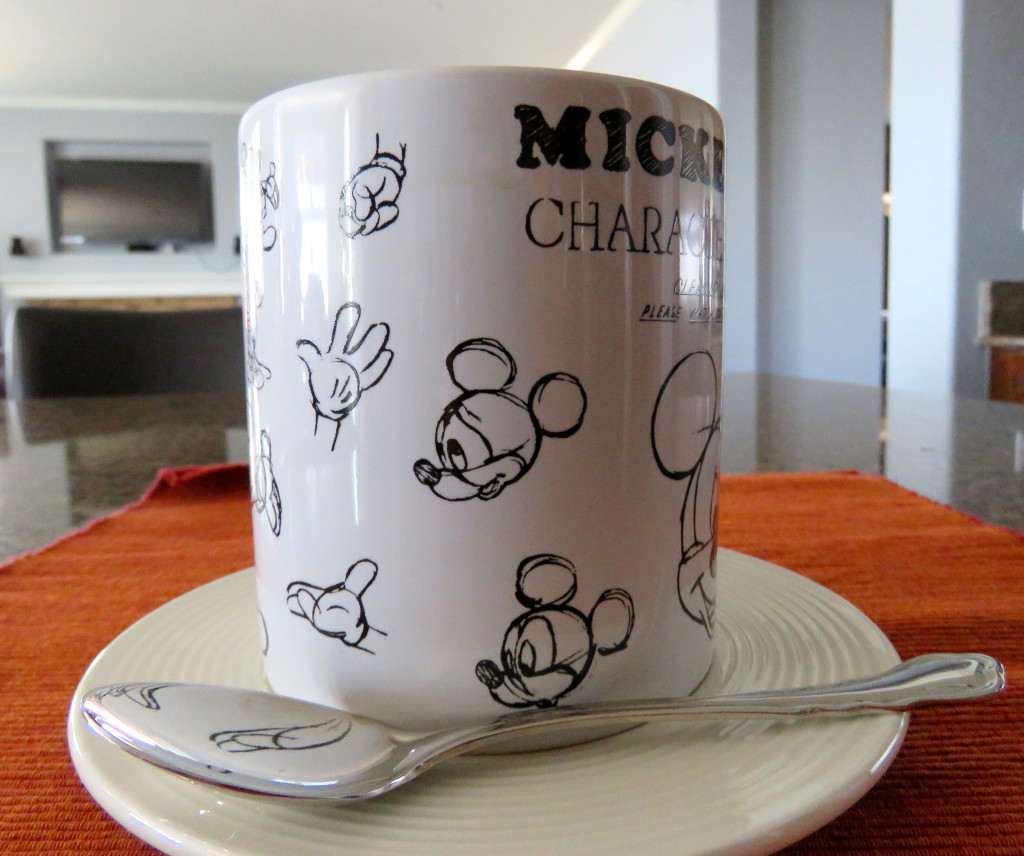 My hubby liked the mug set…and I also bought him a couple of other Mickey golf themed gifts! He doesn't drink coffee or tea very often….but, I use the Mickey mug and the Minnie version too (to be posted later in this series). He no longer calls me Minnie, I have no idea when he stopped or why, now he calls me babe (or "love of my life", just kidding, he doesn't call me that). Guess I should ask him why he stopped. Regardless, every time I use this mug or wear the Minnie items he gave me, it reminds me of the affectionate nickname my hubby used to call me. It takes me back to the days when we were dating and the excitement of our engagement, times I remember with love and happiness….and that makes me smile every time!
For this post, I googled Mickey Character Construction Mug Set and found the mug available for sale on-line and a picture of the gift box set. Amazing how you can practically find anything on-line these days!
Do you have an affectionate nickname you use for your significant other or he/she for you?

Hugs,
Paola
PS – In case you missed the first "Today's Cup of Happiness" post, here's a link. It explains why I am doing with this cup of joe experience and includes a beautiful mug from Spain. The second post is Today's Cup of Happiness: Ysenburg Art Werk. The third post is Today's Cup of Happiness: Making It On My Own.