What did you do this 4th of July weekend?
This weekend was a whirlwind….with lots of fun, most were unplanned activities!
Celebrated the 4th with family, which is always a fun time, creating beautiful memories!
I worked Friday and ended up going to a meet & greet event for the Xolos soccer team. Thankfully I never dress too casual for work, not even on casual Friday's, so I am always ready to go to a work function, meeting, or to appear in a TV commercial or segment at a drop of a dime (these have all happened to me in the past). So, even though it wasn't on my schedule, I was able to go to the event and had fun!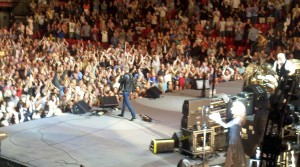 Friday night, I went to the Fleetwood Mac concert with my hubby. When he invited me to the concert two weeks ago, I asked him what songs the group was known for, he started singing "Don't Stop Thinking About Tomorrow," to which I replied, "I remember, that is the song Bill Clinton used as his campaign song!" Haha, we both had a laugh about it. We had a fun time at the concert, it is always nice to see my hubby smiling. I even knew about 4 songs and now know more about this amazing band!
Saturday, I planned to work on my blog. But, destiny had other plans. My hubby asked me to join him for the day in Beverly Hills, he had to buy something up there and was driving there for the day. I went with him – we had a delicious lunch, did some shopping, and enjoyed Rodeo Drive. Most of all, I always enjoy road trips with my hubby, time spent with him is always nice!
Today, my hubby had a video shoot in the early morning. After his shoot, he called to ask if I wanted to go to brunch – I dashed to get ready. Instead of going to the typical breakfast places, we went to a new, cute, local restaurant that our friend Elsa recommended. All I need to say is "delicious food & super friendly staff!" It was nice to go to a small, local place, and  we plan to return. Plus, they serve salads in a bowl! I LOVE, LOVE salads served in a bowl! Remember Elaine in Seinfeld and her salad in a bowl, that's how much I love salads in a bowl!
We are considering that I should get another car…so, my hubby wanted me to test drive the car he is suggesting. I am not as enthusiastic as he is about getting a new car, but agreed. I really like my current car (lots!), so I feel like I need time to adjust to the idea of another car & letting go of this one. My current car is in great conditions, but I've had it for a few years now and it's a large SUV, and no longer under maintenance coverage. It will cost me a pretty penny every time it needs maintenance. My hubby is German (& knows lots about cars), my car is British, let's just say he's not a big fan of British cars, haha! He's right though. In the long run, it will be better. So, we went to Carlsbad, a 30 minute drive, for the test drive. They didn't have the exact car I want, but the dealer will contact us when a match comes along. I am in no rush, it will give me time to adjust to the change.
Since we were in Carlsbad, we had to stop by the Carlsbad Fashion Outlets (of course!). I am not one to go to the mall every weekend. But, when I go shopping, I become a power shopper, haha. My friends have seen it – I scan the store, see what I like, try on quite a bit of pieces, and do some power shopping. I went to three of my favorite stores and found some nice items, which will be fun to wear them this summer! I'll share more about my shopping experience later on in a post….and did I tell you, everything was on sale – the entire stores were on sale! Love it! The best part, I got to spend the day with my hubby!
So, sometimes the best times occur when we least expect it…..or plan it! Has this happened to you before – that you had a blast and it was spontaneous?
Best wishes for a great week everyone!
Hugs,
Paola