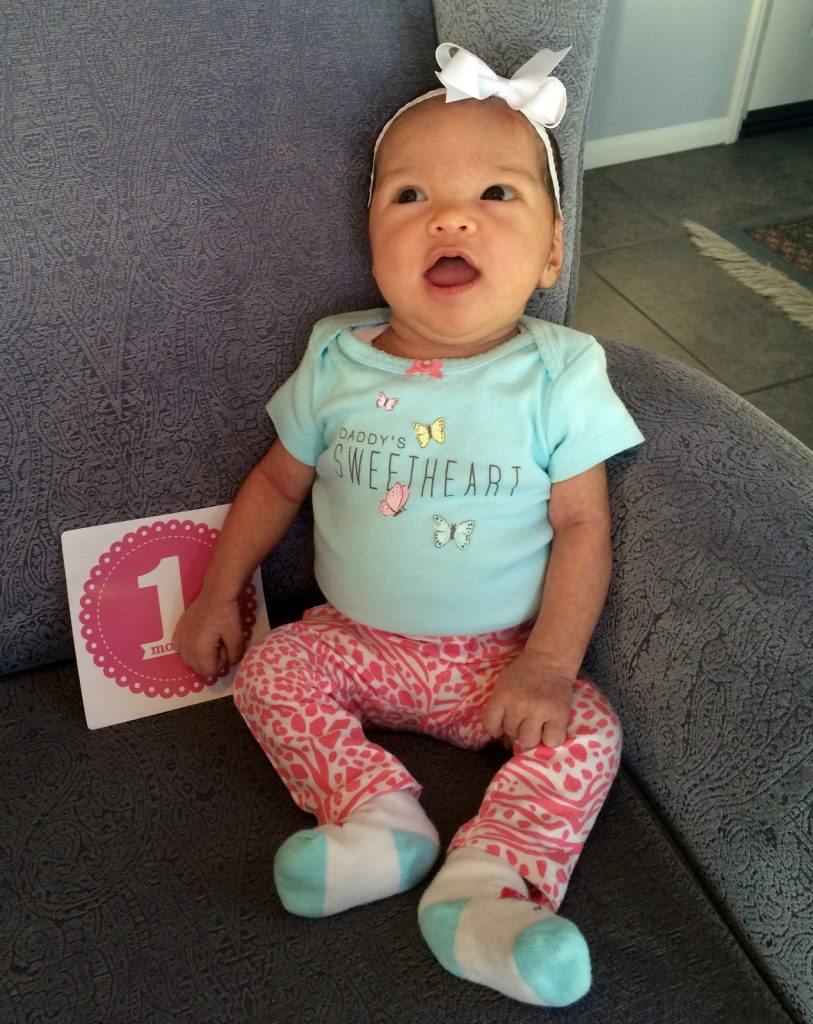 We use the terms "time flies" and "they grow so quickly" often when we refer to children and life experiences. Well, in this case, I am amazed how fast a month went by. Our baby girl, Alessandra, turned one month a few days ago. I am going to try to write about my experience as a mother and our baby's development. I say "try", because it has been harder than I thought to find the time to write since we brought our baby home. I am writing this post at midnight, after completing our evening routine of giving her the evening bath, breastfeeding, and putting her to sleep, then taking a shower myself, preparing her clothes for tomorrow, and re-stocking the diaper organizer in our bedroom. Usually, by the end of our evening routine, I am exhausted and need to go to sleep. Since many of you have asked me how it is going with motherhood, I'll share my experiences and thoughts.
Our first month together: Bringing Alessandra home was exciting! We had an excellent experience at Sharp Mary Birch Hospital, where we stayed for six days due to the c-section, everyone was wonderful, but I was ready to come home when I was discharged by the doctor. I wanted to come home and start bonding with our baby in our own environment. Luckily, we had set-up the babies nursery and assembled her co-sleeper before we left for the hospital. I had organized her clothes, diapers, bathroom, sterilized her bottles, and done as much as possible during the last months of pregnancy. We had also set-up a playpen, with a bassinet and changing table in the family room downstairs. I am glad I did all this during my pregnancy because I would not have had the time to do it once our baby came home. I have spent the first weeks with our baby just getting to know her. Her needs, her different crying sounds, her personality. My mom stayed with us the first three weeks and was very helpful. My sister visited often and helped with the baby during the first two weeks (she was on spring break from work). I had a c-section, which made it challenging because I was in physical pain and needed to rest to recuperate. My hubby has also been helpful, he has actually been even more helpful since mom left. Our baby is a "good baby", this is according to my mom and sister (whom is a mom of two). Luckily, she is not fussy, she is a good eater, sleeps well, does not have colic, and only cries when she has a need, such as a diaper change or wants to be carried. I don't have anything to compare it to since she is our first child, but she seems like a normal baby to me. During the first month she would sleep lots and we learned that she likes to be carried, lots and often. I enjoy holding her close to me and often find myself looking at her with a feeling of love and joy. I love feeling her leaning on my chest or shoulder when she falls asleep in my arms. I often hold my chin next to her head to feel the warmth of my baby next to me.
Physical Changes: During her first days after birth she lost weight, which is normal for newborns, but within a few days of breastfeeding she was back to her birth weight. It worried us, but thanks to the advise of our pediatrician, Dr. Reed, at Sharp Healthcare, we continued with breastfeeding her often and she regained her weight. She has grown and gained weight in her first month. Her legs are fuller and she has adorable chubby cheeks! She has outgrown her newborn size clothes and hats, and has now transitioned to size 0-3 months which is slightly larger. Since birth, she has a deep look, she will stare at people straight in the eyes. Several people have commented on this. She is very alert and observant of her surroundings. Within a few weeks, she started making different sounds and it is adorable! She moves her arms and her legs more. She still doesn't have control of her arms, but she is making progress. She likes to bob her head and can lift it when we have her in the tummy time position.
Milestones: Baby has reached the regular milestones for a one month old, such as starting to bop her head and attempt to hold it or raise it up. She follows us or an item with her eyes. She is observant of people, sounds, and her surroundings and she is tolerating tummy time more often. She is making different sounds and smiles when we speak to her.
Motherhood Challenges: I am still amazed by our baby and love her greatly! I knew motherhood would be lots of work and it has proven to be so. The hardest part has been the few times when she is fussy and has cried for several hours. I will admit, on one of those occasions, I cried along with her. I was home alone, exhausted, and it broke my heart to hear her cry so much, I tried everything to try to calm her. I tried everything on what we call the "check-off list": check diaper, feed her, burp her, hold her close to us so she feels secure, sway her, check clothing for comfort, see if she is cold by covering her, swaddle her so her arms aren't moving around, making shushing sound, lift her legs and rub her belly in case she has an upset stomach or gas, playing white noise, turning on the fan for the noise, entertain her in case she is bored, place her in her vibrating musical chair. Nothing seemed to help. She had never had colic, but just in case, I placed a warm cloth on her belly while I fed her and she finally stopped crying and fell asleep. I am not sure if it was colic or not, I think she was simply exhausted from crying and fell asleep. It was the longest time she had cried continuously. Now, when she gets fussy, I just wait it out and try to soothe her as much as possible. I haven't cried anymore.
Our routine: It was important for me that we establish a routine as soon as possible. I tend to be a methodical person. I am organized and like to know what is going to happen, and am a planner. Of course, with a baby, you can't plan too much, and you don't know how the day is going to go. I now tell my husband that I get as much done as I can in the evenings, because I don't know how the baby is going to feel the next day, if she is going to be fussy or calm, so I need to take advantage of any free minute available. My mom has left, my hubby has returned to work, and I am staying at home to care for our baby. We don't have a nanny. Our current routine is that I get up several times every night to breastfeed Alessandra. Hubby helps out with the nightly diaper changes and helps to get her back to sleep on nights when she is fussy. The first few weeks were tough, but I am getting used to sleeping in two to three-hour slots. I set an alarm to ensure I wake up to feed her. On a good day, she will go back to sleep after her morning feeding and I can also go back to sleep. The first few weeks, I would get up and start doing things around the house. I quickly learned that the lack of sleep would catch up with me and I was a zombie. Now, I try to go back to sleep when she does in the mornings. Sometimes, she will not go back to sleep in the morning and those end up being very long days. I will breastfeed her several times throughout the day, sometimes every hour, sometimes every two to three hours. By noon, I try to change out of my pajamas and change her into an outfit. It really helps me to wash my face every morning, brush my teeth, brush my hair, and change into an outfit. If I am lucky, I will be able to take a quick shower during the day, otherwise I shower at night after my hubby gets home from work and watches Alessandra. During the day, I check my e-mails, and reply to texts and calls from friends and family, usually when she takes quick naps after eating. I make myself some lunch, usually a salad and eat it in several stages while feeding the baby or after she falls asleep on my shoulder or lap. In the evenings, I make dinner for my hubby, usually something simple or he offers to bring some take-out. By 7:00pm, I am starting to get our evening routine ready. I prepare the baby's bath, her pajama, and outfit for the next day. I give the baby a bath, change her, wrap her up in her swaddle and a blanket, breastfeed her, burp her, and put her to sleep. Mom helped me bathe Alessandra the first three times, then after that, I started to do it myself. It was important for me to feel comfortable bathing the baby on my own because I knew eventually mom would leave. The bath relaxes our baby and she now enjoys it! Most of the time, she will remain asleep for a few hours after her night feeding. I wake her within a few hours to feed her before I go to sleep. Then, we start our day all over again with the middle of the night feedings. It has been very helpful for me to have a routine. Experts say it is also helpful for babies. Alessandra seems to enjoy our evening bedtime routine. On days when we have outings, I still try to continue our evening routine.
Outings: We have not taken our baby out much in her first month. We have taken her to a few pediatrician appointments. After one of her appointments, we decided to go out for an  impromptu early dinner. It was not a good idea, in my opinion. I did not enjoy the outing because I breastfed her at the table when we arrived, had to burp her, took her twice to the restroom for diaper changes, and held her during most of our time at the restaurant. Hubby helped hold her a little so I could eat some of my sushi and mom also helped. At the end of the meal, I realized I had not been able to take one sip of my iced tea because I had been so busy caring for the baby. She also didn't seem to enjoy it. At this young age, babies can get over stimulated quite easily. In addition to the discomforts and more importantly, I read it is not advisable (by pediatricians) to take a baby out to restaurants or enclosed areas at such a young age due to their developing immune system. That was the baby's first and only outing to a restaurant in her first month. After that, I preferred to stay at home or order take-out if I wanted a particular type of food. I did not want to risk our baby's health. We took her to my brother's home on my nephew's birthday. It was a small gathering with family and we were only there for a few hours. It was at my brother's home, so I was able to breastfeed comfortably in one of their bedrooms.
Visitors and Outings Schedule: Initially, I greeted visitors at the time they were available to come to our home. Around week three, when I got into our routine of trying to rest in the mornings, I started to tell visitors they were welcome to come after 12 noon. This really helped! This way, baby and I were able to rest in the mornings and I was able to breastfeed her comfortably. It also allowed me more time to shower, and get myself and baby dressed in order to greet our guests. I started to do the same thing with outings, such as doctors appointments, I would schedule them for after 12 noon.
Favorite Outfit: This baby has been blessed with many gifts, in particular some adorable outfits! My favorites are her two German dirndl style outfits, which were gifts from her paternal grandmother. She looks like a little doll in the outfits! I have put them on her several times because I know she will outgrow them soon. It is important for us that our baby learn about her cultural heritages, she is German, Filipino, Mexican, and American. This is one of the reasons why I like to dress her in these German outfits. When she gets older, I will show her the pictures and explain it to her.
Favorite Motherhood Moment: There are so many! I would have to say my favorite right now is that she recognizes me and smiles when I speak to her. That smile melts my heart and makes me forget all the sleepless nights! It is a very special and unique feeling!
Biggest Changes: Caring for our baby is my biggest priority right now. Everything else, including my blog, exercise, and habit of being organized has taken a back seat. I want to enjoy this time to bond with our baby. I also wanted to allow myself a break from my career and constant to do list. I am so used to being productive and this has made it very challenging for me. I am aware that taking care of a baby is a full-time job, but I must admit I do miss my career. Since I stay at home with her full-time, I have very little free time. I thought I would have time to write a daily blog post, but this has not been the case. Lately, I have to decide what to do with the few minutes of free time I have every day. In the mornings and late evenings, sleeping or simply laying down to rest usually wins. Showering is a close second. Followed by eating. If I am lucky, I will read a few pages of a parenting book I have been trying to finish or do a few things around the house. I have managed to stay in touch with my sister and close friends mostly via text messages and phone calls. Staying in touch with them has helped me tremendously, emotionally and socially. I am enjoying my time at home with our baby and feel fortunate to be able to do so without having to worry about work related projects or my return date to work. I know this is a stage and it will pass. I don't want to miss this stage of our baby's life or mine. I will have time in a few weeks or months to return to my work, to writing more often, hosting events, attending community functions, continuing my charity volunteer work, and consulting.
Pets: We have three cats at home and during pregnancy I read about the best way to introduce them to the baby. We have slowly introduced them to our baby according to the recommendations from experts. Prior to bringing baby home, we played the sounds of a crying baby a few times to see how them would react. We set-up gates (the tallest I could find) on the doors to our bedroom and the baby's nursery to avoid the cats from entering unsupervised. We have brought the cats into the bedroom one at a time to introduce them to Alessandra. The first few times, we made sure hubby was holding the cats firmly and I was holding Alessandra at a safe distance. My hubby brings in Maxi and Mori every night and we spend time with them. Mimi isn't very social and doesn't like to be held often, so she has only been into the bedroom a few times to meet the baby. We still spend time with our kitties, we just limit the time they spend in our bedroom and with the baby.
What were your biggest challenges when you became a new parent? Do you have any parenting tips to share?

Hugs,
Paola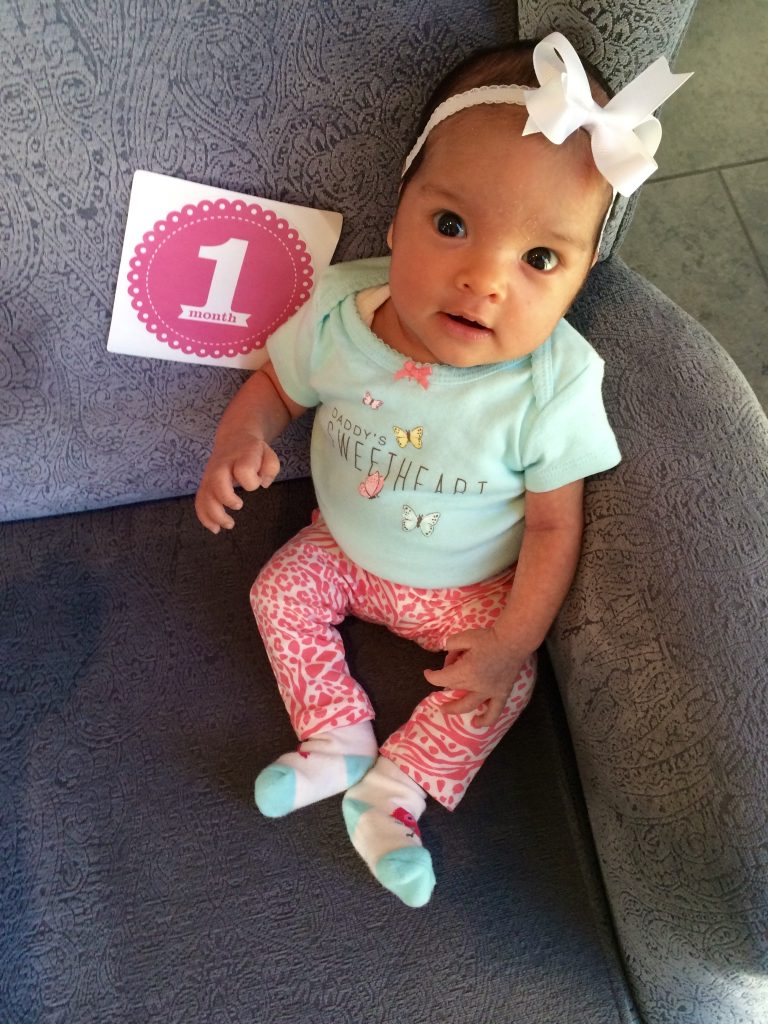 She is an alert baby!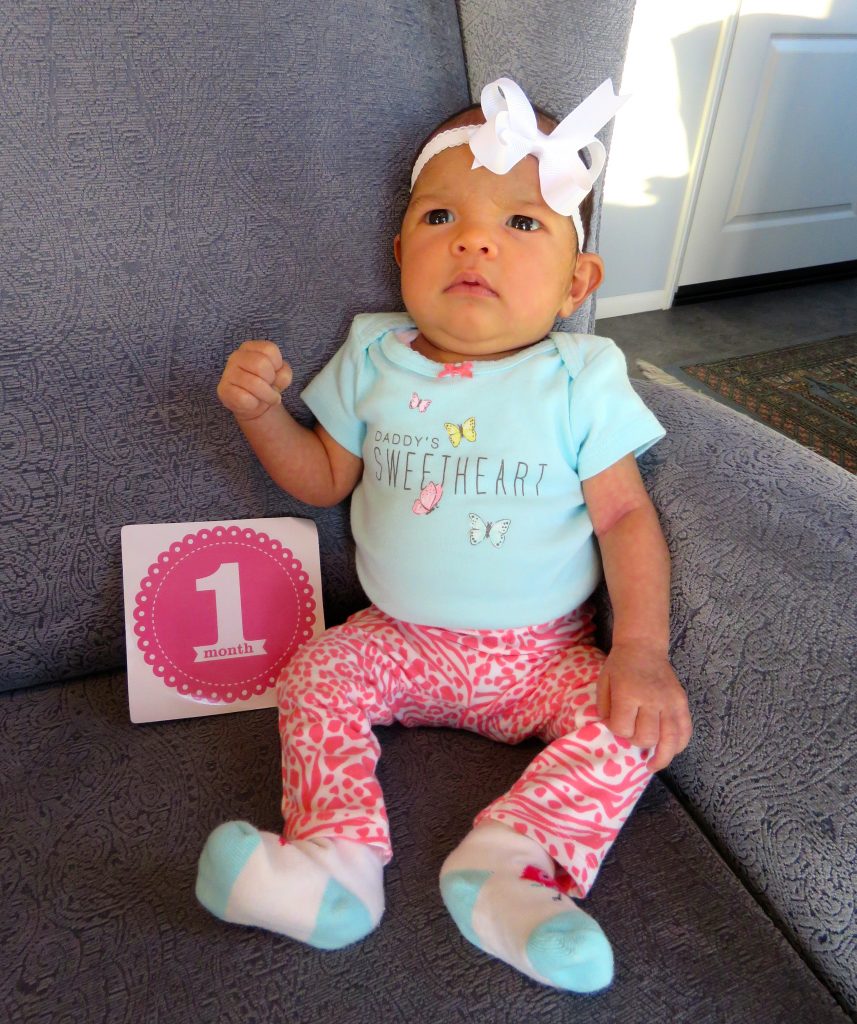 This is her serious expression. She frowns and brings her eyebrows together. This is an expression my family uses often, she got this one from my side of the family.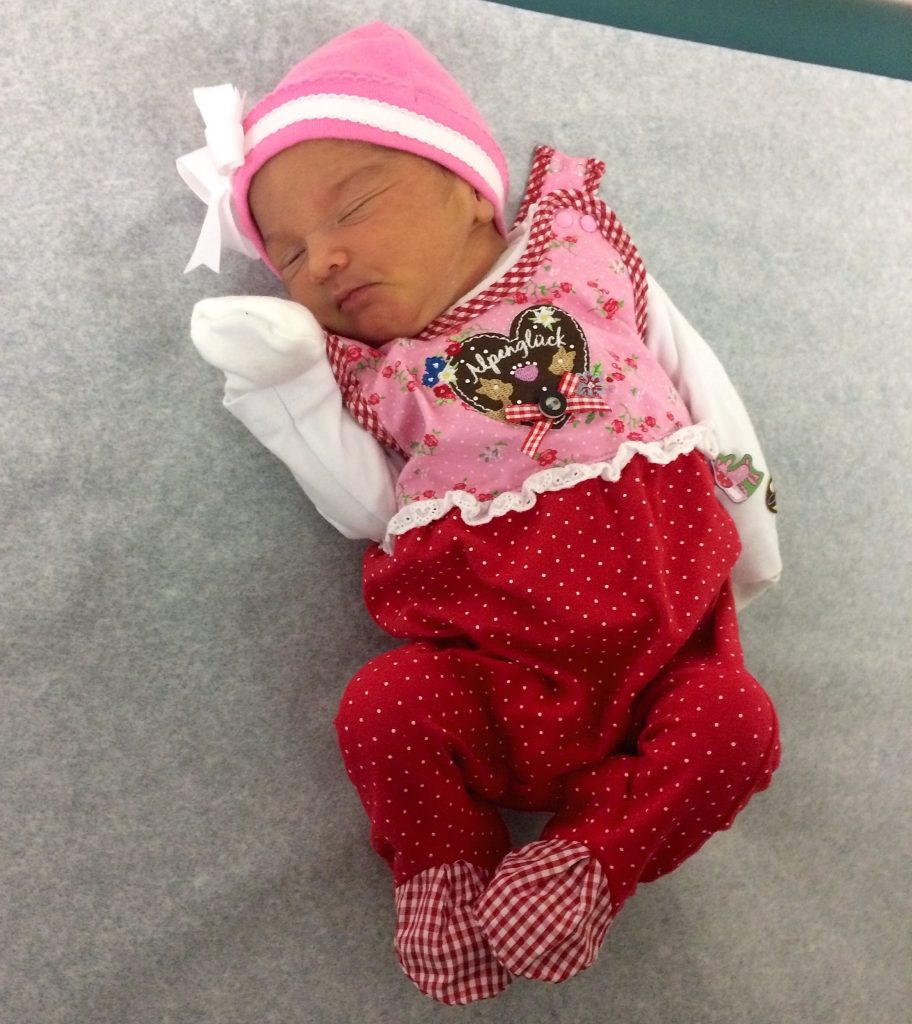 At one week in one of her German dirndl outfits, during a doctor's appointment.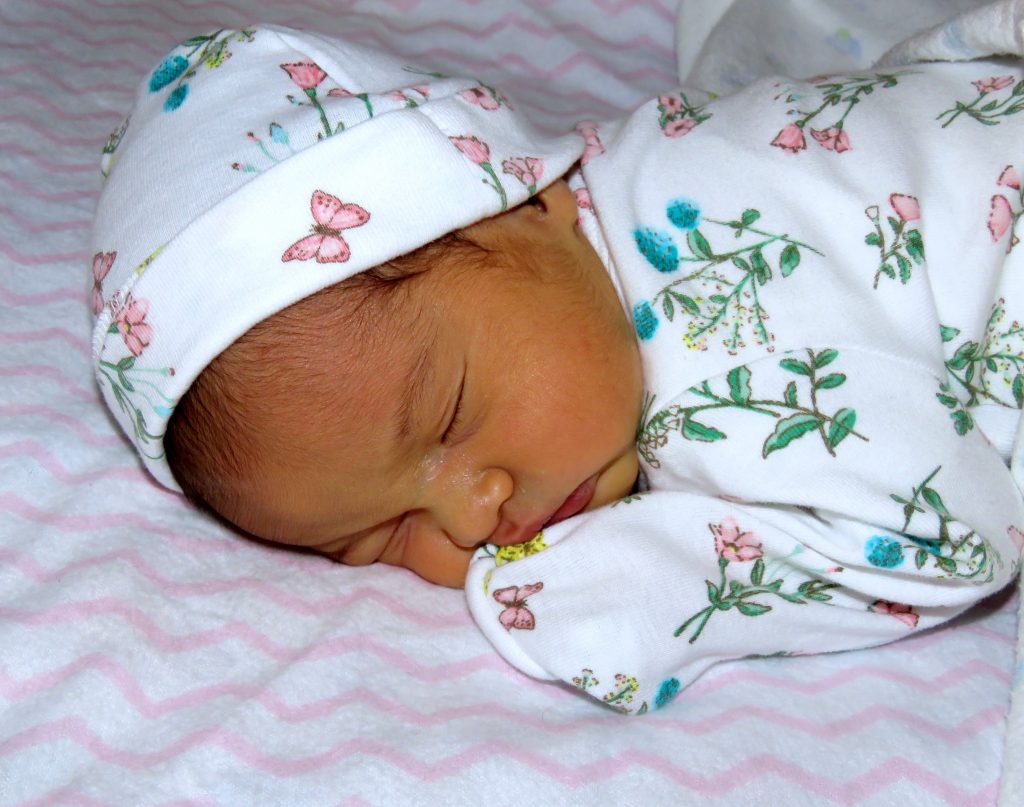 Started with tummy time & she fell asleep, so we turned her on her back.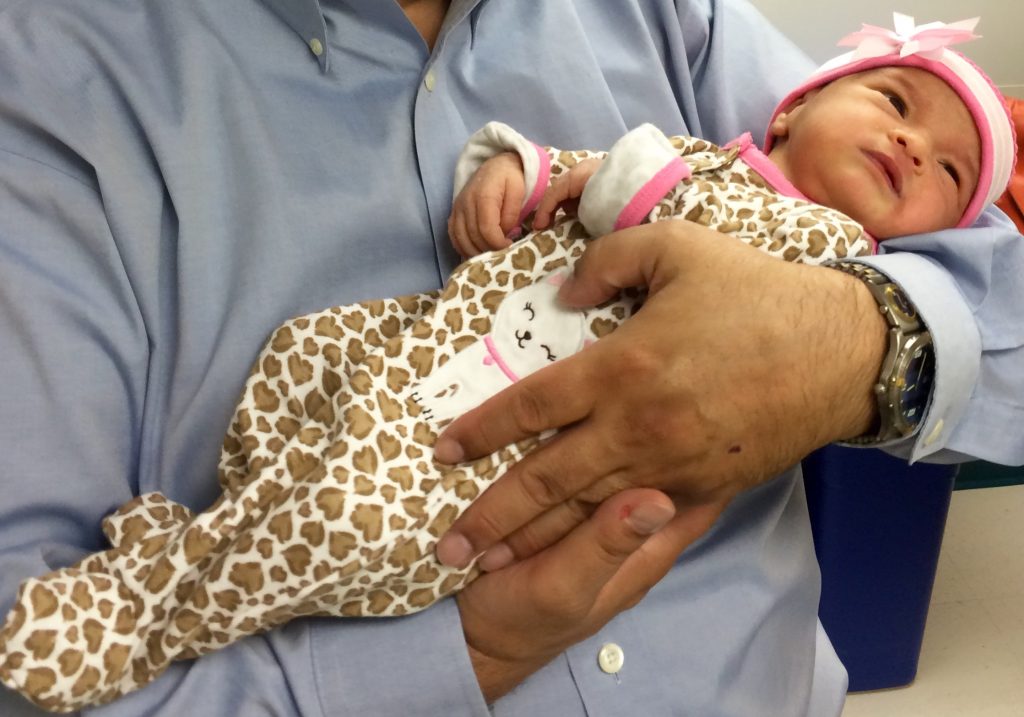 Being held by dad after the doctor's appointment at which we were told Alessandra had regained her birth weight. We were relieved!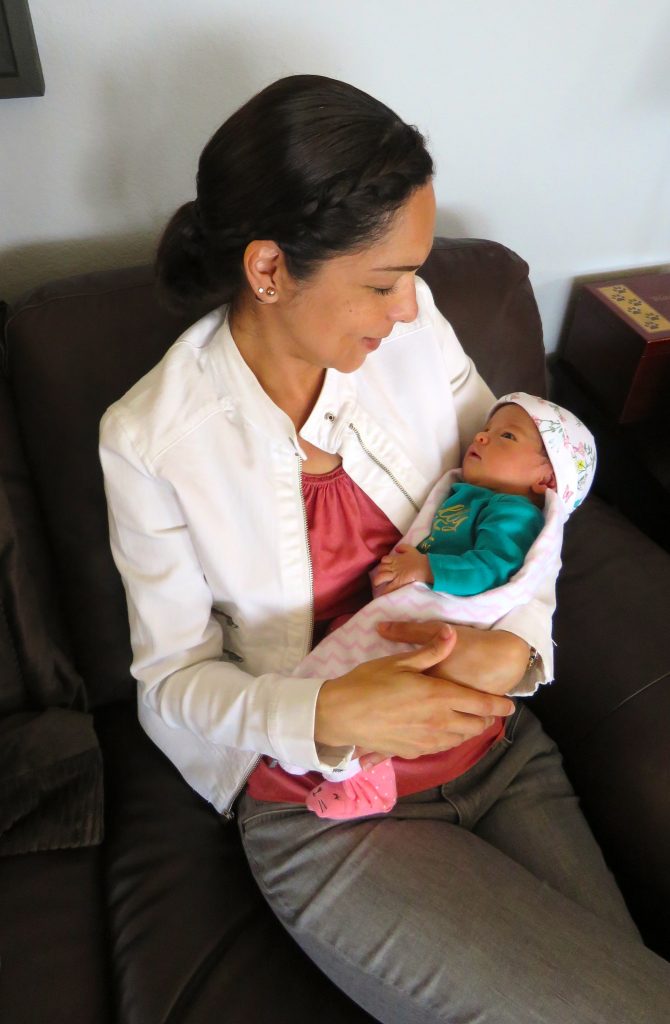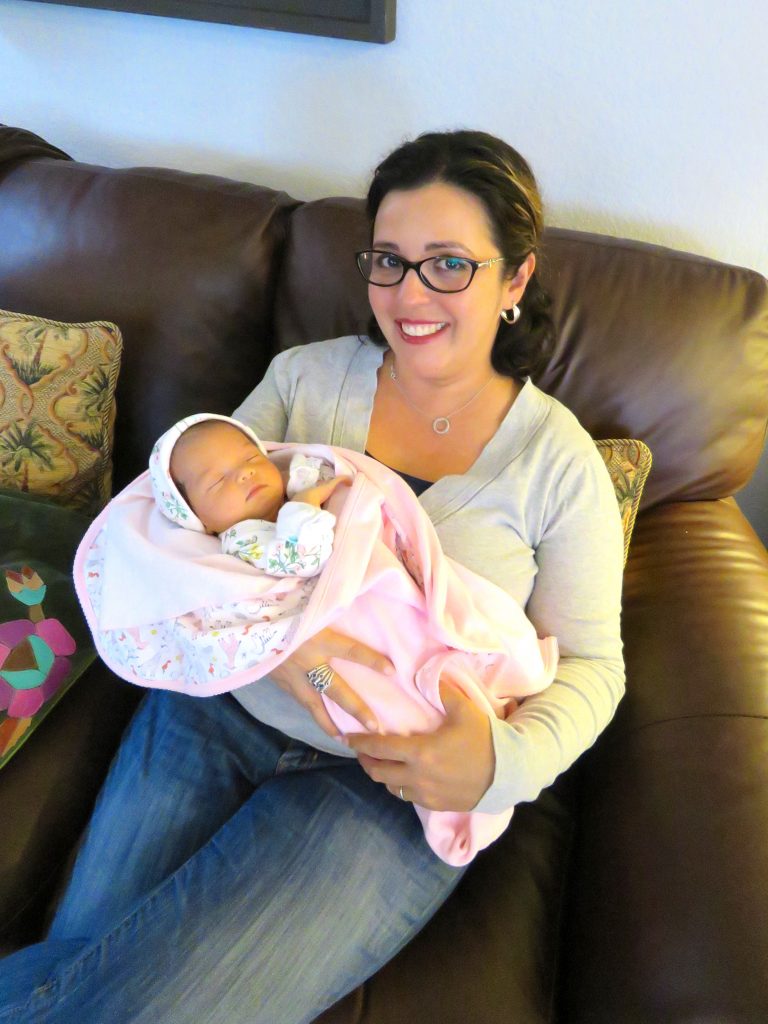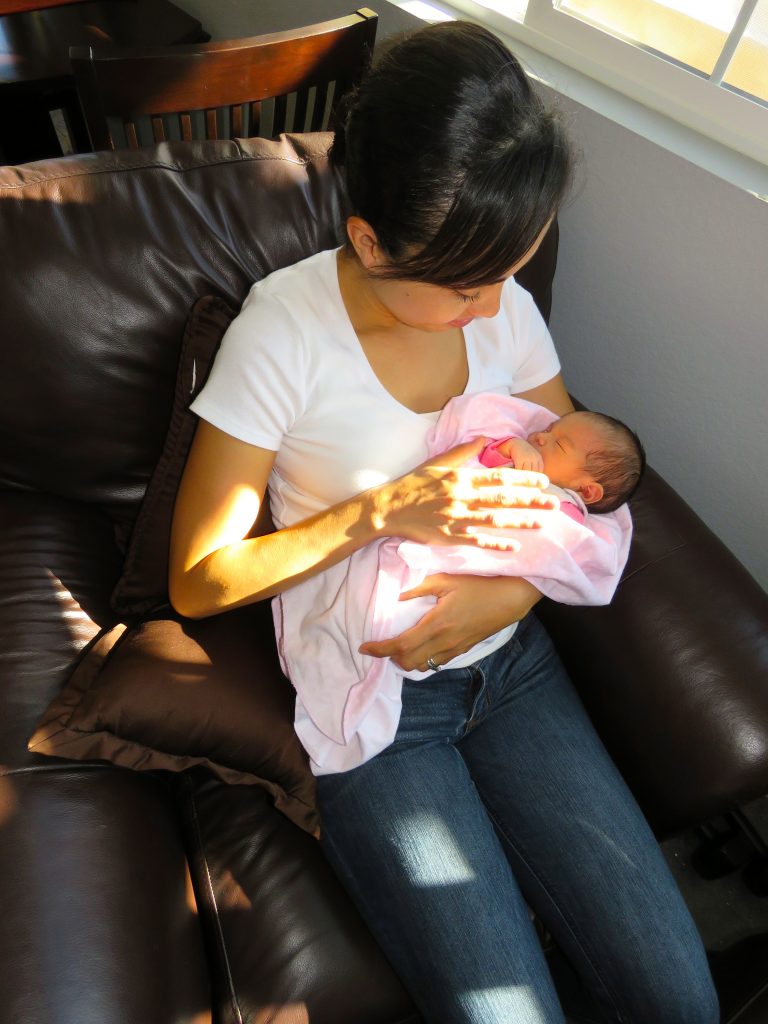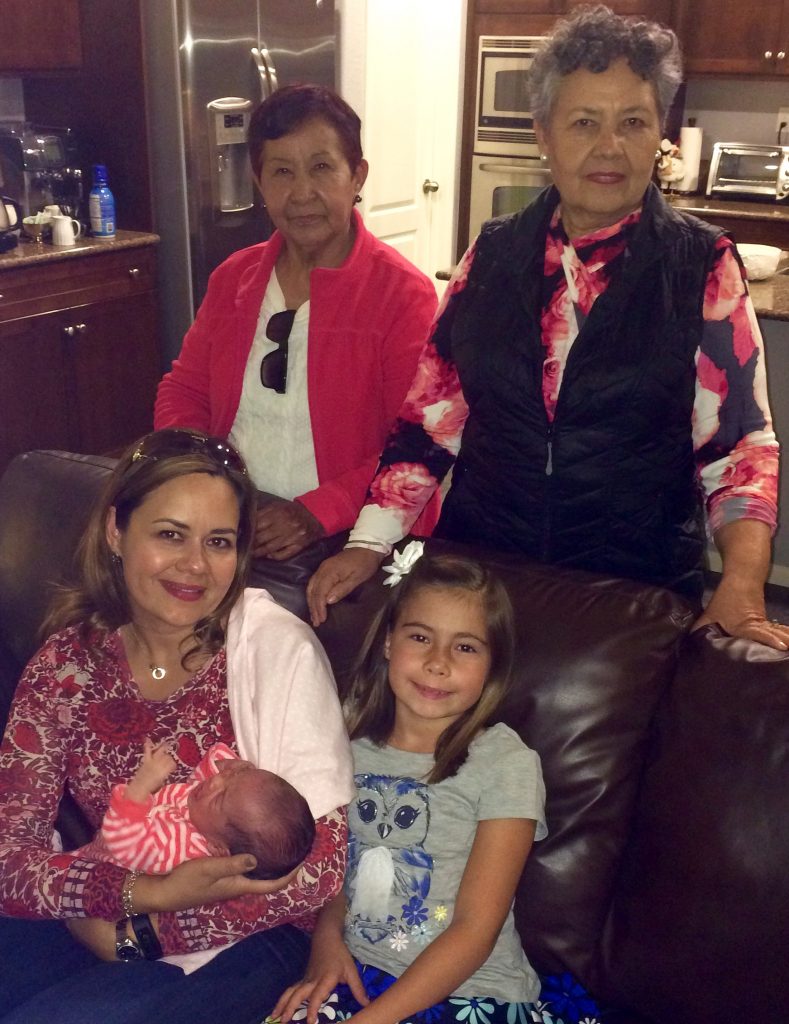 Family and friends visiting Alessandra during her first month.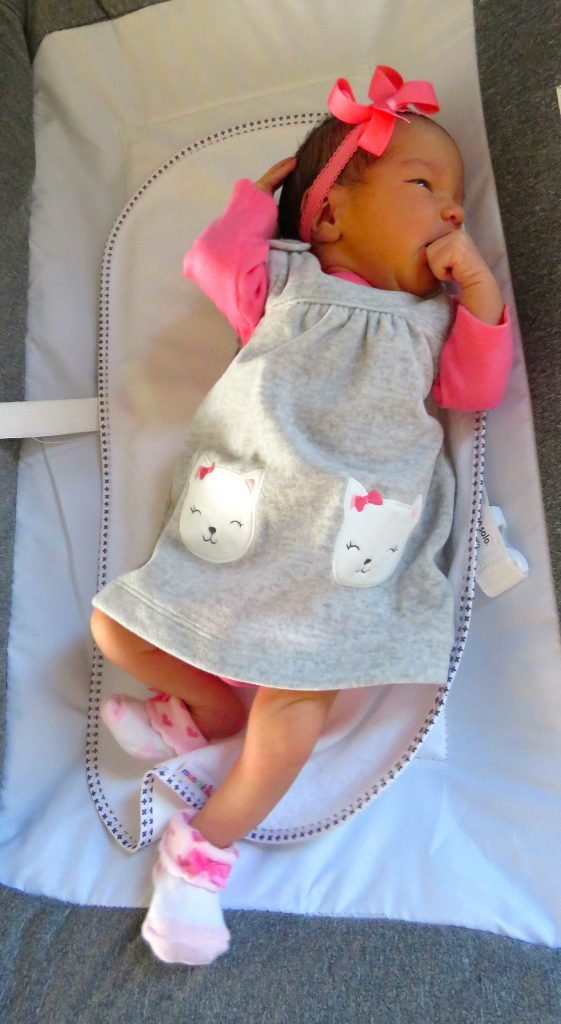 People told me it would like dressing up a doll and it is! I have fun choosing her outfits every day.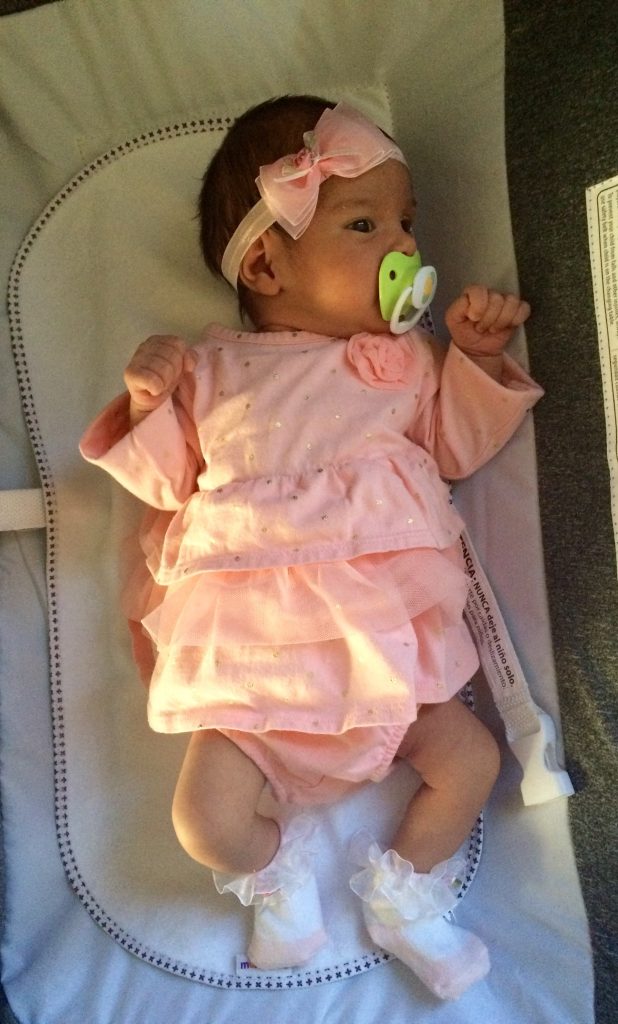 Chose a special outfit for the day we took her passport picture.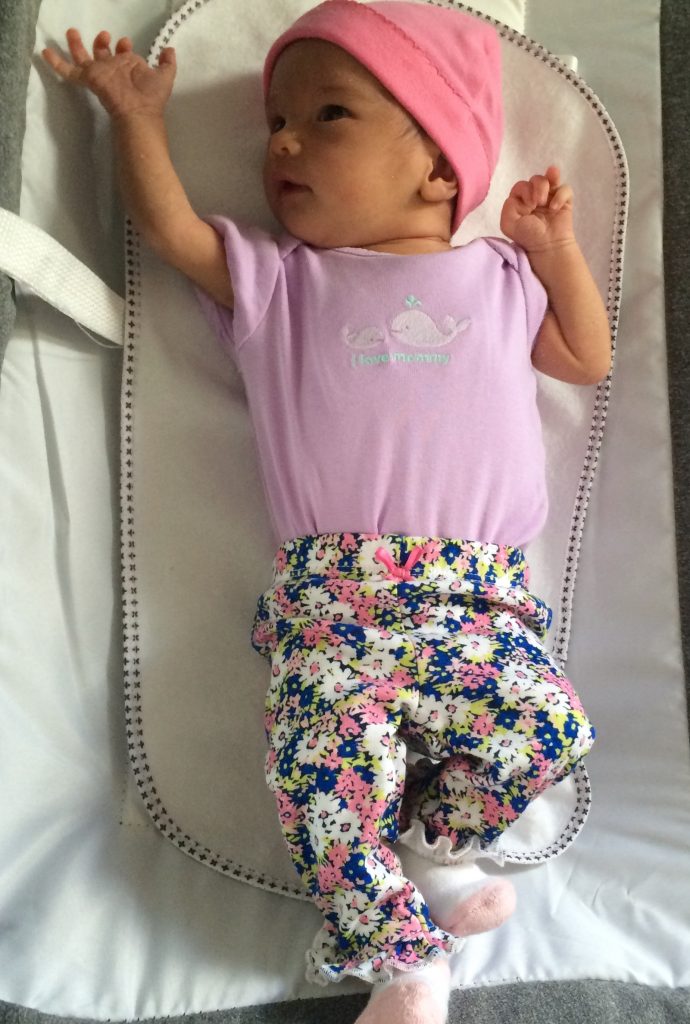 Dressed for the day!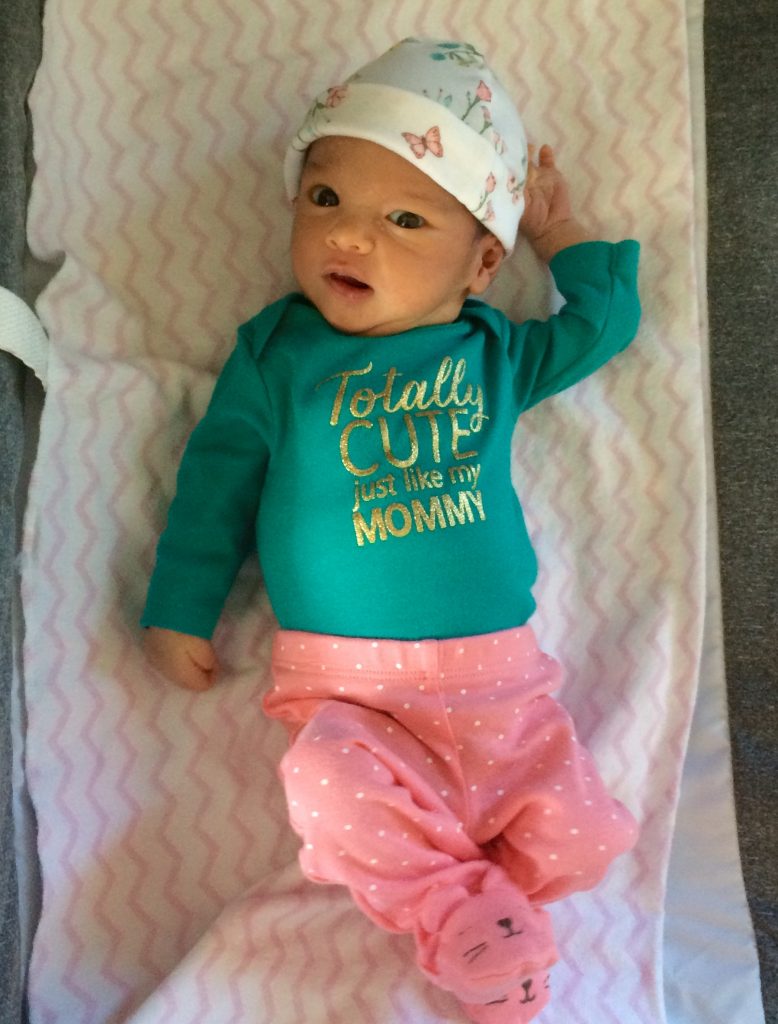 Ready to greet her visitors!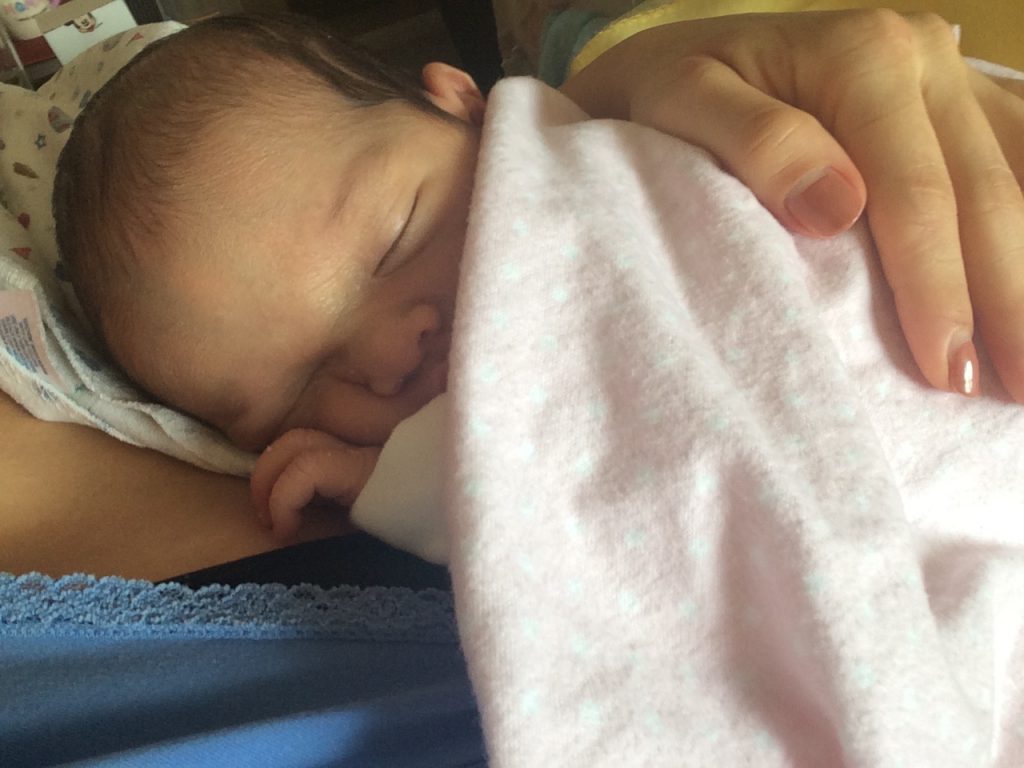 Some of my favorites moments are when she falls asleep on my chest.