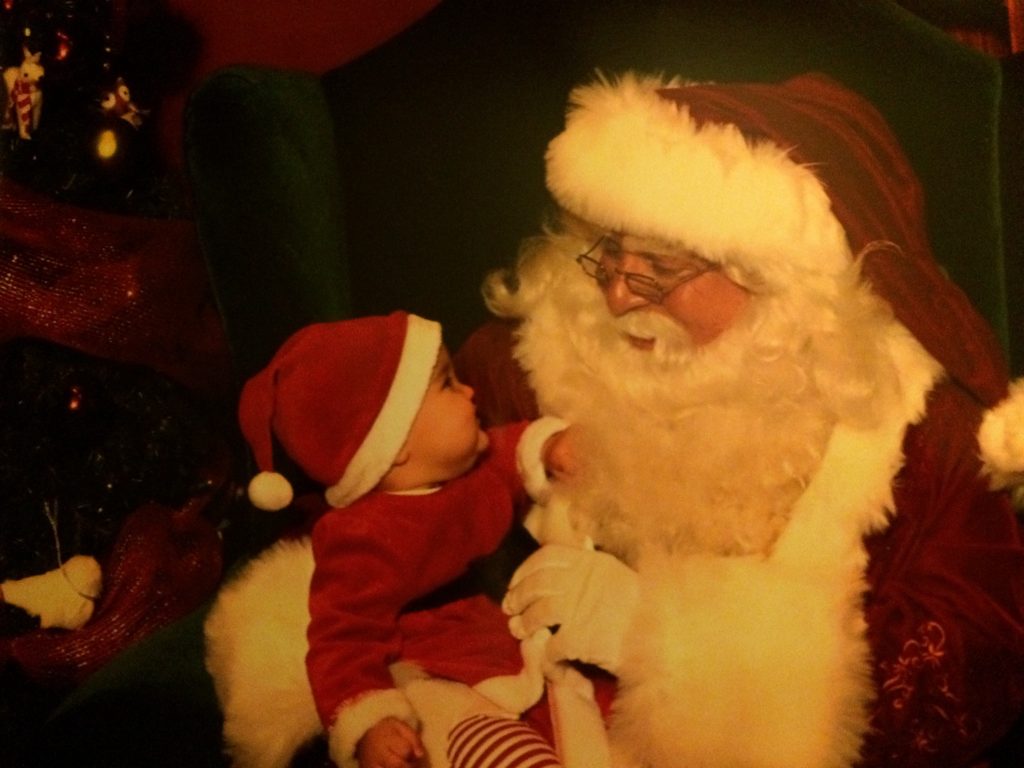 As a first time parent there are lots of first moments one experiences with their baby. These moments can be exciting and as parents, we look forward to them. This is Alessandra's first Christmas! She is eight months old and much more expressive than when she was a newborn. She is a cheerful baby and enjoys new experiences! For her first photo with Santa we decided to take her to Sea World. We have a membership, and I had been to Sea World in the past during the Christmas season and remembered it was festive. I have fond memories of taking my nieces to Sea World during the Christmas season. We went ice skating, enjoyed seeing the decorations and taking our picture together with Santa! I have a picture with my niece from several years ago where I am wearing a tank top and jeans while we ice skate! It happened to be a sunny and warm December day in San Diego!
I hadn't been to Sea World in several years. This year the set-up for Santa's Village at Sea World was different. In past years, we would get in line and it was never an issue to be able to take the picture with Santa. This year, there is a new system with pagers and the wait can be quite long (a few hours). We went to Sea World primarily to take Alessandra's first picture with Santa and to take a family picture as well. We arrived in the early afternoon, since we were really only there to take the picture and if time permitted, to enjoy a few of the park's attractions. When we arrived to Santa's Village, we were informed they were out of pagers for the day. Luckily, a nice lady (who had been waiting for more than five hours) decided to leave and gave us her pager. So, it all worked out!
Here's the video of our visit to Sea World's Christmas Celebration and the baby's first time meeting Santa! It is truly a joy to be her mama! She is a happy baby and her joy is contagious! She brings happiness to our lives!
Hope you enjoy the video! Please comment below if you have questions, or suggestions on videos you'd like me to record, and subscribe to follow me on YouTube.

Hugs,
Paola
PS – In case you missed it, we had a different type of Thanksgiving celebration this year, watch the video here. And, our family's Three Wise Men Day (Dia de Reyes) tradition (party) which I am looking forward to! It will be the baby's first time!