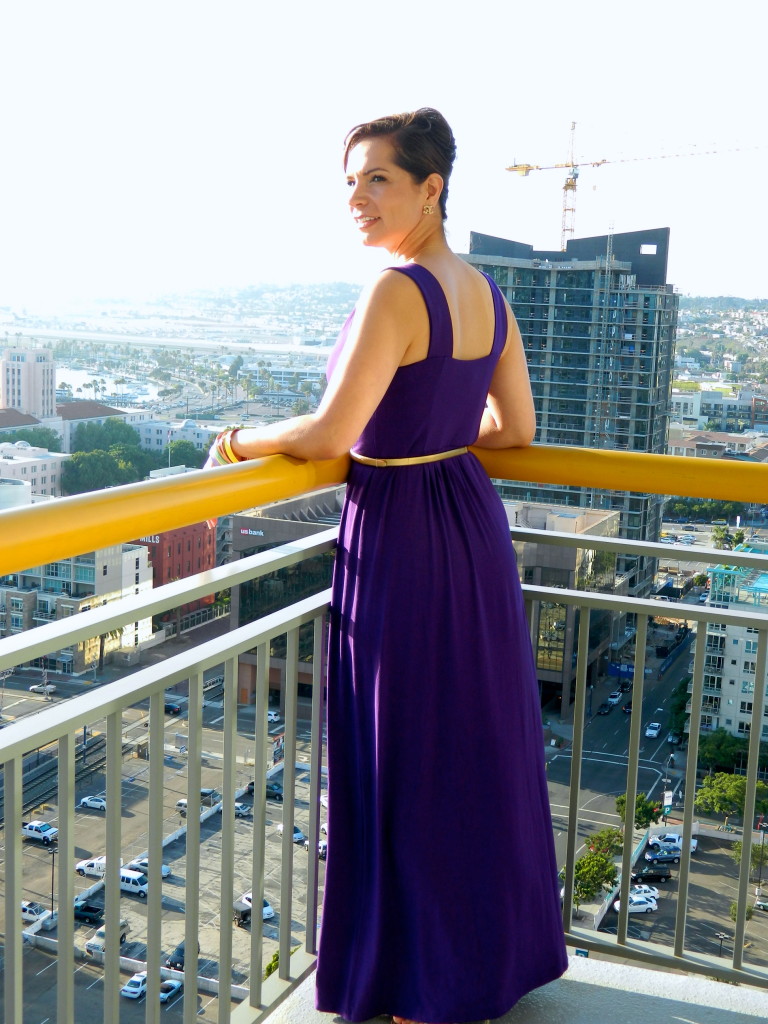 I usually do not buy long, loose fitting dresses, but saw this one at Ann Taylor when I was shopping recently at Carlsbad Premium Outlets and decided to try it on. I loved it! It reminds me of a roman style dress….and that is exactly what my sister-in-law said when she saw it on me. I've worn it twice, once for my hubby's birthday dinner and recently to go to the theatre with Lola. I also wore it to work with a cardigan the day we went to the theatre (and got many compliments). It is very comfortable, the material flows, yet has body to it. Bright tones are in right now and this dress is perfect for summer! And yes, it is versatile! Can you think of how many ways or to how many events I can wear this dress? I can! It's exciting! I can also add a sweater or scarf to wear it for a few weeks into the fall and again in spring, fun!
Do you have any loose fitting or purple dresses you like? Share your dress finds with me!
Hugs,
Paola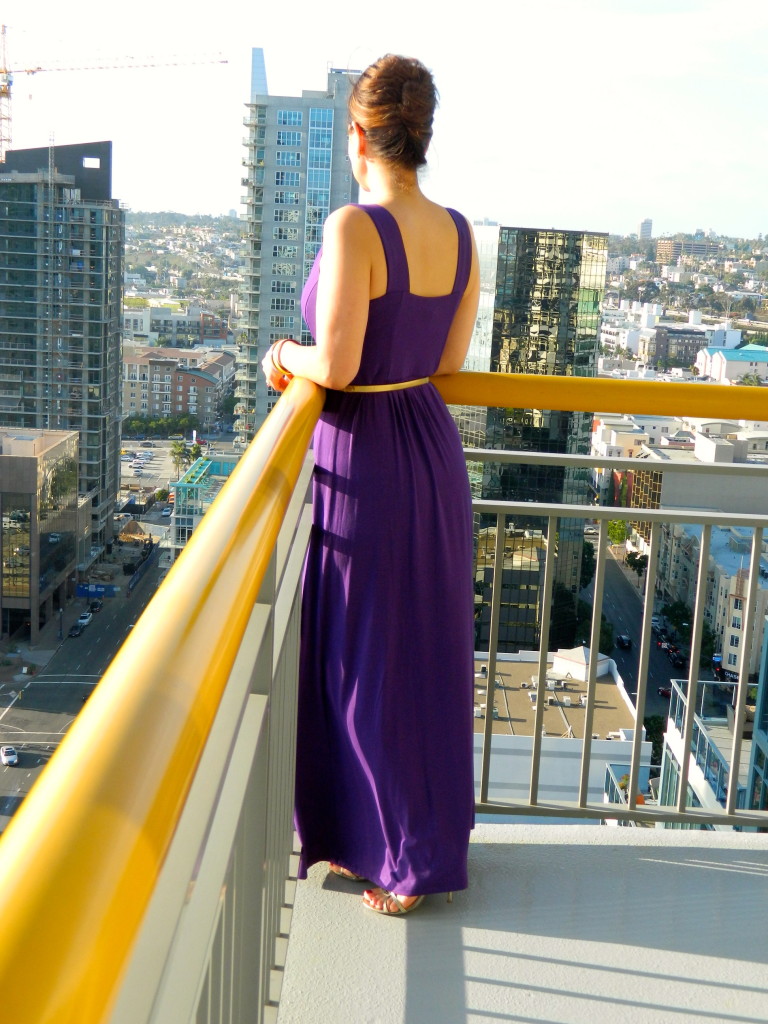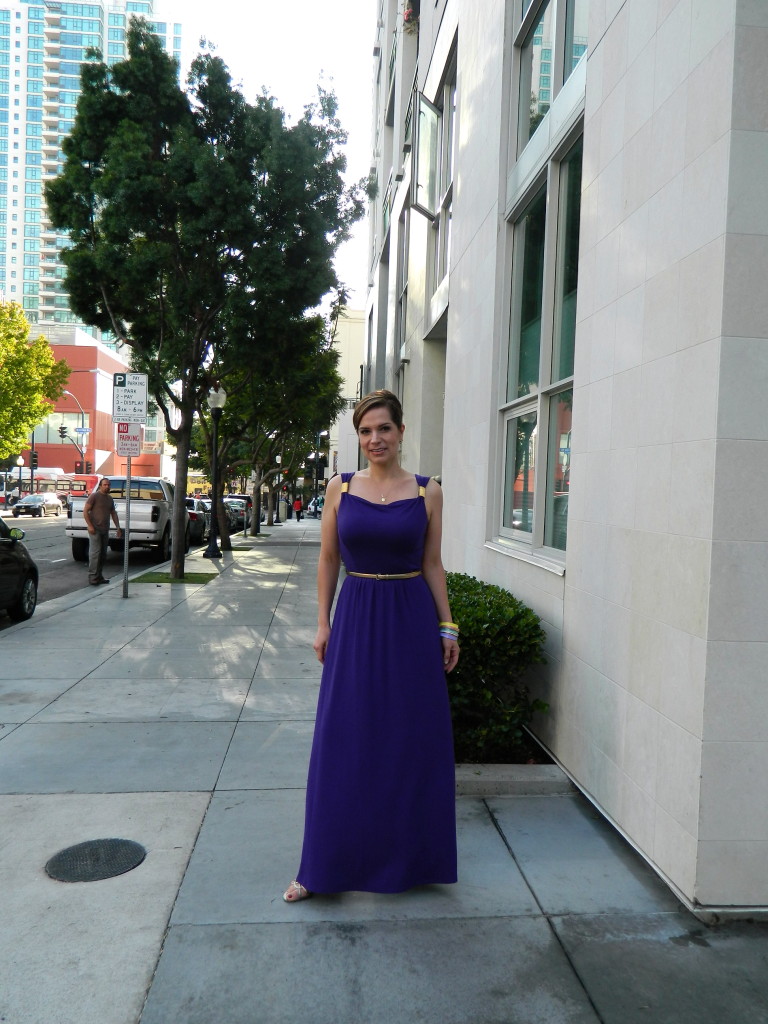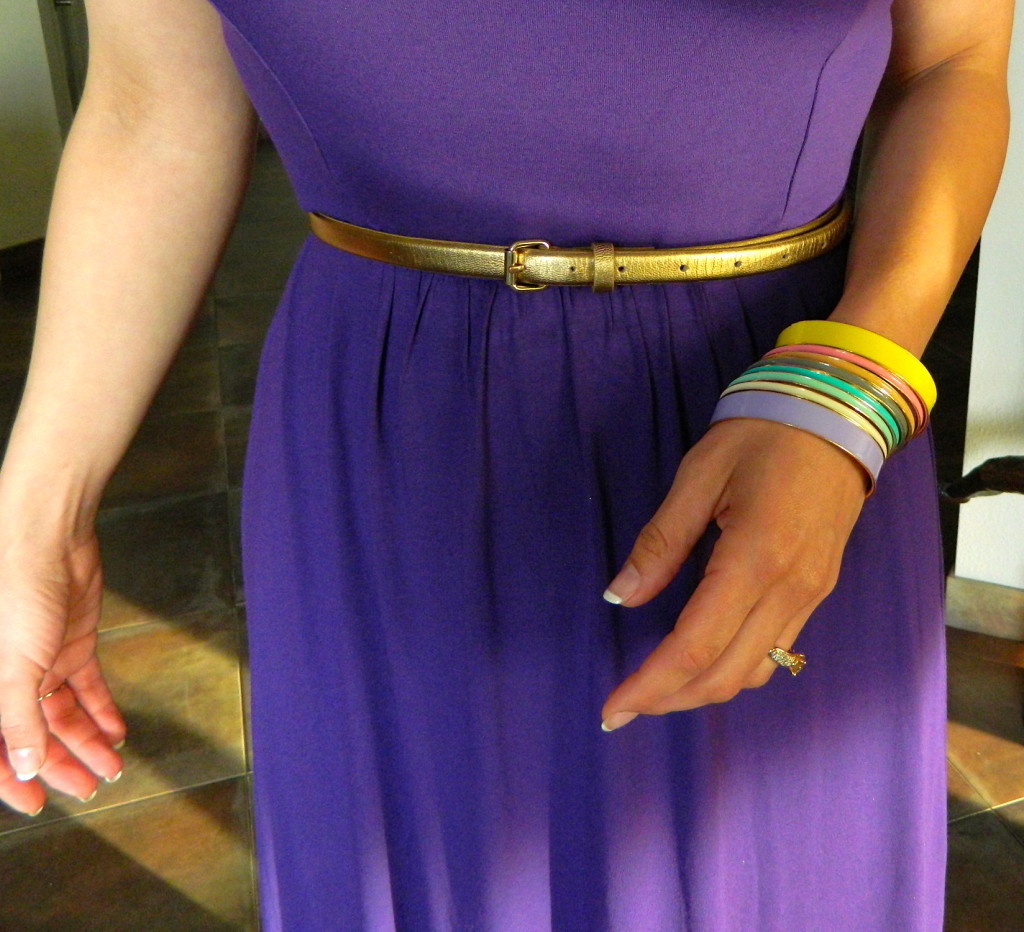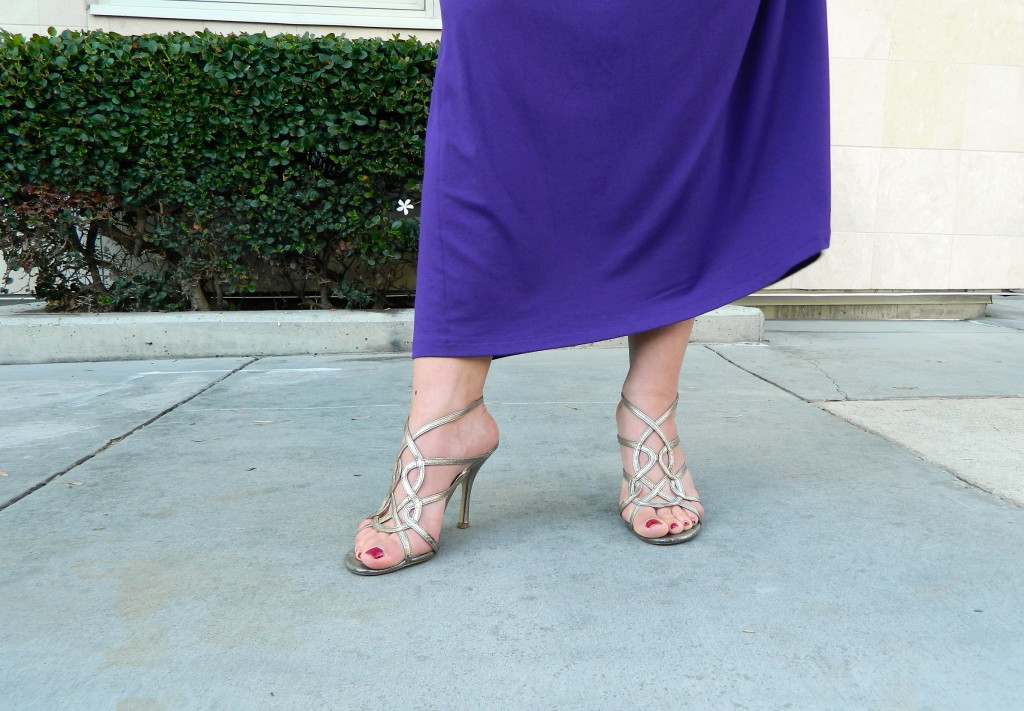 Dress: Ann Taylor; Belt, Ann Taylor, Shoes: Max Studio; Earrings: Chanel; Necklace: Macy's Fine Jewelry; Bracelets: Forever21
ESPAÑOL:
Hola amigos,
La temporada de primavera trae ropa en tonos claros y pasteles, los rosas, morados, azules, y amarillos, entre otros. Este año en particular, la tendencia de estos tonos están muy de moda. Se esta viendo mucho en blusas, vestidos, y hasta zapatos y jeans.
Este vestido me recuerda a un estilo romano. Viene con un cinto de tela en el mismo tono, pero decidí ponerme un cinto de piel en tono dorado. El color es un morado vibrante y profundo. El vestido es cómodo, la tela y el corte tienen fluidez. Este vestido también me lo pondré durante el verano. Lo podré usar solo, con un suéter ligero, o alguna mascada veraniega. Para una ocasión formal le puedo agregar accesorios de vestir y zapatillas, o para una opción casual me lo puedo poner con sandalias o alpargatas de tacón corrido. ¡Ojalá les guste este atuendo!
¿Tienes algún vestido en colores pasteles? ¿Te lo has puesto para alguna ocasión especial?
¡Recuerda, la mujer feliz es la mas bella! ¡Haz tu estilo relucir con atuendos en los que te sientas cómoda y contenta!
Un abrazo,
Paola
Vestido: Ann Taylor; Cinto: Ann Taylor; Zapatos: Max Studio; Collar: Macy's Joyería Fina; Pulseras: Forever21