Hi friends,
The first day of summer is this Saturday! Can you believe it? It definitely feels like summer in San Diego with the warm weather and beautiful days! We are having longer days and amazing sunsets!
With summer comes colorful and light dresses. I got this dress at Marshalls and knew it would be a good dress for summer. I can wear it casual with sandals and a jean jacket, or dress it up with heels and accessories! It will also make a good dress for travel to a warm location. The color is a bright salmon, ideal for spring and summer!
I wore it recently for an early dinner we had at I'l Fornaio in Coronado to celebrate mom's birthday. To give it a dressier look, I added the belt,  silver necklace, and heels. I had a fedora hat on when we arrived, but took it off inside the restaurant and didn't put it back on – a hat is a fun option for this outfit!
Hope you like the look!
Have you gotten any new dresses for summertime? Do you have a favorite summer dress? Are you enjoying the warm weather?
Hugs,
Paola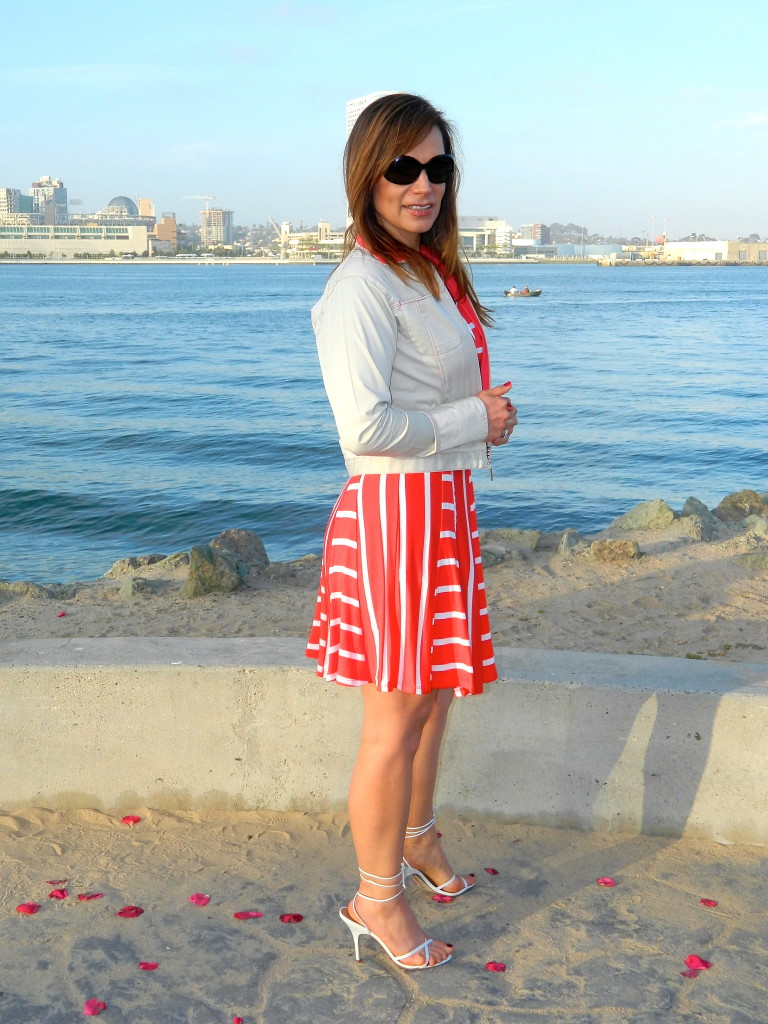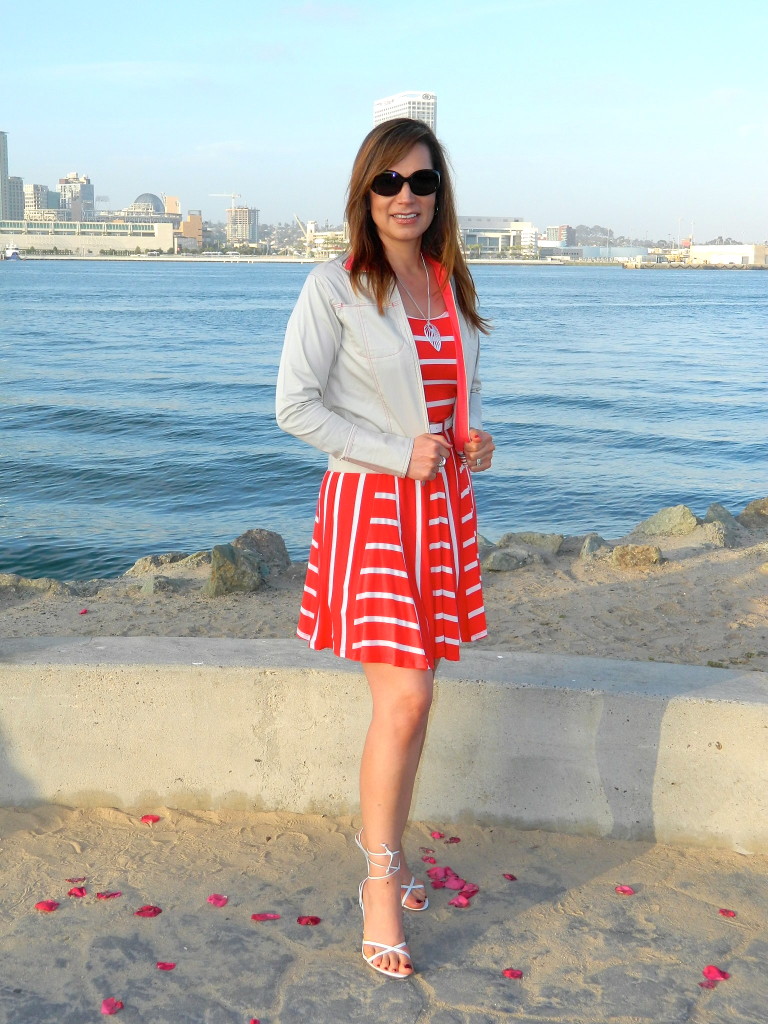 I brought a light jacket because it can get a little breezy in the evenings when the weather cools down.
A pic with mom and my nephew, Andrew – taken inside the restaurant.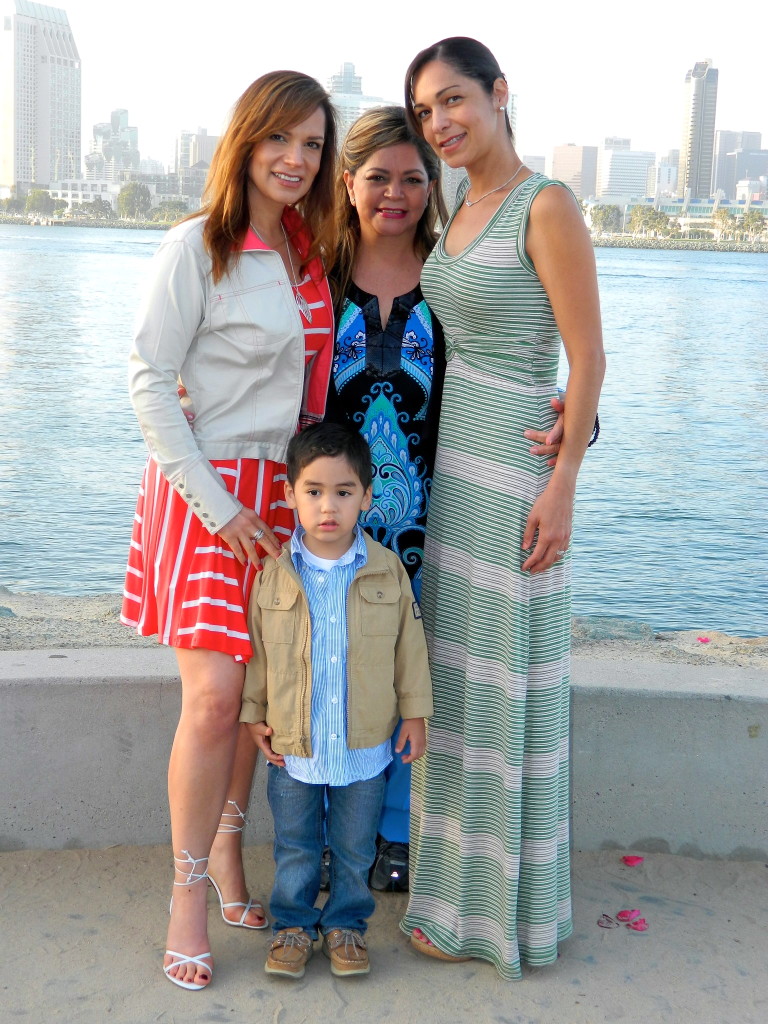 With mom, sis, and nephew. It was nice to celebrate mom on her birthday!
Dress: SIB; Jacket: Nike; Shoes: Cathy Jean; Belt: Macy's; Necklace: Kenneth Cole; Bracelet: Tiffany & Co.; Ring: Macy's Fine Jewelry
 ESPAÑOL:
Vestido Ligero de Verano
Hola amigos,
¡El primer día "oficial" de verano fue el sábado, 21 de junio! ¿Lo pueden creer? ¡Definitivamente se siente como verano en San Diego con el clima cálido y días hermosos! ¡Estamos teniendo días más largos y atardeceres asombrosos!
Aparte del clima cálido, con el verano vienen los vestidos en colores vivos y telas ligeras. Acostumbro hacer compras en una variedad de tiendas. De vez en cuando voy a tiendas donde ofrecen mercancia de marcas de diseñador a precios reducidos, como Marshalls, Nordstrom Rack, o Saks Off 5th. Me toma un poco más de tiempo escoger ropa que me guste, pero cuando encuentro algo, vale la pena el tiempo ya que el precio es razonable. ¡Este vestido fue una de esas compras a buen precio! Lo compre en Marshalls y supe que sería un buen vestido para el verano. Lo puedo usar como atuendo casual con unas sandalias y chamarra de jeans, o un estilo un poco más formal agregandole unos tacones y accesorios. También será una opción práctica para algun viaje a un lugar con clima cálido. ¡El color es un salmón vivo, ideal para el verano!
Me puse el vestido recientemente para una reunión casual en el restaurante Il Fornaio en Coronado donde festejamos en cumpleaños de mi mamá. Le agregue un cinto, collar plateado, y tacones, y fue un atuendo ideal para la ocasión.
¡Ojala les guste el atuendo!
¡Recuerden, la mujer feliz es la más bella! ¡Hagan su estilo relucir con atuendos en los que se sientan cómodas y contentas!
¿Se han comprado algunos vestidos para el verano? ¿Están disfrutando el clima cálido y los días más largos?
Para más muestras de atuendos y experiencias de la vida diaria, los invito a que también nos conectemos por medio Facebook/Paola-Hernandez-Jiao.
Un abrazo,
Paola
Vestido: SIB; Chamarra: Nike; Cinto: Macy's; Zapatos: Cathy Jean; Collar: Kenneth Cole; Anillo: Macy's Joyería Fina; Pulsera: Dress: Tiffany & Co.