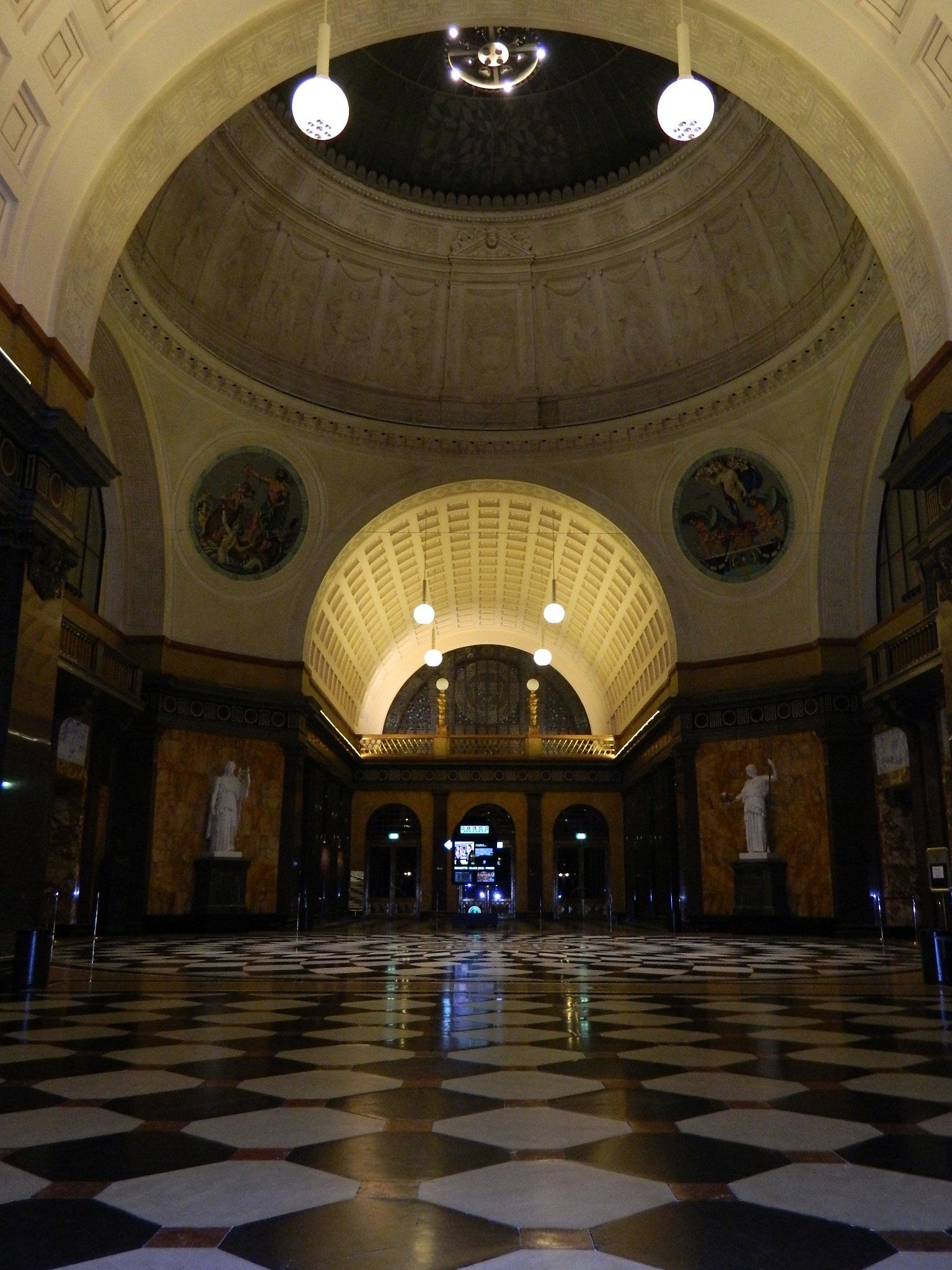 My hubby and I went on vacation to Germany last week. We have a home in Germany and he goes there a few times per year. It is quite the trek & a long flight, so I make the trip with him once a year. This time we visited Baden Baden (one of my favorite cities), Stuttgart, the Black Forest area (west Germany), the city of Nancy in France, and of course, Wiesbaden, my hubby's hometown. He was born and grew up in San Francisco, so that is really his hometown, but he also grew up in Germany. I recorded a vblog and will try to get it posted soon. I'll post the pictures from our trip in parts since it takes me a while to select and upload them.
Our trip was from Friday to the next Sunday, so we were gone for 10 days. We took an evening flight and landed the next day around 3:00 pm in Germany. I am not good at sleeping during flights and don't like to take sleeping pills, so I had bad jet-lag on Saturday. We made a quick stop to buy some snacks and water, and headed home. I slept all afternoon and woke up the next day! Geez! We spent Sunday at home, which was nice since I still had jet-lag. Monday we did some shopping and went out to a Restaurant we visit each time we go to Wiesbaden, it is called Kaefers', a french bistro style restaurant, located inside the Kurhaus Casino. My hubby waited patiently as I took pictures of our dinner and dessert. It was a mellow first three days to start off our vacation, the rest was non-stop – fun – with daily visits to different cities! Next post will be….visit to the Porsche Museum in Stuttgart, I took lots of pictures…coming soon!
Hugs,
Paola
PS – Our visit to the Porsche Museum, a spa day in Baden Baden, and enjoying the Sonnora Waldhotel & Restaurant and Black Forest in west Germany.
This is the main entrance to the Kurhaus Casino.
Kaefers' Restaurant…we call it the ladybug restaurant because there are lady bug figurines on the table and painted on the glasses. Lady bugs are supposed to bring good luck…or so the belief goes.
They bring you freshly carved carpaccio as an appetizer with a bread basket….but, as in many European Restaurants, they charge you for the bread & carpaccio.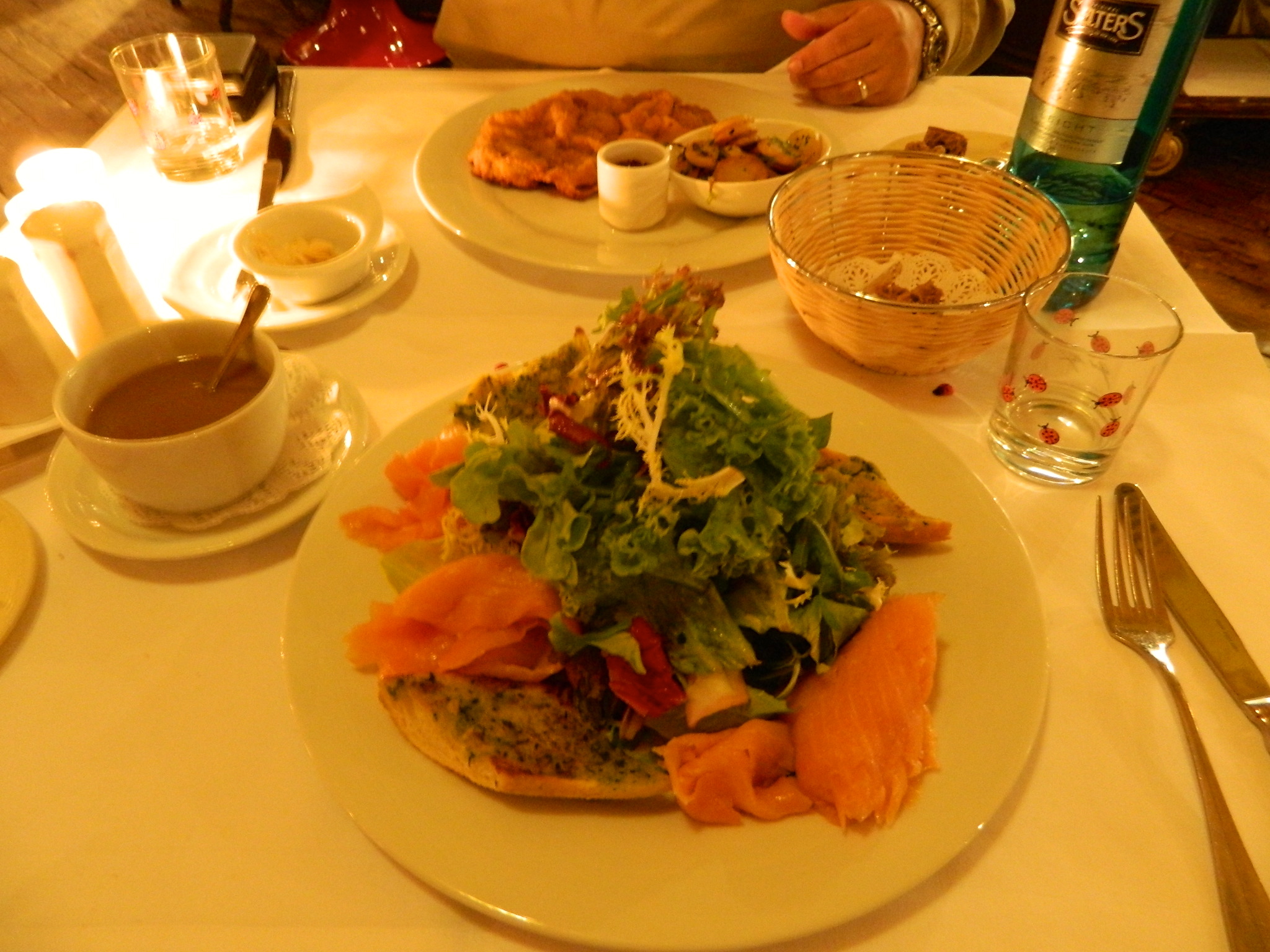 My husband had a meet dish, I had this yummy salad (which I order each time we eat here)….to my surprise there was goat cheese on the bottom, I had forgotten that! The salad was so large I took most of the salmon home and had it the next day for breakfast with some fresh bread! I eat so much bread when I am in Europe….you find it freshly baked everywhere, even at gas station stores! Love it!!!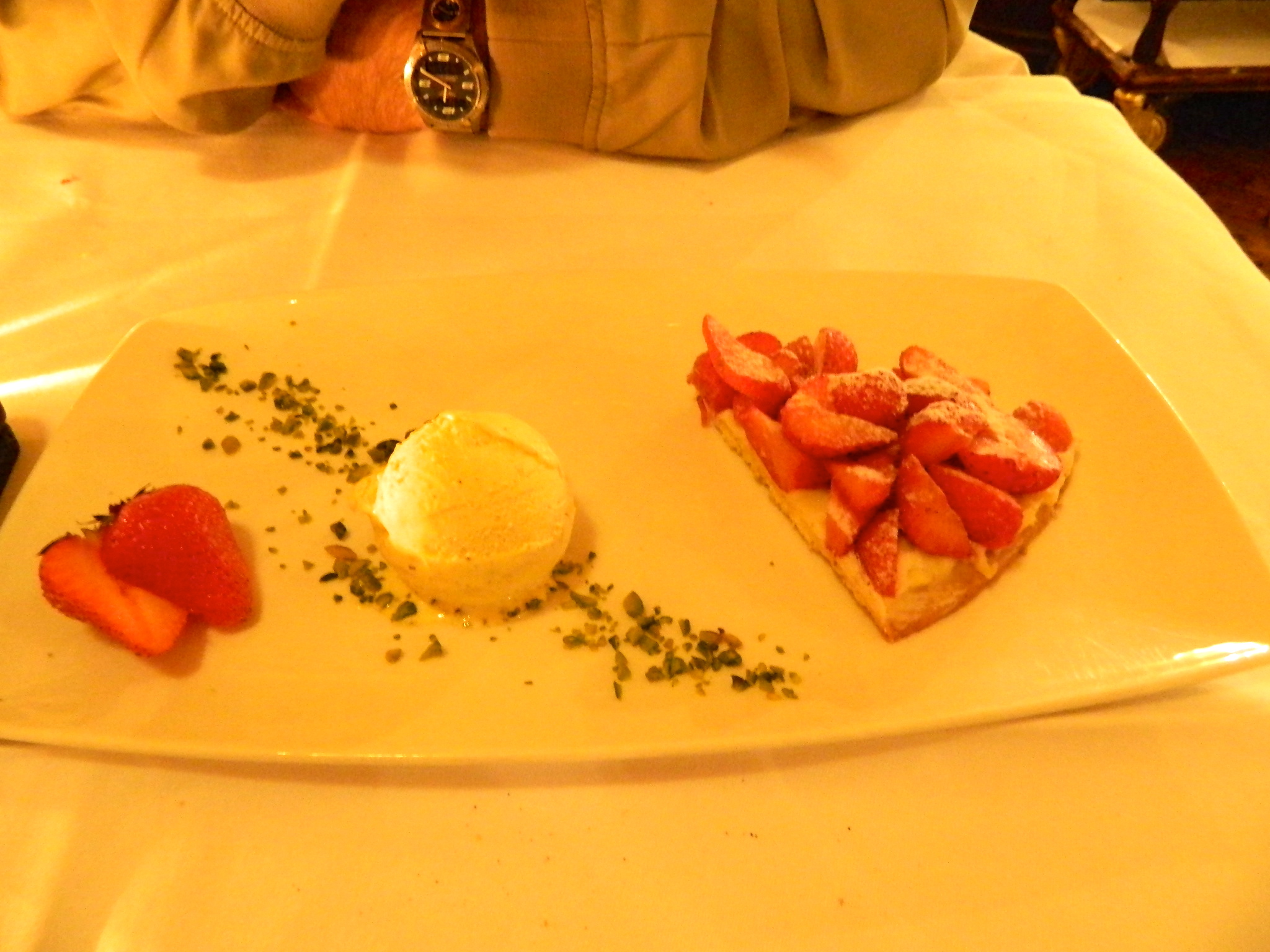 We had the strawberry tart a la mode for dessert, it was delicious!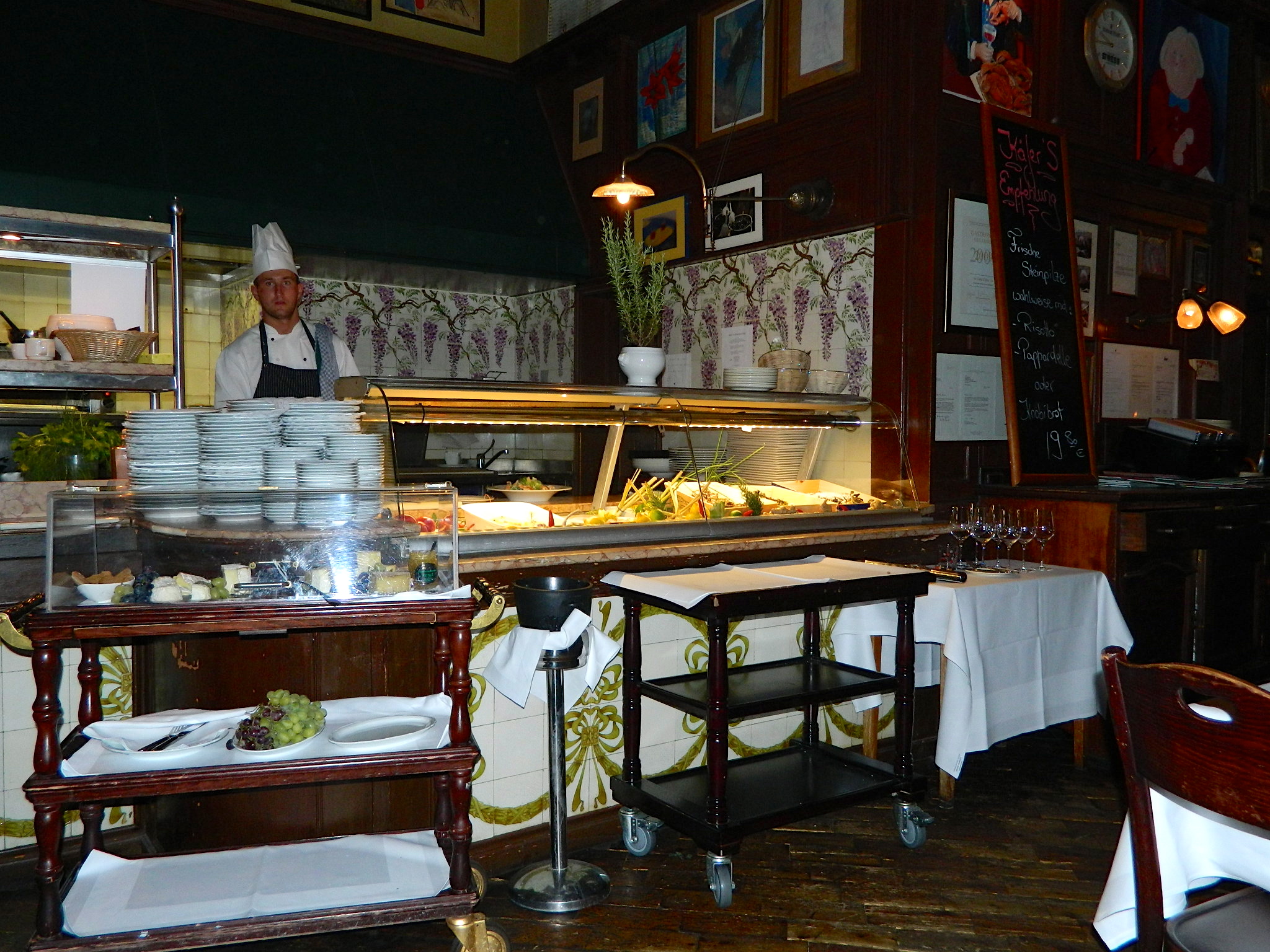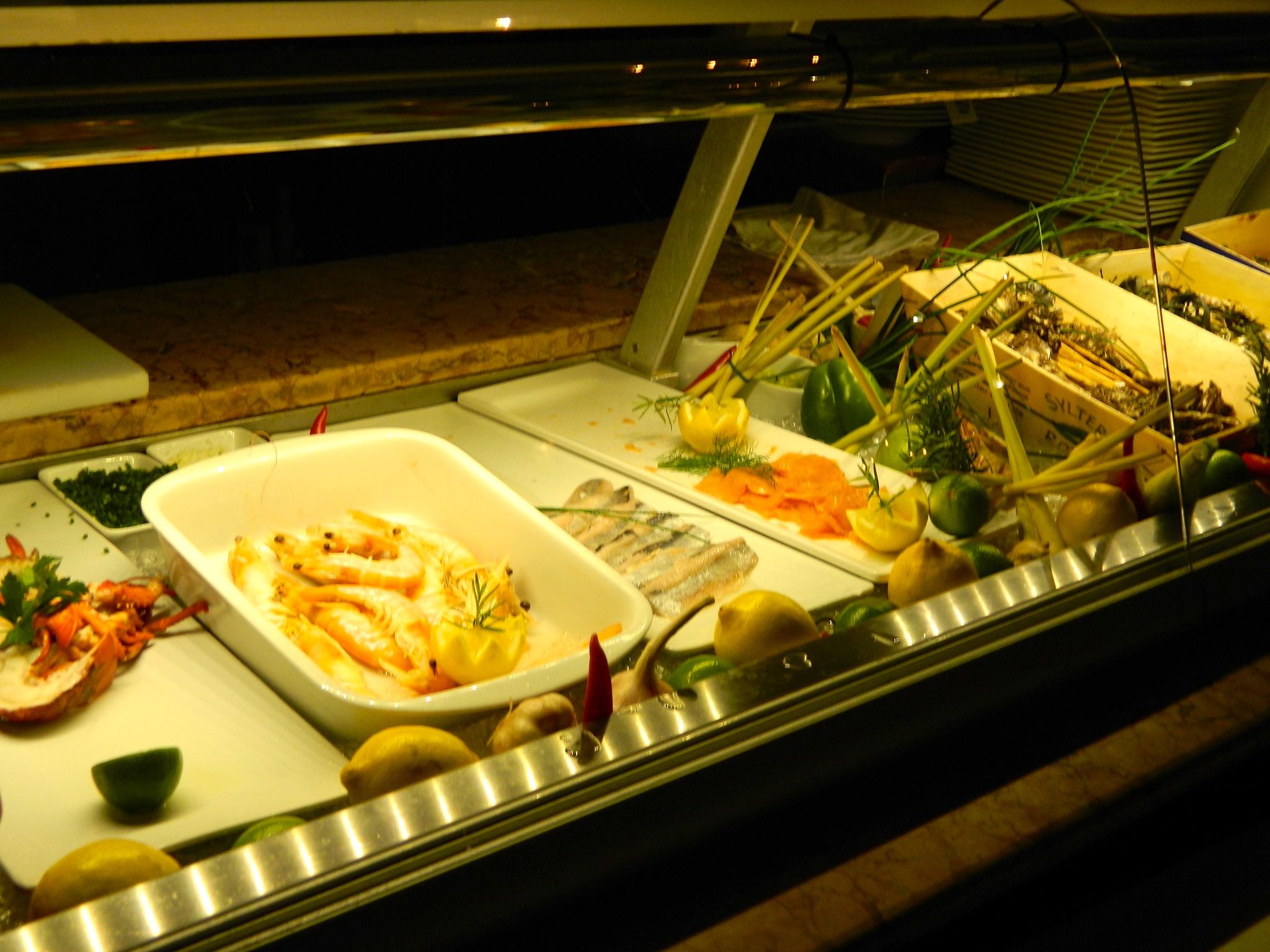 The area where the chefs prepare the appetizers.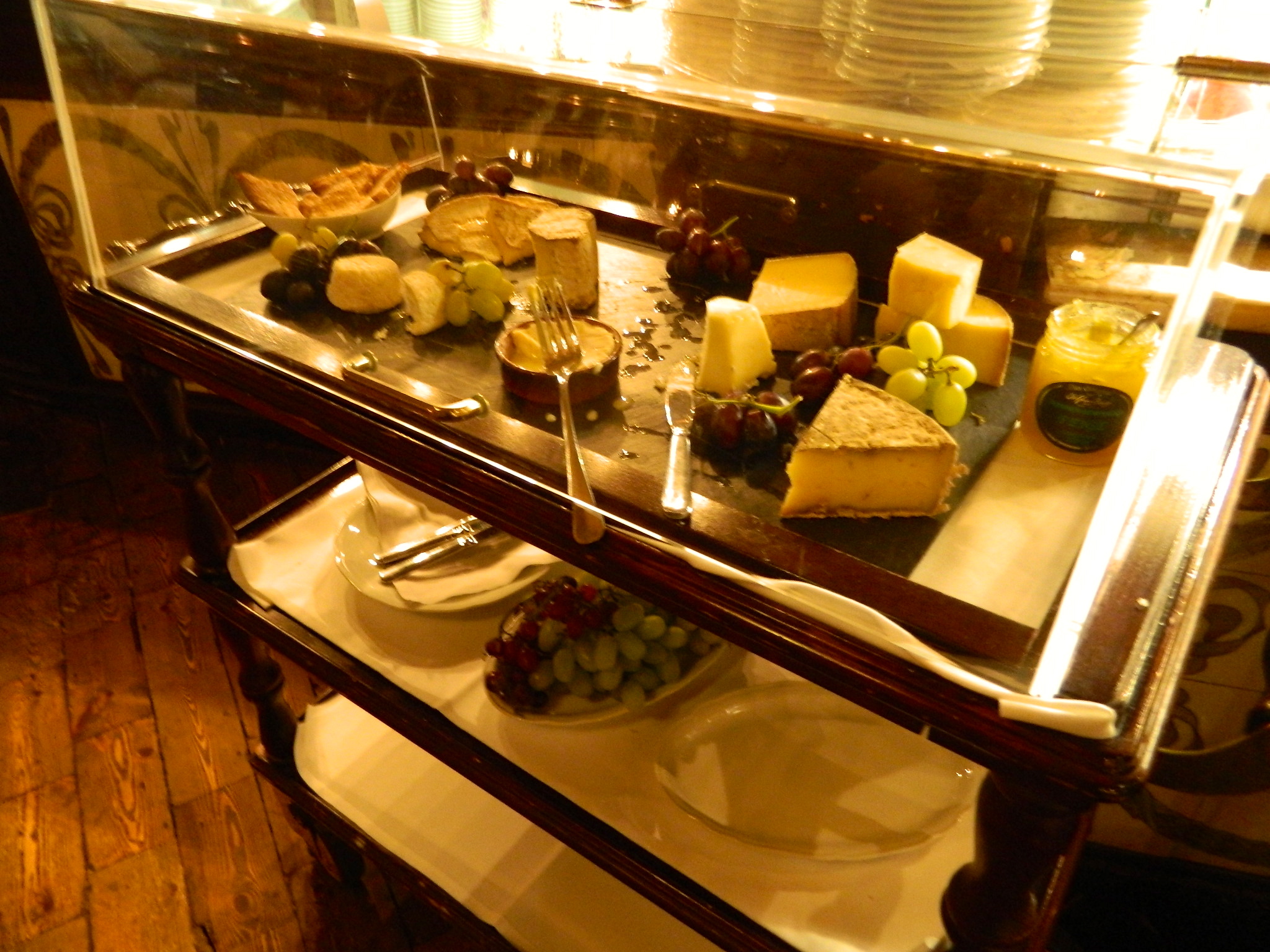 This is a beautiful cheese cart they have….cheese is a huge staple for meals in Europe…as an appetizer, snack, part of a sandwich, and dessert when served with fruit!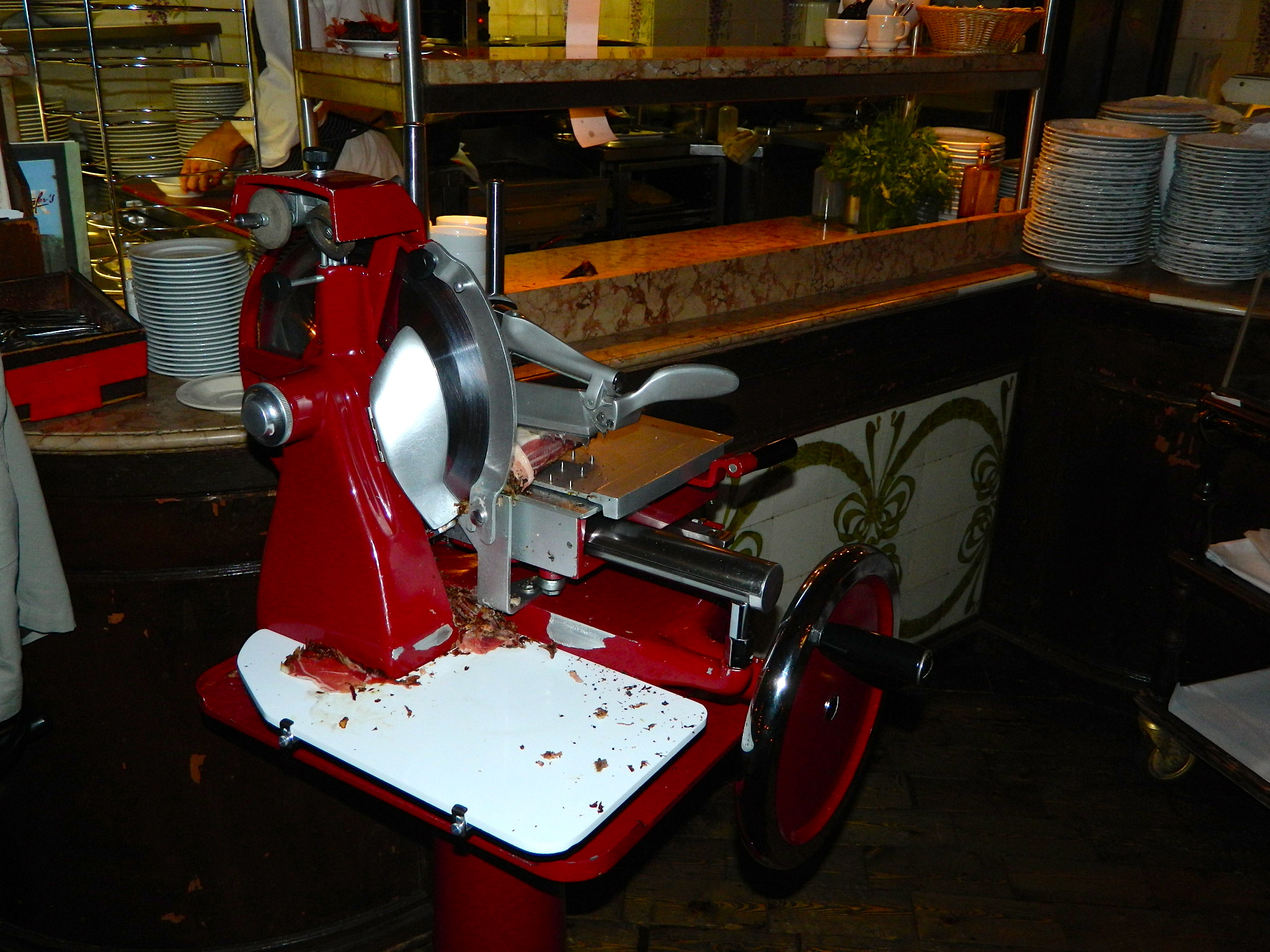 The carving station where waiters carves the carpaccio fresh for each table!
They bring you your receipt in this colorful lady bug container, with two chocolates wrapped in lady bug foil. Cute!