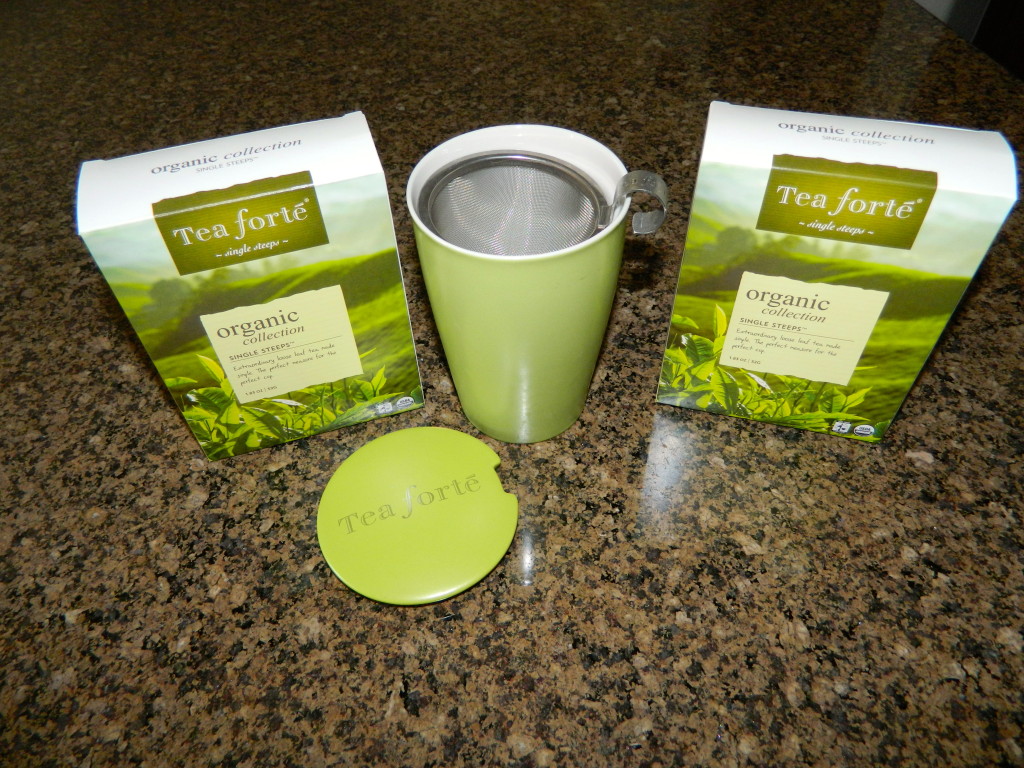 I have an affection for coffee and tea, and have many mugs to enjoy them in. I do believe the mug makes a difference in enjoying the coffee or tea experience! Most of my favorite mugs and tea cups were gifts and have sentimental value. Every time I use the mug, it reminds me of the person that gave it to me and the occasion, which makes me smile.
My friend Lizeth knows me well and is aware that I drink tea daily. She gave me this lovely Tea Forté Kati Tea Brewing set as a gift. It is a ceramic tumbler, with stainless steel infuser, and came with two boxes of a variety of organic teas. It was such a thoughtful gift! I also like that it has a double-wall which keeps tea hot, but is comfortable to hold (not too hot to the touch), plus it is easy to care for because it is dishwasher and microwave safe. Since we are close friends, after she saw how delighted I was with my gift, she shared with me that she bought it Neiman Marcus. As friends, we are always sharing helpful tips. She said they have a good selection of relatively inexpensive boxed gift items (this one is $15) on the top floor. Gifts that are good for multiple occasions and packaged nicely! It is always good to know where to shop for these type of items. It is convenient, but also makes for a nice gift! Nice packaging can make a difference in the appearance of a gift. This one came in a nice box….with Neiman Marcus wrapping, always a fancy touch!
I enjoy brewing the loose tea and savoring it. Everytime I use this gift, it reminds me of Lizeth, and it brings a warm feeling and smile to my face.
When I was looking up the Tea Forte Kati Tea Brewing System (as they call it) for this post, I found on their site that it had received praise from Dr. Oz in Oprah's O Magazine. So, it seems Dr. Oz and I share a liking for this tea tumbler. Who knew?
Do you have a favorite tea cup? Where do you buy special and personalized gifts for friends? I'd love to hear your recommendations.
Hugs,
Paola