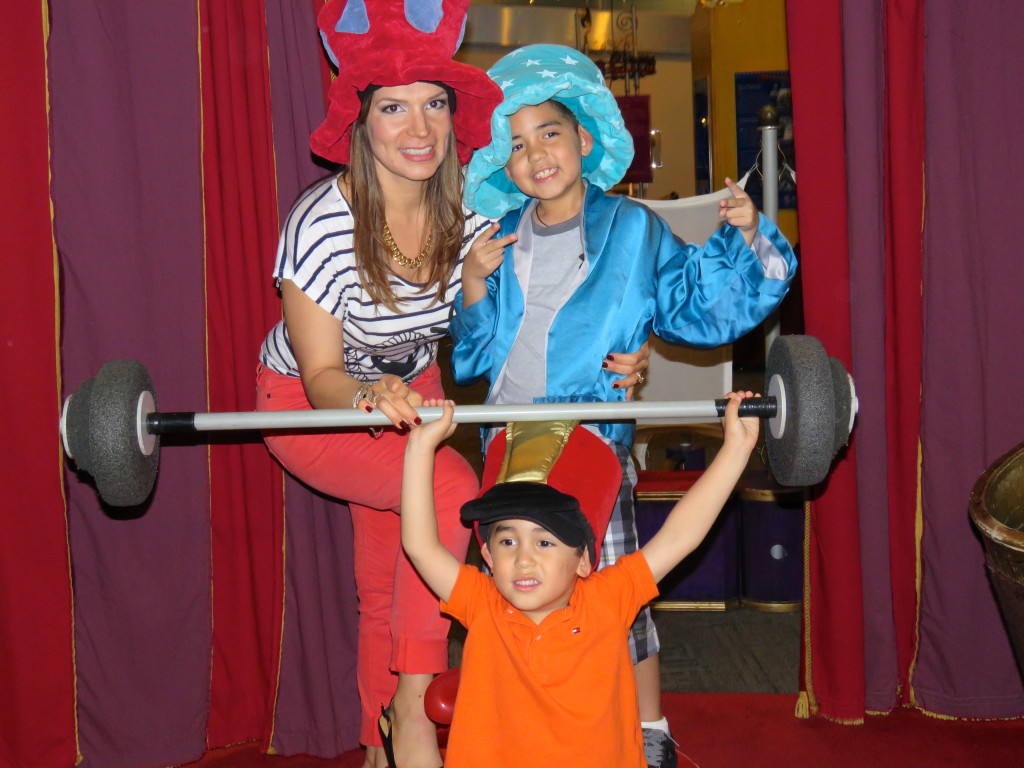 The circus brings fond memories from my childhood. We went to the circus almost every time it was in town and I also recall going to the circus with my grandparents in their hometown! When I received the invitation from the Reuben H. Fleet Science Center to attend the preview night of their new interactive exhibit CIRCUS: Science Under the Big Top, I immediately thought of my nephews and how much fun it would be for them to enjoy this event! We had a blast! Seeing the joy in my nephews faces is priceless to me! These are moments I won't forget and hopefully they won't either.

The exhibit teaches visitors about science in a fun and interactive way. It is a colorful exhibit with interactive activities for the entire family. Even my sister and I learned a thing or two about science. We learned how pink lemonade was created at a circus and how important our sense of smell is, interesting stuff. CIRCUS includes multiple exhibits, such as juggling, Human Cannonball, and a costume station, among other interactive activities and games. CIRCUS is a traveling exhibit and will be at the Fleet at Balboa Park, in San Diego, until September 7, 2015. Hope you have an opportunity to enjoy this unique and fun exhibit! You can find more info on the Fleet's website (click here).
Have you been to the Reuben H. Fleet Science Center? Do you like going to the circus?
We also had a fun family outing to the Fleet last year, here's the Day At The Museum post with those pictures. And, Balboa Park is one of my favorite open areas to go for a walk, here's the post from my Beautiful Stroll at Balboa Park with Lola.
Hugs,
Paola
PS – You can find Discounts and Specials at the Fleet here. The Fleet offers free admission for San Diego residents on select Tuesdays, click here for schedule (usually the first Tuesday of each month).
This is one of my favorite pictures of the night….my nephew leaving the event, happy as can be, with his sword balloon on his waist, popcorn in one hand, goody bag in the other hand, and a heart full of joy! Love this little boy so much! This picture will stay in my memory for years to come!