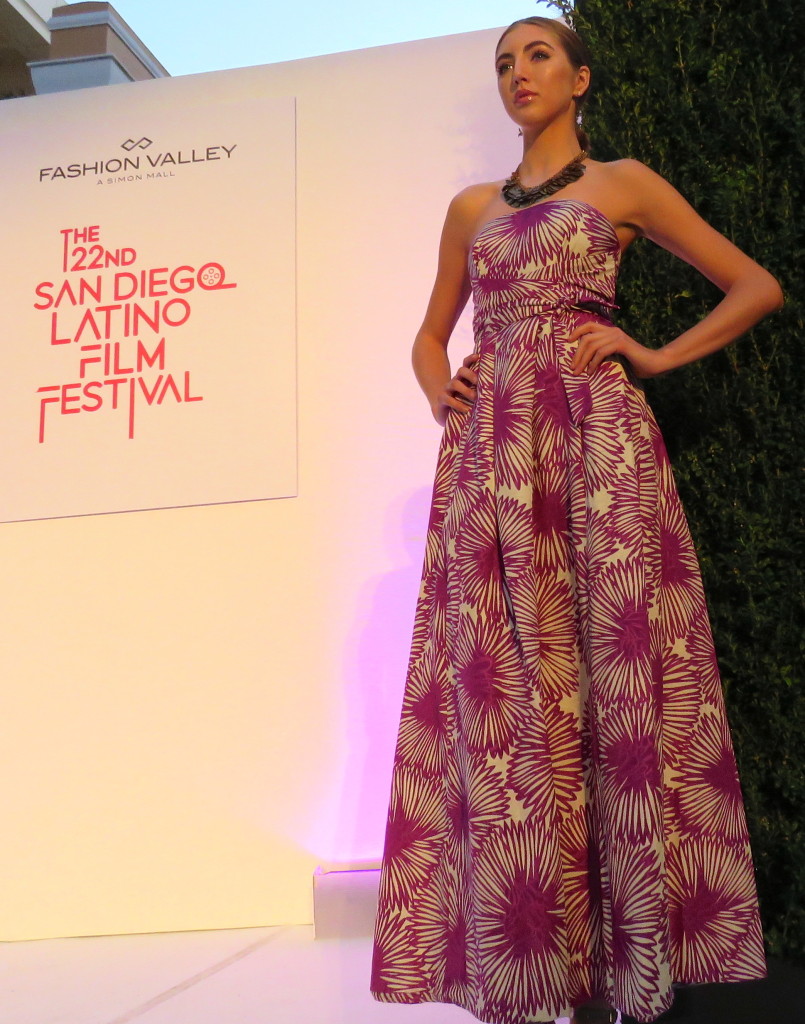 The Celebration of Fashion event was held at Simon Fashion Valley, as part of the San Diego Latino Film Festival. The event was presented by Divino 360 Woman and included live music, Party Fitness Party Zumba by Ninfa!, Tango  by Michael Saltus of Positive Energy Dance Company, and a runway show. Abelardo Rodriguez and I co-emceed the event. Fashion Valley highlighted the latest fashion from its exclusive lineup of swoon worthy store, such as: Boss Hugo Boss, White House I Black Market, Scotch & Soda, Anthropologie, Halston Heritage, Allsaints, Ted Baker London, Joe's Jeans, & Macy's.
Special thanks to Hugo Boss for styling Abelardo and to the team at Halston Heritage for styling me. I got to wear two of their amazing dresses and fell in love with the clothing in their store. It was a treat to get my make-up and hair done at the Aveda store at Fashion Valley, thank you Kira, you are a pro! Even though I know how to apply my own make-up and style my hair (have been doing it for years to appear on TV and for events), it is nice to have someone else apply it for speaking engagements. When someone else applies my make-up, I try to to learn new make-up techniques, cosmetics trends, and like to see how they consider it best to enhance my features. Every make-up artist has a different style and I enjoy learning from them!
The Fashion Show was well attended and we had a blast! Towards the end, we interviews a few actors on stage. Immediately after the Fashion Show, we changed our outfits and headed to the Closing Night Party at Rooftop600 at Andaz! I'll post pictures of the Closing Night Party next, Abelardo and I also co-emceed that event.
Thank you to everyone that went to the Celebration of Fashion! We hope you enjoyed it as much as we did! The event would not have been a success without your support! We could feel your positive energy during the show!
Thanks to Pilar Kuri, Philip Lorenzo, and the team at the San Diego Latino Film Festival for inviting me to participate as co-emcee! I had fun working with you and look forward to collaborating with you again!

Hugs,
Paola
PS -In case you missed these, here are links to the posts with pictures from the Festival's Opening Night, Thursday Night at the Festival, and the Media Kick-off Party, which were all delightful!
This pet was so fashionable! The doggie was sitting on its owner's lap during the show & turning its head from side to side as the models walked runway! Adorable!
I had to include this pic with Kira, taken during "hair & makeup" before the event. She is a sweetheart and I enjoyed spending time with her at Aveda! Thanks Kira!