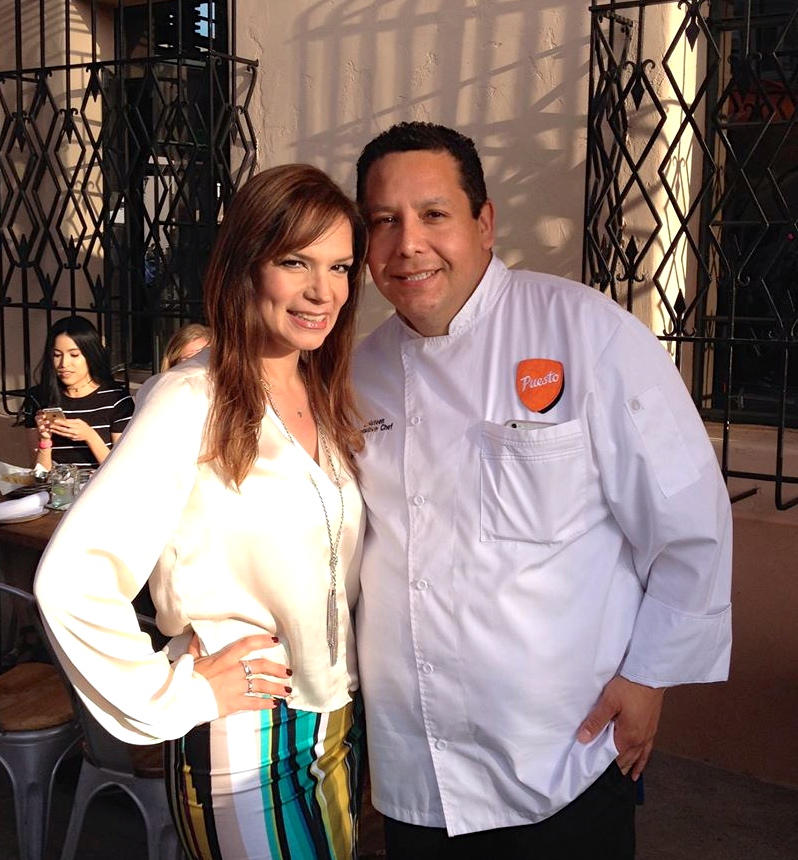 I can't remember the last time I went out on Cinco de Mayo. For a few years, the television stations would sponsor a large concert at the Del Mar Fairgrounds and I would work at our booth on Cinco de Mayo weekend. It was always nice to meet viewers and give a greeting on behalf of the stations on stage! After we stopped sponsoring that event, I stopped celebrating Cinco de Mayo at a large public event. This year, my friend Luisteen Gonzalez, Executive Chef, at Puesto Restaurant invited me to their CincoTeca celebration, and oh was it a celebration! Luis and I have known each other for more than ten years. I invited Lola to join me and we had so much fun! We enjoyed time with friends while we sipped sangria, margaritas, and enjoyed the food at Puesto! I asked Luisteen why they called the event CincoTeca, and he explained it was Cinco for the holiday and Teca as in "discoteca" (night club / discotheque in Spanish). What a great idea!
There were multiple Grammy nominated bands playing live music, closing the evening with a special performance by Santa Cecilia – and admission was free! The event was held at The Headquarters at Seaport Village, the entire courtyard was turned into a "fiesta"! The highlight was the fresh tacos from Puesto! The name of the restaurant, "Puesto" means stand in Spanish, as in taco stand. How clever! But, these are not you run of the mill tacos, these vary from the well-known carne asada tacos to gourmet style tacos with multiple types of salsas, sauces, tortillas, and ingredients, including lobster and filet mignon! The tortillas are handmade and the tacos are sumptuous! Add the guacamole or sauce and wow, heavenly tacos! There was also a dessert booth selling waffle churros with horchata ice-cream, a bar decorated with fresh fruit, and a couple of other vendors. The Headquarters' stores and other restaurants were also open late into the evening. It was nice to see such a large crowd come out to celebrate Cinco de Mayo! It was a casual environment and there were also lots of families with children enjoying the festivities! It was a wonderful way to celebrate Cinco de Mayo. Thank you to my friend Luisteen for inviting me!
Have you been to Puesto or The Headquarters? Did you celebrate Cinco de Mayo? Do you know why Cinco de Mayo is a holiday in Mexico? In case you are wondering, Cinco de Mayo commemorates the Batalla de Puebla (Battle of Puebla) against the French, it is not Mexico's independence Day, that is September 16 😉

Hugs,
Paola
PS – Pictures from our Fourth of July Celebration 🙂
We enjoyed time with friends at Puesto's outdoor seating section. Poncho (seated across from me) and I have known each other for more than ten years! He runs a successful Mexican food catering business, of course specializing in tacos!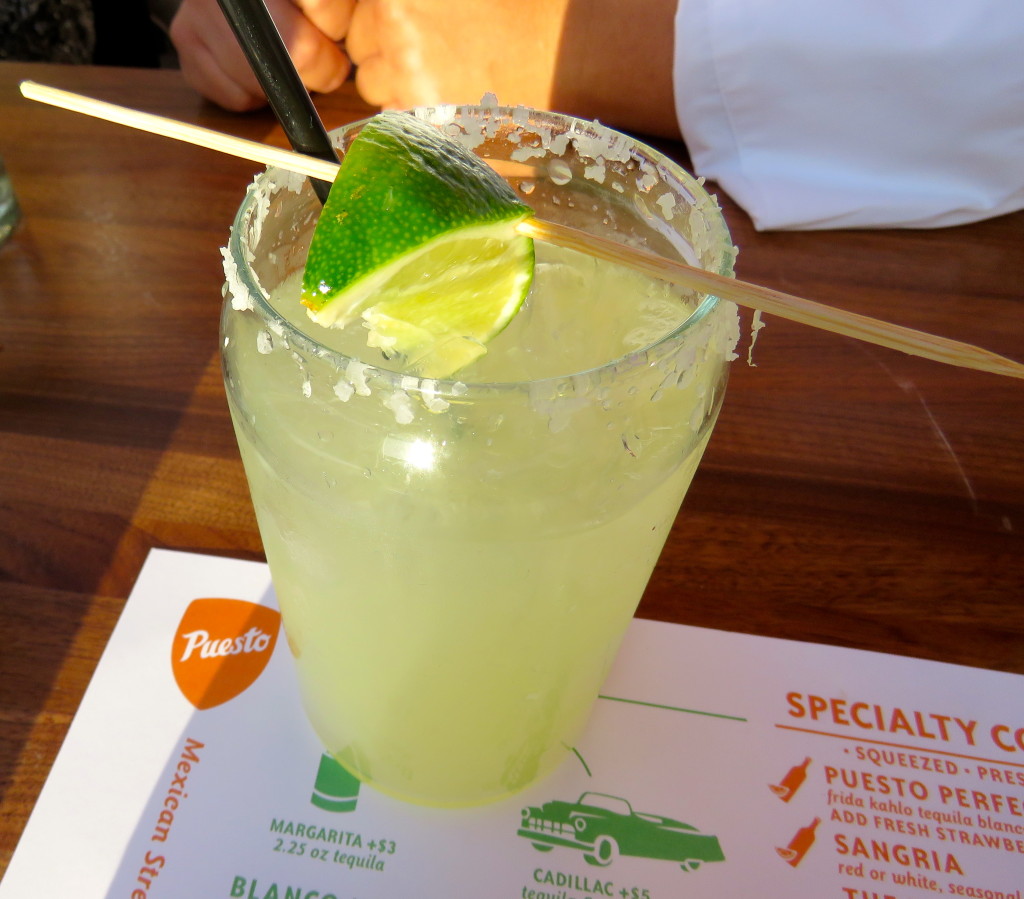 My margarita, yum!!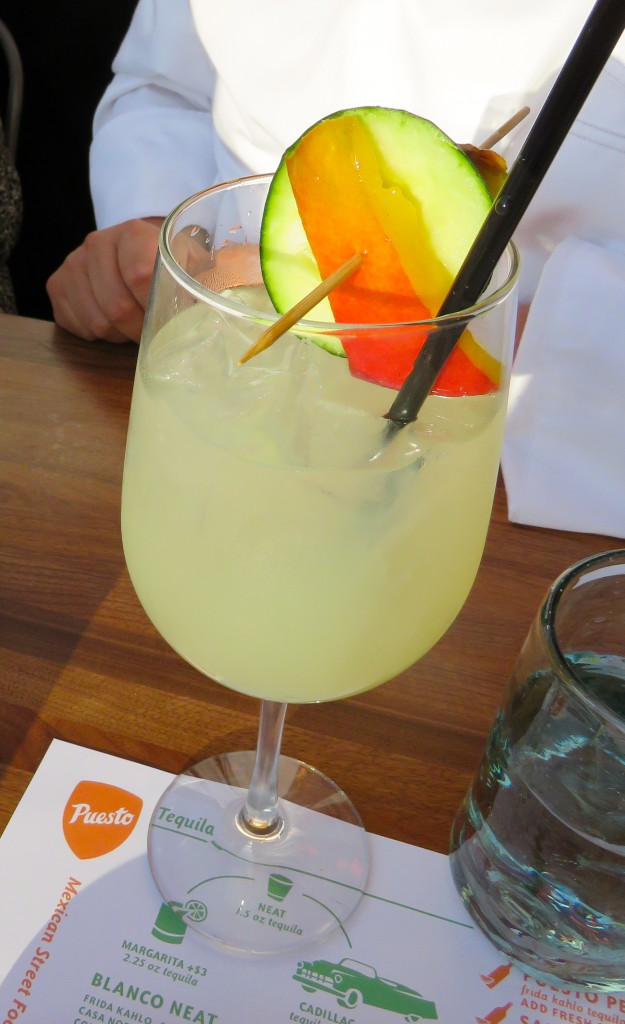 Lola had a white sangria. I had a sip, super tasty, perfect for spring & summer!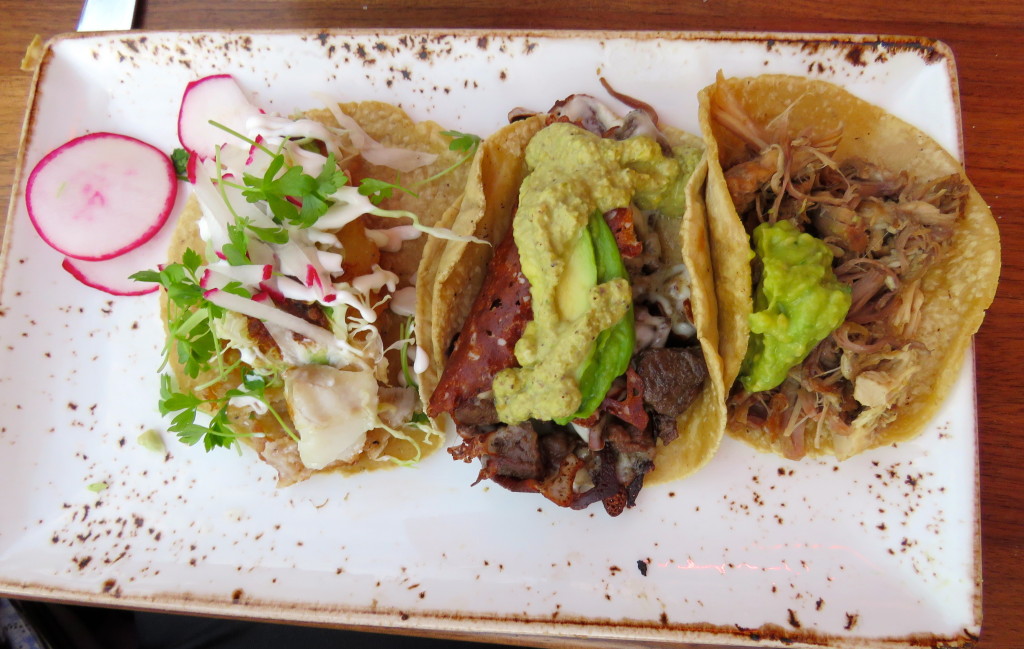 Three varieties of tacos: (left-right) fish, filet mignon, pork. I tried the fish.
Since I don't eat tortillas often, I couldn't resist ordering a tortilla, they brought me three! They were freshly made….warm & soft, tortilla perfection!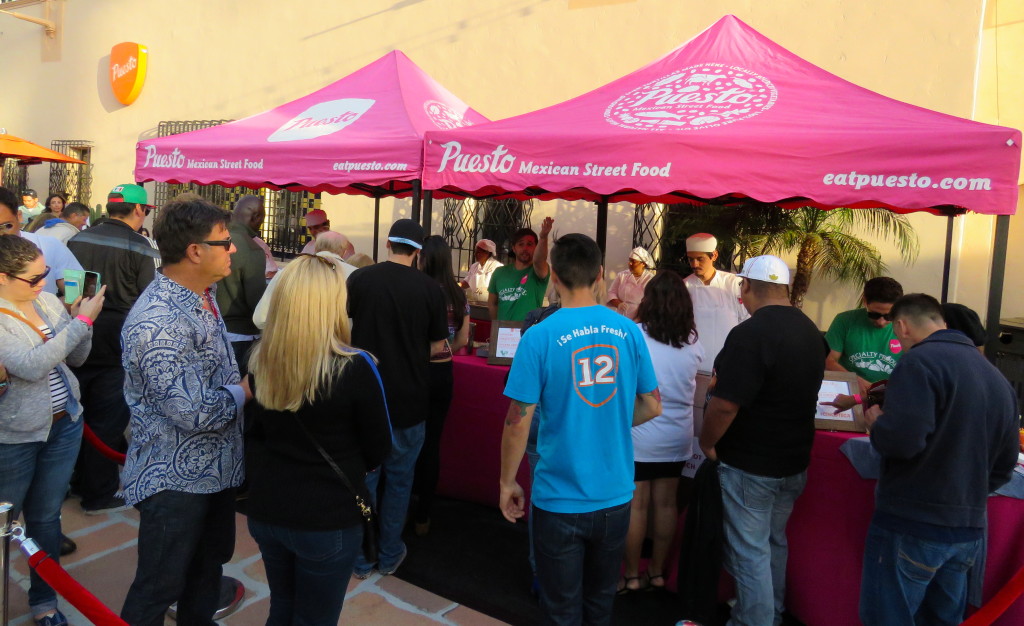 In addition to the restaurant seating, Puesto also set-up two canopies in the courtyard, serving tacos.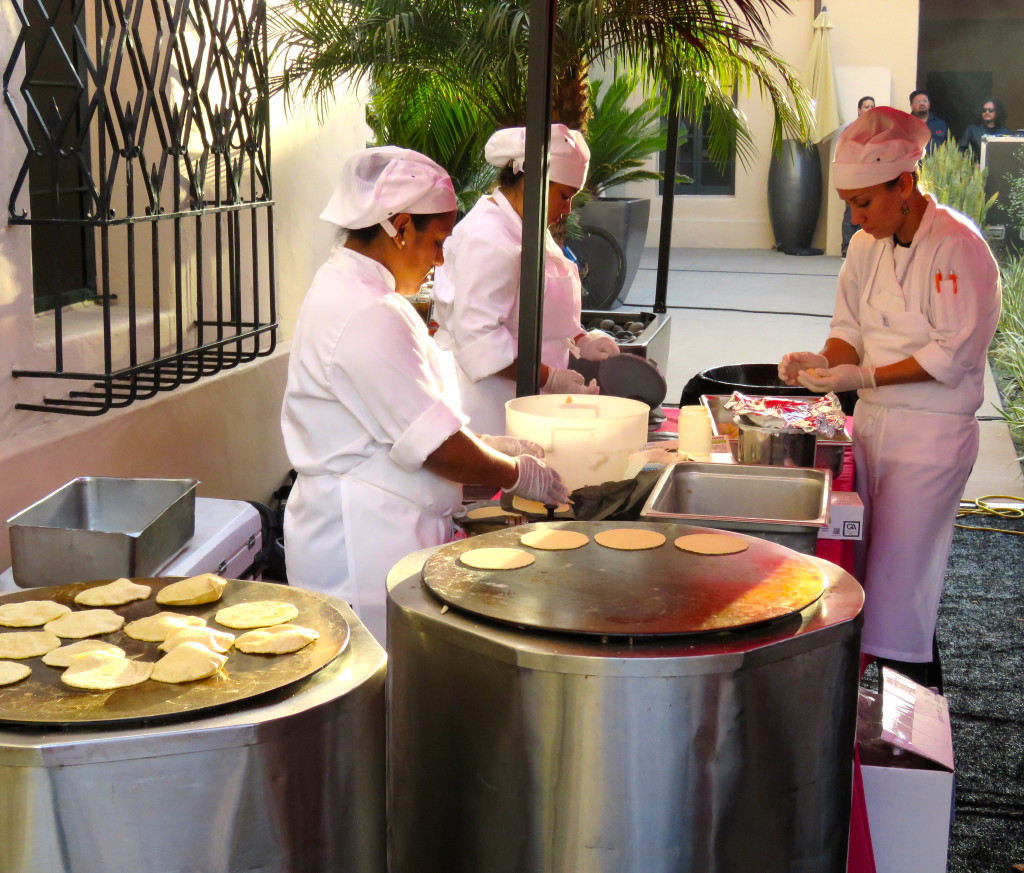 They were making the tortillas right there, under the canopy, as the tacos were being served. It may seem like I am making a big deal about the tortillas, but as a Mexican, I can tell you a fresh tortilla is like eating bread right out of the oven as soon as it is baked.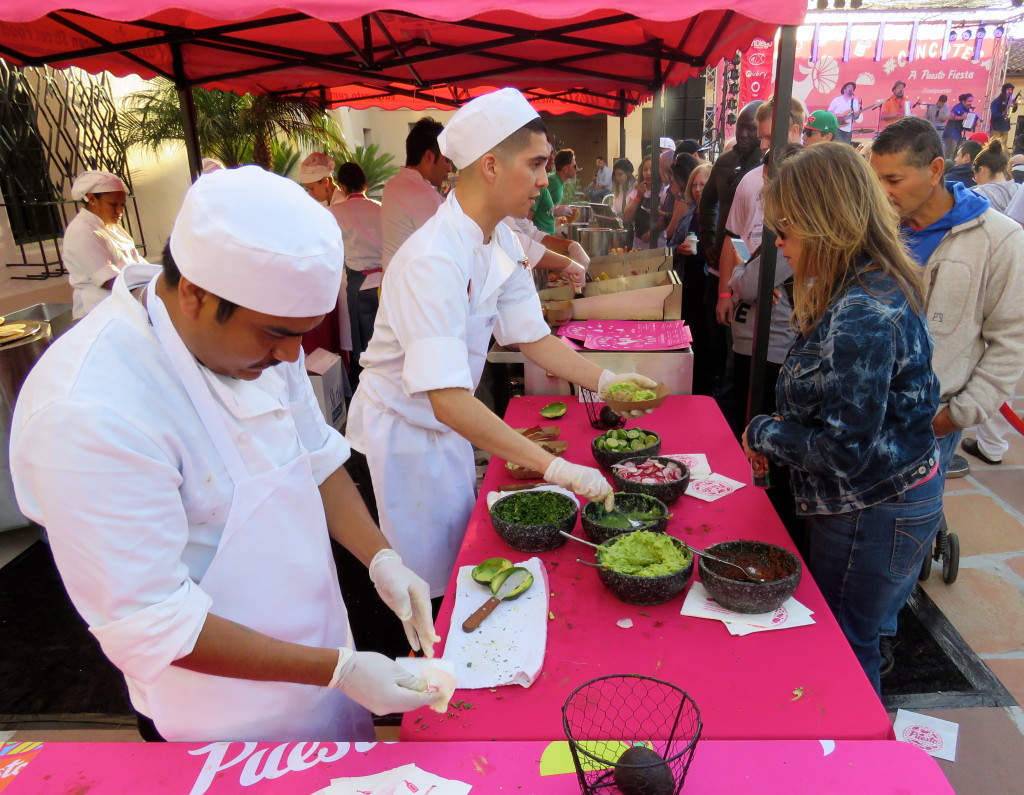 The line to buy tacos at Puesto was quite long….it crossed to the other side of the courtyard.
We saw our friends Pili and Rafael – always a pleasure to see them!
The music continued as the sun went down. It was a beautiful evening!
The crowds grew throughout the evening!