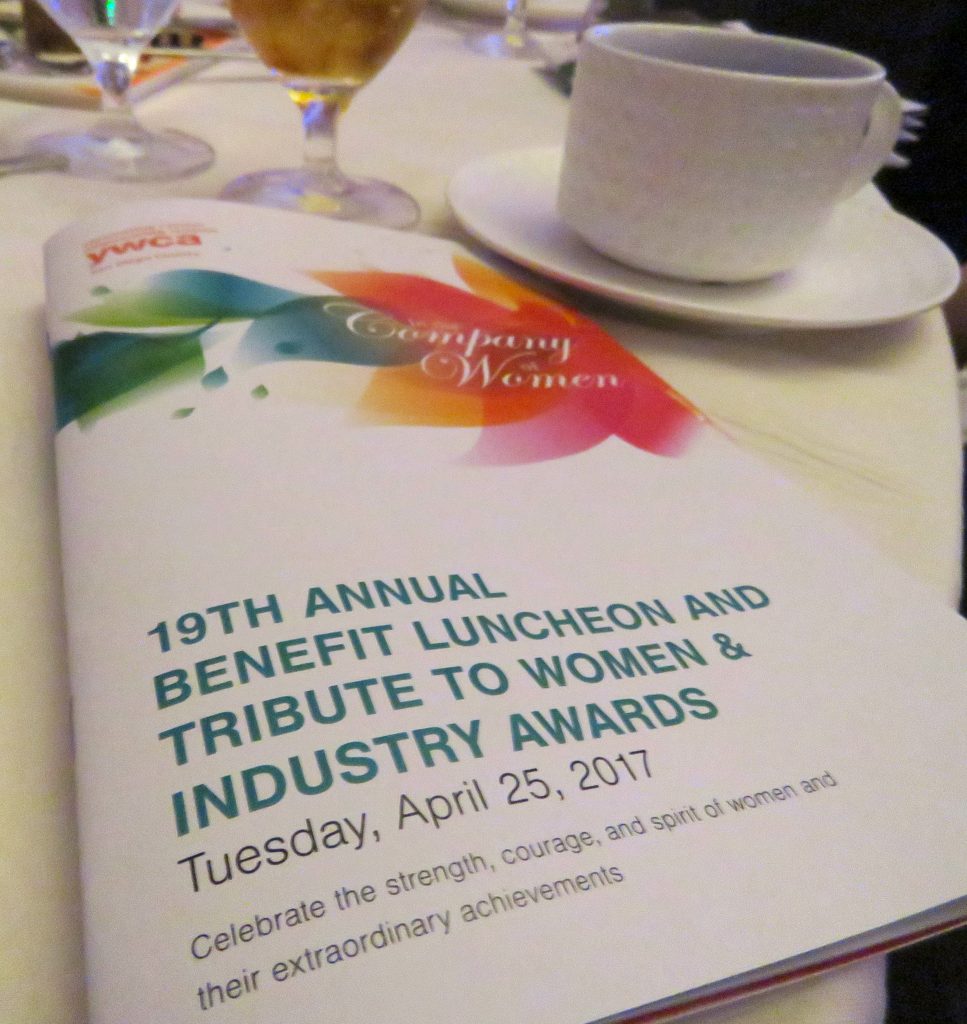 This is my third year participating as a judge on the Selection Committee for the YWCA's Tribute To Women & Industry Awards. I wrote about how I got involved with volunteering for the YWCA in a past post (click here for that post). Last year, I also participated on the Selection Committee, but did not attend the Awards Luncheon because I had given birth to our baby a few weeks before the event and was still recuperating from the c-section surgery. I really missed attending the Luncheon for many reasons, mostly because it is a good cause to support, the Award nominees and recipients are all leaders in their industry, the keynote speaker is always inspirational and I leave with a memorable message, I enjoy seeing industry friends, and the event itself is nice! The purpose of the Luncheon is to raise funds for the YWCA San Diego County and to celebrate the strength, courage, and spirit of women and their extraordinary achievements.
This year, I was glad to participate again! The nominees were impressive, as they are every year! The keynote speaker, Angélique Kidjo, three-time Grammy-winning singer, writer, activist, and humanitarian had the entire room up on our feet singing along with her. She has an impressive career and life! You can read more about Angélique at kidjo.com. It was nice to hear how the encouragement and love she received in her home from her parents as she was growing up have helped build her character and confidence, and this has lead lead her to live a fulfilling life, with a successful career and home life. Her energy and confidence was contagious! She irradiated love and peace, yet was frank and direct in her words. The words which stayed with me the most were, to be confident and don't pay too much attention to what other people say about you. Not everyone is going to love or like you, but as long as the people in your home and family love and support you, you can accomplish anything! Don't listen to those which criticize you without even knowing you well. She made me laugh when she said, who cares what they think about you, those people don't pay your bills!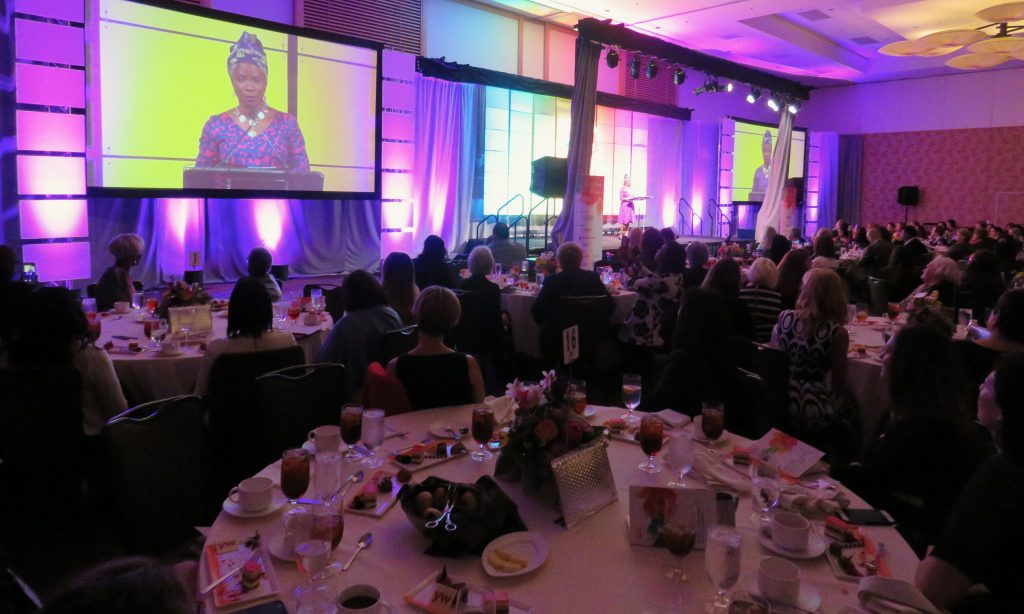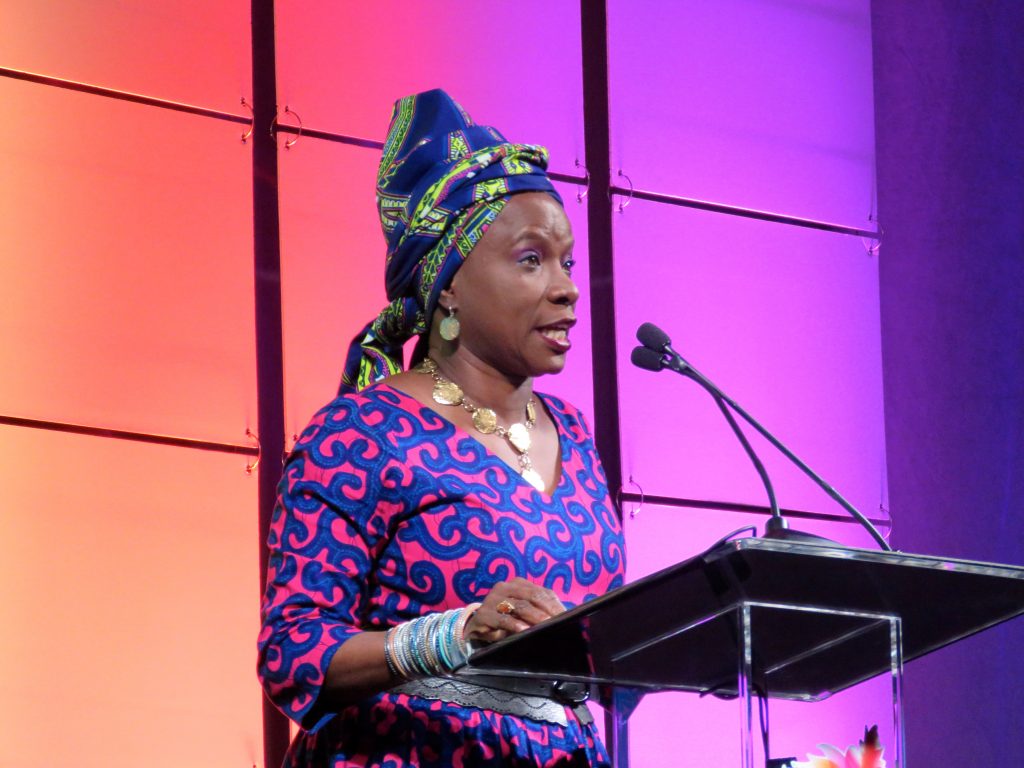 Her words resonated with me because as a woman, in my case a Hispanic woman, as confident ad I am and as much as I try to speak my mind (and often), somewhere in the back of it, sometimes I still want to be liked by others and to be nice. As much as I tell myself, as long as your nucleus is good (my nucleus is my family and close circle of friends), then the rest is just extra, it is still nice to be liked by others. I don't know if it was something from my childhood, after all mom says I was always a good kid, or at which point this started to sound in the back of my mind. Even now, as a grown woman, sometimes it is challenging to speak up and voice my opinion which may differ from management or a large group which I am a part of, perhaps for fear of being perceived as not being a team player or not being supportive, or sometimes because I've had bigger issues or projects to deal with. Other times, I simply choose to not voice it for the sake of keeping peace, others because I sincerely don't care and speaking up will cause me to have to deal with something which is not important to me. There are instances where I have learned to choose my battles and that sometimes it is better and more effective to speak up at the right time or in private, and to be able to choose my words wisely which may take some reflection beforehand. All of these thoughts and reflection went through my mind as I was listening to Angélique speak and while I was leaving the event. One of the reasons I enjoy continuing to attend this type of event is because I always find a positive take away, some memorable words. This was the case at the YWCA's Benefit Luncheon!
The YWCA is a national non-profit organization, with a location in San Diego. They are committed to empowering women, man, and children to overcome domestic violence and homelessness, and achieve self-sufficiency. They serve more than 8,400 individuals every year through their high impact housing programs and supportive services. It is a wonderful organization which helps many people and I feel fortunate to be able to participate to help raise funds for their programs. It was a pleasure to work with my friend Gavon, from the YWCA, on the Selection Committee!
Below are some pictures form the event. I also posted pictures from the event and video of Angélique's singing on my Instagram. To learn more about In the Company of Women, Tribute to Women and Industry Awards click here. For more information regarding the YWCA San Diego County, to volunteer, or make a donation, visit ywcasandiego.org.
Hope you are all having a wonderful start to your week and find some inspiration…or maybe you are the one to inspire others!
Do you volunteer? If yes, with which organization?
Have you ever kept quiet for fear of not being liked or how others may perceive you?

Hugs,
Paola