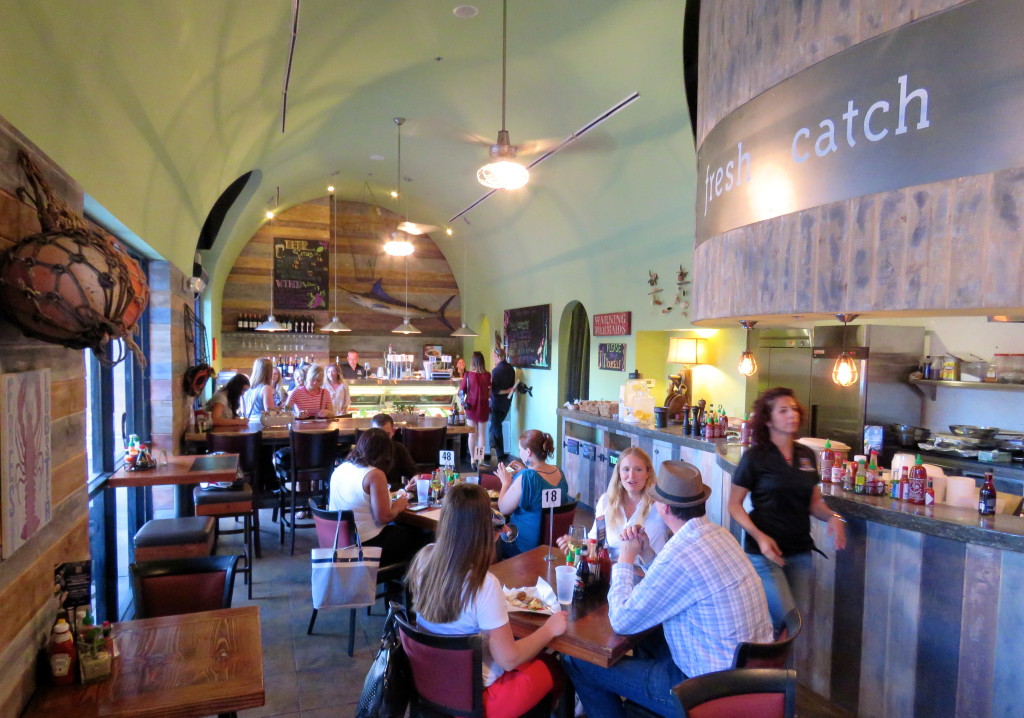 My hubby and I eat out a few times per week. Like many people, we go to the same restaurants frequently because they are close to home or they serve some of our favorite dishes. We have different meal preferences, he is a steak and potatoes kind of guy, and I eat mostly salads or vegetarian dishes. We have been able to find some restaurants that suit both our tastes. We are always trying to find new restaurants to add to our list of frequented locations. So, when I go to an event at a restaurant, I am hopeful it will result in a location that serves menu options we would both enjoy. Well, such was the case recently!
I was invited to the Grand Opening and Media Preview of Fresh Catch Fish Market & Grill. It is a small restaurant with a community feel to it. Their menu includes specialty appetizers, raw bar options, seafood dishes, tacos and burritos, and kids plates. Most restaurant grand openings usually include only appetizer portions of a few items from the menu and limited drinks. Well, Fresh Catch hosted full dinners for guests, we could order anything from the menu, including the priciest dish, the lobster…and some people ordered it! The bar offered complimentary selection of wines and drinks. I don't eat large portions at dinner time and as much as I was tempted to eat a full meal, decided to order a small portion of ceviche. I sat with two guests which I met earlier that evening at the event and we shared a sashimi plate.
Even though I grew up in a Mexican household, my mother cooked a variety of foods, from pasta to steak, to hamburgers, and the occasional taco. We did not eat Mexican food every day. When we visited my grandmother, that was a different story, she was from Mazatlan and every meal we enjoyed at her home was Mexican food, often seafood! She introduced me to fresh ceviche at a young age. I remember watching her prepare a delicious ceviche, how she would spend hours peeling the shrimp or slicing the fish, then marinating it with lime juice and finely dicing the vegetables. It was fun to help her in the kitchen. I learned that a good ceviche should have decent portions of fish in small chunks with vegetables added for flavor, not tiny bits of fish with lots of vegetables. Another key element is to add just the right ratio of lime juice to ensure the fish is properly cured and tender to eat. If the ceviche is made fresh, the vegetables will be a bit crunchy and not mushy. So tasty! Add some tostadas, tortilla chips, or saltine crackers and what a joy it can be! When I ate the ceviche at Fresh Catch it reminded me of my grandmother's ceviche. It was tasty and fresh! It had chunks of fish and the serving was just the right portion for me. I could have easily had a second portion because it was tasty and ceviche is a healthy meal, but opted to try a few pieces of sashimi and continue to enjoy my wine instead. I had ordered a California pinot noir, which was rich and flavorful. I know fish goes best with white wine, but I prefer red wine (99% of the time).
Prior to sitting down to enjoy our dinner, I met and congratulated Chef Vincenzo Loverso and his business partner, Mark Hunter, and thanked them for the invitation.
Later that evening, I picked up my husband at the airport and told him about the restaurant. We plan to return soon! Not only will it be fun to try a new restaurant with him and have the option to sit on the patio, I know the meal and wine will both be tasty! Can't wait!
You can find the menu and more information regarding Fresh Catch, on their website.
Have you been to Fresh Catch Fish Market Grill? Have you been to any new restaurants you'd recommend?

Hugs,
Paola
PS – Celebrating Hubby's Birthday at His Favorite Restaurant and another new restaurant we tried recently. Plus, one of my favorite new restaurants!
I arrived at the beginning of the event and took these pictures. I left before the event ended to pick up my hubby at the airport. The restaurant and patio were full, with guests enjoying the food, when I left.
The ceviche! Tasty!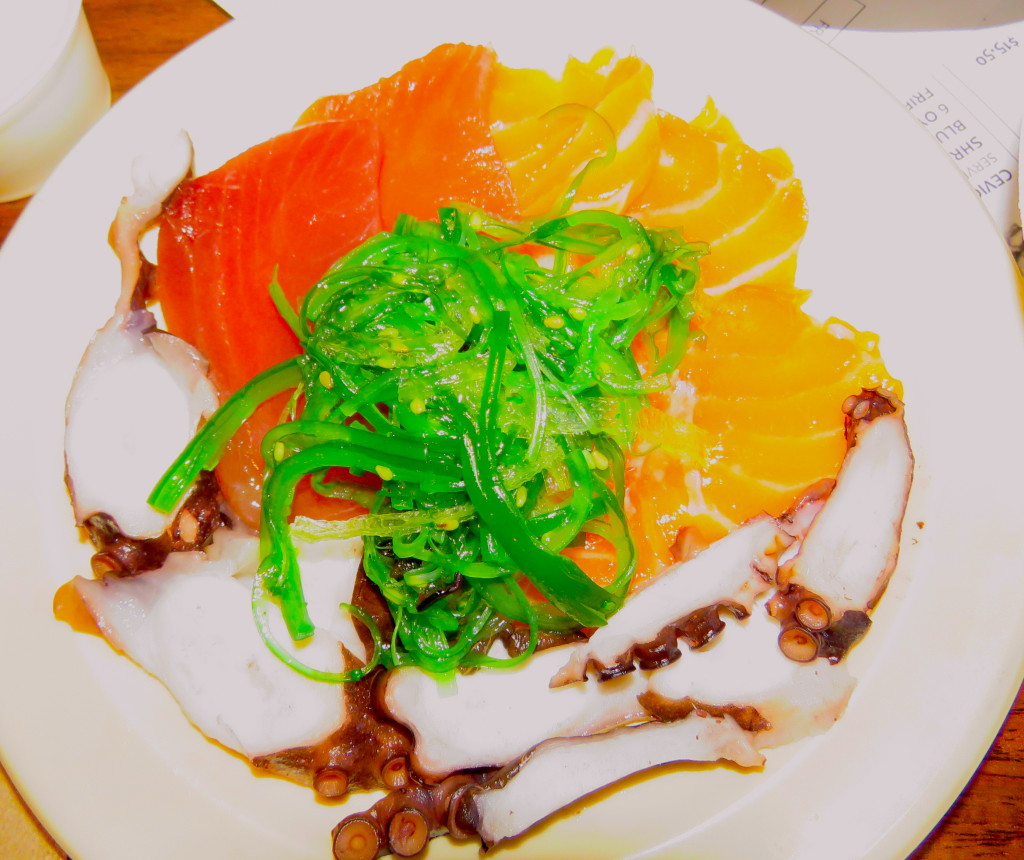 The sashimi dish we shared.
I like minimalist centerpieces and decorations, these were on the tables, nice! The shells and beach sand went with the seafood theme of the restaurant.
PS – Beautiful succulent plant vase arrangement I saw on a recent vacation.