Hi friends, hope your weekend is going well! Do you have special plans for your long weekend?
Here's Trick #4 from the series Tricks to Motivate Myself to Exercise. Hope you like it.
Hugs,
Paola

Trick #4

: Exercise at Gym Close to Work or Home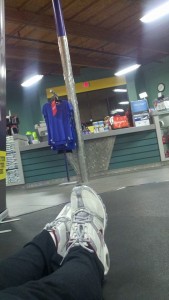 Going to a gym that is located close to work or home really works for me! It is convenient and practical. I am a member of 24Hour Fitness, I have been for about 10 years! The membership I have is for multiple locations, pretty much all their gyms in various cities. I usually go to the gym after work and take the classes. I know the schedules for the fitness classes at the gyms close to work and don't always make it for the entire hour, but know that it is better to exercise for forty-five or thirty minutes, than to not exercise at all. Another option is to use the equipment to exercise, such as a treadmill, elliptical, or bicycle. An item that helps me pass the time when I exercise on equipment is a magazine, book, or my IPod. I always have a magazine in my car and my IPod in my purse. Before I know it, I've gotten at least 30 minutes of cardio and walked two miles!
Every once in a while I'll go to the gym located about two miles from the station at lunch time and walk on a treadmill for thirty minutes and stretch for five minutes, freshen up & change, then rush back to work. I get a pretty light work out because I don't really want to get to sweaty since I go back to work afterwards. I try to go to the gym at lunch time at least one or two times per week, particularly if I know I will not be able to exercise that evening. Exercising regularly at lunch time can be challenging for me because sometimes I have shoots or meetings at lunch time, but mostly because I often work through lunch time (which is not good, but such is life).
On weekends, I'll try to go to gyms close to home. I'll take a class or use the equipment. My husband also has a membership to 24Hour Fitness and it helps (me) when I can motivate him to go to the gym with me, somehow it also motivates me to know he is going with me. Every once in a while, I'll go to the gym close to home on weekday mornings, but the classes offered are at 5:00 am, which is usually about an hour too early for me. Sometimes, I'll go to the gym in the mornings and just get on the treadmill or elliptical for a quick workout. When I do make it to the gym in the mornings, I feel great the rest of the day, full of energy! Exercising in the mornings is also good for your metabolism, more on that in another post.
Do you have a gym membership? Which gym do you go to? Do you have a favorite class you take or do you use the equipment? Do you go to the gym in the mornings, lunch time, or evenings?
 In the picture above, I was stretching after exercising on the treadmill at the gym.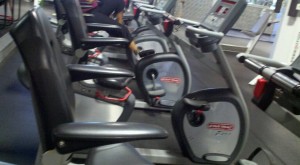 When I want to get in some light exercise, I use the bicycles. It is simple and I can read while I get a workout (or catch up with  friend on the phone), which helps the time go by faster. Before I know it, I will have gone a few miles on the bicycle and gotten thirty minutes of exercise.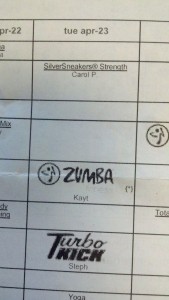 I keep print outs of the exercise class schedules from the gyms located close to work and home handy, so I can quickly see which class I can attend on a certain day. I keep them in a cabinet at work, in the glove compartment of my car, and the nightstand in my bedroom at home.