Do you ever take pictures on vacations and then don't get around to printing the pictures…..or in my case posting them? That is what happened to me with two recent trips we took: Hawaii & Boston. I think I also missed posting the pictures from our visit to Nancy, in France. With digital cameras, I tend to take hundreds of pictures. As a result, it takes me quite a bit of time to look through the pictures and select which ones to share with you, and then actually do the posting. I did mean to write a blog post with the pictures, but then life got in the way 🙂  You know how that goes.
Recently, a friend asked me why I didn't post the pictures from Hawaii. When I told her, she replied, "you should still post them now." It is not like the island or beach have changed, ha! So true! The pictures are recent! So, I'll post the pictures from our trip to Hawaii.
Before this trip, I had never been to Hawaii. When I was single, I'd travel often with friends. When we would plan a vacation and Hawaii would come up as one of the options, we would end up choosing other locations like Europe, Miami, Cabo, or Northern California. I am not a lay on the beach all day, for multiple days, type of a person. Also, for some reason, to me Hawaii seemed like a romantic destination, which it is, but it is also a wonderful destination for a family vacation, surfing trip, or get-away with friends! And, there is a lot to see, historic locations, gorgeous landscapes, cultural venues, tourist locations, excellent shopping and top cuisine restaurants! And, of course some of the most beautiful beaches in the world…with warm water. Would I go back? Most definitely yes!
We visited the island of Oahu. The weather was warm and humid, but bearable, it reminded me of Miami weather. The first day, we checked in, had dinner, and explored the area around the hotel. We were staying right in front of the beach, but also on one of the main streets, with lots of other hotels, shops, and restaurants, so there was a lot to see – and lots of people! It was fun to walk around and see the shops.
As a hobby, my hubby is a pilot. One of our favorite things to do when we visit new cities is make (take) an aerial flight. This was a unique flight because it was around the entire island and in about an hour we flew around Oahu. It was amazing! We saw the landscape, beaches, farms, many homes, Pearl Harbor, tourist destinations, and Disney's Aulani. I work with the Disneyland Resort folks and interview them a couple times per year. When Aulani was about to open, I did an interview and when we went to Oahu, I was very curious to see and visit Aulani. My hubby has a friend who lives on the island and he joined us for the flight. Between him and the co-pilot, they gave us aerial tour of the island.
Here are the pics – an aerial perspective of Oahu. Hope you like them!
Have you been to Hawaii? Did you like it?
Hugs,
Paola
PS – Travel Diary: Hawaii Part 2; Travel Diary: Hawaii Part 3 (Ala Mona Center & Hilton Hawaiian Village Waikiki Beach Resort), and Visiting Disney's Aulani Resort & Spa. 
A quick pic before the flight – next to the plane.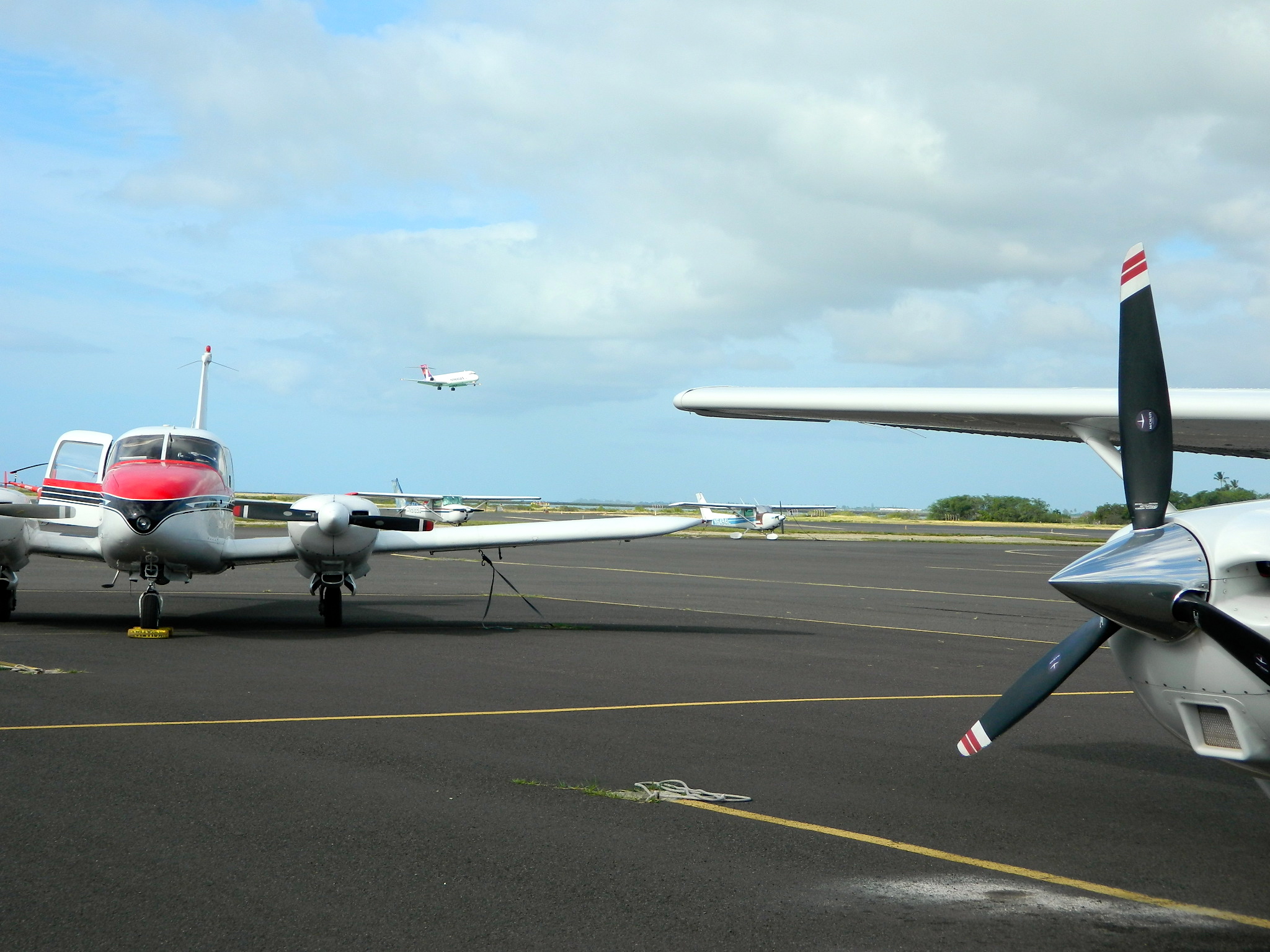 An interesting little fact about Oahu is that private flights also use the same landing strip as major airline flights (we flew out on a small, private plane, on the same landing strip we arrived to the island on –  while on a commercial airline flight). Usually, in larger cities, private planes are kept at smaller airports and use those landing strips, not the same landing strips as major airlines. So, in Oahu, we had to wait in line to depart after a huge plane, it was interesting.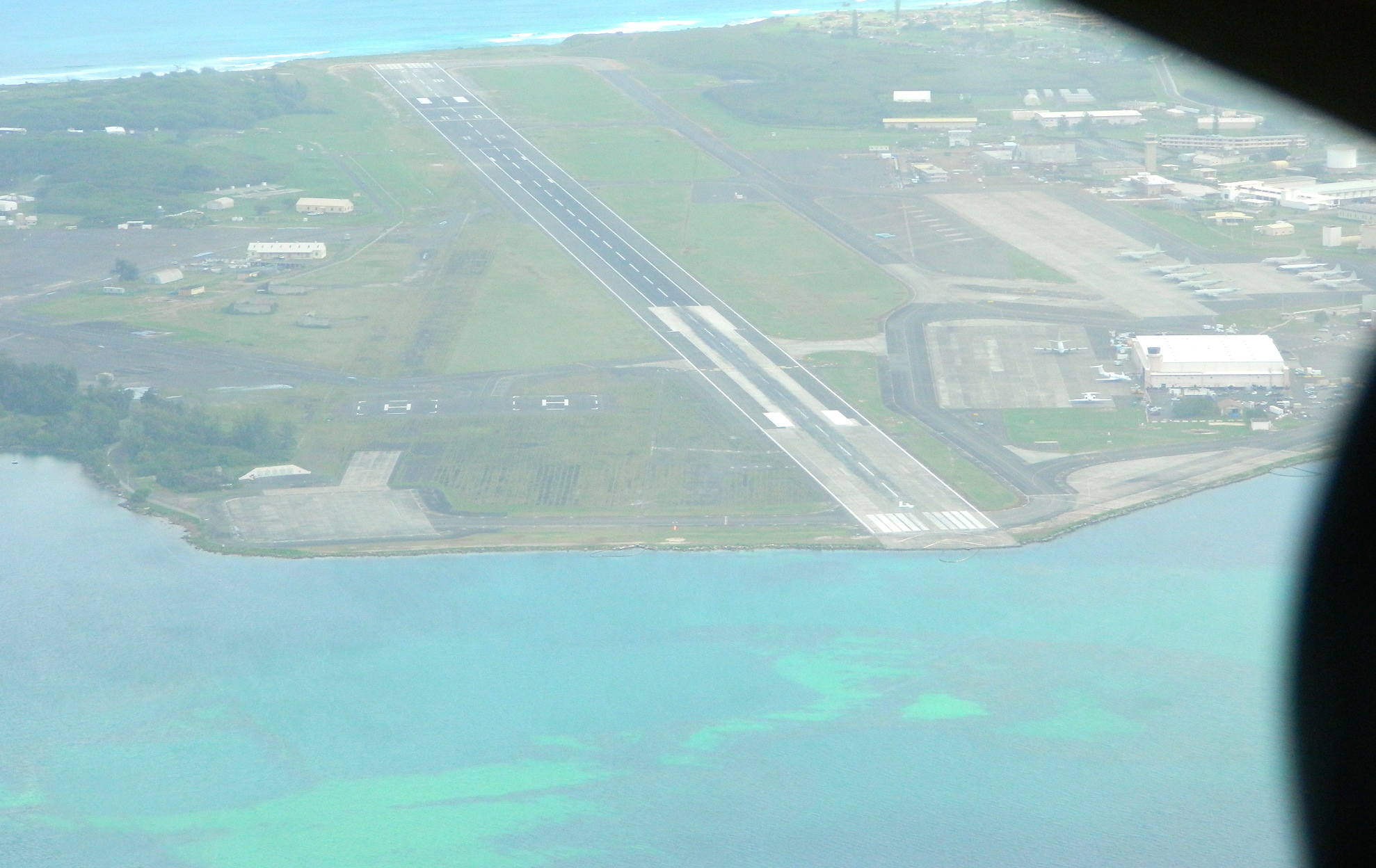 You don't see this type of landing strip everyday, water on both ends (sorry for the dark spots, this is the best shot I could get, the plane's wing is visible in the right corners of the pic).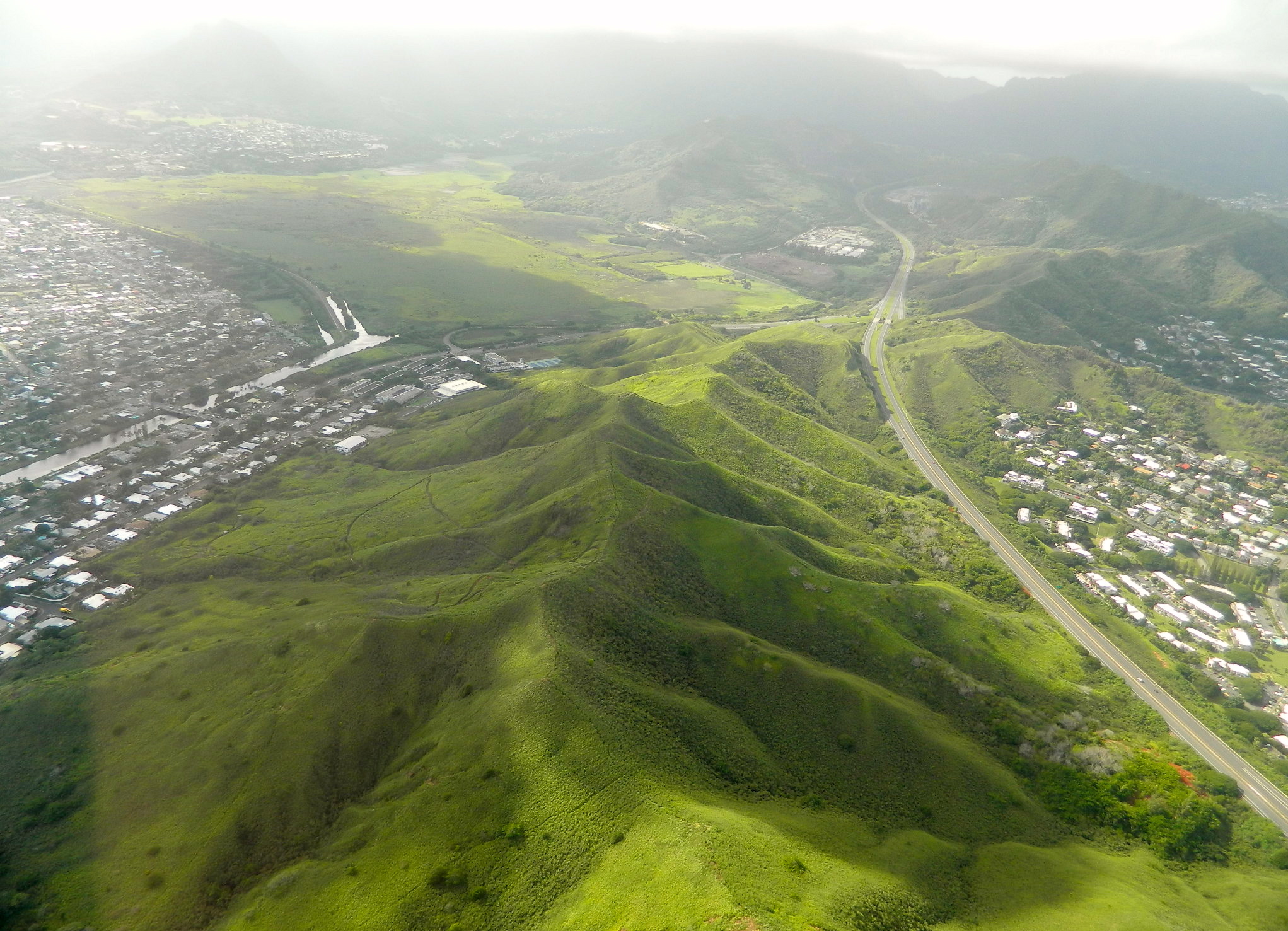 So green & tropical!
These homes were nestled among the landscape.
Farms.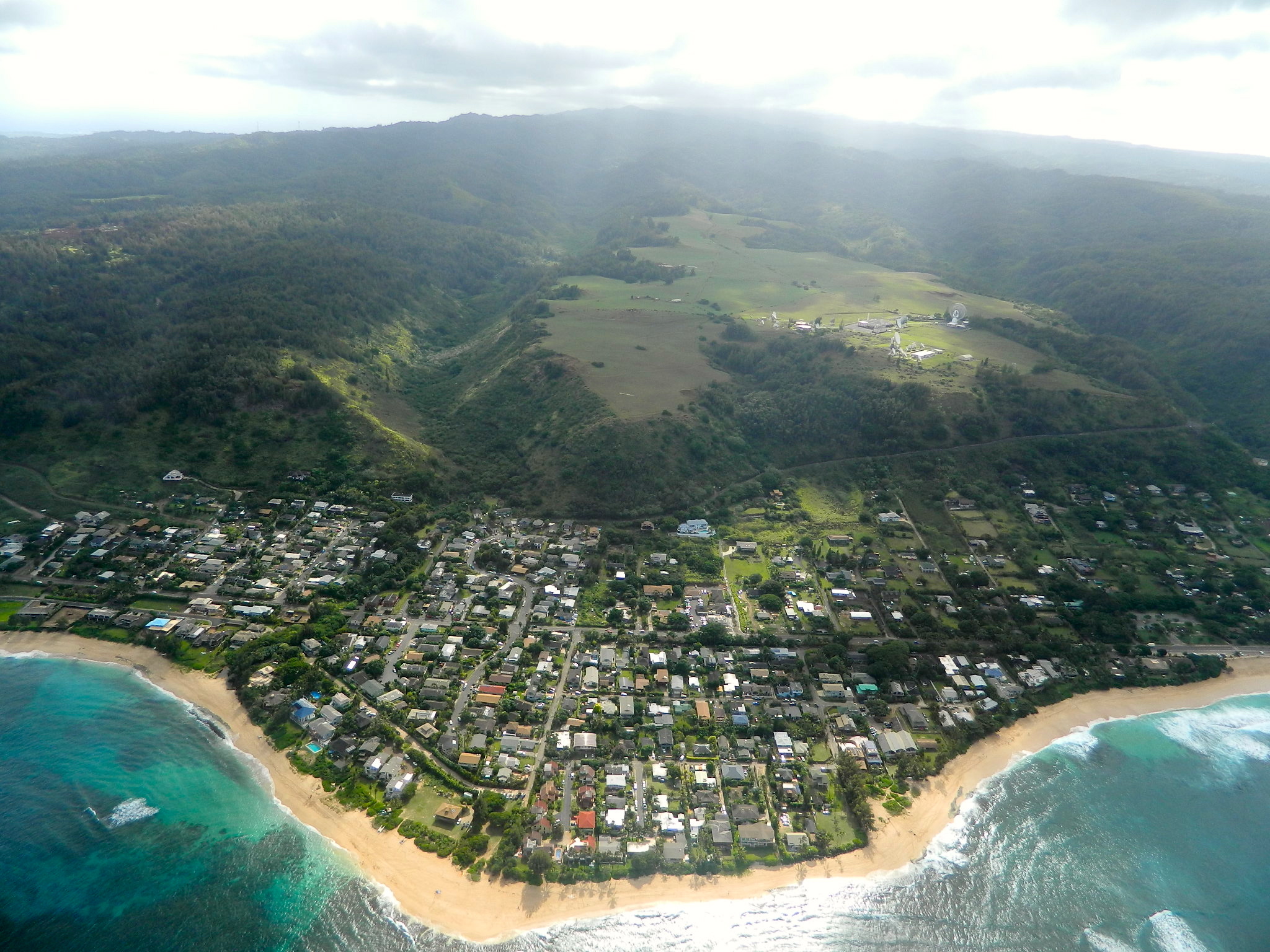 This is one of my favorite aerial shots: I like how it represents the three perspectives of ocean, land, and open space – plus the way the sun is beaming through the clouds, and the visible waves in the right side.
Sky, land, & sea.
Nature at its best! Took my breathe away!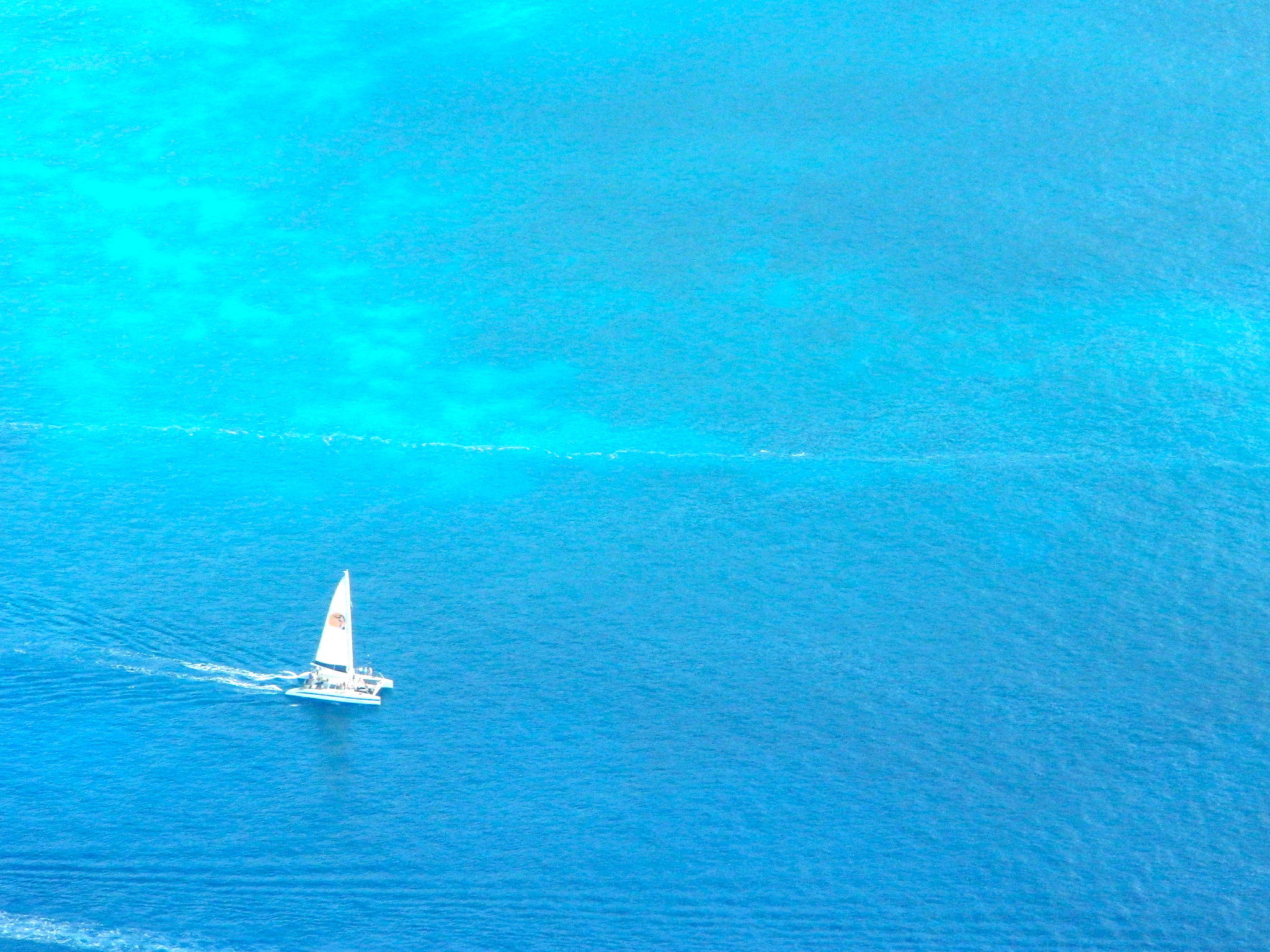 I was able to zoom into a catamaran that was sailing in the ocean, look at the clear water!
The Disneyland Resort – Aulani! An aerial perspective. We visited it while we were there, I'll post those pics in one of the next Parts of the Hawaii Travel Diary.  It has the Disney magic, captured in a resort, on its own private beach!
Pearl Harbor.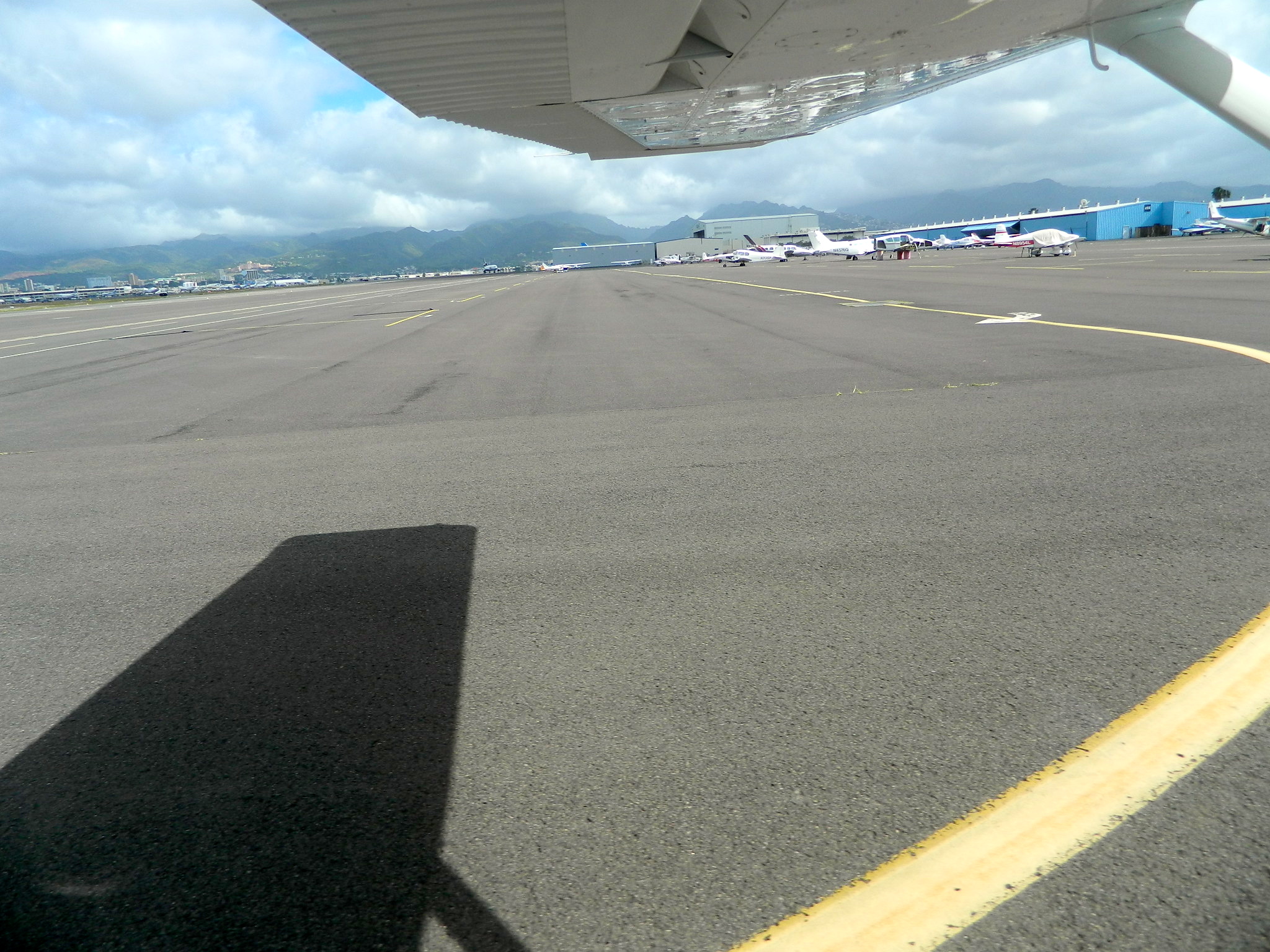 We landed .