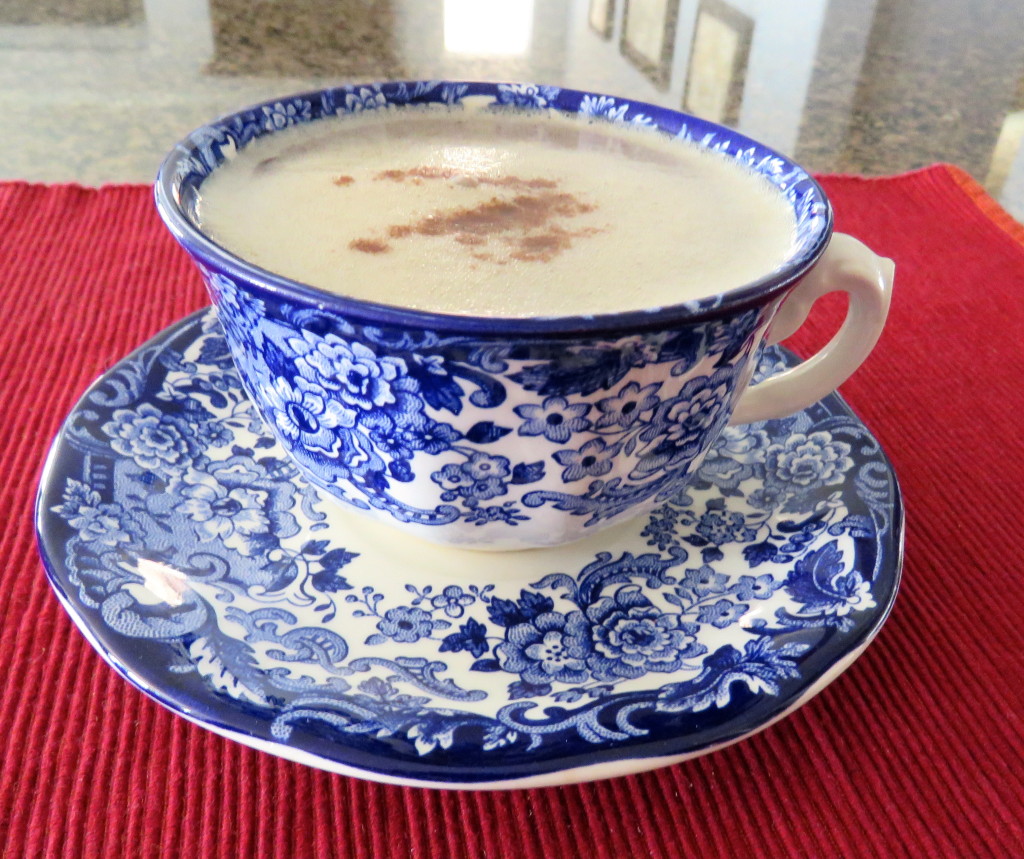 One of the things that brings me happiness every morning, is a cup of Starbuck's coffee. I make it at home, with freshly ground beans. I am trying to live at a slower pace, not jam pack my schedule, and to appreciate and enjoy the simple things in life. Savoring my cup of coffee every morning is one of those simple things that brings me happiness! Usually, I'll have my coffee in the same mug everyday. It is a habit.
Recently, I started to try to use our fancier china and crystal more often, not only on holidays and special occasions. I believe we should use our nice china, clothes, and wear that expensive perfume everyday, after all life is short, let's enjoy the sweet stuff. So, I decided to try to start using a different mug for my coffee everyday. I looked in our cabinet and we have a variety of about thirty-five mugs. Of those thirty-five, about five are part of dinnerware sets, meaning that we have more than thirty-five mugs, kind of funny since it is only the two of us. The individual mugs were mostly gifted to me by friends and family, or I purchased them on a trip (I no longer buy mugs on trips, since we have too many). Sounds like lots of mugs, right? Well, it kind of is. When my hubby and I got married (four years ago), we combined our homes and that included our kitchen items. We each gave away lots of stuff, including mugs. We kept mugs that had sentimental value. Every time I use one of those mugs, it reminds me of the person that gave it to me or the occasion when I bought it. These thoughts make me smile and fill my heart with warmth.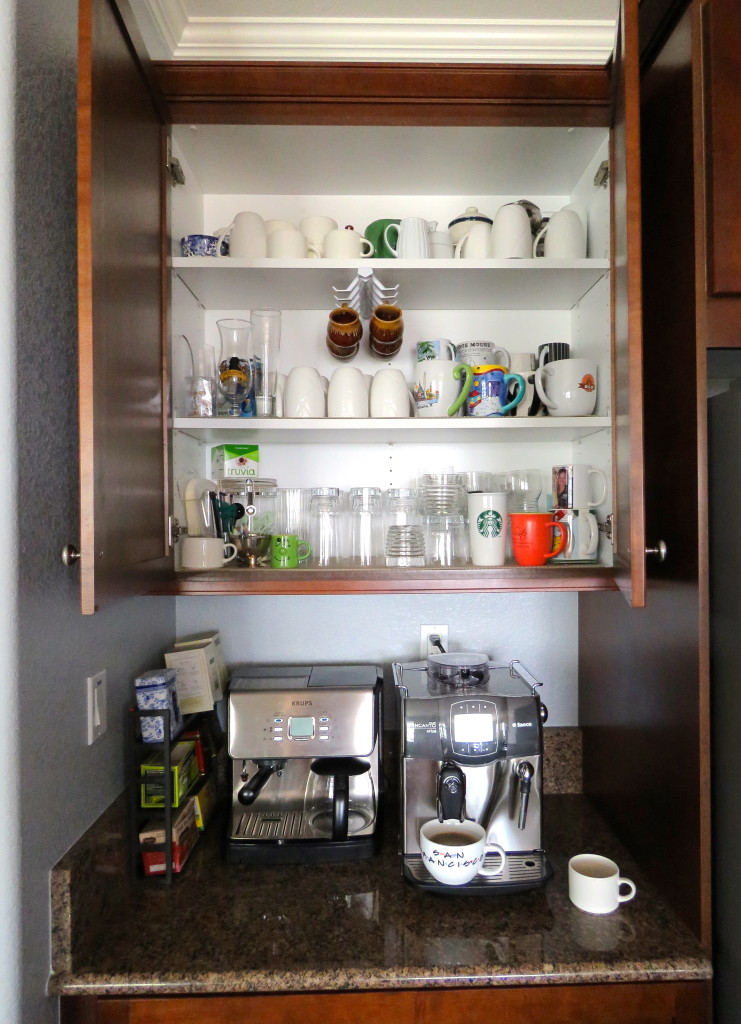 Cabinet where we keep most of our mugs.
This also got me thinking of how nice of an experience it is when you are having coffee at a coffee shop, or on vacation and order room service. The coffee is usually served in a nice white mug, with a saucer (little plate) under it. You know what I am referring to? It just seems like a more enjoyable experience, probably because you don't feel rushed, but also because of the presentation in a nice cup of coffee with a saucer.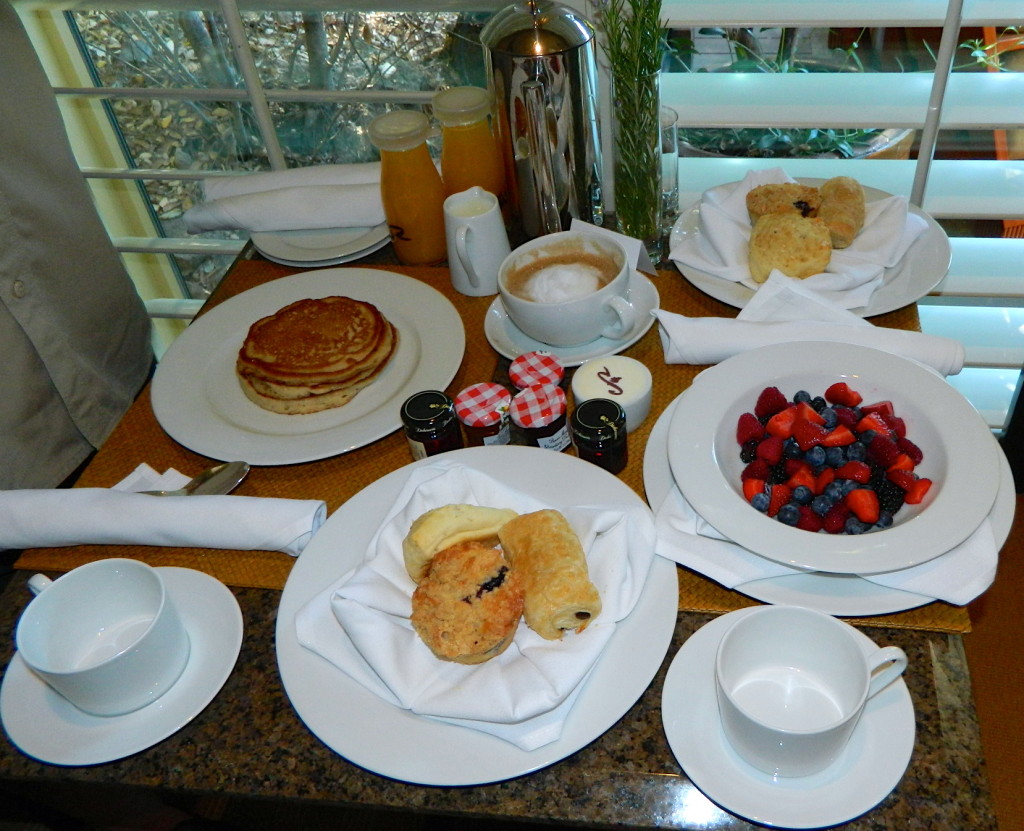 This was taken during our vacation at Calistoga Ranch last year, we ordered  room service.
For the next few weeks, I am going to use a different mug for my morning cup of joe. I will take a picture and share it with you. I will also include the "happy" thought or moment linked to each mug.
Today's Cup of Happiness: Spain
My hubby lived and worked in Spain about twenty years ago. He only lived in the country of flamenco for a few years, but bought some beautiful items while he was there. It is amazing that he still has some of them and they are in good conditions, including a delicate floral china set. I have used it only once or twice in the past four years. Each time, it made me think of what an amazing experience for my hubby to have lived in Spain. It also reminded me of my fun travels in Spain. I have good memories from Spain!
Today, I decided to use this Spanish set for my morning coffee. It is so delicate and smaller than the mugs I usually use. It made me take smaller sips of coffee, but I did re-fill it about three times 😉  I was delighted to see that the beauty of the mug is not only external, but also inside. Even when you take your last sip of coffee, you see a beautiful painting at the bottom of the mug. Funny how we can admire the smaller things when we take the time.
Do you have a favorite mug? Do you use the same mug for coffee everyday or do you use random mugs? Would you like to try this "Cup of Happiness" experience with me? Share your cup of coffee pictures below.

Hugs,
Paola
PS – Here's an interesting post I read about What The Plate Under Your Coffee is Actually For. The reason may surprise you….it surprised me!
Also, I find myself praising my cup of coffee out loud sometimes, it is that good! Here's a pic from one of those mornings. And, a pic of one of my favorite coffee mugs and coffee on the go.