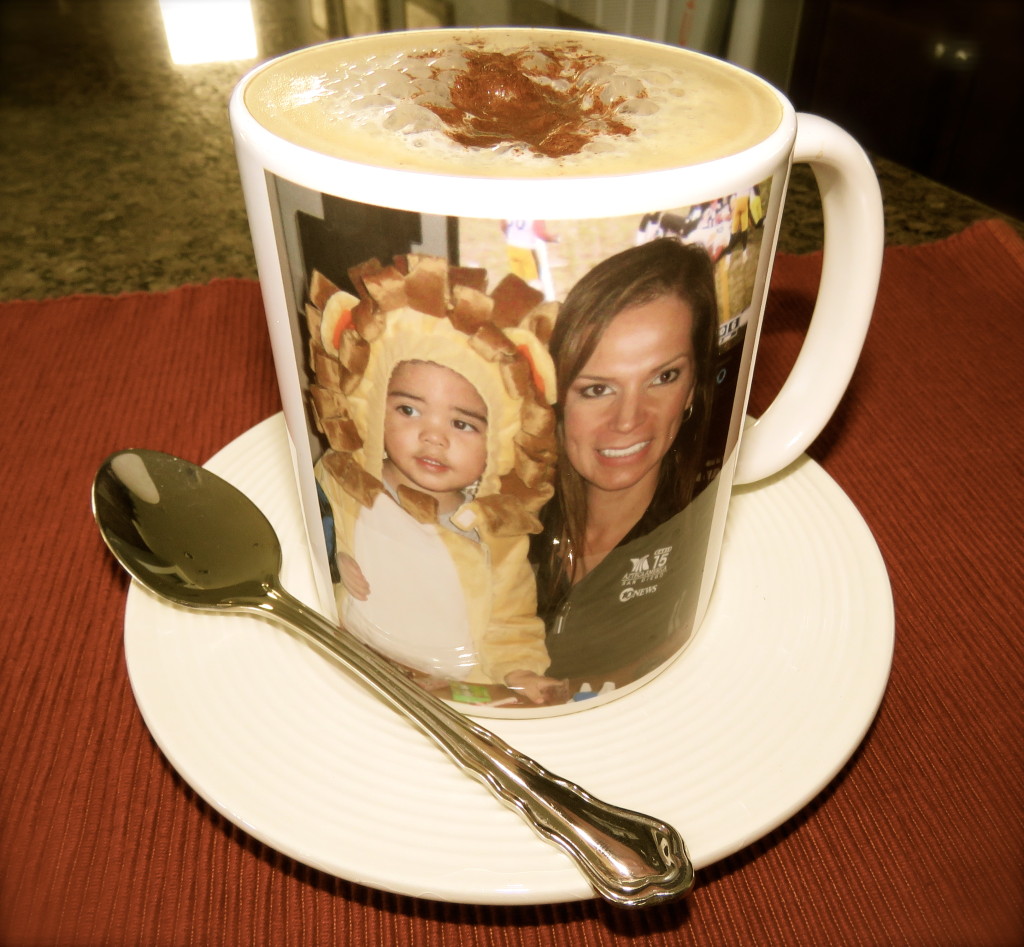 The biggest joy in my life is family, from my grandmother, to my youngest nephew, and all my relatives in between! At the end of the day, they are the most important aspect of my life and my happiest memories have been lived by their side. I was fortunate to have met my great-grandmother on my mother's side and have fond memories of her, she was a fire cracker, witty & full of energy! The nieces and nephews that I am closest to are my siblings' children. In particular, my sister's boys and my younger brother's daughters.
As you know by now and I have shared in past posts, my sister and I are very close. We shared a room growing up, then were roommates when I purchased my first home, and lived together until she moved to form a home with her husband when they got married. Luckily, we still live in the same county and see each other often. I remember when she told me she was pregnant with her first baby. Throughout her pregnancy, I was able to see how her baby was developing. I was even in the doctor's office with her and her husband when they found out the baby would be a boy. For a few months, before my nephew was born, I had a small picture frame with his sonogram in it on my night stand. I recall seeing it nightly and thinking, I already love this baby boy and I haven't even met him yet. My sister (& brother-in-law) allowed me to be in the delivery room with her when my nephews were born. It was a magical moment, there are no words that can describe that moment of joy and human miracle! To this day, the only frame I keep on my nightstand is a picture of my nephew from his toddler years. He is laughing in the picture and it is one of my favorite pictures of him! He was a cheerful baby, and continues to be full of energy and smiles everyday!
Seeing my nephews grow up has been a true pleasure! They bring so much joy to our lives! I enjoy the everyday activities, from taking them to a museum, to playing hide and seek with them. When I am having a tough day, I visualize the expressions of joy on their little faces, and the way they run and greet me when I visit them at their home. It is pure joy!
For the past few years, I would work on Halloween night because the television stations would sponsor a Halloween event organized by a radio station. It was a fun, family friendly event, and I would attend to meet viewers and pass out candy at the station's booth. Fortunately, the event was held in a local mall close to my brother's and sister's homes. They would stop by the event to say hi to me before it got dark, then head my sister's neighborhoods to go trick-or-treating with the kids. After the event ended, I would go to my sister's house to hear about the trick-or-treating from my nieces and nephews, and spend the rest of the evening with family. The children looked adorable in their costumes…and some years the adults would dress up as well. One year, my sister took a picture of my nephew and me as he was sharing his Halloween candy with me. She later made a personalized photo mug and gifted it to me. It was a nice surprise! My nephew looked so cute in his lion costume! I remember he didn't want to take it off.
Every time I use the mug, it takes me back to that fun Halloween night and time with family! Children grow so fast, I feel lucky to be able to spend time with my nephews and nieces, and see them pass through different stages as they grow up!
Do you have any personalized photo mugs? It is a nice way to give a personalized and thoughtful gift!
Do you have any Halloween family traditions? Here is a post from our Halloween trick-or-treating and family gathering in 2013. Last year, I went over to my sister's home for Halloween, here's a picture of my nephew and I from that night.

Hugs,
Paola
PS – Trick I used this year to avoid eating the candy we bought to give out…before Halloween. The trick that used to work to avoid eating Halloween candy…until I got married.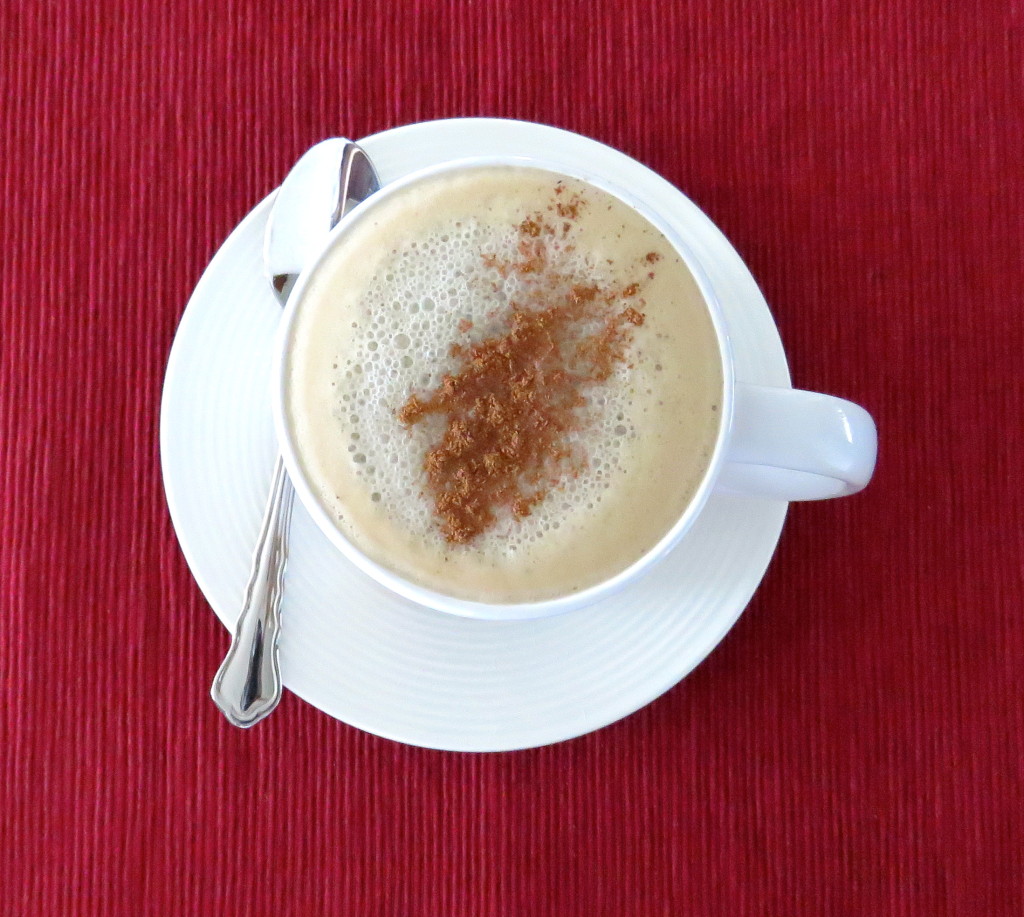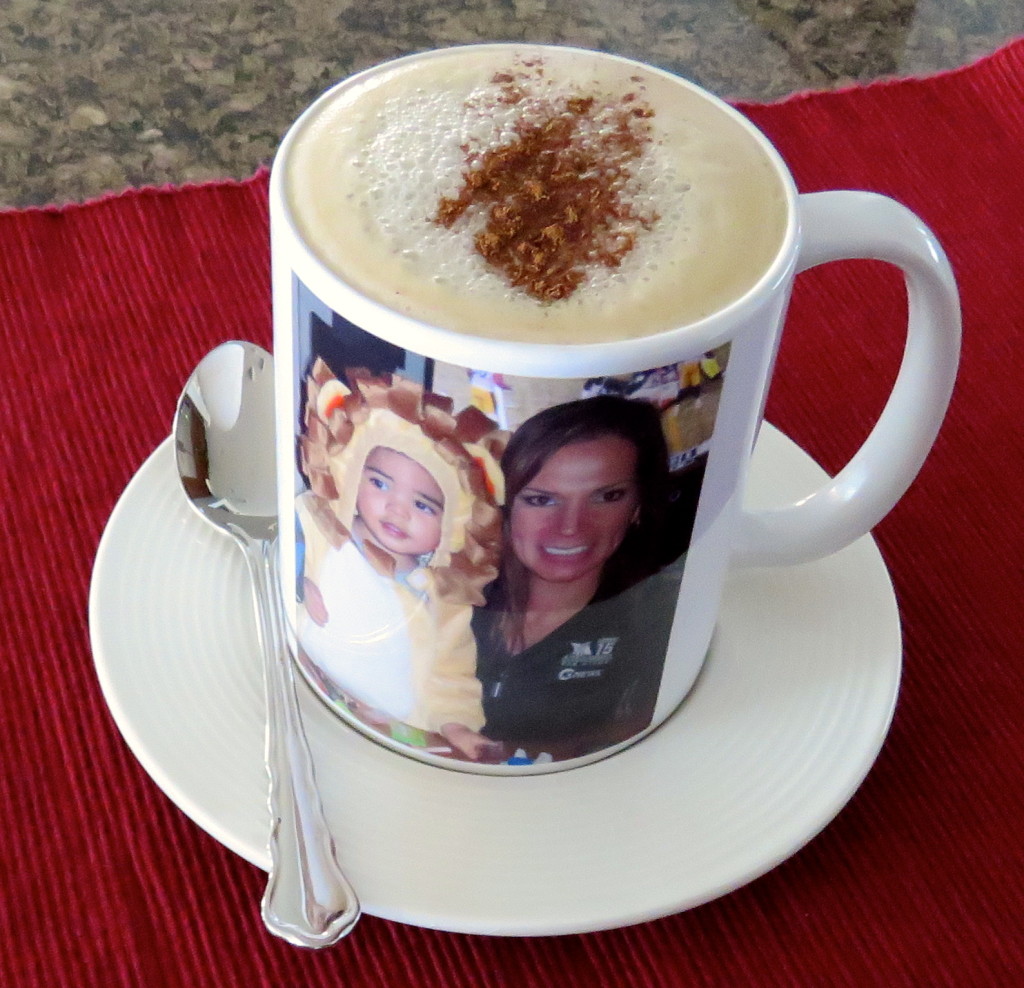 In case you missed the first "Today's Cup of Happiness" post, here's a link. It explains why I am doing with this cup of joe experience and includes a beautiful mug from Spain. Other posts are Today's Cup of Happiness: Ysenburg Art Werk, Today's Cup of Happiness: Making It On My Own, & Today's Cup of Happiness: Affectionate Girlfriend Nickname.