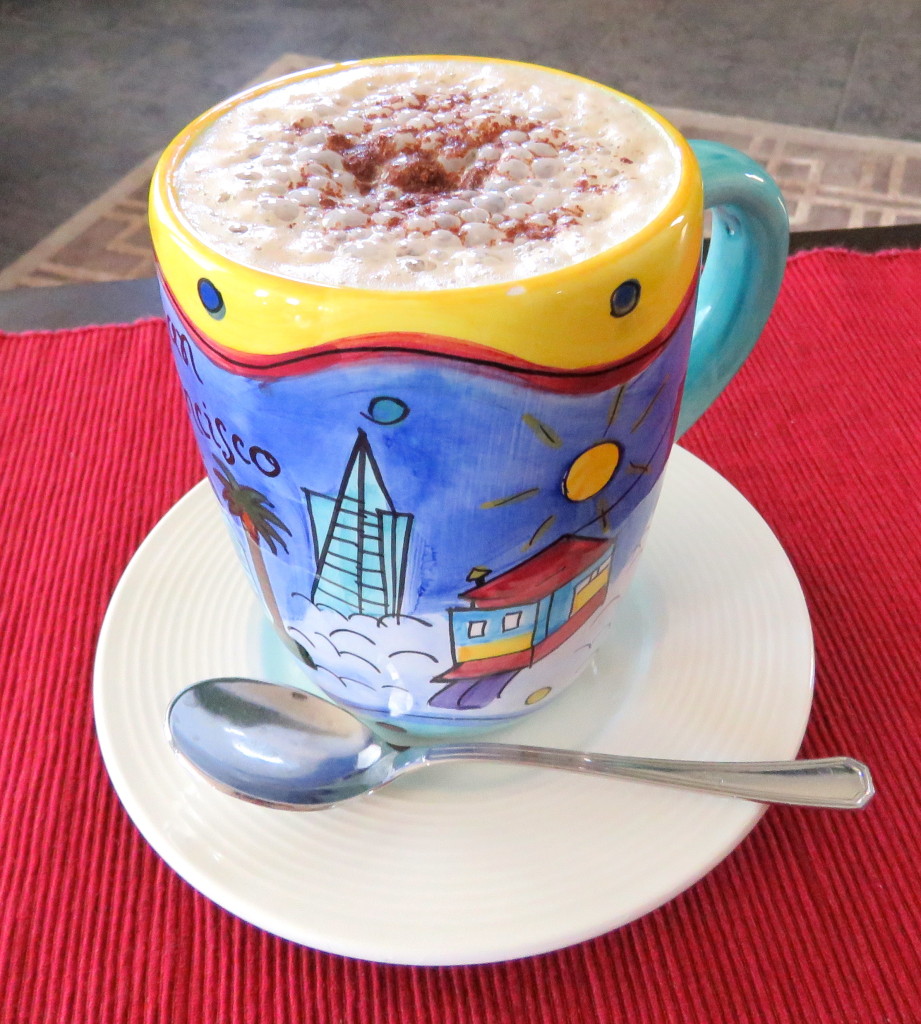 For about three years in my early thirties, I was self-employed and worked as a consultant. The title of this post isn't one hundred percent accurate because I had support from family, friends, mentors, and clients! I didn't do it all on my own. Initially it was scary to be a consultant, to be self-employed, but it was the best decision I could have made. It required me to be confident and to learn to value my skills!
At the time, I had been working since I was seventeen, including working through college. The last position I held was the highest I had reached and thanks to the person that hired me I took a huge career leap practically overnight. I enjoyed the position and more importantly the people I worked with. The position required long work hours, I would get into work very early and leave the office when it was dark, averaging 60 hour work weeks. On weekends, I attended events and was on-call for media or emergencies. Throughout the years, I started to notice my weight started to increase (about 15 pounds) because I wasn't exercising and that wasn't healthy for me. It was challenging to have a "normal" romantic relationship (boyfriend) because I worked so many hours and was very committed to work. I loved my job, and it was a difficult decision to become a consultant and basically be self-employed. Luckily, my boss understood.
Before I left my job, I had three client contracts lined up, which was amazing and a relief! My previous boss was supportive and one of my first clients. Initially, I did have more balance. I worked from home and was working about 45 hours per week. I started to exercise regularly, and spend time with friends and family. My weight went back down to normal (size 4). A few months later, through recommendations, I was fortunate to get a large client, but the work required me to travel to Sacramento often. I am a fan of traveling for leisure, but not for business. This business travel was not that bad because I'd leave on the 6:00 am flight and be home that evening, usually by 10:00pm.
After that client, I got a large client in Pasadena (covering the Los Angeles area), so I would spend lots of time commuting to Los Angeles, many times staying overnight. That commitment required me to travel throughout the state, from San Francisco, to San Jose, to Bakersfield, and occasionally some meetings in San Diego. That is when I bought this colorful mug in San Francisco. The first meetings in San Francisco required me to stay overnight. In the evening, I walked through the Fisherman's Wharf area and bought the mug. The contract resulted in multiple trips to San Francisco, some overnight, some day trips. Sometimes, if time permitted, I'd go for an early morning jog by the bay, passing AT&T Park (ballpark) along the way. I enjoyed visiting the City, but when possible, would try to get home on the last flight, sometimes flying out of Oakland or San Jose. I was fortunate to have lots of good clients during the years I did consulting!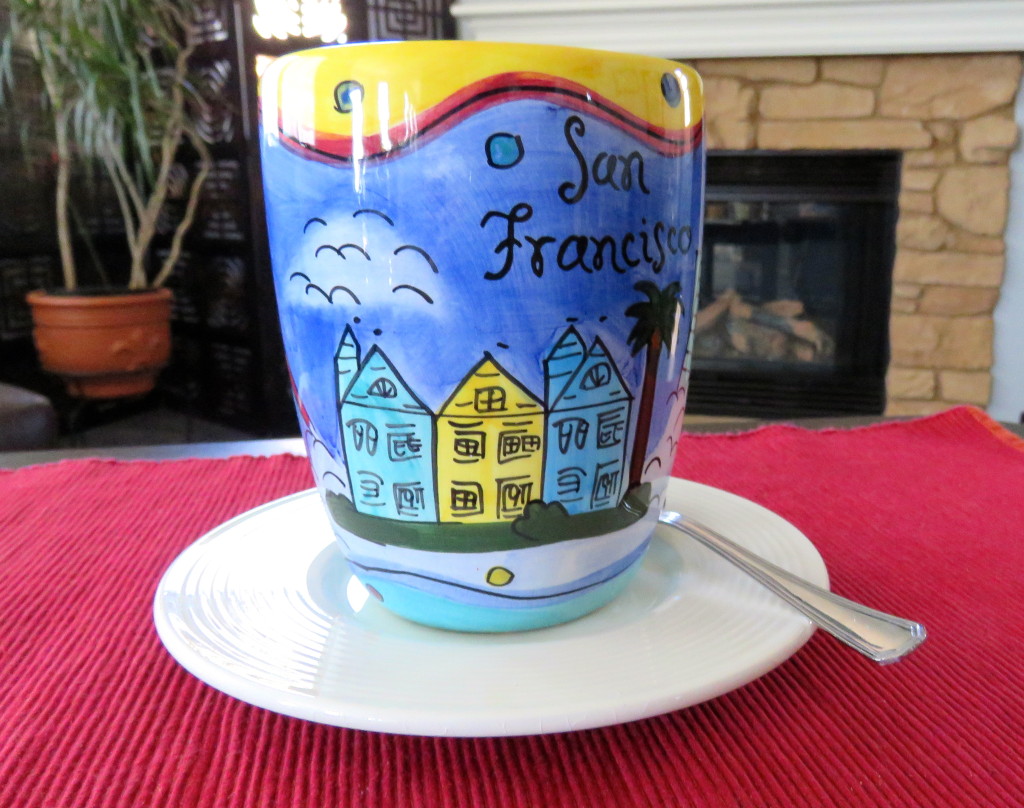 My last client (as a full-time consultant) started with working on a multiple month campaign in San Diego. That campaign was successful and afterwards, the client asked me work on a project in Los Angeles full-time for four week. Before the four weeks were over, the client asked me to extend my stay to six weeks, then eight weeks, and more and more weeks. Before I knew it, I had been working in Los Angeles for nine months. I still had my home in San Diego, but was only there on weekends. I was living in hotels and missed the things I used to take for granted, like seeing family and friends on weekdays, my dog, sleeping in my own bed, and simply being home. I also missed being able to wear all of my clothes, shoes, and accessories. Since I was living out of a suitcase, I wore select wrinkle-free suits and I'd rotate them every few weeks. I stuck to comfortable shoes, lower heels or wedges, and jewelry that was easy to mix and match. Luckily my parents accepted to watch my dog at their home and would bring her to stay with me on weekends. I had some friends in the Los Angeles area and attended a few non-profit events, but was working long hours, so it was hard to socialize very much.
On a few occasions, I would be away from home for two weeks, if I had to attend events in Los Angeles or another city on a weekend. It was also challenging to maintain a"normal"  relationship (boyfriend) because I was gone so often. On one date, I will never forget what the guy said, "I don't like being in a long distance relationship. Do you know when you'll be back?" My thoughts were, "but, I live in San Diego", when in reality I was living in Los Angeles most of the week.
The main reason I started to look for a full-time position in San Diego was to be able to be home – everyday! I took my time looking and was selective in the positions I applied for. I wanted to continue to make a difference in the community and help others. That has always been a main driver in my career and life. When I interviewed for the position at the television stations, I was the last candidate they interviewed and informed them I could only interview on a Friday. After my initial interview, the hiring committee asked me to step out for a few minutes. Then, the hiring manager (later became my mentor) asked me to stay longer and complete the personality assessment that same day, a step usually completed on a second interview or visit. Years prior, I had served on the station's (ABC10/10News) Latino Advisory Committee when they were going to launch Azteca America San Diego, a Spanish language station. Two of the people on the hiring committee were the lead staff members on the Advisory Committee, so they had interacted with me. Another person on the hiring committee was a member of a non-profit organization for which I served on the board of directors, so he knew who I was and about my professional experience. The person I would be replacing was also on the hiring committee, and she also knew me from community projects. I also knew the Azteca reporter from my work in public relations and media (she used to work at Univision), and she put in a good word. This goes to prove that networking, being involved in the community, and volunteering does make a difference in our careers.
A few days after my initial interview, the hiring manager contacted me to inform me they were offering me the job. They were understanding and accepted when I asked for about six weeks to start in the position. I wanted to give sufficient notice to my client and not leave the project in Los Angeles until it was completed. After that, I was back at home and working at the stations. I was still working long hours and weekends, but I could sleep at home, see my friends and family more often, and be with my doggie again!
The consulting experience was very rewarding, I got the opportunity to work with some of the top political and non-profit minds in the state, and it also gave me the confidence to know I can make it on my own if necessary or if I choose to. Fortunately, I had good clients and was making a higher income than in my previous position. I actually took a pay cut when I accepted the position at the stations, but it was worth it because I was home and doing work I enjoyed. Being self-employed also taught me that it's not about how much money I make, it is about enjoying what I do and being able to live the life I want, as well as being able to enjoy the comforts my income provides. In the three years I worked as a consultant, I wasn't able to travel much for leisure, missed out on lots of dinner parties with friends and family, and wasn't able to enjoy my home because I was hardly there. I'm not complaining in any way. Being self-employed was an amazing experience and made me a stronger person, I am more confident for it today! Thanks to the support of my family, friends, mentors, and good clients who continued to recommend me to other clients, I was very busy working as a consultant for three years. In that time, I helped make a difference on multiple campaigns in the state and contributed to getting many good people elected, and that makes a difference in the community!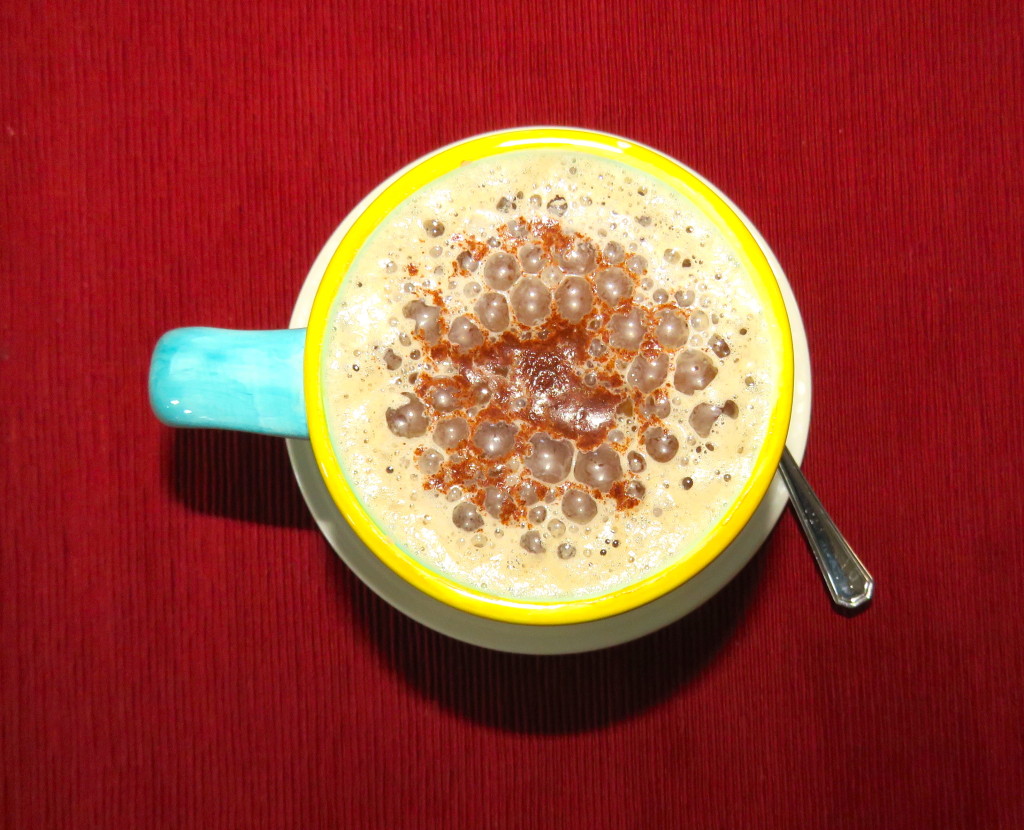 Every time I use this San Francisco mug, it reminds me that I am stronger than I think sometimes and that is a nice feeling! Funny how a mug can bring back so many memories in one cup of joe! As I was taking the pictures and writing this post, I was remembering the places I went in those three years and the people I worked with!
If you missed the first "Today's Cup of Happiness" post, here's a link. It explains why I am doing with this cup of joe experience and includes a beautiful mug from Spain. And, the second post is Today's Cup of Happiness: Ysenburg Art Werk.
Do you have any items that make you feel stronger or more confident? Are you or have you ever been self-employed?

Hugs,
Paola
PS – Since I mentioned San Francisco so much in this post….it reminded me that for a few years, we had a second home in San Francisco. Here are links to two of our visits to the City: 24 Hour Trip to San Francisco and My Weekend In Photos San Francisco. I miss visiting the city often!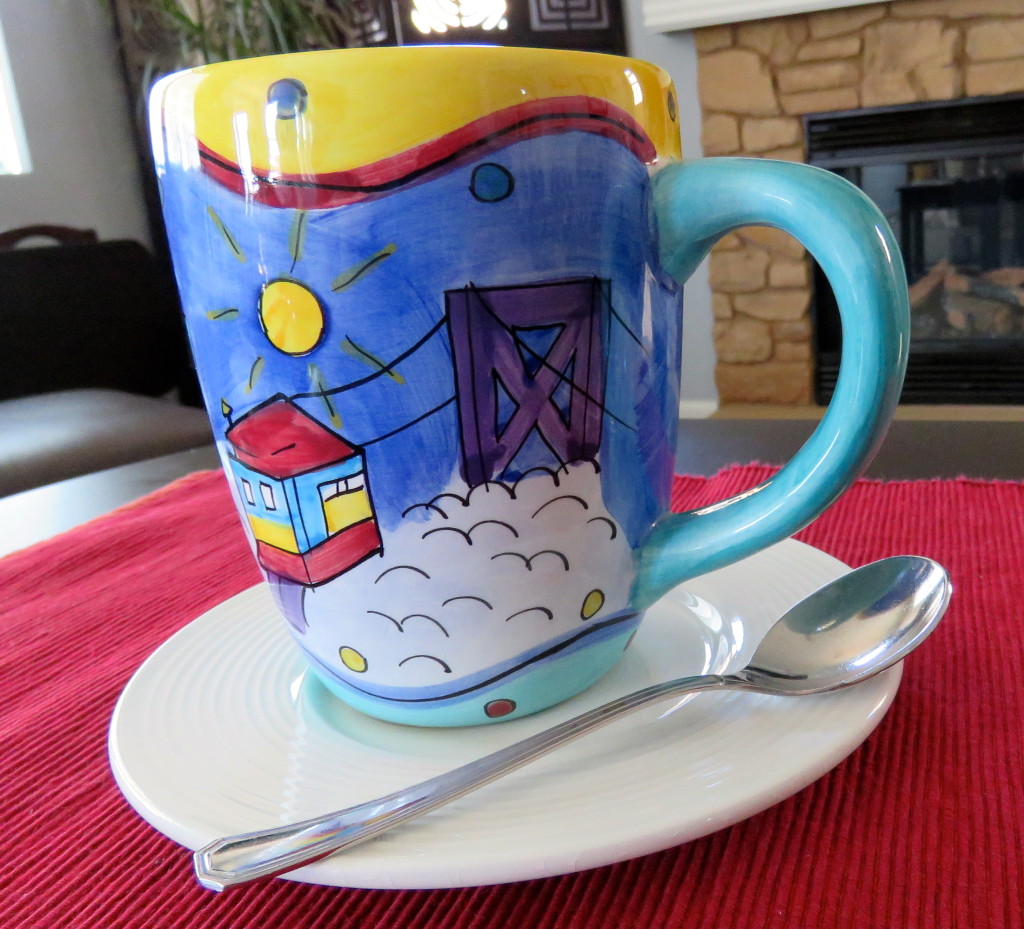 This San Francisco mug is one of my favorites! It is colorful and cheerful! It includes pictures of places and things associated with San Francisco: Bay Bridge, cable car, Transamerica Pyramid Center, Painted Ladies at Alamo's Square "postcard row" Victorian Houses, and Golden Gate Bridge…and of course a palm tree and a bright sun reminiscent of California. The wave remind me of the bay and ocean, and I love how they added some fog! If you've been to San Francisco or the bay area, you know about the fog!! In case you are curious, here's an interesting article explaining why there is fog so often in San Francisco, even in the summer!