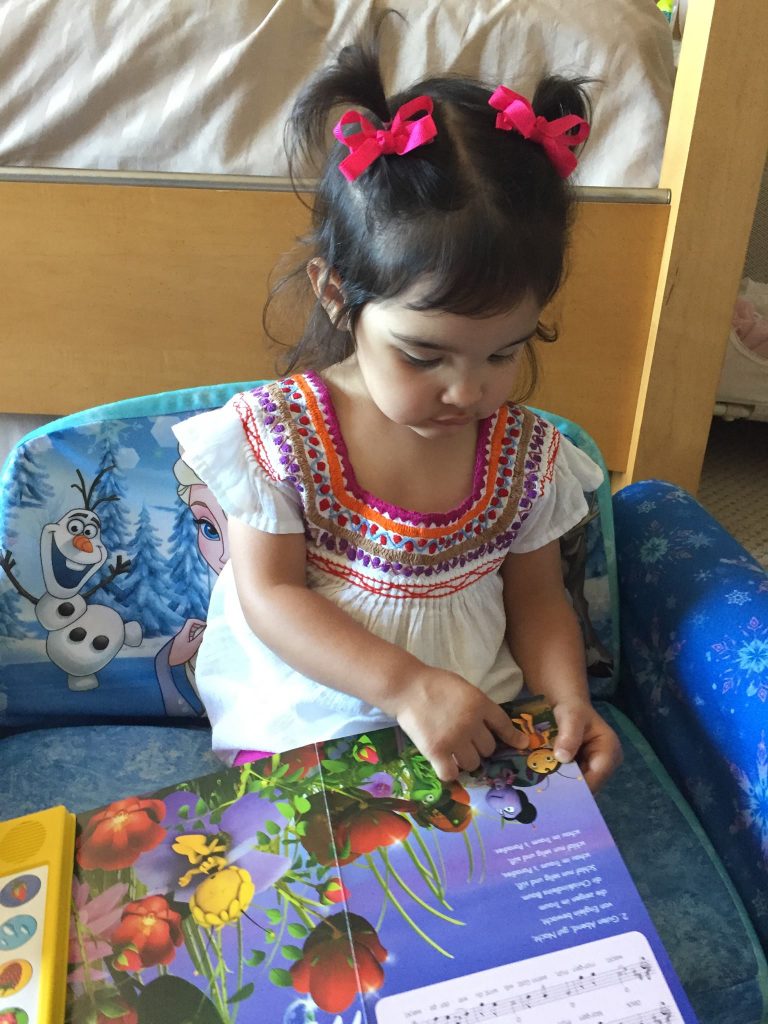 This week has been a bit different because my hubby was out of town. He is back today. I didn't make evening plans this week. I usually go to one or two outings every week, perhaps an event, dinner with a friend, a movie screening, or a facial. Not this week. I was caring for Alessandra on my own. I enjoyed the time I spent with her. We followed our weekly routine as much as possible. I worked late into the night on several occasions, which was hugely gratifying, but I must admit, I was hurting the next morning. As a mom, I can no longer stay up late and sleep in. Alessandra still gets up early and mom duties begin. It was a calmer week without too many outings. I took advantage of the time to organize some things around the house and finalize some San Diego Latino Film Festival silent auction work. I made time to play with Alessandra daily, teach her some new words in Spanish, and on one evening I even did some reading of my own (a book I've had on my nigh stand for a while). It was nice to be home, after all the time I spent away from home working on the Festival, then our trip to Florida, plus commitments when we returned, I needed some time at home. I am looking forward to the weekend, mostly to spending time as a family now that hubby is back!
Here are some fun links I liked this week…hope you like them as well!
Have a wonderful weekend…if you live in San Diego, the forecast is for summer like weather! How was your week? Do you have weekend plans?

Hugs,
Paola
—————————-
Les comparto unos enlace del internet que me gustaron esta semana…ojalá también les gusten! Que tengan un lindo fin de semana! Si viven en San Diego el pronostico del tiempo es de altas temperaturas, será como un fin de semana de verano.
Un abrazo,
Paola
-Excited to see this movie, looks funny, plus with a good message of self-confidence:  I Feel Pretty with Amy Schumer 
-I've always wondered why a company didn't produce this product, but thought it was because people have different preferences on the amounts of each condiment they add to their food: Heinz Introduced Mayochup & Causes Internet FreakOut Would you buy it?
-On the Cover of Vogue May Issue, I enjoyed reading the article, the work this woman does impressive: Inside the World of Amal Clooney 
-One of my favorite YouTube vloggers launched his new project and I am happy he is vlogging daily again, his videos are entertaining & fun to watch. His videos are brief and will add about 10 minutes of joy to your day: Casey Neistat's 368 First Episode
-A nice & uplifting story: Single Mom of Five Goes Viral With Inspiring Law School Graduation Photo
-If you are looking to meet other professionals and network, this event is a good one: San Diego County HIspanic Chamber of Commerce April Mixer
-I wrote a post about deciding wether to get Botox and Fillers, I may attend this free event at my dermatologist's office to learn more about these and other procedures: Tropical Luau Open House at Novak Aesthetics
-If you went to the 2018 San Diego Latino Film Festival, the pictures (hundreds) have been posted, see if you appear in the pictures or in the Thank You Recap Video
– In case you haven't seen it, I have a YouTube Channel, you can watch videos on my channel here: Paola Hernandez-Jiao 🙂