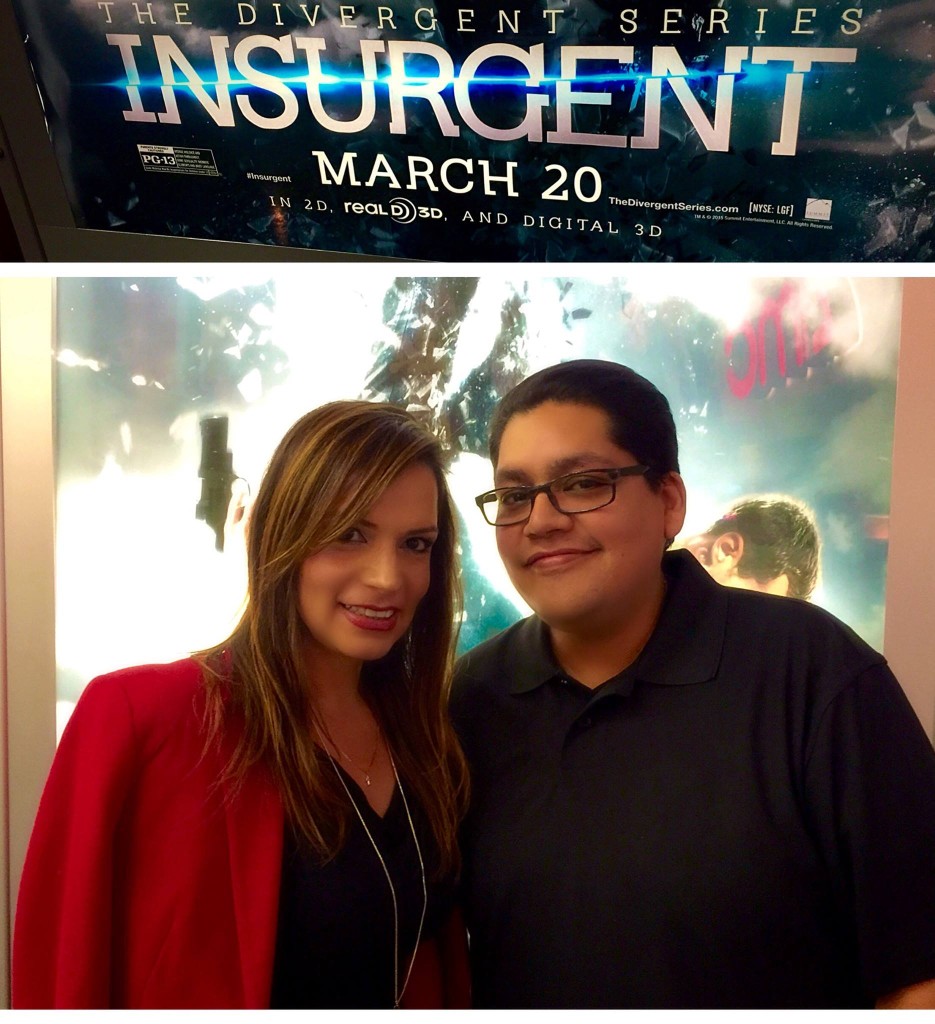 (Javier & I at the private movie screening earlier this week)
This week I went to private movie screening of The Divergent Series: Insurgent. This is the second installment of the trilogy novel, written by Veronica Roth. I saw the first movie, Divergent, and was looking forward to seeing this installment! My friend Javier Tirado joined me for the screening and we made a fun evening out of it, at AMC Theater at Westfield Plaza Bonita. The movie opens nationwide today (March 20), in 2D, Digital 3D, IMAX® 3D, and RealD™ 3D.
Since many of you may go see the movie, I don't want to give too much away. That is, unless you read the book and already know what happens. I have not read the book, so everything that happened was a surprise to me. The Series continues where Divergent left off. Tris (Shailene Woodley) and Four (Theo James) continue to search for allies in the ruins of a futuristic Chicago. Jeanine (Kate Winslet), the villainous leader of the Erudite elite, continues to hunt Divergents. Haunted by her past choices, Tris, faces one impossible challenge after another. Together, Tris and Four, unlock the truth about the past and ultimately the future of their world.
The movie includes a few romantic moments with Tris and Four. Mostly when Tris is being saved by him, time and time again. I was pleasantly surprised to see Naomi Watts in the movie, playing a brunette, which changes her look completely, in addition to the dark, rebel-like outfits they wear in this movie. I was hoping to see more of Octavia Spencer, since she is such a phenomenal actress, but her scenes are limited to the beginning of the movie.
Over all, the movie kept our attention and we liked it! There are also a few scenes where we were surprised (neither of us have read the book). We were both amazed how fast the time went by, since the two hour duration of the movie went by fast. These to me, are two signs of an entertaining movie!
The movie is directed by Robert Schwentke. The cast includes: Shailene Woodley, Theo James, Academy Award® Winner Octavia Spencer, Zoë Kravitz, Daniel Dae Kim, Naomi Watts, and Academy Award® Winner Kate Winslet.
You can find more information, as well as showtimes, on the movies official site The Divergent Series.
In case you haven't seen the trailer, I posted it below. I also included some pictures of the actors at the Premiere in New York City. Have fun at the movies!
Will you be going to see Divergent? Let me know what you think of it. Did you read the book? I'd love to hear from you!

Hugs,
Paola
PS – If you need a refresher, like I did, here's a link to the Divergent trailer. It has been a year since that movie was in theaters.