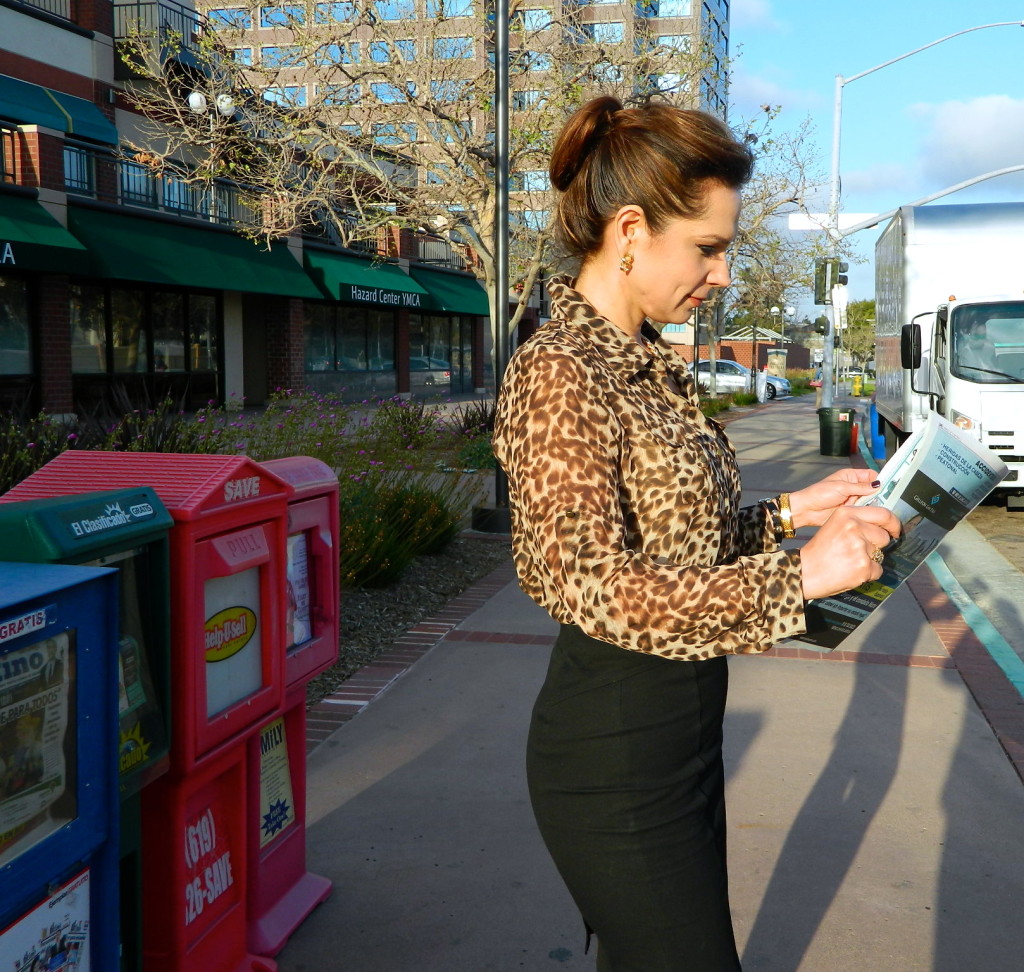 Sometimes, there are fashions that are new or come back that I am just not too crazy about, or I feel are just not for me. The leopard print is one of them. I like it, but in moderation. I have a few leopard scarves, belts, and shoes, but that is about it. This is my first leopard blouse! Can you believe it?
I've seen leopard clothing and accessories everywhere and like how it looks on others, it just seems a bit much for me. I tend to lean more towards classic styles and solids, with a touch or two of print (nothing too crazy on the print either). Maybe it is because I work in the television industry and solids look better on-air, or maybe because I know for the most part that solids make one look thinner (unless you wear certain stripes that give the illusion of being thinner). I do like seeing leopard prints on other women. In my opinion, it is beautiful and bold if you accessorize it correctly and don't over do it. Just a touch of leopard print, maybe a purse, shoes, belt, scarf, and either the skirt, pants or blouse (not everything together at once though, in my opinion).
A few weeks ago, I was out shopping with Lola after one of our speed walks downtown and bought this blouse. I liked the print and particularly that it is easy to care for since it is a polyester blend (dry cleaning and ironing are not required). Lola also liked it and that convinced me to go out of my comfort zone and buy it. To keep it simple, I wore it with a black skirt and accessorized it with a gold necklace.
Recently, during a visit to my hair dresser, she was wearing a short black skirt with booties, she looked stylish and classy. After about an hour, I noticed she was wearing black pantyhose. That is probably what made her whole outfit look classy for work, versus sexy (which is fine if that is the look she was going for – and could easily change into after work for a "night out" look). So, I decided to wear my booties and black pantyhose with this outfit.
I felt like a million bucks that day, stylish, yet not too over the top in leopard print.
What is your opinion on wearing leopard print? Do you own any leopard print items? What are they? How do you match and accessorize them?
Hugs,
Paola

Blouse: Forever21; Skirt: Ann Taylor; Belt: Versace; Booties: Nine West; Necklace: Forever21; Bracelets: Coach & Forever21
ESPANOL: 
Aveces hay modas nuevas o que regresan las cuales no me enloquecen, o simplemente siento que no son para mi. El estampado de leopardo es uno de ellos. Me gusta, pero en moderación. Tengo algunos artículos con estampado de leopardo, como mascadas y cintos, pero nada mas. Esta es mi primer blusa con estampado de leopardo! Lo pueden creer?
Veo el estampado de leopardo en todos lados y me gusta como se ve, solo que me parece mucho estampado para mi. Yo tiendo a usar mas los estilos clásicos y sin estampado, quizás con un toque o detalle de estampado, pero mas bien uso colores sólidos. Quizás sea porque trabajo en la industria de la televisión y los colores sólidos son mejores para grabaciones, o quizás porque se que los colores sólidos hacen que uno se vea mas delgado. Si me gusta ver ropa con estampado de leopardo en otras mujeres, es bonito y fuerte a la vez, si lo combinas adecuadamente, sin los excesos. Quizás solo un toque de estampado de leopardo, quizás la bolsa, zapatos, una mascada, cinto, o ya sea una falda o blusa, pero no todo junto a la misma vez.
Hace unas semanas andaba de compras y me medí esta blusa. Me gusto el tamaño del estampado y que el material es facil de cuidar ya que es una combinación con poliéster (que no requiere de limpiaduria o mucho planchado). Aunque este estampado no es mi estilo normal, decidi salir de mi zona de costumbre y la compre! Para mantener el estilo sencillo y no caer en el exceso, me combine la blusa con una falda negra y accesorios dorados.
Recientemente, durante una visita a mi estilista, ella traía puesta una fada negra corta con botinas, se veía moderna y con estilo. Después de como una hora, note que traía puestas unas pantimedias negras. Las pantimedias hacían que su atuendo se viera apropiado para el trabajo, en lugar de verse demasiado sexy. No tiene nada de malo verse sexy, si ese es el estilo que ella estaba procurando, pero se que esa no era el propósito para su atuendo. Tenia anos que yo no usaba pantimedias, pero decidí ponermelas  con las botinas para este atuendo.
Me sentí muy cómoda con este atuendo, moderna y con estilo!
Que te parece este atuendo? Cual es tu opinión sobre el estampado de leopardo? Tienes artículos con este estampado? Cuales son, zapatos o ropa? Como los combinas?
Un abrazo,
Paola