Hi friends – Happy Wednesday! I am continuing the Exercise Motivation Tricks Series. This is trick #6 that I use to motivate myself to exercise! I was out of town last week and that threw me off my exercise routine, so I haven't been getting many workouts lately. I may use this trick this week to jump start my metabolism this week!
What exercise tricks do you use?
Hugs,
Paola
Tricks to Motivate Myself To Exercise: #6 Use Exercise Videos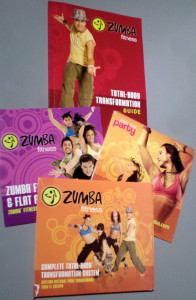 I have a few exercise DVD videos that I use to exercise at home. I also use them when I travel and I know it may not be possible to exercise outside or at the hotel gym. When the weather isn't nice outside, I have used these videos to exercise at my sister and my friend Lola's house.
Currently, my favorite exercise videos are the Zumba DVDs. They are fun & the music just gets you  dancing. How can you listen to salsa and bachata, and not start moving your hips and shoulders? It is like a natural reflex for me. Maybe because I am Hispanic, haha. I also like exercise videos because I can do them at any time of the day and on any day of the week. Also, if I only have fifteen  minutes to exercise, then I just do fifteen minutes of the video and simply press stop. Fifteen minutes of exercise is better than not doing any exercise at all. It is good to get our bodies moving! It also helps our mood (gets us in a better mood), and gets the endorphins and metabolism going! When I use DVDs to exercise in the mornings, I simply get up, put the Zumba DVD in and the music starts playing while I change into exercise clothes. I put the volume high, once I hear the music I am ready to Zumba! Even on mornings when I am feeling sluggish, I may  not do the exercises 100% correctly or at full cardio level, but at least I am moving and that alone gets me feeling more energetic, before I know it, I am smiling!
DVDs are a convenient way to exercise, it's like taking a class at a gym, but in the comfort of your home. In my opinion, they should also be fun. I have  few more intense exercise videos, like toning DVDs, and some hard core abs and boot camp videos. I have used those DVDs a few times, but honestly, they aren't much fun for me.  Zumba is fun for me because I like to dance and it includes lots of dancing. I also like using my yoga DVDs when I feel a need to relax , stretch, and reflect. Everyone is different though, one of my friends really likes her butt toning videos and she is disciplined about doing them a few times each week, those are quite hard core for me! What matters is that you like the video and the exercises, and that you get the workout.
So, if you don't have exercise DVDs and you think this is may be a type of exercise you may enjoy, then get some! The videos aren't expensive, most cost between $10 – $25. You can find them at Target, Wal-Mart, Best Buy, sporting stores, and you can also buy them on-line. If you aren't certain which video you may like, you can do a little research on-line and preview some videos beforehand. You can also preview exercise videos on YouTube.
Hope this exercise trick will help motivate you to exercise!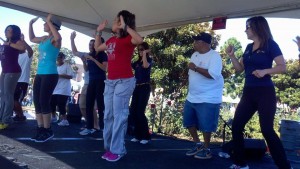 This is a picture from a charity walk I participated in (I am the person to the farthest right, in the second row). Our team was on stage to kick-off the walk with a warm up and it was Zumba! It was a fun way to get the walk started!
You may also like these: