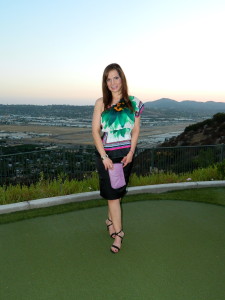 We all have what is called a "go to" item in our closet, be it a dress, suit, skirt, top, jeans…an item we know will not let us down. I have multiple "go to" items! This one shoulder, floral blouse is on of them. I bought it for a trip to Miami. Then, I wore it in Las Vegas for dinner with friends (with other couple's), to emcee and do the Ribbon Cutting at the Grand Opening of restaurant at Westfield Mission Valley, for my hubby's birthday party, and recently to a baptism. I was close to wearing it to this year's Mana de San Diego Brindis Gala, but chose to wear a black dress instead (which has recently been added to the "go to" list). I like that I can wear the top with a mini skirt or capris for a Miami brunch on the beach look, or dress it up with slacks or a skirt and heels for a dressier look. It is also good for a day or night look, by changing  the accessories, purse, and shoes! Plus, because of the materials, it is easy to wash at home & doesn't require ironing (which also makes it a good item for traveling)! That is music to my ears! This how I matched it…to wear to the baptism! What is your favorite "go to" item?
Hugs,
Paola
Todas tenemos artículos en nuestro closet que nos encantan, artículos que sabemos "no nos fallas", ya sean unos jeans, falda, vestido, o blusa. Yo tengo varios artículos que "no me fallan." Esta blusa de un hombro es uno de estos artículos. La compre para un viaje a Miami. Despues, me la puse para una cena con otras parejas (amistades) en Las Vagas, para hacer el corte de listón y participar como maestra de ceremonia de la apertura de restaurante en Westfield Mission Valley, la fiesta de cumpleaños de mi marido, y recientemente para ir a un bautizo. Casi me la pongo para la recepcion de Brindis de Mana de San Diego, pero decidi ponerme un vestidito negro (que ya agregue a la lista de articulos de ropa que no me fallan). Me gusta que me puedo poner la blusa con una mimi falda o capris como un look mas casual para un desayuno junto a la playa en Miami. O puedo cominnarla con una falda o pantalones, tacones y cambio de bolsa y accesorios para un look mas formal durante el dia o la noche. Y debido al material es facil lavarla en casa y no requiere de plancha (asi que tambien es practica para viajes)! Esto me encanta! Asi es como me la combine para el bautizo recientemente. Cual es tu articulo "que no te falla" favorito?
Un abrazo,
Paola
Blouse/Blusa: Forever 21; Shirt/Falda: Nordstrom; Shoes/Zapatos: Cathy Jean; Purse/Bolsa: Coach; Bracelet/Pulsera: Bought in New York at shop on 5th Ave (I've had it for a while)
HOW I WORE IT FOR OTHER EVENTS:
Emceeing a Quinceanera Expo Runway Show – it was in North County San Diego, in August, the weather was so hot, this blouse was light & perfect for the occasion!
Participando como maestra de ceremonia de la Pasarela de Quinceanera Expo – fue en el Norte del Condado de San Diego, en Agosto y estaba haciendo muchisimo calor, esta blusa es ligera y fue perfecta para la ocacion!
I was the emcee and had the honor of doing the Ribbon Cutting Ceremony for the Grand Opening of Tora Restaurant at Westfield Mission Valley. Photographed with my colleagues from the television station, Azteca San Diego, Marketing Director at Westfield Mission Valley, staff at Tora Restaurant, and guests.
Como maestra de ceremonia y tuve el honor de hacer el Corte de Liston para la Apertura del Restaurante Tora en Westfield Mission Valley. Fotografia con mis companeros de la televisora, Azteca San Diego, el Director de Mercadotecnia de Westfield Mission Valley, personal del Restaurante Tora, e invitados.