TJMaxx continues to surprise me. The find of the week are these Fossil pink denim skinny jeans. The original tag on the jeans lists $98.00. The price I paid at TJMaxx was $19.99. Yup, only $20 bucks, gotta love that! The jeans are also available in other colors (red & blue) and multiple sizes. They are a recent arrival because they are displayed at the front of the women's department (making them easy to find). I wore the jeans a few days ago to go to the movies with Lola. I matched them with a white polka-dot top, pink leopard print belt, and gray shoes. The jeans have some stretch to them, making them even more comfortable!
A girl at the movie theatre stopped me to compliment me on my outfit. Compliments always make one feel good!
These pants can be worn into the fall with a dark or long-sleeve top, just add a jacket or sweater ,and some booties . I look forward to wearing them in the fall & next spring!
Did you find any good items on sale this week? I'd love to hear from you.
Hugs,
Paola
PS – I also have these jeans in red and coincidentally matched them with a blue polka dot sweater top, you can see those Outfit of the Day pictures here.
En ESPAÑOL después de estas fotos.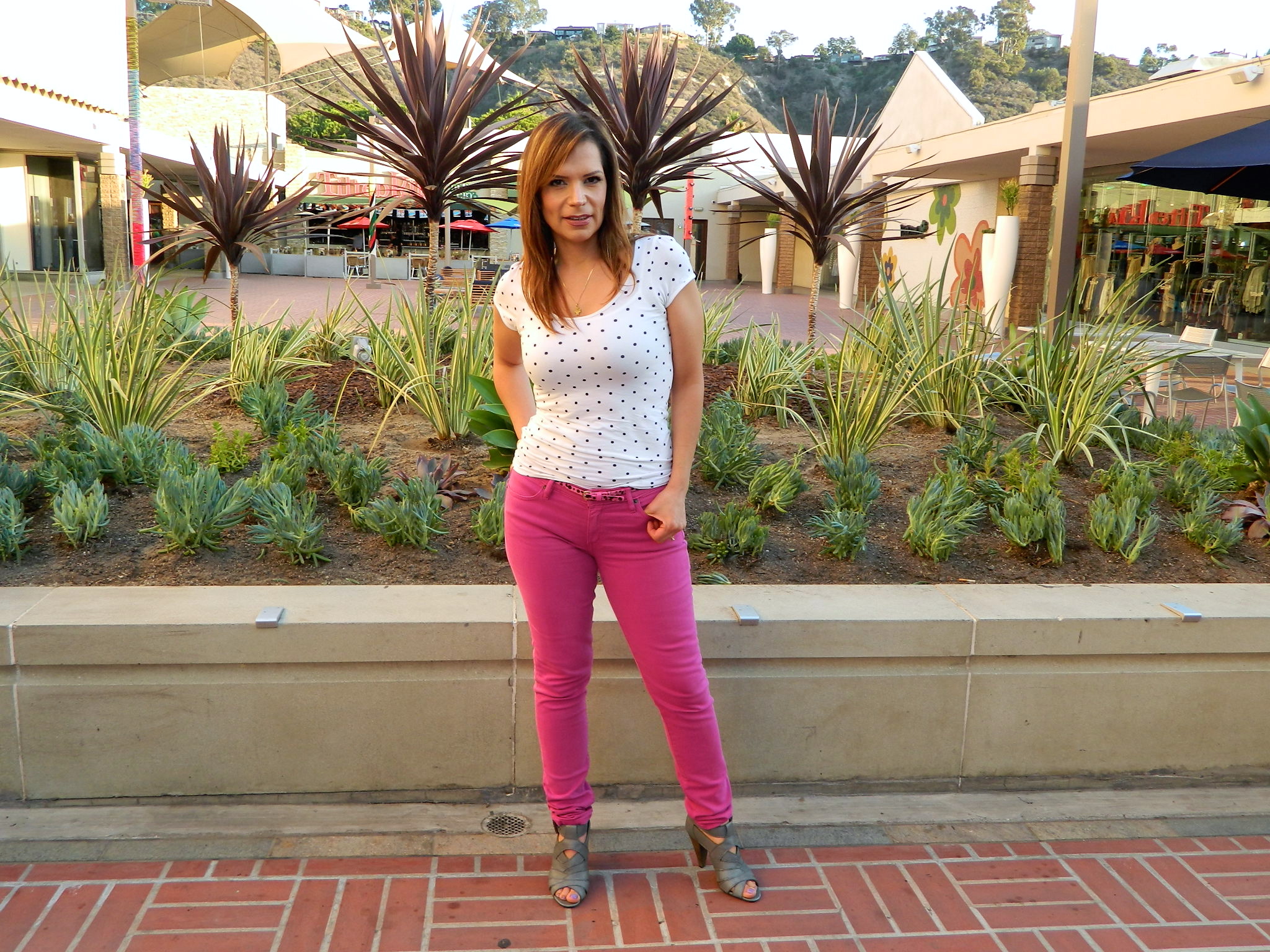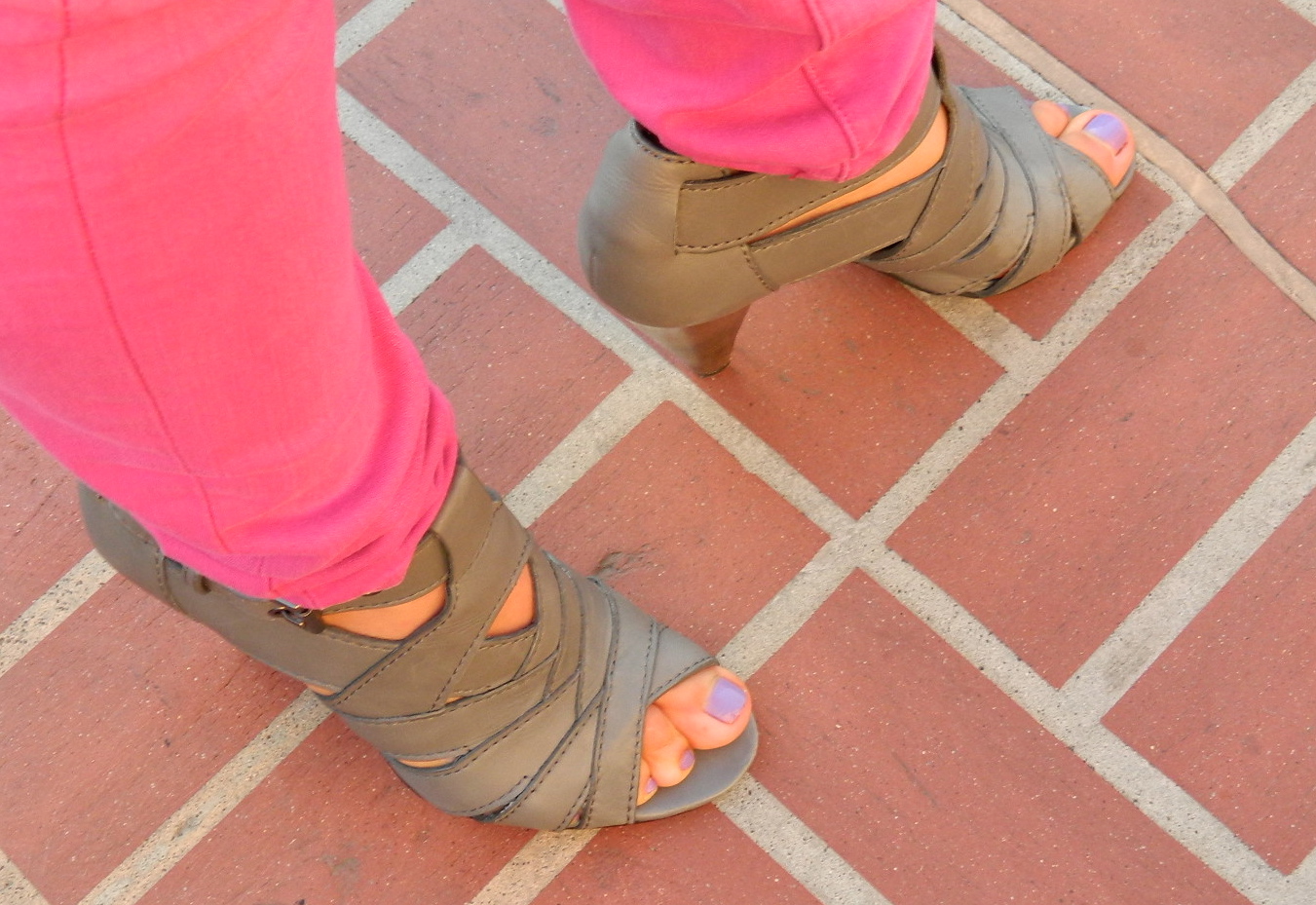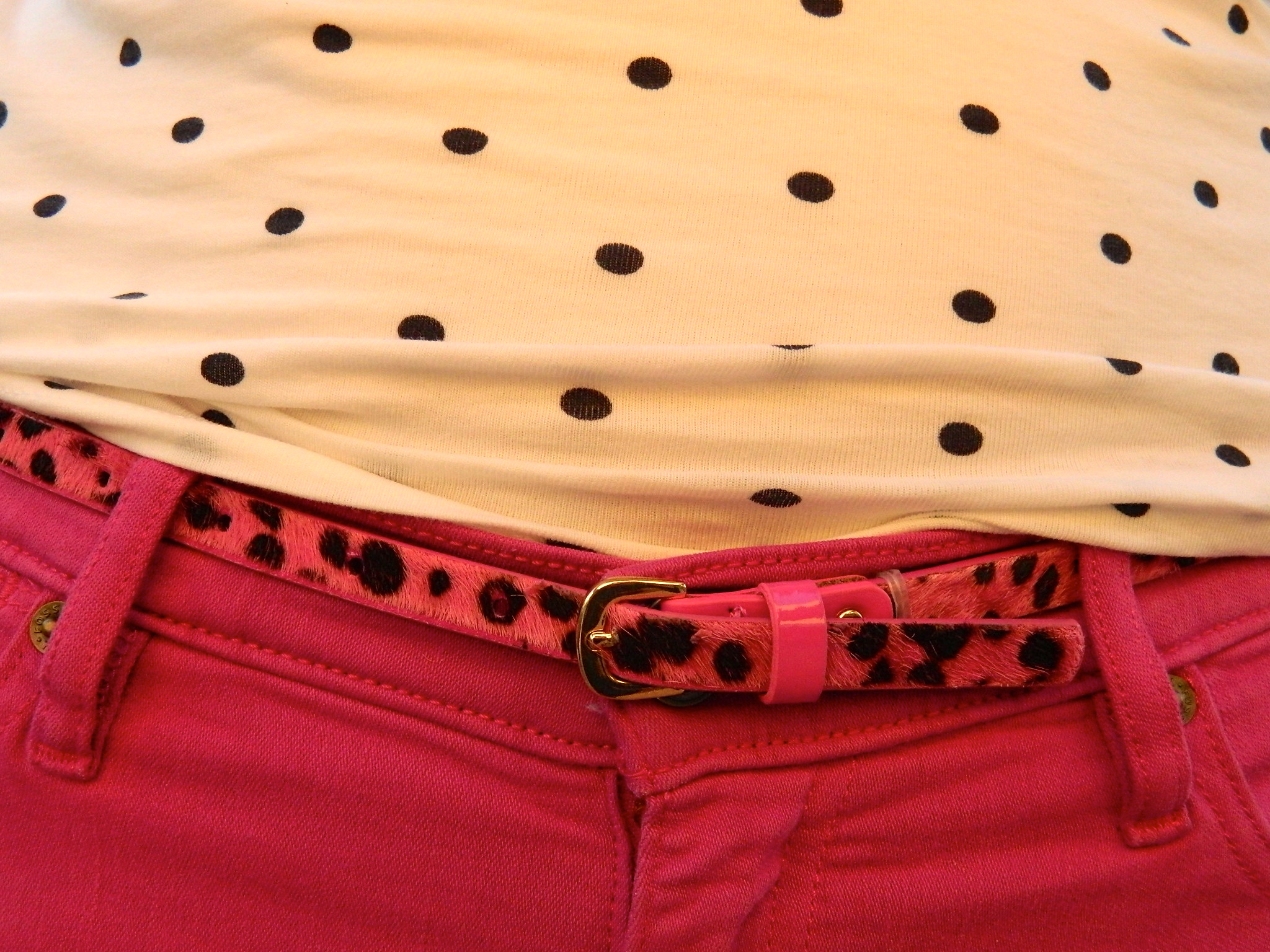 Jeans: Fossil; Top: Forever21; Shoes: Coach; Belt: Ann Taylor; Bracelets: H&M
ESPAÑOL: TJMaxx continua sorprendiendome. La buena compra de la semana son estos jeans Fossil skinny en rosa.  La etiqueta original dice $98. ¡En TJMaxx pague solo $19.99. ¡Sí, solo $20 doláres! Los jeans también estan disponibles en otros colores (rojo y azul) y varias tallas. Son mercancia recién llegada a la tienda ya que estaban ubicados al frente de la sección de mujeres. Me puse los jeans hace unos días para ir al cine con Lola. Los combine con una blusa blanca con puntos negros, cinto rosa leopardezco, y zapatos gris.
Una chica en el cine me paro para halagar mi atuendo. ¡Un halago siempre hace que uno se sienta mejor!
Estos pantalones se pueden usar en el otoño combinados con colores obscuros o blusa de manga larga, un suéter o chamarra, y botinas. ¡Anticipo con gusto usarlos este otoño y la próxima primavera!
Encontraste algún artículo a precio especial ésta semana? ¡Me encantaría saber de ti!
Un abrazo,
Paola
PD – También tengo estos jeans en rojo, oprime aqui para ver fotos de como los combine para el Atuendo Del Día.
Photos by: Lola Raggio