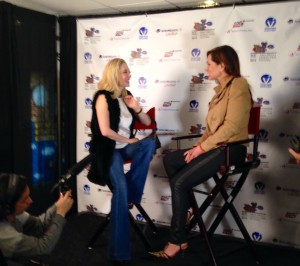 Hi friends, it's Friday, yay! I was looking forward to attending the San Diego Latino Film Festival today, to meet viewers at the station's booth. I also had the opportunity to interview one of Mexico's most famous actresses, Edith Gonzalez. I remember seeing her in novelas when I was a teenager. She also does theatre performances and films. The organizers told me Edith will be at the Festival tomorrow and Sunday, promoting the film Deseo. She was nice and gracious, just as beautiful in person as she looks on the screen.
Afterwards, we were able to catch a movie! We saw No Se Si Cortarme Las Venas O Dejarmelas Largas, a film from Mexico, with actress Ludwika Paletal (also a famous novela actress). It was fantastic, a comedy with a good story line! If you want to get a laugh and see an entertaining movie, this is a good one!
There are two days left for the Festival. Don't miss this opportunity to watch the best movies from Latin America, Spain, & Mexico, and attend the closing night party tomorrow! Hope to see you there!
Hugs,
Paola
A picture from the film Deseo.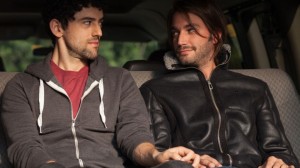 A picture from No Se Si Cortarme Las Venas O Dejarmelas Largas