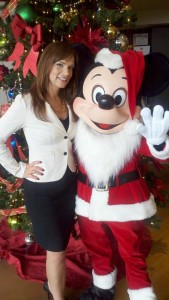 Hi friends, hope you are having a nice holiday season! I worked through the Christmas holiday, but did take Christmas day off and we went out of town to spend Christmas Eve and day with family! I was back to work December 26. We hadn't been to San Francisco for a few months, so I took a few days off during the last week of December to go to San Fran with my hubby. We were back in town for New Year's Eve, to welcome the new year with family!
The weeks before Christmas were packed with work, hosting interviews, writing scripts, production, planning for 2014, a phone bank for the Month of a Million meals campaign, completing goals…oh and a visit from a very famous Mouse & his friend Donald Duck….and this was just at work. In my personal life, it was the normal holiday busyness, shopping for gifts, preparing for Christmas, and the pleasant side – spending time with family and friends! It was a packed few weeks, but tons of fun!!! How did you prepare for the holidays?
Hugs,
Paola

One of the favorite (& most fun) parts of my job is hosting interviews – particularly when my friends from Disneyland come to the stations! They were doing a media tour regarding the Holidays at Disneyland Resort. This was the Hispanic marketing team – I hosted & produced the interview for Azteca. This year Mariachi Divas joined the holiday team, it was a special treat to meet these Grammy Award winning musicians!  Donald Duck danced to the holiday music performed by Mariachi Divas!  So cute, an unforgettable moment 🙂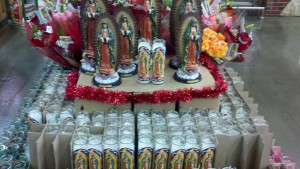 I purchased a "veladora," votive candle, for the Virgin Mary's Saint Day (Santo). I've been pretty good about turning it on to pray every day (when at home), even if just for a few minutes, and being thankful for all my blessings!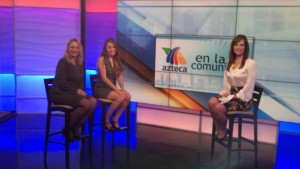 We shot the mid-campiagn interview for the Month of A Million Meals campaign.
Later in the week, Mickey Mouse stopped by the station with the Disneyland Resort general market team. I hosted and produced an interview for ABC10 regarding the Holidays at the Disneyland Resort. Even though I have been producing and hosting these interviews for years now, I always feel giddy when I see Mickey Mouse! How lucky am I to get to interview Mickey Mouse at work?
My hubby and  I went to Newport Beach and stayed at the Fairmont Hotel for a little weekend getaway. They had beautiful Christmas decorations and this amazing gingerbread house! It was nice to get away during the hectic-ness of the holidays and have a relaxing breakfast….and sip my coffee calmly.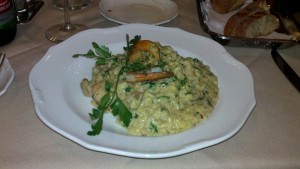 While in Newport Beach we had dinner at an Italian restaurant. I enjoyed the best seafood risotto ever! It was so good that I brought the leftovers home and had it for lunch the next day, ha!
We did some Christmas shopping at Fashion Island (in Newport Beach). There was an amazing Christmas tree (super tall, compare it to the palm trees in this pic) & beautiful holiday decorations.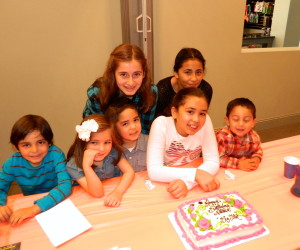 It was my niece's birthday and we went to her party at Lazer Journey! Love this little girl! It's a pleasure and honor to be her aunt, and see her grow up!
The Donation Day Phone Bank we organized for Month of a Million Meals on ABC10 & Azteca San Diego was successful! Chopper the Biker Dog joined us for part of the Phone Bank, such a cute doggie!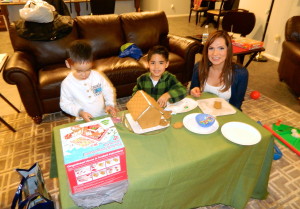 I watched my nephews on a Saturday and we decorated a gingerbread house – it has become a holiday tradition! It was fun to spend the day with them!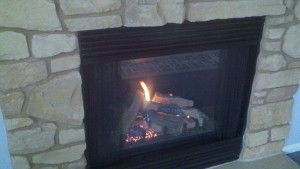 My hubby started the fireplace on one of the weekends and I enjoyed it while sipping my morning coffee!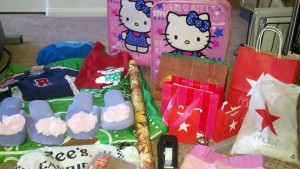 The weekend before Christmas, I spent a few hours wrapping the final batch of gifts.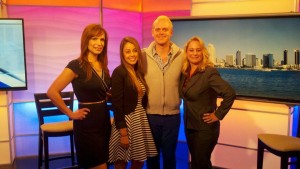 We shot the last interview for the Month of a Million Meals campaign – a last push to ask for donations, we were close to reaching the goal and still had a week to continue fundraising!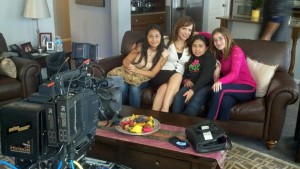 The day before Christmas Eve, we shot a series of promo commercials with my nieces at my home. The promos are for the Community Calendar segments I host on Azteca San Diego 15. My nieces appeared in them, so we scheduled the shoot at a time when they were on break from school. Thanks to the wonderful team of producers and videographers I work with the spots look excellent! It was a fun shoot – I'm so proud of my nieces, such talented young girls!
Took a few days off from work before New Year's Eve to go to San Francisco with my hubby.
Went to South Coast Plaza in Orange County for some after Christmas "sales" shopping. This is one of my favorite shopping centers. The holiday decorations were beautiful.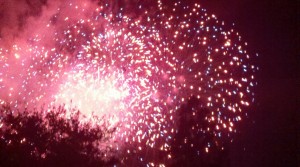 Welcomed the New Year in San Diego with my hubby and family! We went to dinner at my brother & sister-in-law's home, it was delicious & fun! We all stayed up past midnight (nieces included) and welcomed 2014 with joyous celebration!