November was a very busy month! I am usually quite busy, but during November we launched a new holiday initiative called Month of a Million Meals at the television stations where I work. I am managing the initiative, it is a large undertaking, starting the campaign from scratch and working with Feeding America San Diego to raise one million meals for local families in need. It has been a true pleasure to work with the Feeding America San Diego staff and to be part of such a good cause! This campaign was huge because it involved multiple facets, promotion on various platforms, a Holiday Celebration Event at Westfield Plaza Bonita and working with multiple departments within the stations, in addition to the external partners and cross-promotion with other media. We started from scratch, from developing the plan, the promotion, the logo, landing pages, promo spots and scripts, to working with the station anchors and reporters (as well as a national TV host & the Azteca America Network reps), and of course, translating everything to Spanish for the Azteca station….and much more! I am glad to say the campaign has been successful! We rolled out the campaign a few days early and even though it has been many, many hours of working late, it has been worth it because we will help so many families! We still have a few more weeks to go, the phone bank this coming week and some more production and web postings, but we are doing well! In addition to the campaign, I had my regular projects and television hosting responsibilities to complete, and planning for 2014, so there was lots going on during November!  Anyway, this is the reason, I have not been as active on my blog as usual, but I seem to be getting back to my normal work schedule, so I plan to post on a regular basis again! Thank you for your patience & support!
Instead of doing a "Week in Photos" post, this is "the last weeks of November." Have you worked on any large projects that have consumed your time and required you to work longer hours?
Hugs,
Paola

The picture posted above is from the first Month of a Million Meals interview I hosted on Azteca San Diego (I also produce these interviews – for both ABC10 & Azteca San Diego). In total, we produced eight interviews for the campaign over a six week period….compared to the two interviews we usually do for station sponsored events – you can see why this is such a large campaign!
Due to my schedule, I haven't been able to attend too many events these past few weeks, but did make it to Mana de San Diego's Brindis Gala. The theme was Dia de Los Muertos (Day of the Dead) and it was a fun event!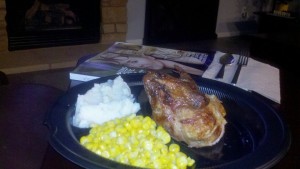 Special thanks to my hubby….he's been very understanding of my hectic schedule, he's been so supportive, he's even been getting take-out for us to have for dinner on nights that I've had to work late! On this night, he got it at Boston Market…I had the mashed potatoes & corn for dinner, and the chicken for lunch the next day (this is a large piece of chicken).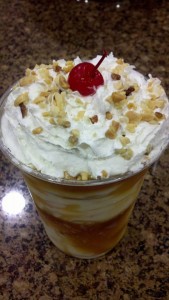 And he even gets dessert! This was his, but I had two spoonfuls of it, delicious! He knows I try to eat healthy, so I usually only have a bite of his dessert.
In between the other shoots for commercials and community interviews, I also had the pleasure of hosting an interview with Rafael Sigler from Freeway Insurance. He's a pro & it's always a pleasure to work with him!
The time changed and it was usually dark by the time I left the office…I did catch this sunset one evening.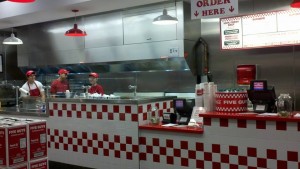 Another night, my hubby took me to dinner to Five Guys Burgers & Fries, I didn't eat a burger, but did enjoy their fries, just the right crunchiness, super tasty! I will definitely be back!
I put out a few Thanksgiving decorations and enjoyed relaxing with a cappuccino at home on one of the weekends!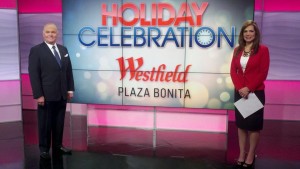 I had the opportunity to appear with 10News' Bill Griffith in promotional spots for ABC10 & Azteca San Diego 15 for Month of a Million Meals' Donation Day at Westfield Plaza Bonita's Holiday Celebration.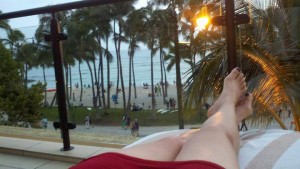 My hubby & I had a trip to Hawaii planned, so in between it all, I took a few days to get away with him. I was replying to e-mail and taking calls – while sitting by the pool or on the beach, so I was able to enjoy the trip!