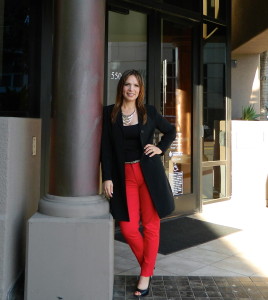 Hi friends,
Black is one of my favorite colors to wear! It is easy to match an goes with practically everything…and, it's slimming! Black never goes out of style, plus you can wear it year round. My closet includes at least one item in black for each category: shoes, sandals, boots, tennis shoes, belts, scarves, pashminas, gloves, hats, jewelry, and of course all types of clothing and undergarments! I have lots of black pants, skirts, and cardigan sweaters (I take one of them practically on every trip). The most common shoe color in my closet is black. My favorite jacket is a black leather one. So, you get the idea….I love wearing black!
The jacket I am wearing in this outfit is part of a suit, it comes with a black skirt. I decided to jazz it up by mixing it up with red tapered pants, a leopard belt, and a bold gold necklace! The red pants lighten up the outfit and add color to it! Since the jacket is 3/4 length, I wore heels to elongate my legs. I like how the red stitching on the jacket adds a special touch of uniqueness. I wore this outfit to work and a theater performance in the evening. It was so comfortable & fun to wear!
Hope you like the look!
Do you have black clothing & accessories? How do you match them? Do you have a favorite item in black in your closet?
Let's stay connected – I post almost daily on Facebook:Paola Hernandez-Jiao: Latina Life And Style, hope to see you there as well! Leave your comments or let me know what other looks you'd like to see or topics you'd like me to cover.
Hugs,
Paola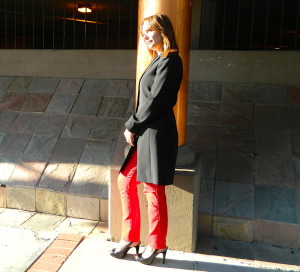 The outfit can be worn with the jacket closed.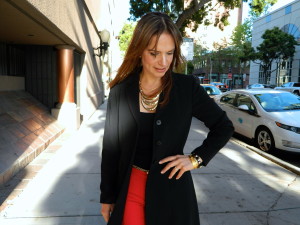 Or, with the jacket open, which is how I chose to wear it during the day.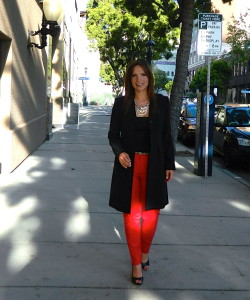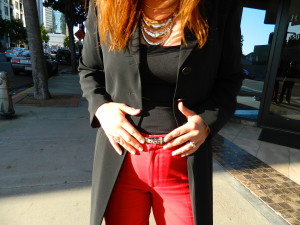 The leopard belts adds an additional touch of style to the outfit, don't you think? I wear this belt often, it was definitely a good purchase!
Jacket: Kasper (Macy's); Pants: Calvin Klein (Macy's); Tank Top: Zara; Shoes: Nine West; Belt: Ann Taylor; Necklace: Forever21; Jewelry/Gold Necklace: Lolita's Designs; Bracelets: Coach & Forever21
You may also like: