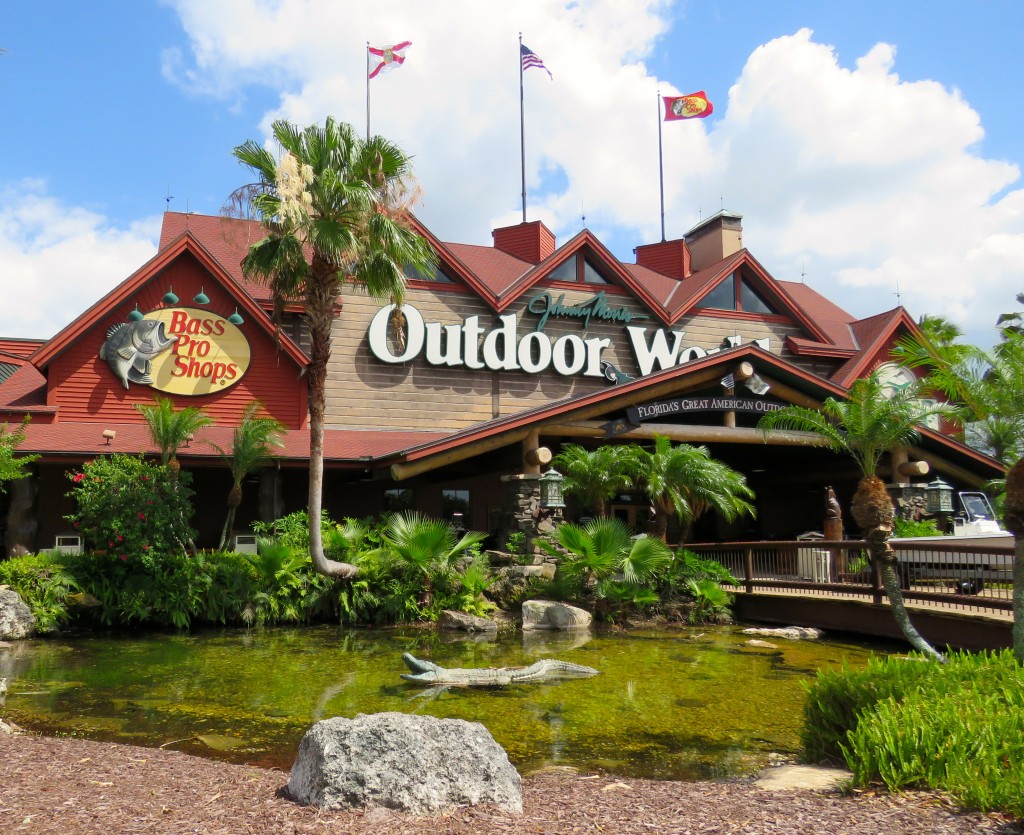 My hubby's favorite store in Florida is Outdoor World, aka Bass Pro Shops. He receives the catalog at home and had raved to me about the store in the past. The closest Outdoor World location to San Diego is in Rancho Cucamonga, which is about one hundred miles away. There is also a store in northern California and last year, we almost made a detour from my birthday vacation trip to visit that store. At the last minute he changed his mind and decided to wait for an upcoming trip he had scheduled to Florida, so we stayed on course. I had never been to one of these store, but was curious since my hubby spoke wonders of them. Two years ago I joined him for a visit to the store in Fort Lauderdale. He was right, I was blown away by the decor, design of the store, attention to detail, large size of the facility, variety of inventory, and displays! I bought a pair of leather Sperry Top-Sider sandals and my hubby bought a cart full of items.
On a recent trip to Orlando, I asked if he wanted to visit the store. Initially he said no, since he had visited the store on a trip about four months earlier. By that evening he changed his mind and wanted to go to the store. It made me giggle when he told me he preferred to go the next day because he did not want to feel rushed when shopping there. My hubby does not go shopping to malls or department stores, he shops on-line from a handful of brands, and uses a tailor for his suits and dress shirts. That's it. We rarely go shopping together, which is not an issue for me since I prefer to shop with my sister or friends.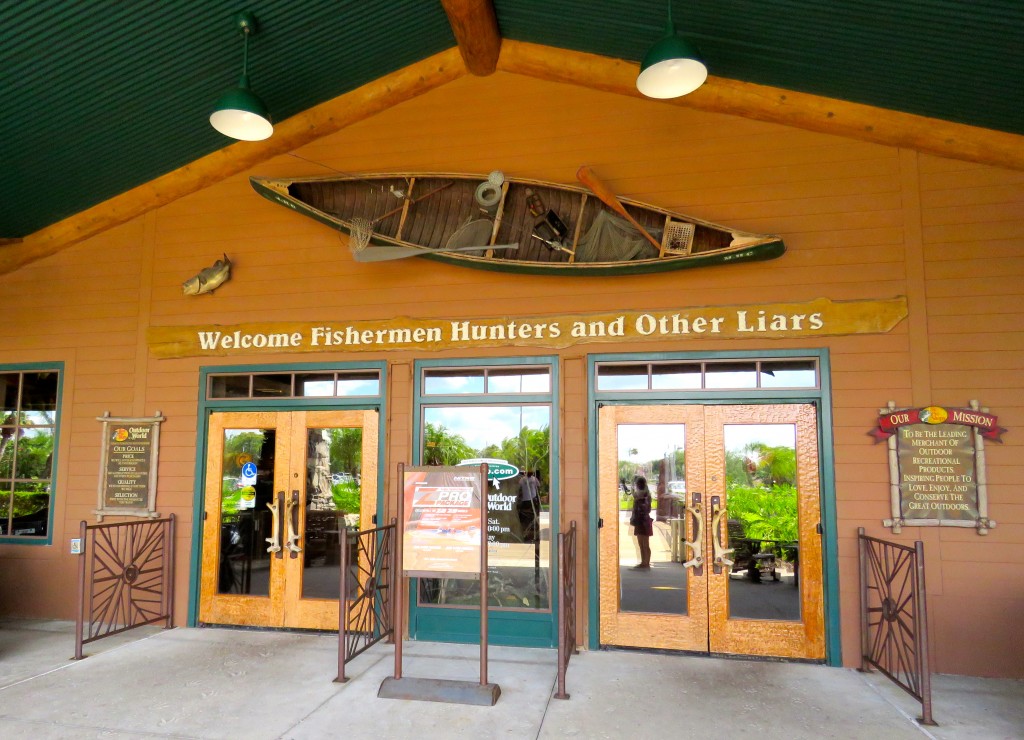 We've been married for four years and I find that having an interest in his hobbies helps us spend more time together. We give each other enough space and alone time, and our schedules are busy, which makes our time together special to me. He still does lots of activities related to his hobbies on his own or with his guy friends, but I've been trying to learn more about his hobbies. This makes him happy and in return I am happy too. It helps our relationship to have common things to talk about and activities to do together. I am not much of an outdoorsy person (ie: camping or roughing it) and try to avoid being out in the sun too much. In order to join him for some of the expeditions related to his hobbies, we had to purchase some items for me. On our visit to Outdoor World, we purchased some of those items. My hubby also found lots of items for himself, which I thought was cute. He was like a kid in a candy store…or me at a department store or designer boutique.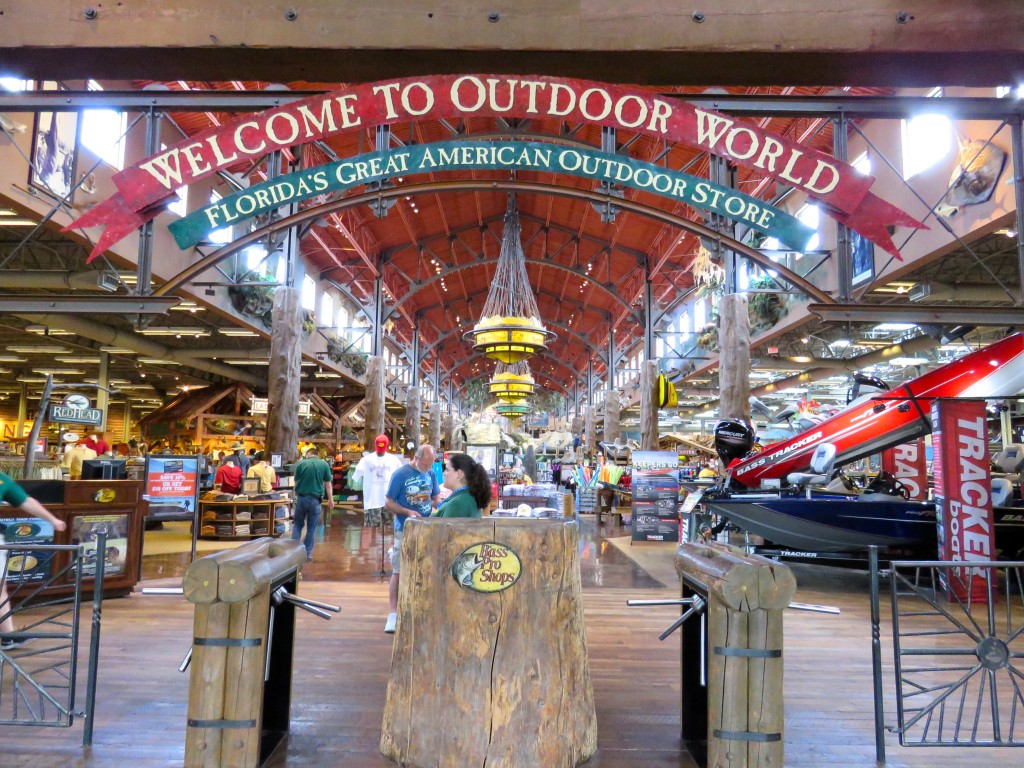 Now, when he asks me to join him for shopping at Outdoor World, I gladly accept because I know it will be an adventure and time spent together. I will learn new things as we walk through the store and he explains the functions or features of the items he is purchasing. Most importantly, we are spending time together and enjoying each other's company. I know I will not find a new pair of stylish heels or my favorite designer purse at this store, but I can shop for those items on my own. I value the time spent with my hubby and spending time together enjoying a hobby has brought us closer together.
It is an experience to visit the store, it is unlike any other store I have been to. Below are some pictures from our visit to the store in Orlando. I learned more about the stores on their website, I was surprised to read how many locations they have and was glad to see that they will be opening new locations in California. Can't wait to tell my hubby!
Have you been to an Outdoor World/Bass Pro Shop store? Do you and your partner have hobbies you enjoy doing together? Did you start doing a hobby to spend more time with your partner?

Hugs,
Paola
PS – Our trips to Orlando and Hawaii last year. Visiting the Porsche Museum in Germany.
Picture from the lobby (above & three below). It looks more like arriving at a lodge or cabin in the mountains, than a store in the middle of a city.
There are aisles and aisles of products.
The store is impeccable and everything is organized.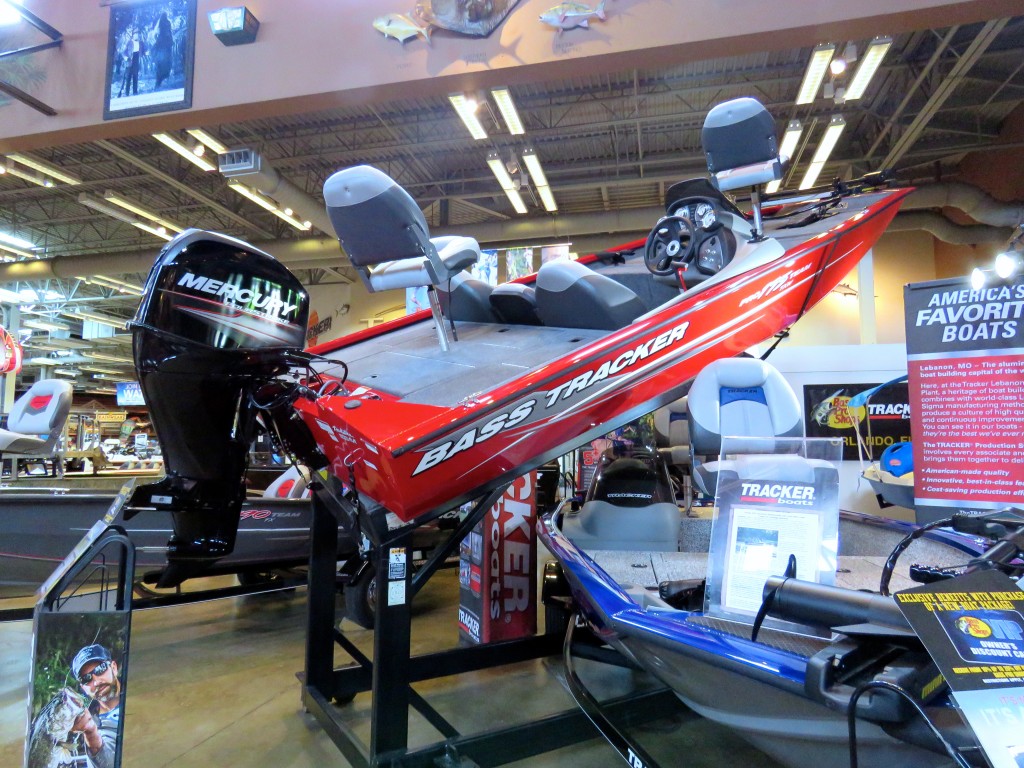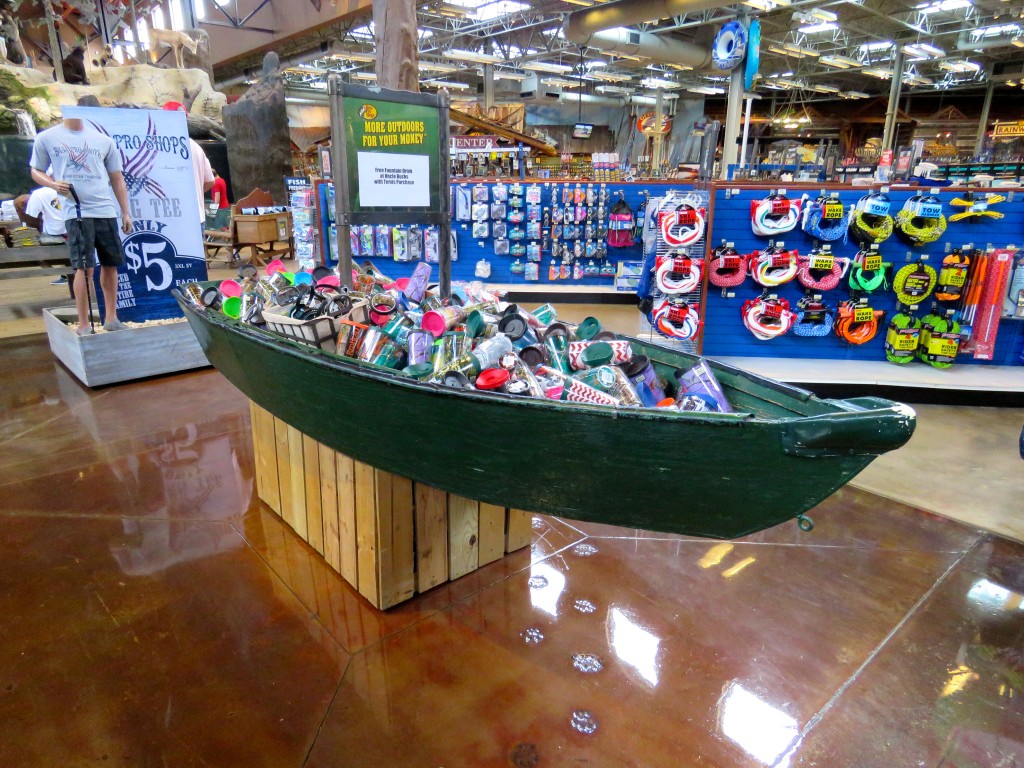 Lots of the items are cleverly displayed.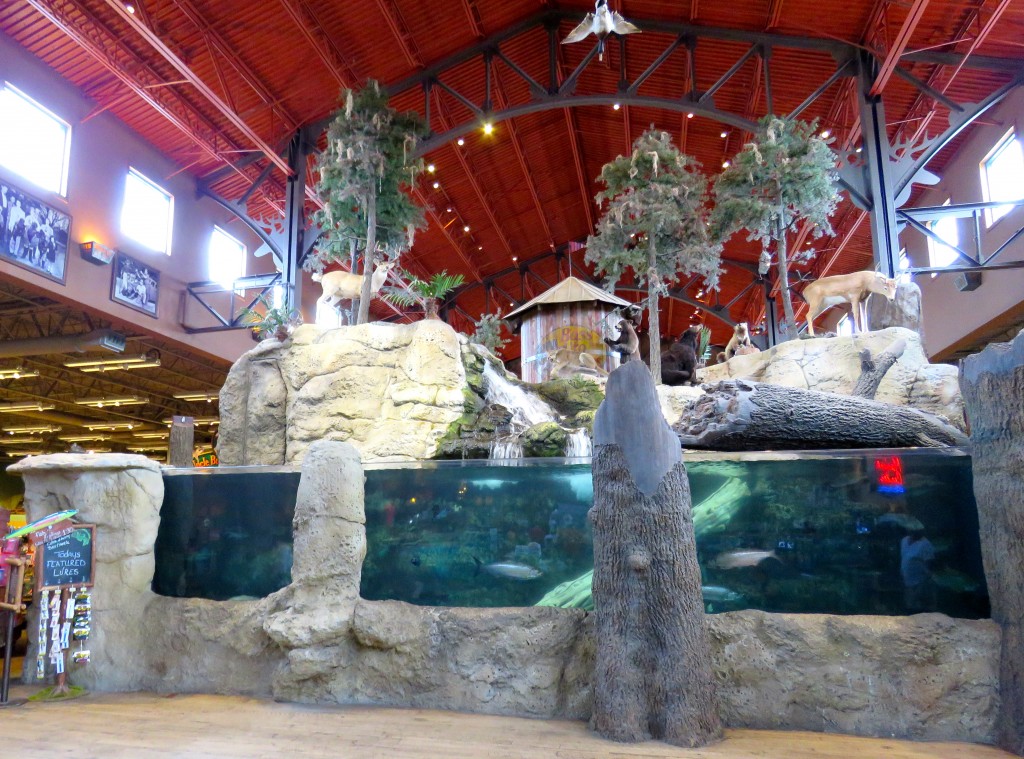 There is a giant fish tank in the middle of the store.
The tank was being cleaned when we arrived.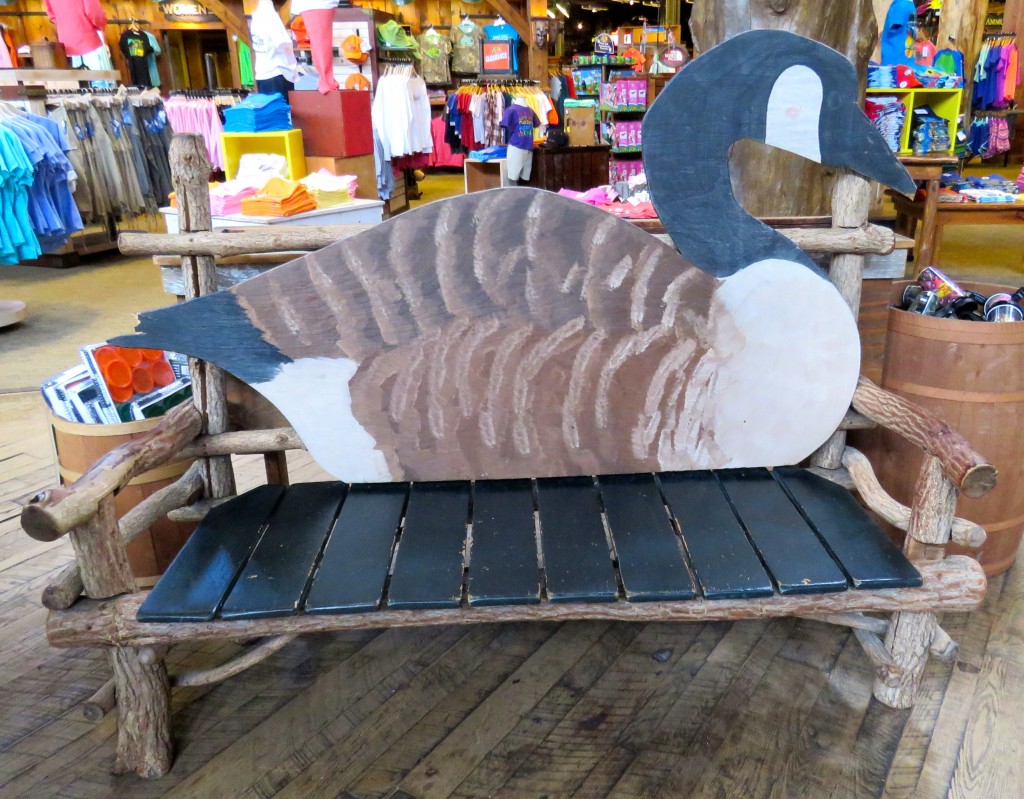 There are benches in front of the fish tank for visitors to sit and enjoy looking at the fish, or simply take a break from shopping (the store is very large).
There are sections for ladies', men's & children apparel.
An area with gift items and snacks.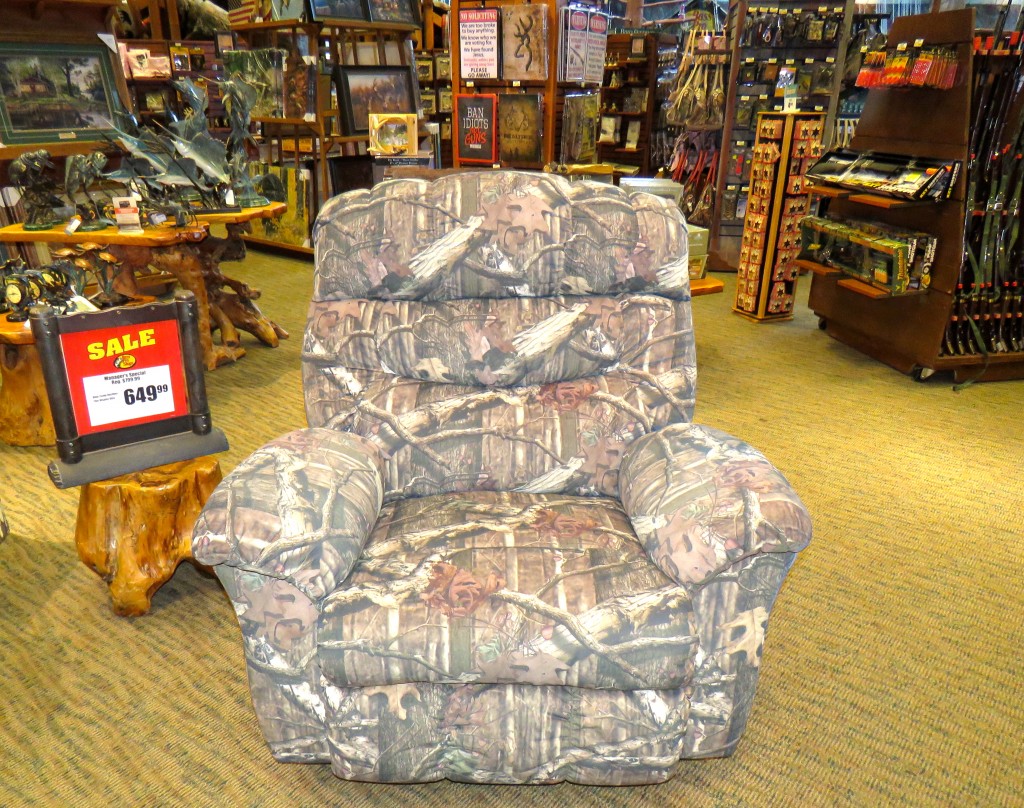 There is furniture….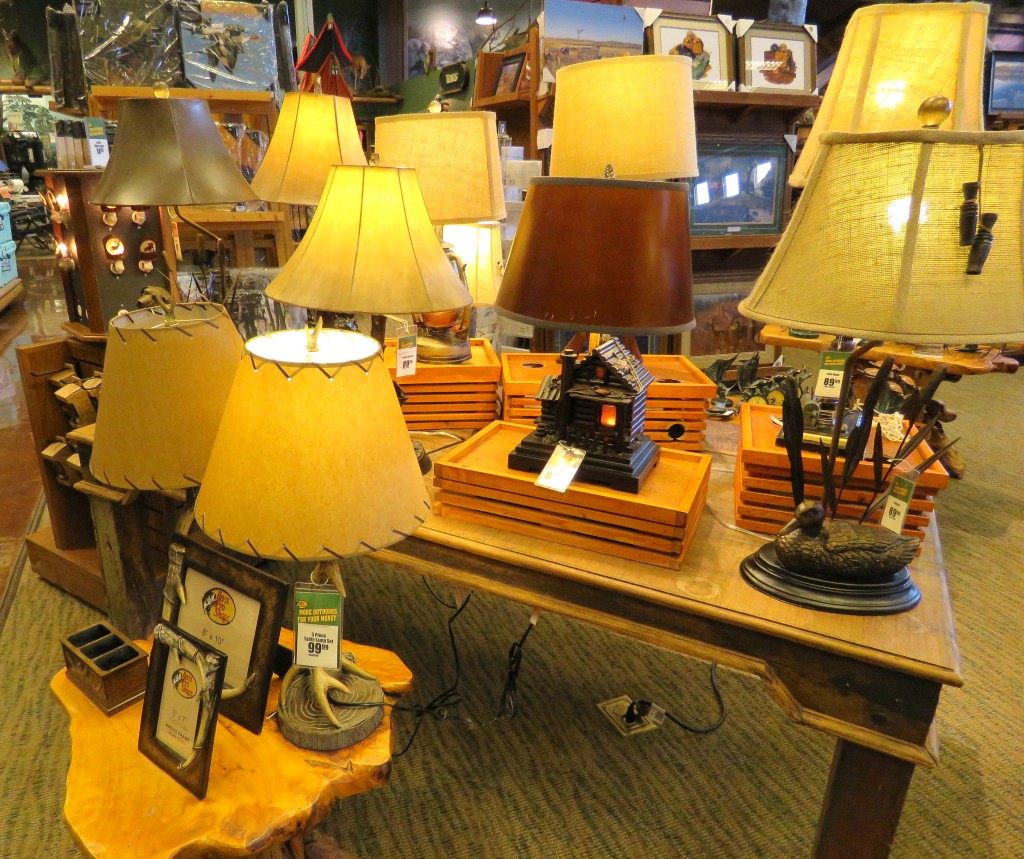 …and lamps.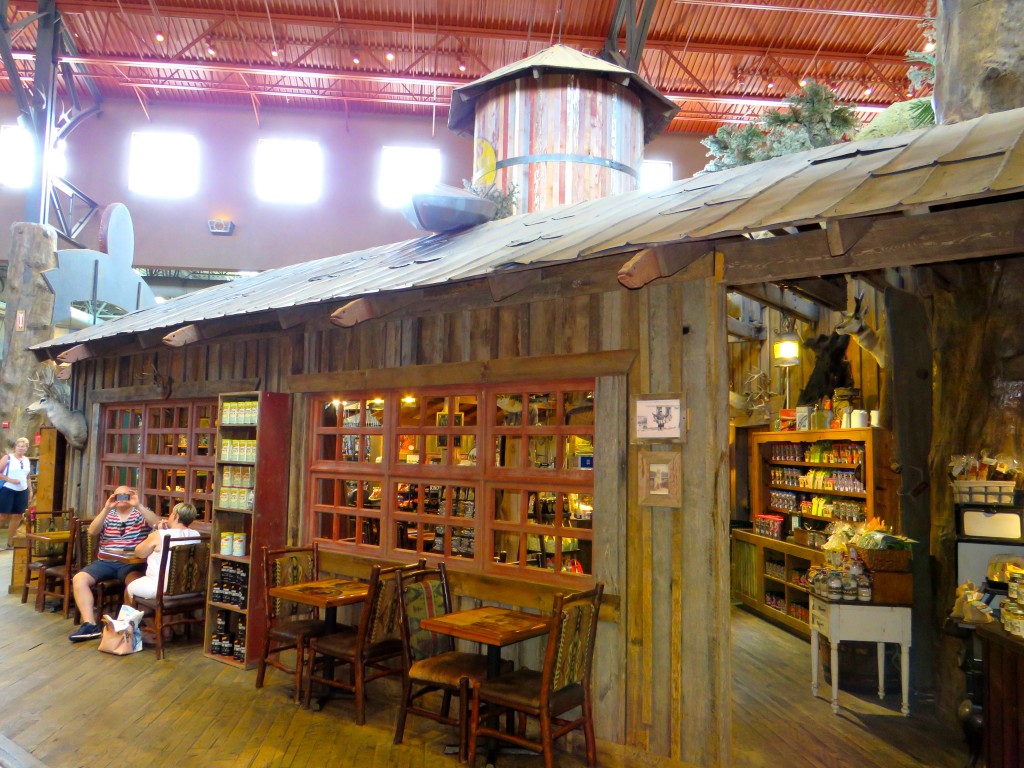 A cabin-like snack shop (picture above & three below).
In case someone is looking for a lace & satin nighty for their camping trip (I did not buy it).I just had to take these (below too) pictures, how unique are these night gowns!!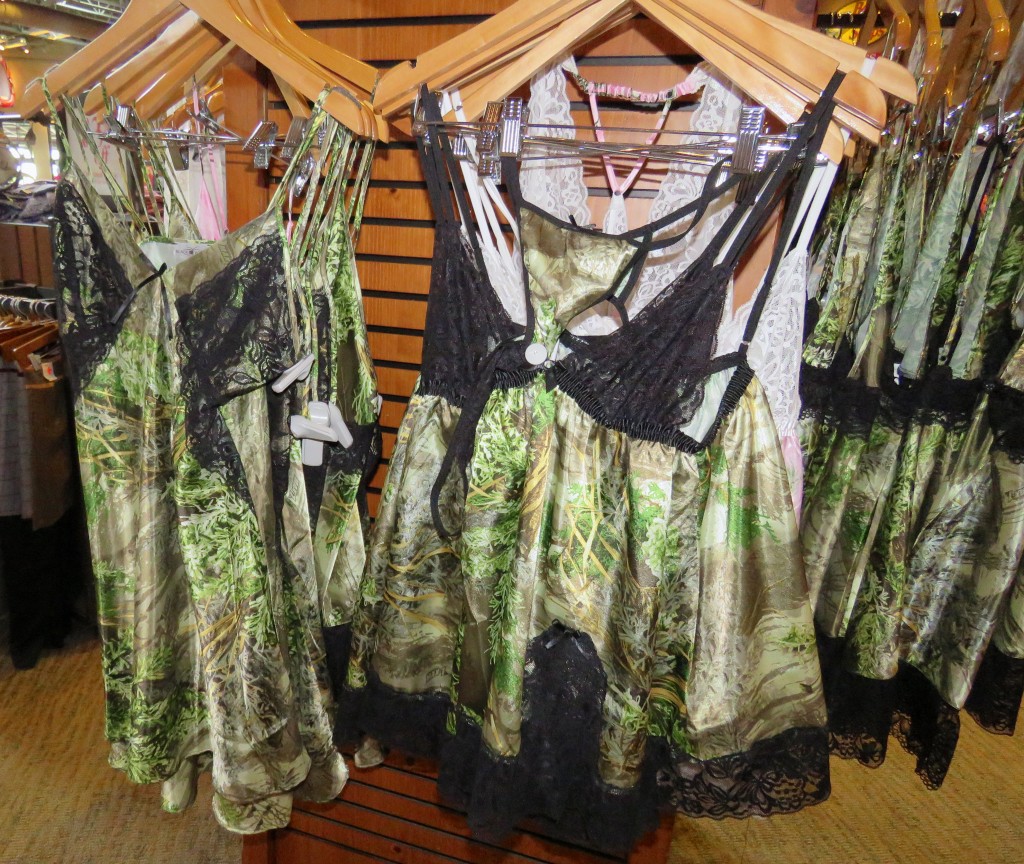 Or. if someone wants to blend in with the surroundings at night, wearing a camouflage nighty.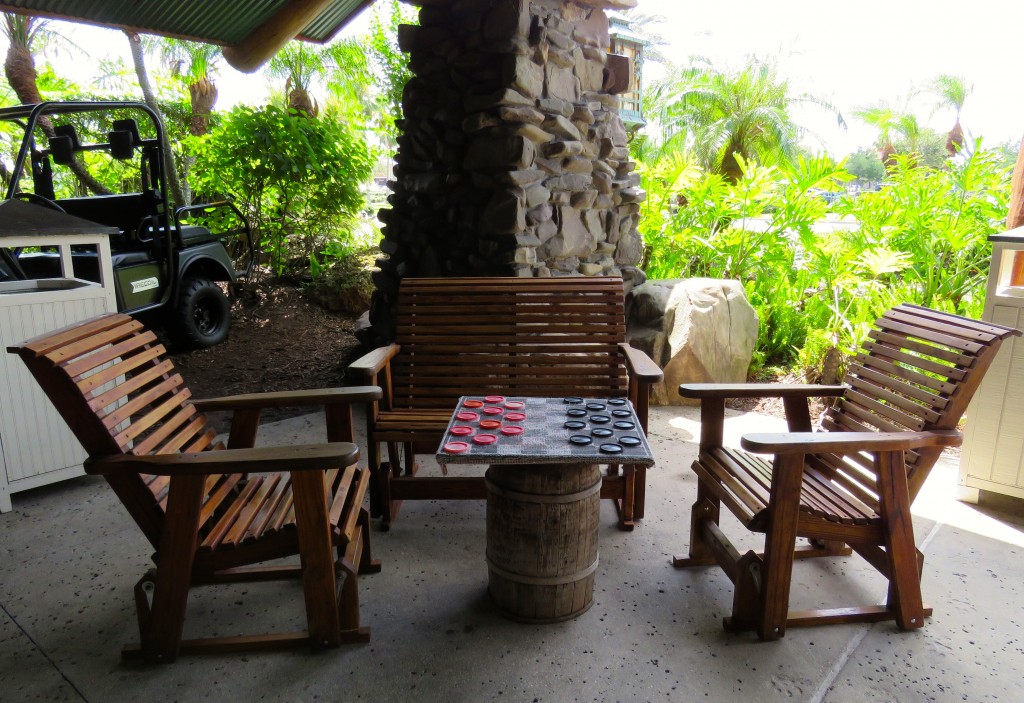 You can also buy patio furniture and a giant checkers board game.
Four-wheel motorcycles – ATVs.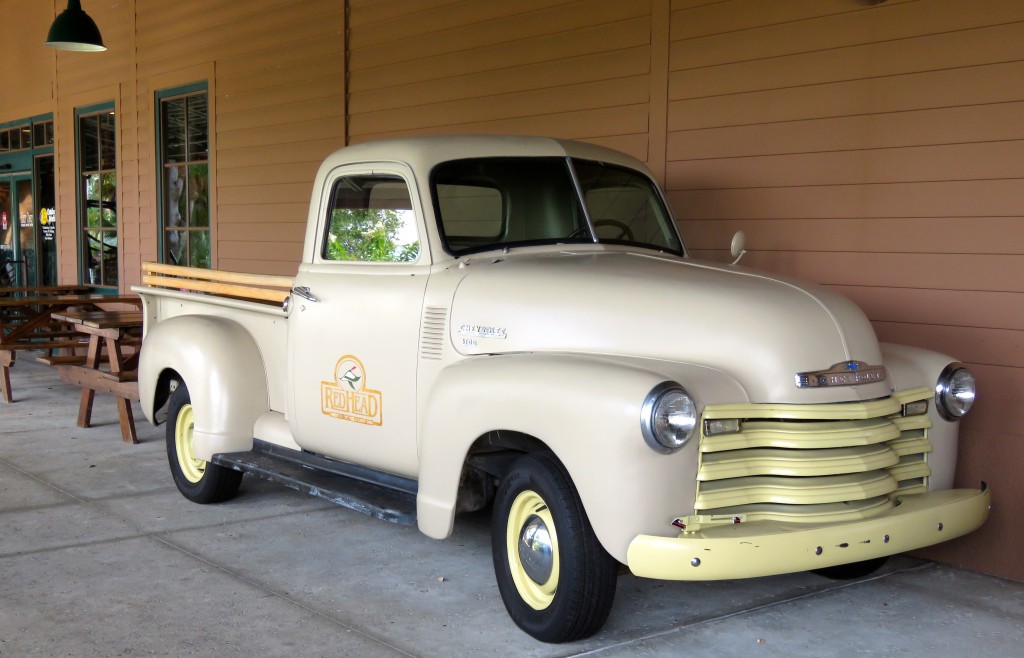 This truck is a prop at the front of the store, for decorative purposes, not for sale 🙂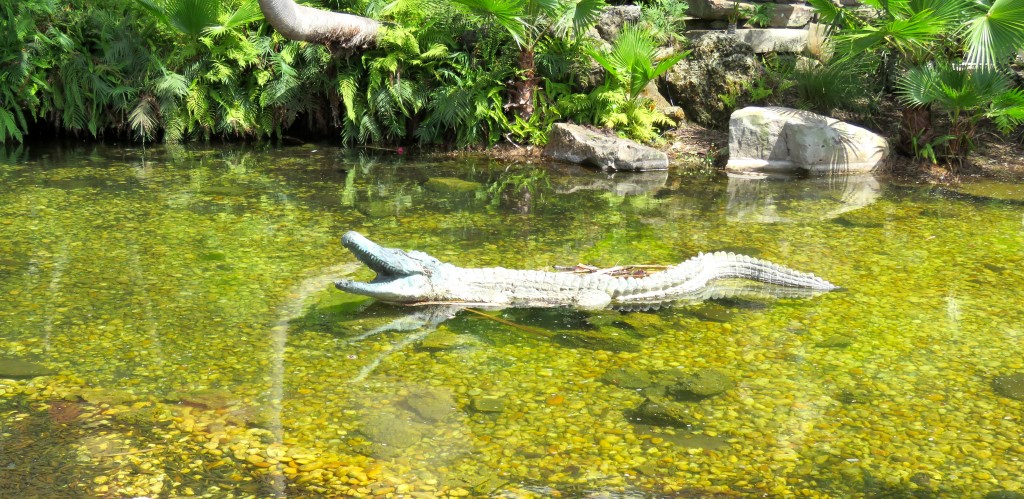 The outdoor lake in the front of the store includes a life-size, very realistic looking, plastic alligator.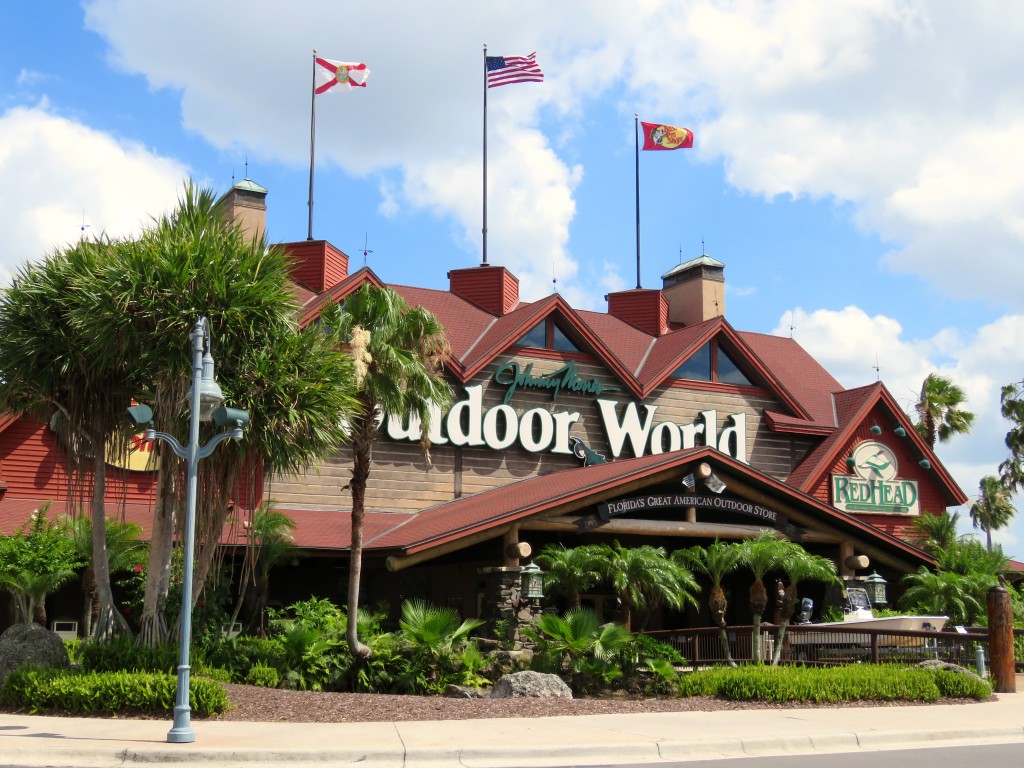 The outdoor design of the store looks like a large lodge or cabin.