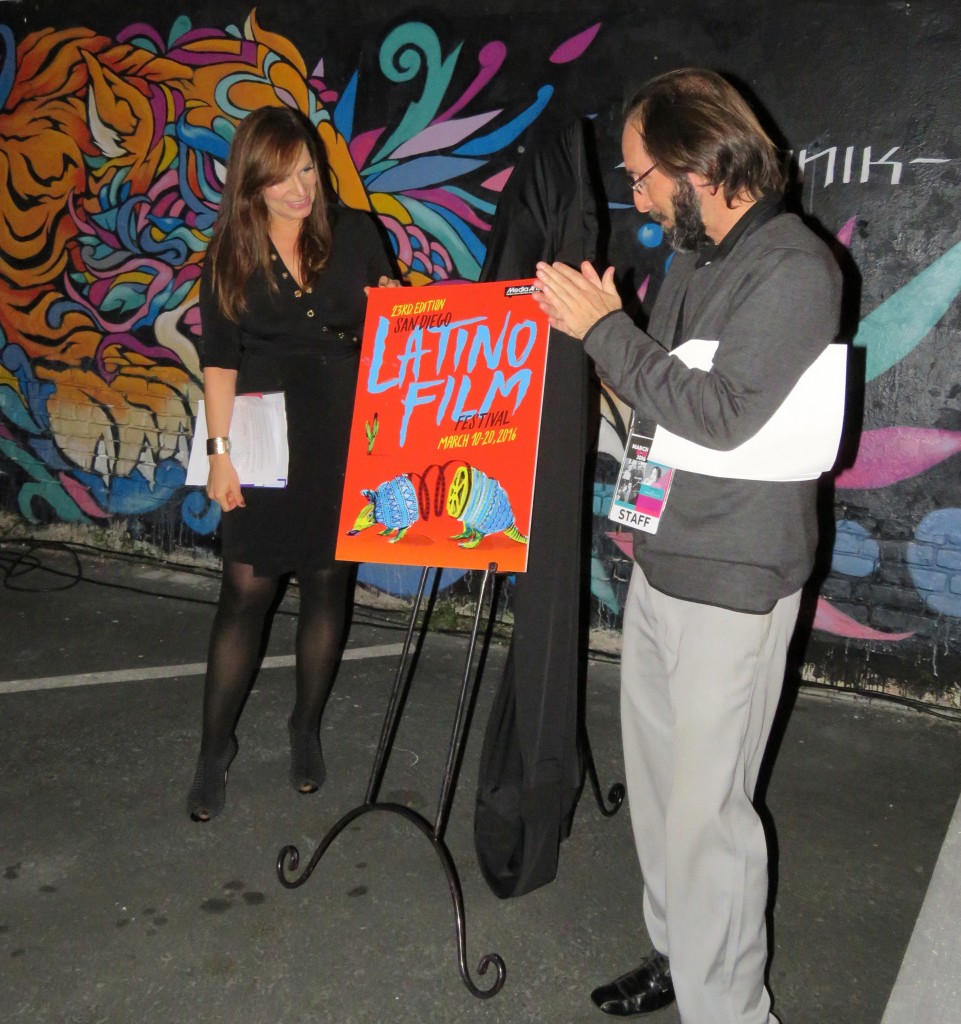 The San Diego Latino Film Festival (SDLFF) held their Poster Reveal Party yesterday at Border X Brewery in San Diego. The event kicked off the 23rd Edition of the SDLFF with the unveiling of the winning poster. This year, the Festival received more than 500 entries from many designers and students from around the world. A panel of expert judges selected ten finalists and the winning poster. The finalist posters were exhibited during the Party. The winning poster was designed by Elisa Baldiserra and Luigi Leto, from Italy. In addition to having the honor of showcasing their winning poster as the image for the 2016 SDLFF and program cover, they were awarded a $1,000 prize, sponsored by Flavored Layers. The winning poster includes an armadillo, which the designers selected because they love animals. They chose the armadillo as an icon because all twenty varieties of the armadillo, with the exception of one, live in Latina America. In keeping with a film festival theme, they were able to creatively incorporate a film reel to the armadillo's body. The SDLFF organizers said, "The symbol of this year's Festival is al alebrije, a fantastical, indigenous, and fun creature which will guide us through our Festival's 23rd Edition!"
The unveiling party included a reception at Border X Brewery, a brief program on the open-air patio for the unveiling of the winning poster and the viewing of a new video which showcases the Festival's youth programs (produced by Mambo Casa Productora). Guests enjoyed complimentary beer tastings, food, and music. DJ, Luis Santamaria, with English Beat Sound, provided the music and video entertainment which got guests dancing and singing along to music from the 80's & 90's!
It was my pleasure to participate as emcee at the Poster Reveal Party and I am looking forward to the Festival! The 2016 San Diego Latino Film Festival will be held from March 10 – 20 at Simon Fashion Valley mall. The SDLFF is one of the largest and longest running Latino film festivals in the United States. For more information regarding the Festival, to become a member, or to purchase your advanced pass, visit San Diego Latino Film Festival. There are also volunteer opportunities (click here) if you would like to get involved! I'll see you at the next SDLFF event and at the Festival in March!
Have you been to the SDLFF? Did you know there was a Poster contest?
Hugs,
Paola
PS – The SDLFF 2015 Fashion Show at Simon Fashion Valley, Opening Night Party, and Closing Night Party.