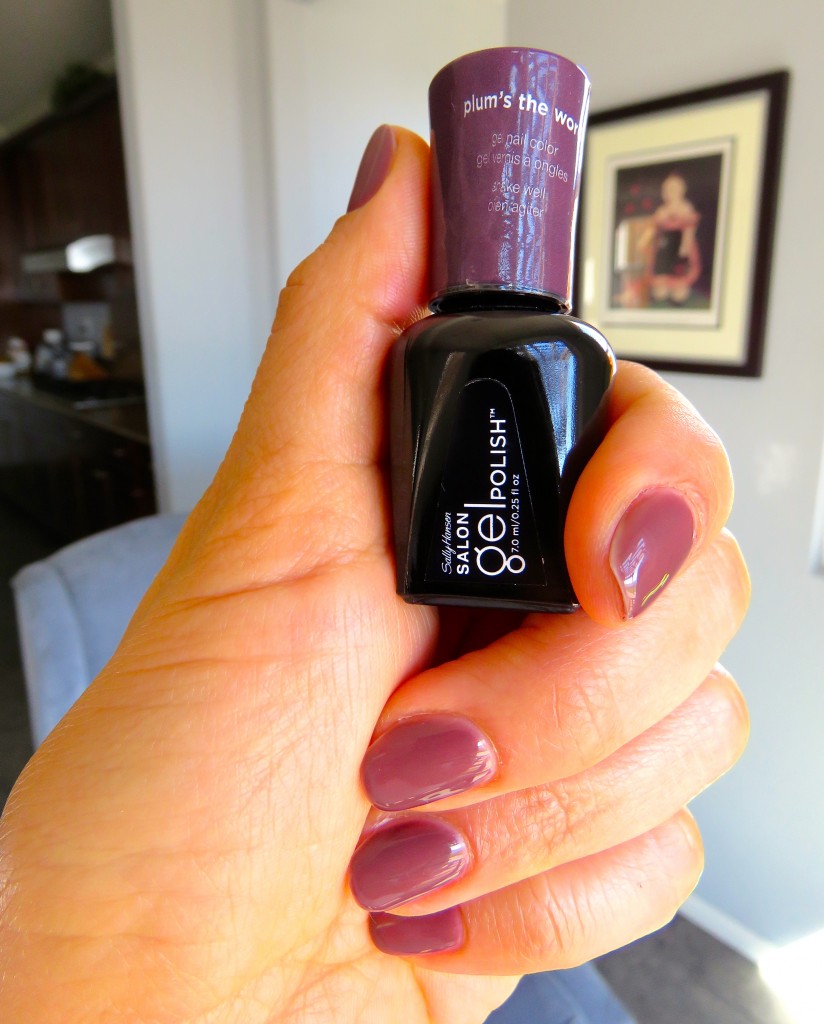 If you follow me on social media, you know I am a fan of gel nail polish. For the past six years, I have used gel polishes. For the first year, I would go to a salon to get a gel manicure every few weeks. Then, a friend told me she had purchased the UV lamp and Gelish nail polish beginner kit to give herself gel polish manicures at home. I also purchased the lamp and beginner kit, and started doing my own manicures at home. It took a little practice because the polish is thicker, but in time I got pretty good at it. I love gel polish! It lasts between two to three weeks and remains shiny, without chipping. It dries immediately with the UV light and in my case, makes my manicure thicker. The only reason I get it every two to three weeks is because of the nail growth. The growth of my nail next to the cuticle will start to be noticeable after two weeks. I do try to stretch it to three weeks if I don't have speaking engagements or a special event. If your nails grow slower, you may be able to stretch it to three weeks.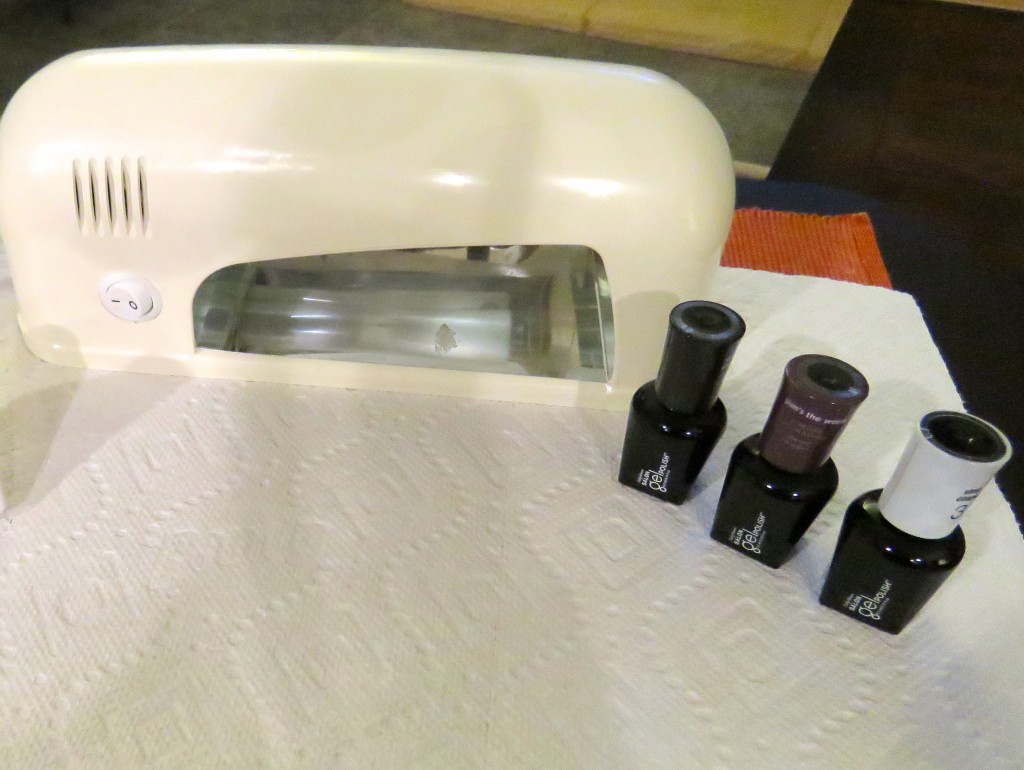 After I purchased the lamp and gel polish kit, I did my own gel manicure at home and would go into the salon approximately every two months to get a professional gel manicure, mostly to get my cuticle cut. I would do my manicures at home for the purpose of time because it was hard to get away to the salon and because it can cost about $30 to get a gel manicure. I also dislike doing the gel removal process on my own. It requires soaking my nails in cotton with acetone and wrapping them for about fifteen minutes in aluminum foil, then carefully removing the polish with a cuticle stick. But, the removal process is worth it because I know the polish will last another two to three weeks. With removal of the previous polish, giving myself a manicure and applying the gel polish, requires about an hour of time, sometimes a bit more. For the past six months, I have gone back to the salon for my gel manicures every three weeks. Since I am pregnant, it is my way of getting a little pampering. Plus, once the baby is born, I may need to go back to doing my gel manicures at home because I may not have time to go to the salon.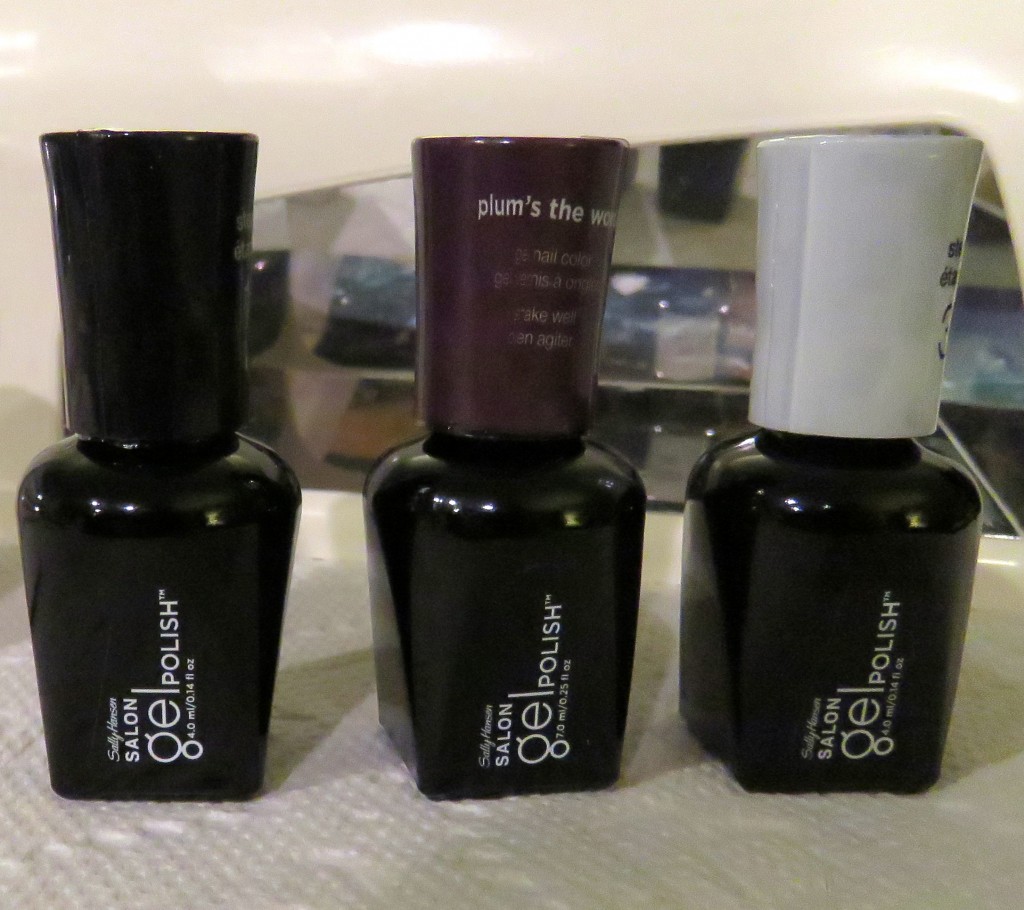 I purchased the Sally Hansen Gel Polish, which requires a UV Light to dry at Target. The kit requires three steps. 1. Base Coat, 2. Polish in Color of Choice (may require two coats), 3. Top Coat. After each step the polish needs to be set under a UV light. Before applying the base coat, the nail should be cleaned with a lint free alcohol pad (cotton ball) to remove any oil from the nail. This will allow the base to adhere properly to the nail. The last step, after the top coat has been applied is to again rub a lint free alcohol pad (cotton ball) over each nail, to set the polish and remove the stickiness. I use an alcohol prep pad instead of a soaked cotton ball. It is more practical and works great!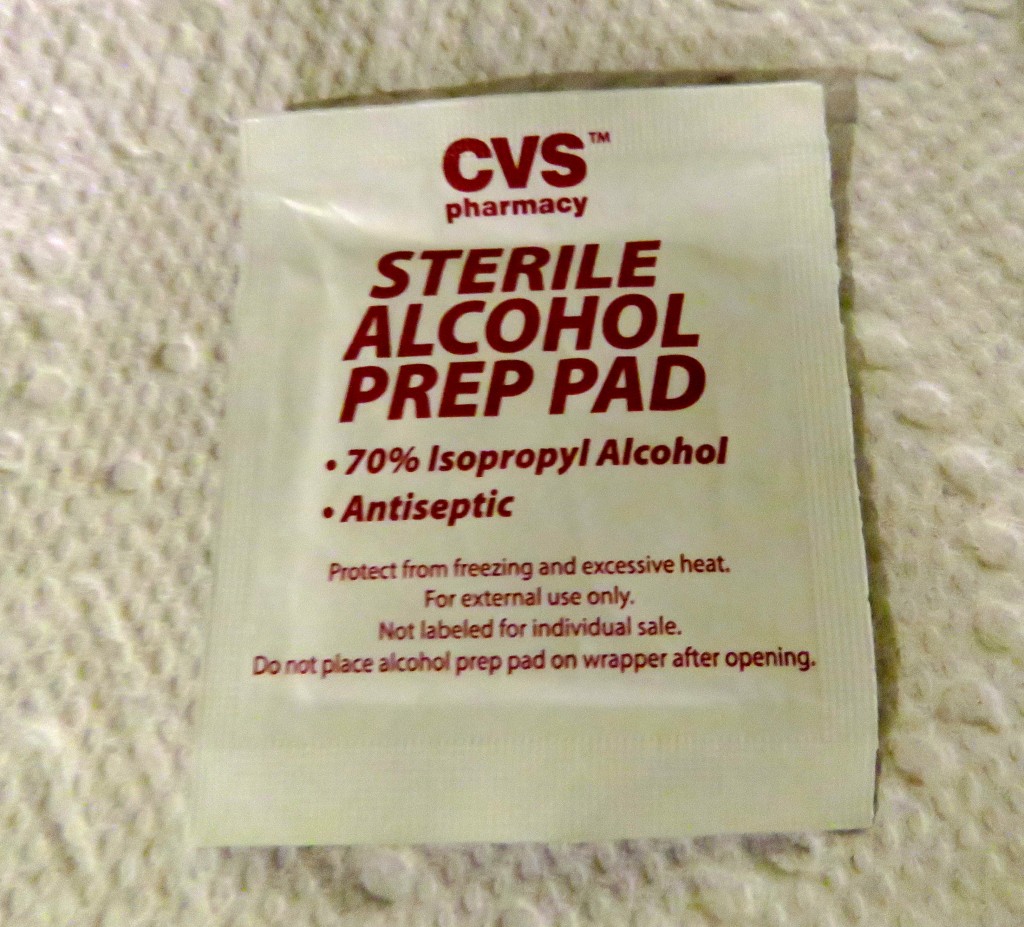 I tried the Sally Hansen No Light Gel Polish and it did not last very long on my nails. You can read my review here. So, I was a bit skeptical when I tried the Sally Hansen Gel – Require UV Light polish. I am pleased to say I am very happy with this gel polish. It is easy to apply and lasts as long as the Gelish and Shellac brands of gel polish which are more expensive. I also like that Sally Hansen gel polishes are available at Target, Wal-Mart and most drug stores (CVS or Walgreen's). So, I don't have to make a special trip to the beauty supply store to buy the polish. If I keep the polish bottles closed tightly and stored in the medicine cabinet where they are at a cool room temperature, they last me a long time, perhaps up to a year.
Do you use gel polish? If yes, which brand? Do you apply it at home or get a manicure at a salon?

Hugs,
Paola
PS – My review of the Sally Hansen – No Light Gel Polish and the metallic gel nail polish I am loving this season.
Gel Polish Removal Tip: Some people have told me their nails got thinner by using gel polish due to the removal process. Some salons use metal sticks to scratch off the polish and that can damage the top layer of the nail. If the polish is soaked long enough in acetone (about 15 minutes), the majority of it will lift right up on its own (come off the nail) when the aluminum foil and soaked cotton are removed. The key is to remove one foil at a time, gently remove any remaining polish with a wooden cuticle stick (by lightly scratching it off) from that nail and then move on to the next nail. I have noticed less damage on my nails since I started using a wooden cuticle stick instead of a metal one.
Using sunblock: At some salons, the manicurist will apply sunblock to your hands before beginning the gel manicure. This is to avoid any damage the UV light may cause to the skin.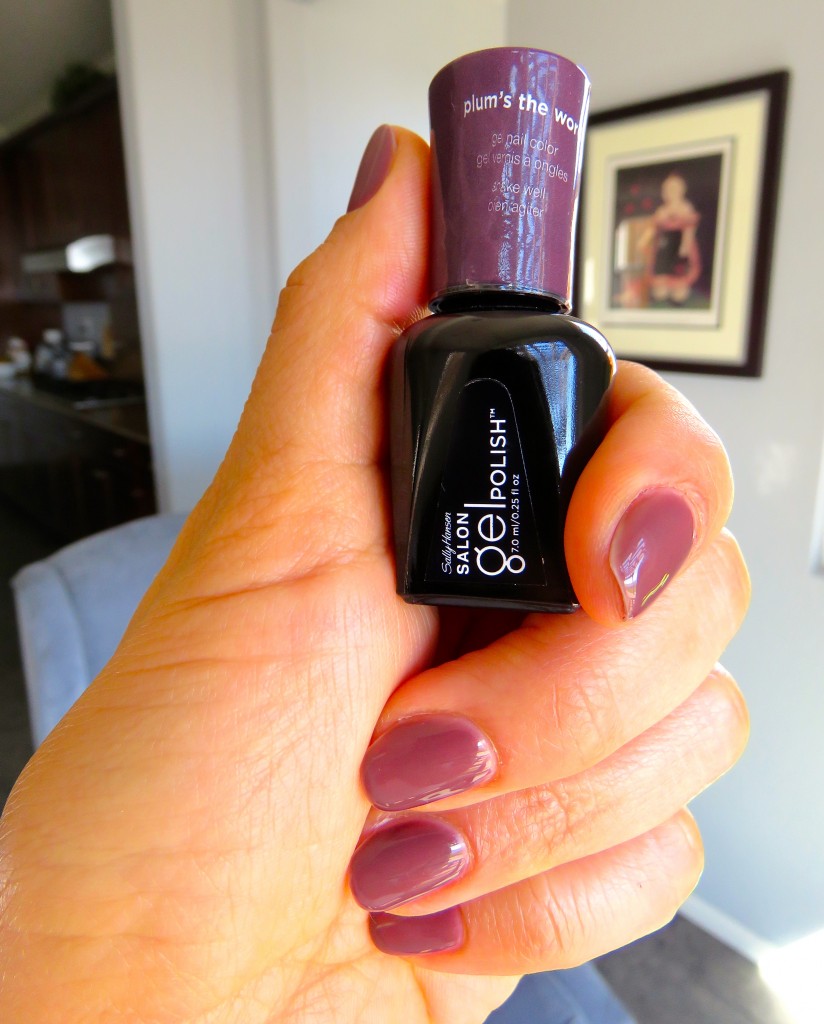 The Plum's The Word gel polish the day I applied it.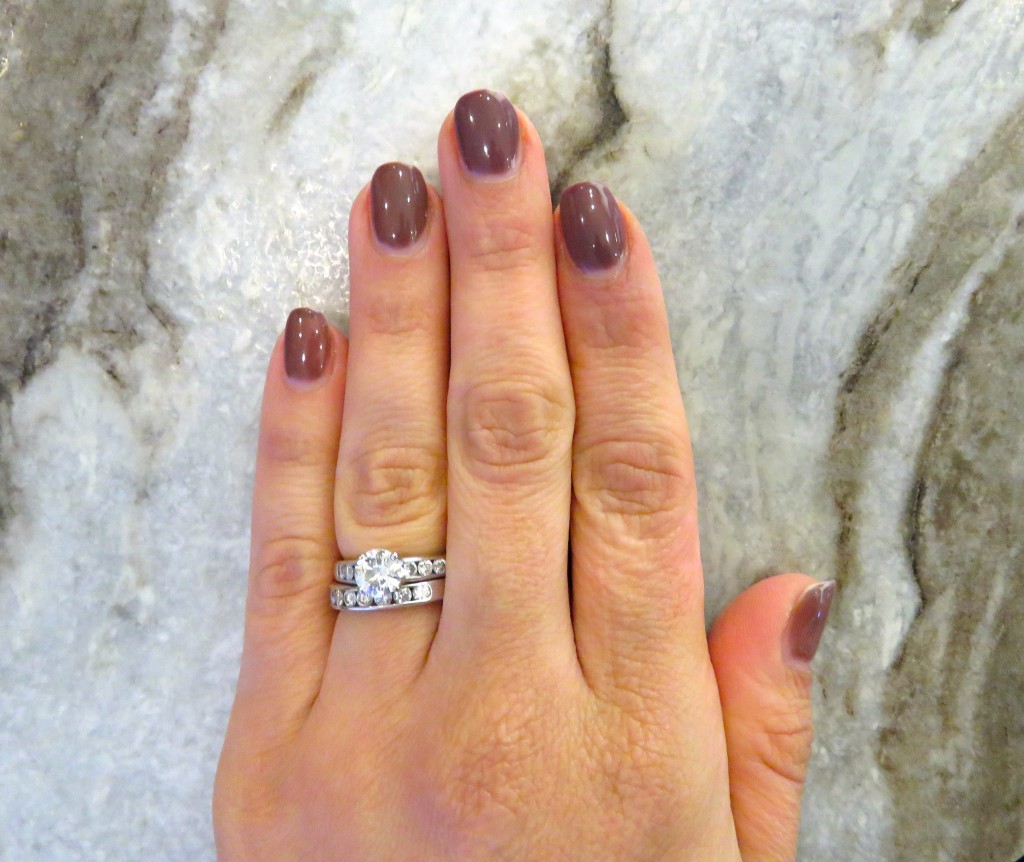 The gel polish ten days later. It was still shiny & chip free! The polish may appear a bit darker in this picture, it is due to the lighting. You can begin to see the nail growth next to my cuticle.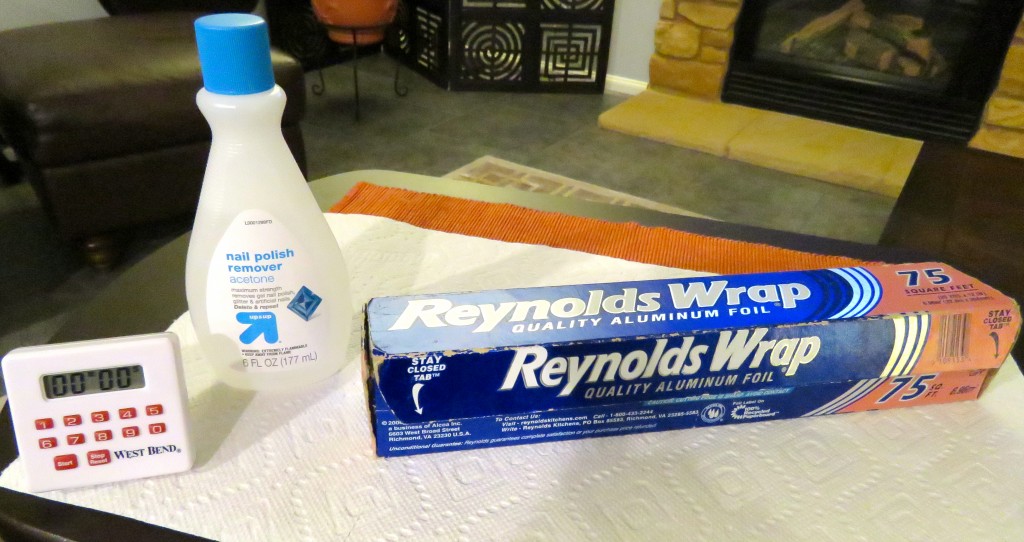 I use cotton balls soaked in acetone and aluminum foil to remove the gel polish. I keep a timer handy so I know when the polish has been soaked for at least 15 minutes.