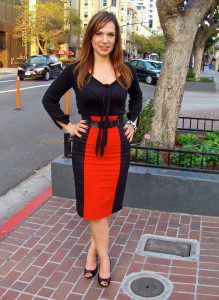 Hi friends, colorblock skirts create a sleek and slimming silhouette. This red and black pencil skirt has that effect, particularly because the black is on the sides. I wore it with gold tone accessories and a little black wool sweater. We only have a few more weeks of chilly weather in Southern California, so I figured I should wear my sweaters before it gets too warm. I wore peep toe platform pumps to elongate the legs since the pencil skirt falls under the knee. Hope you like the look!
Do you have any colorblock skirts or dresses?
Hugs,
Paola

PS- I also included some fun impromptu shots we took while taking the Outfit of the Day pictures, as well as some pictures from the party we went to afterwards, and how I wore it during the day for work. It was a long day….but fun and productive!
While we were taking the pictures, our friend Luis Monteagudo, who works at the County of San Diego, happened to be walking by and stopped to say hi. It was past 5:00pm and his office is located just a few blocks away, so he was leaving work for the day.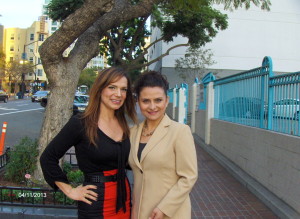 Then, Luis took a pic of Lola and me. Lola has been helping me take the Outfit of the Day pictures. She is a wonderful friend!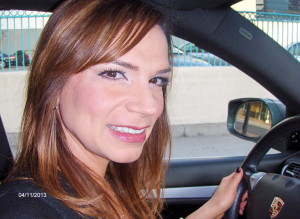 After we took the pics, we jumped in the car to head to an Election Night Party. Lola took this picture while we were about to leave the parking lot.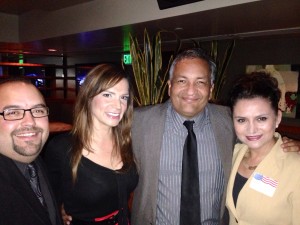 A picture from the Election Night Party. We had so much fun! Luis was also at the party. The host, Pedro Anaya came over to greet us (pictured next to me).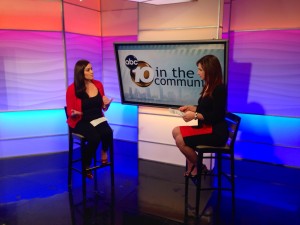 During a quick run through jus before we recorded an interview.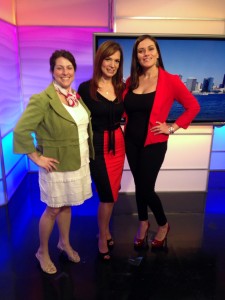 In the studio, with the interview guests right after we recorded.
Sweater: Banana Republic; Skirt: JCPenney (purchased in San Francisco); Shoes: Nine West; Belt: National City Leather Store; Necklace: Macy's fine jewelry; Bracelets: Forever21
ESPANOL:
Hola amigos,
A mi me encantan las faldas y procuro ponerme estilos que favorecen a mi tipo de cuerpo. La tendencia de moda "colorblock" es una manera de combinar colores en bloques y combinarlos entre sí, logrando un contraste divertido y original. Una falda con estilo colorblock puede crear la ilusión de una silueta mas alargada o acinturada, y como resultado uno se ve mas delgada. Esta falda roja con negro hace ese efecto, particularmente porque tiene negro en ambos lados. La use recientemente para un día de trabajo y saliendo de la oficina fui a una recepción. El atuendo fue apropiado para el trabajo y una salida divertida es noche. Fue practico ya que no fue necesario cambiarme de atuendo.
Combine la falda con accesorios dorados, un suéter ligero negro, y un cinto negro. El cuello en "v" del suéter ayuda a crear la ilusión de un cuello mas alargado, y también ayuda a que uno se vea mas delgada. Solo quedan unas cuantas semanas mas de clima fresco en San Diego, así que aproveche para ponerme un suéter ligero. Me puse zapatillas de tacón alto, con plataforma y estilo de punta abierta que hacen que las piernas se vean mas largas. En este caso es particularmente importante usar este tipo de zapatilla ya que la falda cae debajo de la rodilla. Ojala les guste este atuendo!
Tienes piezas de ropa estilo "colorblock" en tu guardarropa? Que combinaciones de colores son?
Para mas muestras de atuendos y tendencias de moda, los invito a que nos conectemos por medio de LatinaLifeAndStyle.com y en Facebook/Paola Hernandez-Jiao. Si tienen preguntas o quieren ver algún estilo de atuendo en particular, déjenme comentarios en la pagina.
Un abrazo,
Paola
PD- Tambien inclui unas fotos casuales que tomamos durante la sesion de "Atuendo Del Dia" y de la recepcion a la que fuimos…y tambien, de como luci el atuendo durante mi dia de trabajo. Fue un dia largo, pero divertido y productivo!