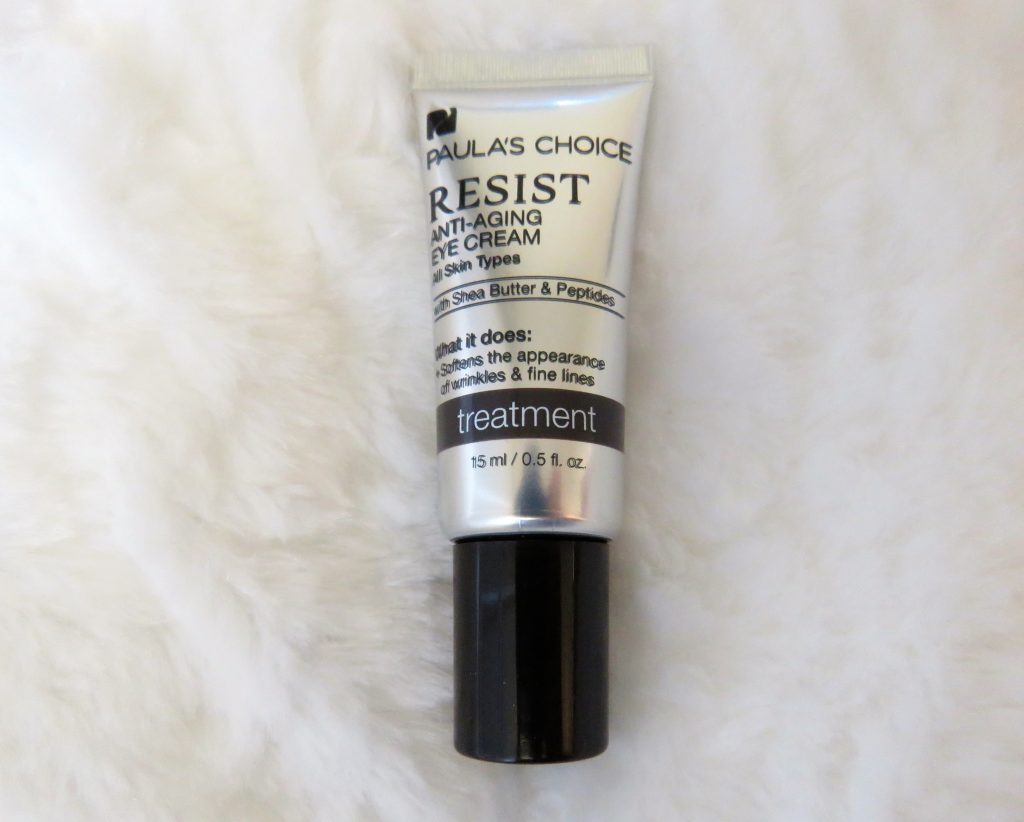 When I first saw the ads in fashion magazines for Paula's Choice Skincare they caught my eye, because, well, my name is Paola. I had never used these products or seen them in stores. I am open to using new products and have often been pleasantly surprised at the results. But, my skin can sometimes be sensitive to new products, so unless someone recommends them, I am not one to experiment with new products just for the sake of trying a new brand. I had acne as a teenager and now have combination skin, with occasional breakouts. This makes me cautious when trying new products. I tend to stick to brands I have used for years, such as Lancome, Dior, Clinique, No 7, Dr Eugene Novak, and more recently Oriflame (which I love). I am starting to get fine wrinkles around my eye area and sometimes have puffiness under my eyes in the morning. My current eye cream is doing a good job, but I have not seen a dramatic improvement. So, when BzzAgent contacted me and offered to send me a free Paula's Choice Resist Anti-Aging Eye Cream (0.5 fl oz /15 ml), I was excited to try a new eye cream. They also included a Glam Eye Shadow Palette.
I used the Resist Anti-Aging Eye Cream in the morning and evening for two weeks, to review the results. On Paula's Choice website, it states that this eye cream is formulated for all skin types and combines proprietary blend of proven ant-aging ingredients for the eye area. It claims it is supposed to brighten and provide hydration overnight, with visible results the next morning. It is supposed to help with anti-aging, wrinkles, and diminish redness, brighten, soften and enrich skin around the eye area.
The benefits I liked about this eye cream were that it absorbed well, it is fragrance free, was non-irritating, and worked with my primer, foundation make-up and loose powder. It comes in a tube and it was nice to only touch the tip of the resealable tube to take the amount I needed, which seems more hygienic versus putting my finger in a jar as I did with other eye creams. Paula's Choice products are never tested on animals, which is also nice to know.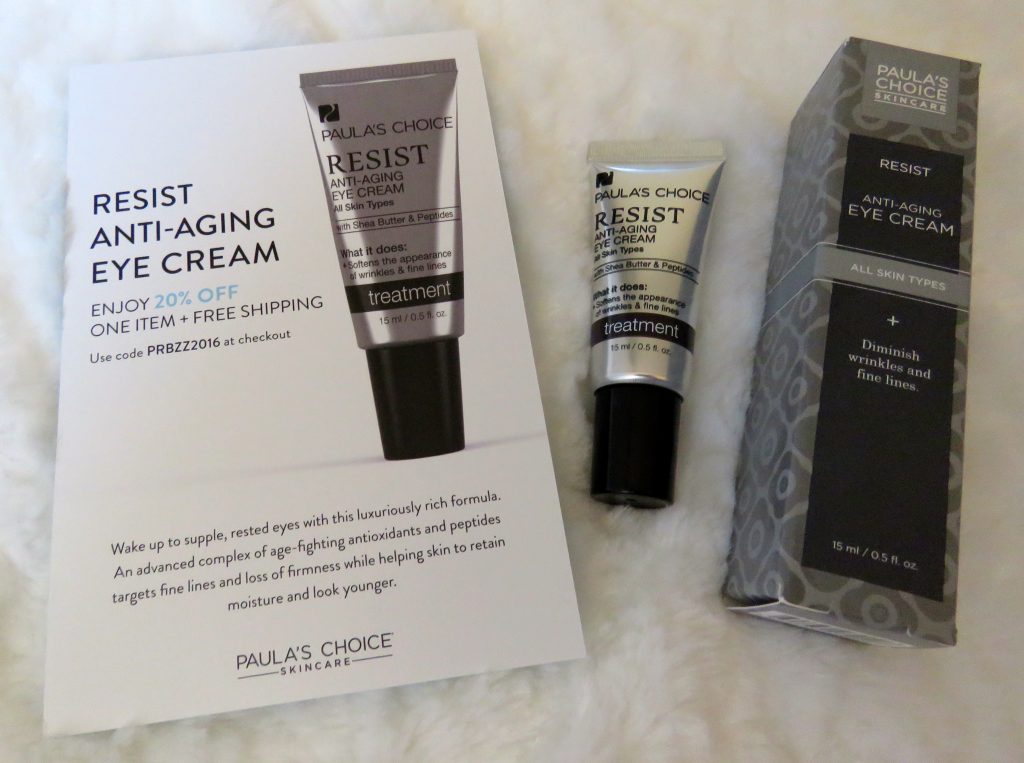 I noticed that this eye cream is thicker than other eye creams I have used. I had to use the tapping application process to apply it instead of simply rubbing it around the eye area. It does state on the website that it is a balm-like cream, which is probably why it feels thicker. The first few days, I did not notice much of a difference compared to the eye creams I have been using currently, so I would say it is comparable to other brand name creams. The Paula's Choice eye cream helped reduce the puffiness under my eyes in the morning and as a moisturizer.
Paula's Choice Resist Anti-Aging Eye Cream has mostly positive reviews, most are 4 stars out of five. I will continue to use the eye cream, but combine it with either the Oriflame or Lancome eye cream. Perhaps I'll apply Paula's Choice at night and the other creams in the morning. The price for the regular size Resist eye cream tube (15 ml / 0.5 fl oz) is $33 dollars, which is about half of what the Lancome eye cream I use costs and about the same as the Oriflame eye cream (I'll write a Oriflame review soon & share details on where it can be purchased, it's a wonderful and effective product, from Sweden).
BzzAgent sent me some trial size samples (5 ml/.16 fl oz) of Paula's Choice Resist Anti-Aging Eye Cream to share. I have three of these trial size creams to give away. To enter this giveaway, simply leave a comment below with feedback regarding my blog. All entries must be received between October 13, 2016 and October 31, 2016 at 11:59pm PST. Participants must be 18 years of age and have a mailing address in the United States. One entry per person and mailing address/household. Three winners will be randomly selected on November 1, 2016. Winners will be contacted via e-mail. Prize will be sent via standard mail to winners. Odds of winning depend on number of entries. Winners names will be announced on my social media platforms (Facebook, Facebook – like page, Instagram, Twitter). No purchase necessary to participate.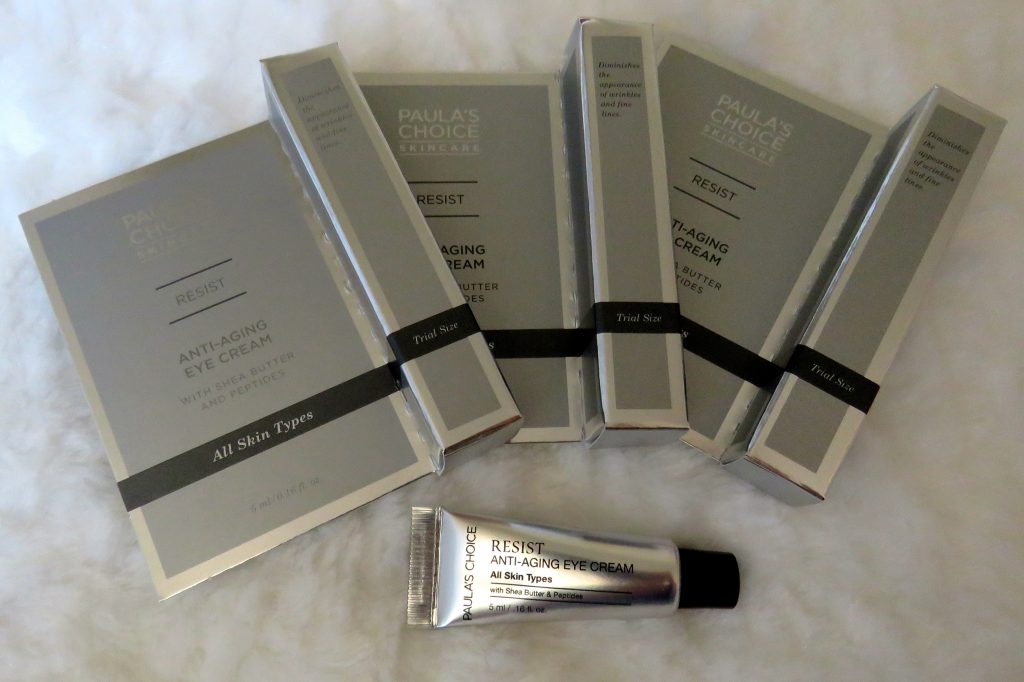 Paula's Choice is offering 20% off one item & free shipping at paulaschoice.com using code PRBZZ2016 at checkout. One-time use only. Discount will be applied to original retail value of the highest-priced single item in the cart. Applies to in-stock items only; no rain checks. Free standard shipping applies to U.S. and Canada only. Expires October 31, 2016.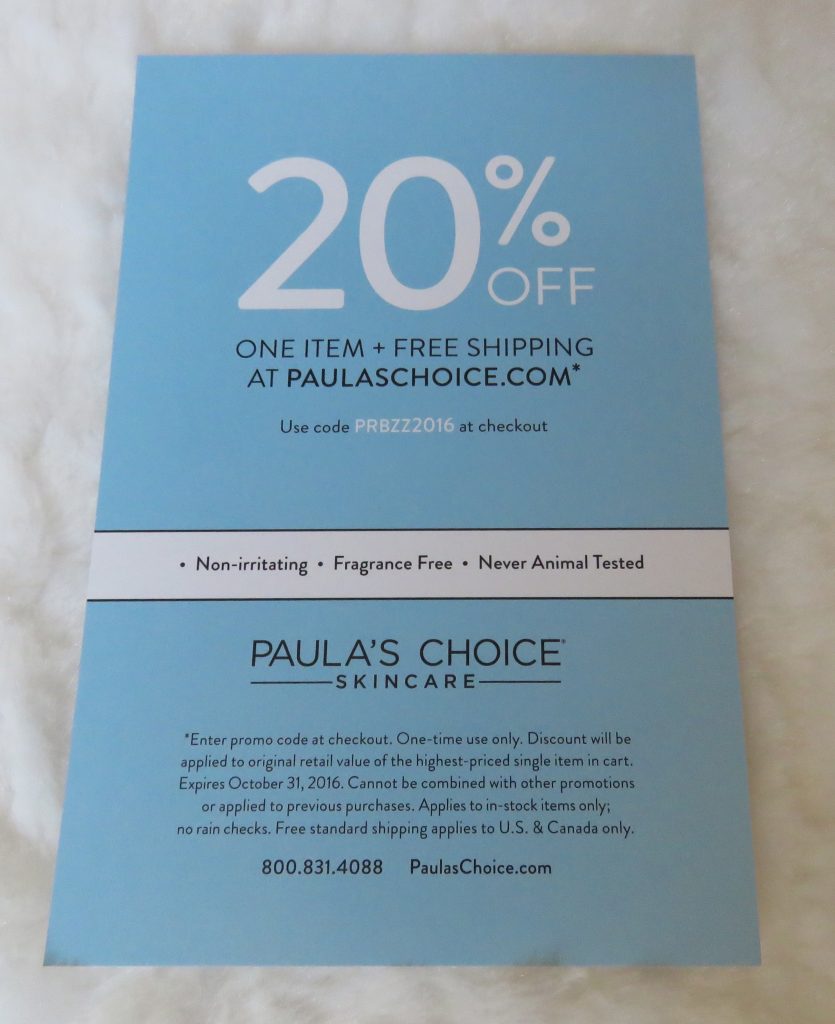 Which eye cream do you use? Do you recommend your eye cream? Have you heard of or used Paula's Choice Skincare?

Hugs,
Paola
PS: My review of Sally Hansen No Light Miracle Gel nail polish and simple beauty tip I use to always keep my lips moisturized.
*BzzAgent sent me a free Paula's Choice Resist Anti-Aging Eye Cream for my use and review, all opinions are my own. I was not compensated monetarily for my comments or product samples received.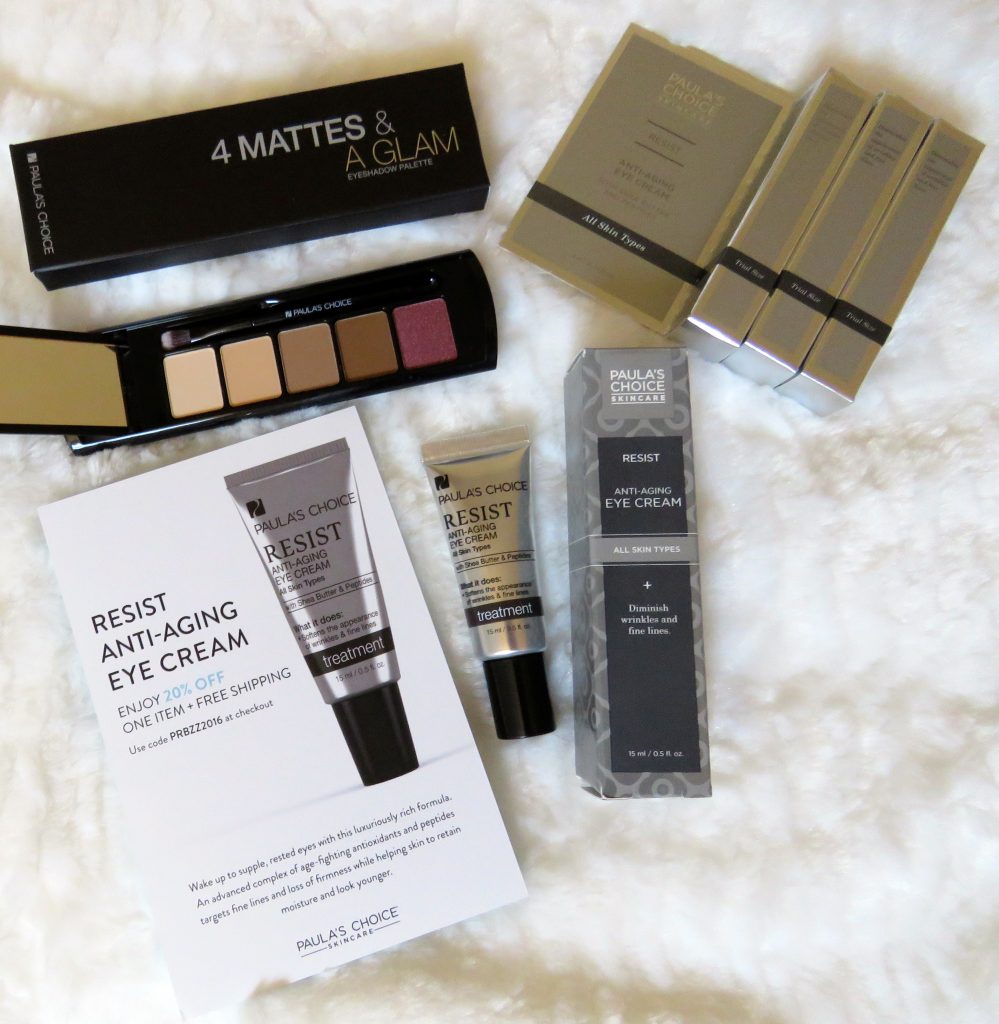 The package I received from BzzAgent.