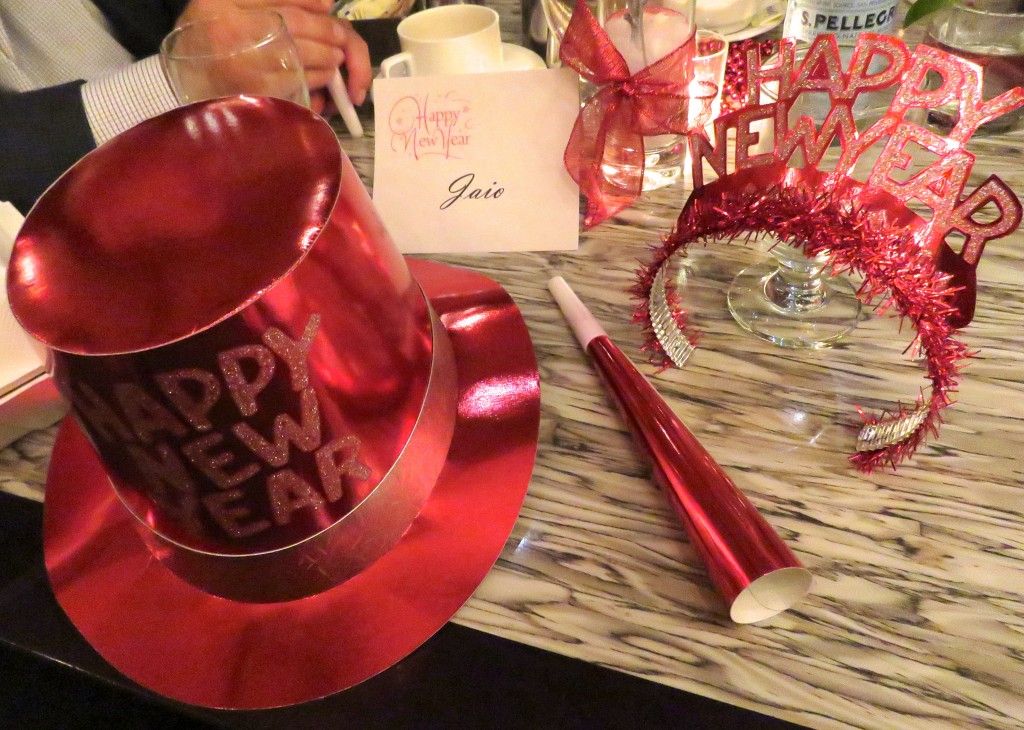 Happy New Year everyone! This year, the hubby and I decided to go out with friends for dinner and dancing on New Year's Eve. We have been married for close to five years and spent six New Year's together. This year, as I was doing some research on possible restaurant locations to hold the baby shower my sister will host for me, and I stumbled upon information regarding Humphreys Restaurant's New Year's Eve Celebration. I am familiar with Humphreys, but have never been to a concert there or had I been to the Restaurant. The past five year's, we had spent three of those New Year's Eve at our second home in San Francisco. We'd go out to dinner and one year we went to see the amazing display of fireworks by the bay. Last year, we were in San Diego for New Year's and had plans to go to a friend's party, but hubby got sick with a bad cold and we stayed home. The first New Year's Eve we spent together was in 2010, we went to Las Vegas with friends and my hubby proposed that night. It was one of the happiest and most exciting nights of my life! After he proposed, we went to see the KA Cirque Du Soleil show at the MGM, followed by a sushi dinner at Shibuya with friends, and then the fireworks show on the Las Vegas Strip. We had a wonderful evening!
When I was single, I used to go out for New Year's Eve every year. I've gone to the big parties at nightclubs, hotels with multiple djs and dance floors in every ballroom, parties with friends, even traveled out-of-town to celebrate New Year's Eve with friends or family. After we got married, the New Year's celebrations have consisted mostly of dinners out and have been more mellow. I have enjoyed them and am ok with scaling back a bit, since I attend multiple parties and we go out often throughout the year.
This year, I asked my hubby if we could go out for dinner and dancing to celebrate New Year's because this will be the last year it will be just him and I. Next year, we will have a baby. We are very excited about our pregnancy and feel blessed to be expecting a baby, but are also aware of the changes in our lifestyle this will bring.
We made a reservation at Humphreys Restaurant, for their Elegant Affair Celebration, and invited another couple to join us. We had a fun evening with friends! The package included a four course dinner, party favors, champagne toast, and dancing by the harbor lights to live music from Reggie Smith. Going out to Humphreys was a treat since the price was not inexpensive ($139 per person, plus tax & gratuity, & drinks were not included). The food was tasty and we enjoyed listening to the live music. The music and dance floor were in a private room adjacent to the Restaurant. Since we hadn't been to Humphreys before, we initially thought the band would be performing in the same dining room while we enjoyed dinner and we could watch them (and the dance floor), but this was not the case. The band was performing while we enjoyed dinner, but in the adjacent room, we did enjoy listening to the music and it worked out because this way we could carry on a conversation with our friends during dinner without the need to raise our voices. The server told us we could go dance between each dinner course, but we were enjoying the conversation and stayed at the table until close to midnight. Everyone in the Restaurant ended up on the dance floor for the New Year's countdown! We had a fun New Year's Eve out! Let's see what we decide to do next year for New Year's Eve! Lots will have to do with our little family (baby), I am certain 🙂
Below are some pictures from our New Year's Eve out! It was fun to celebrate with friends, wear the party favors & have a champagne toast (non-alcoholic in my case) at midnight!
Did you go out for New Year's Eve this year? If yes, where did you go? Do you have recommendations for fun New Year's Eve outings?

Hugs,
Paola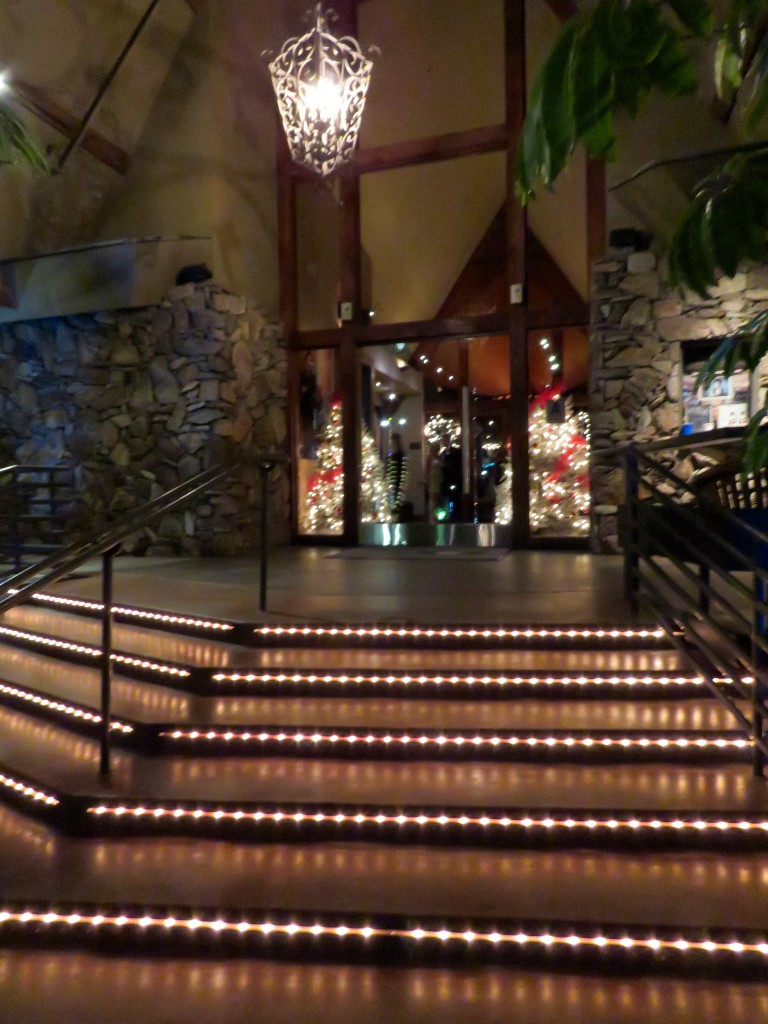 Arriving at Humphreys Restaurant.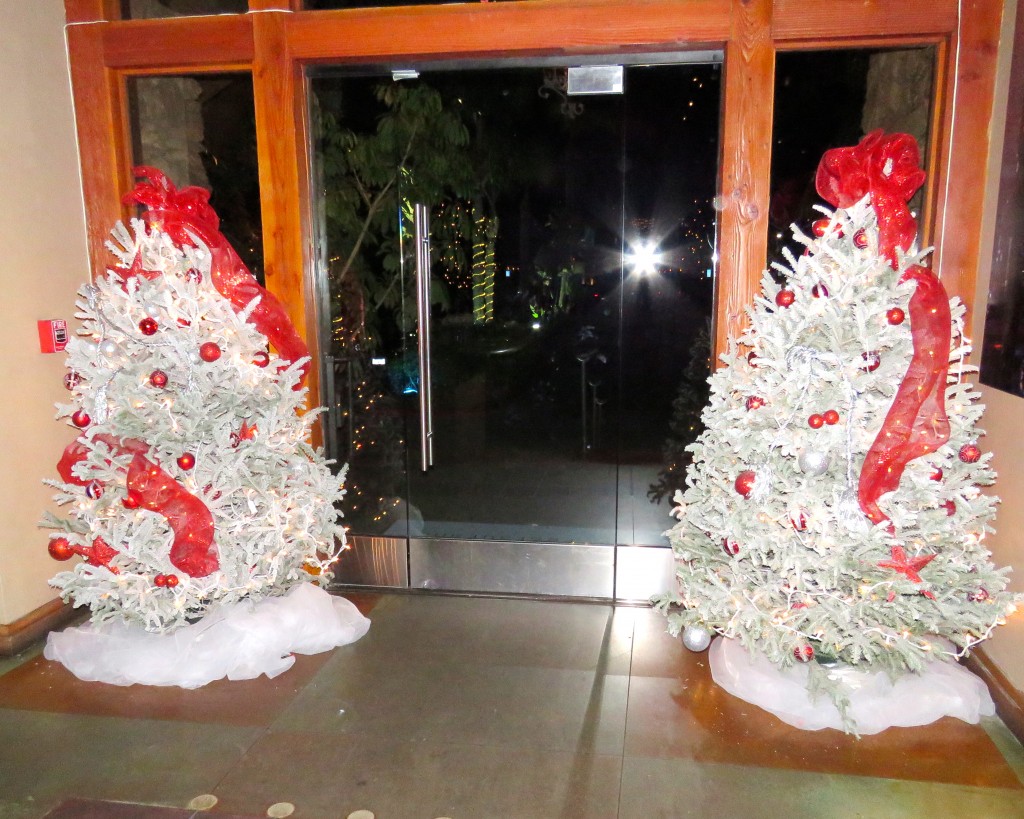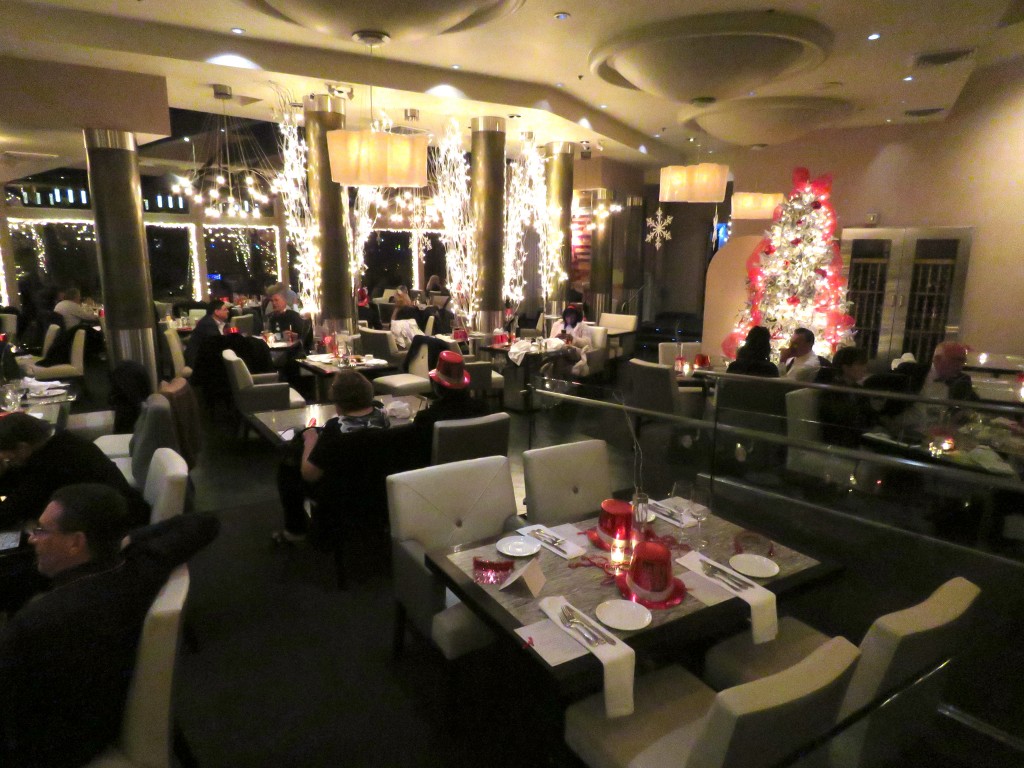 The Restaurant was decorated with holiday touches and a beautiful tree.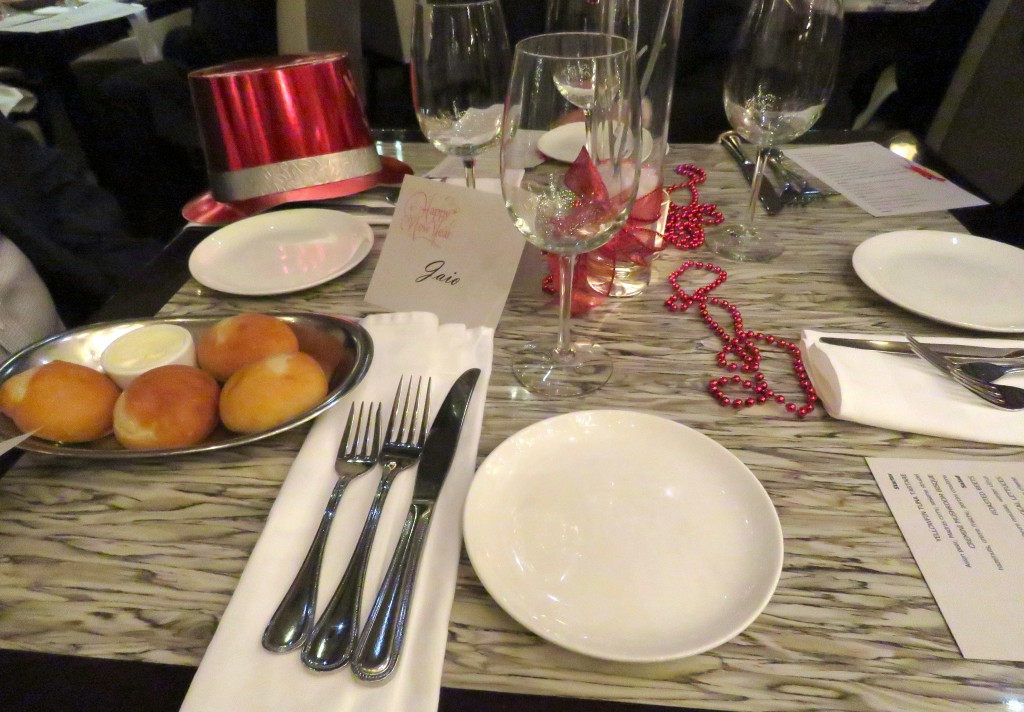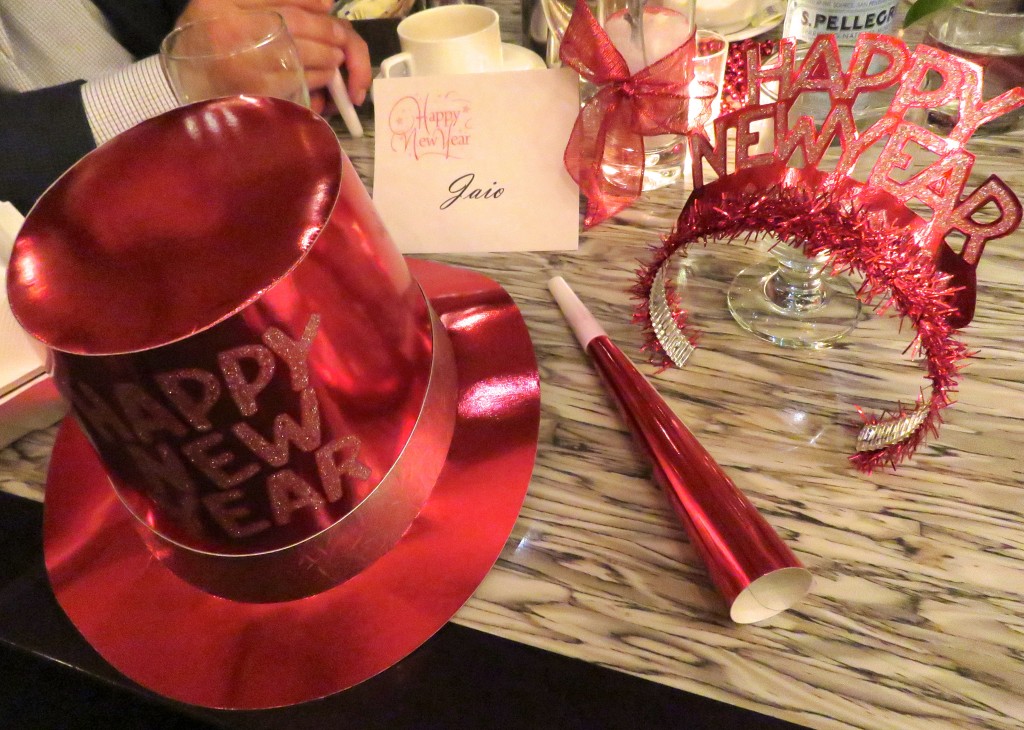 The party favors (in case you are wondering, our name was misspelled on the table card, it is Jiao, not Jaio 😉 ).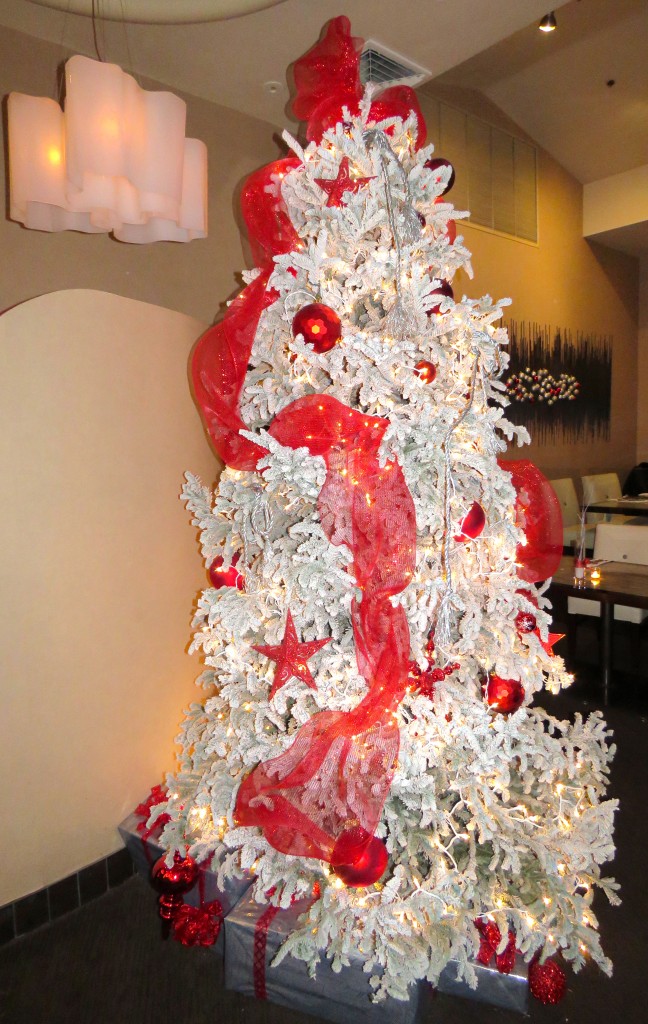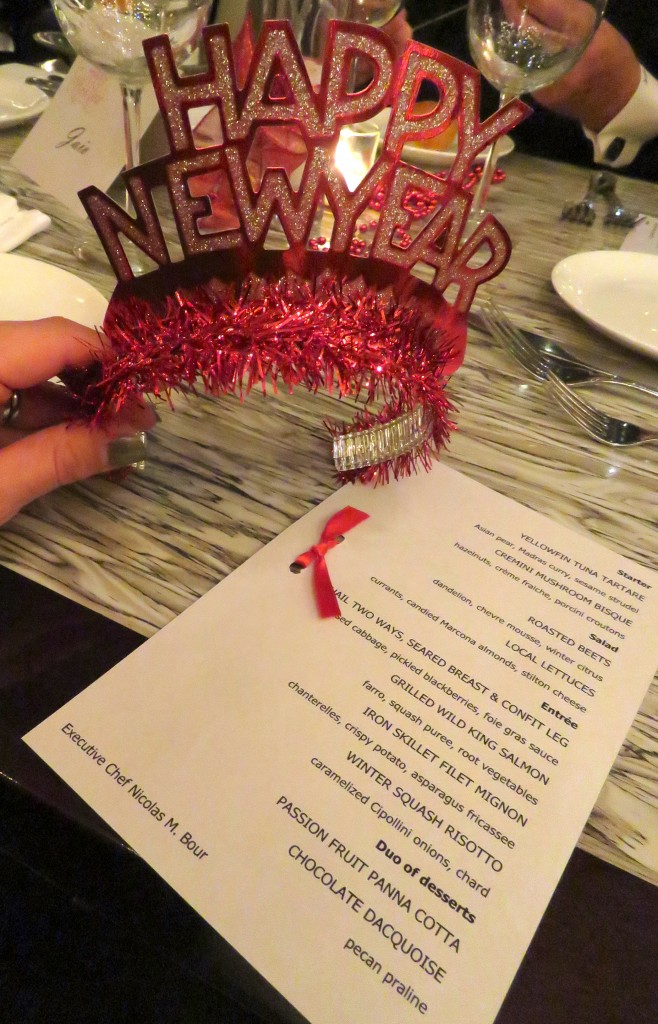 The menu.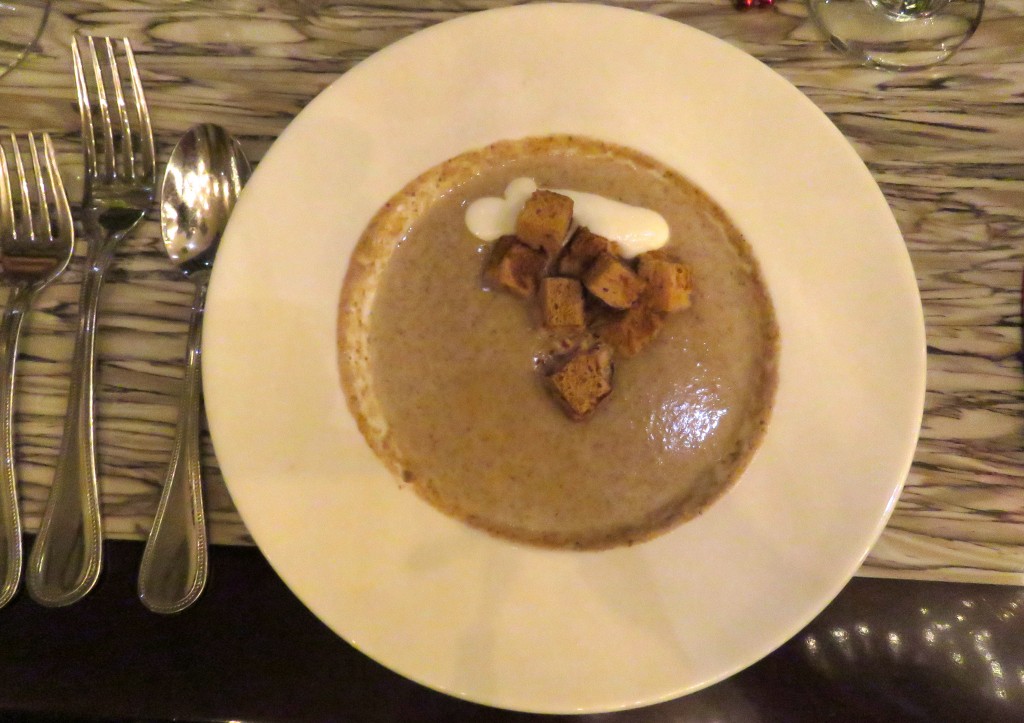 As a starter, hubby & I each had the Cremini Mushroom Bisque.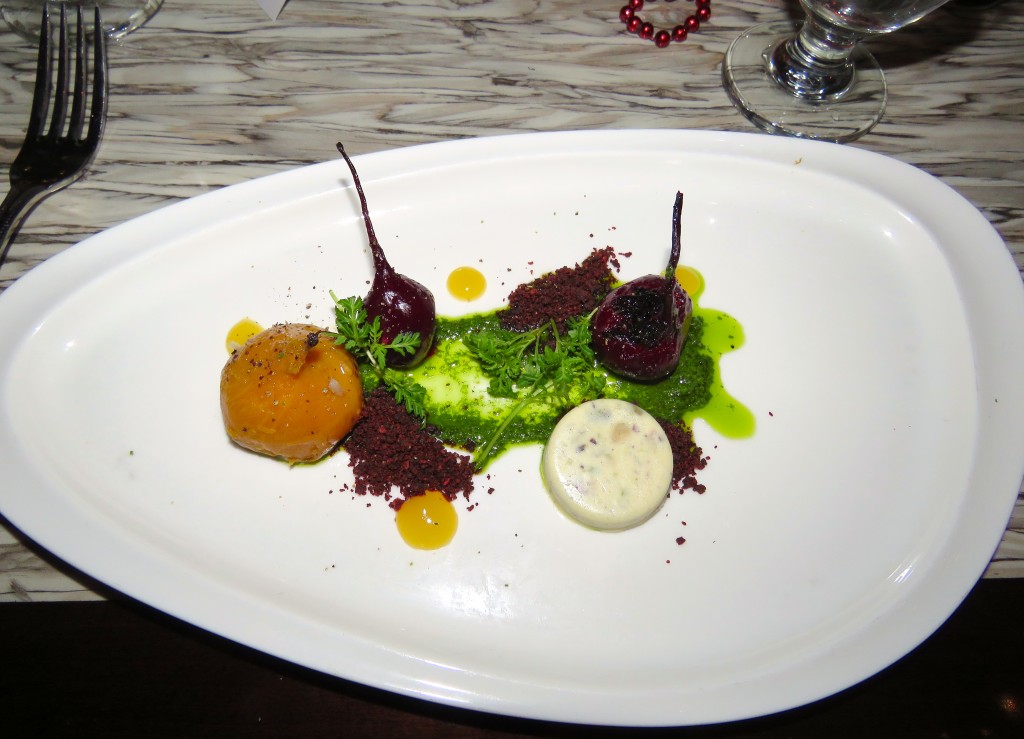 For my salad, I had the Roasted Beets.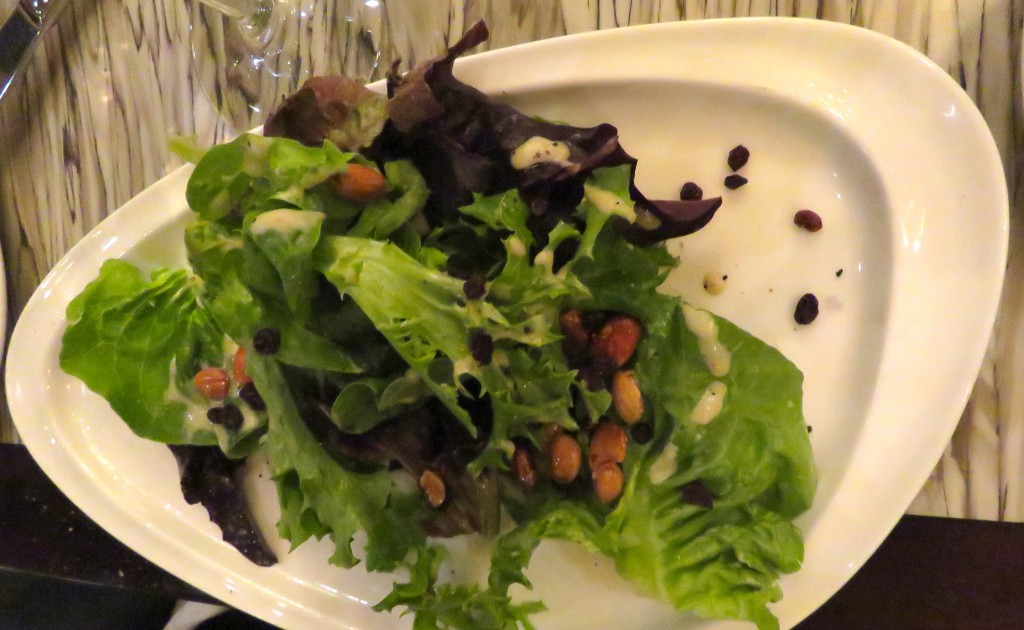 Hubby had the Local Lettuces (without cheese).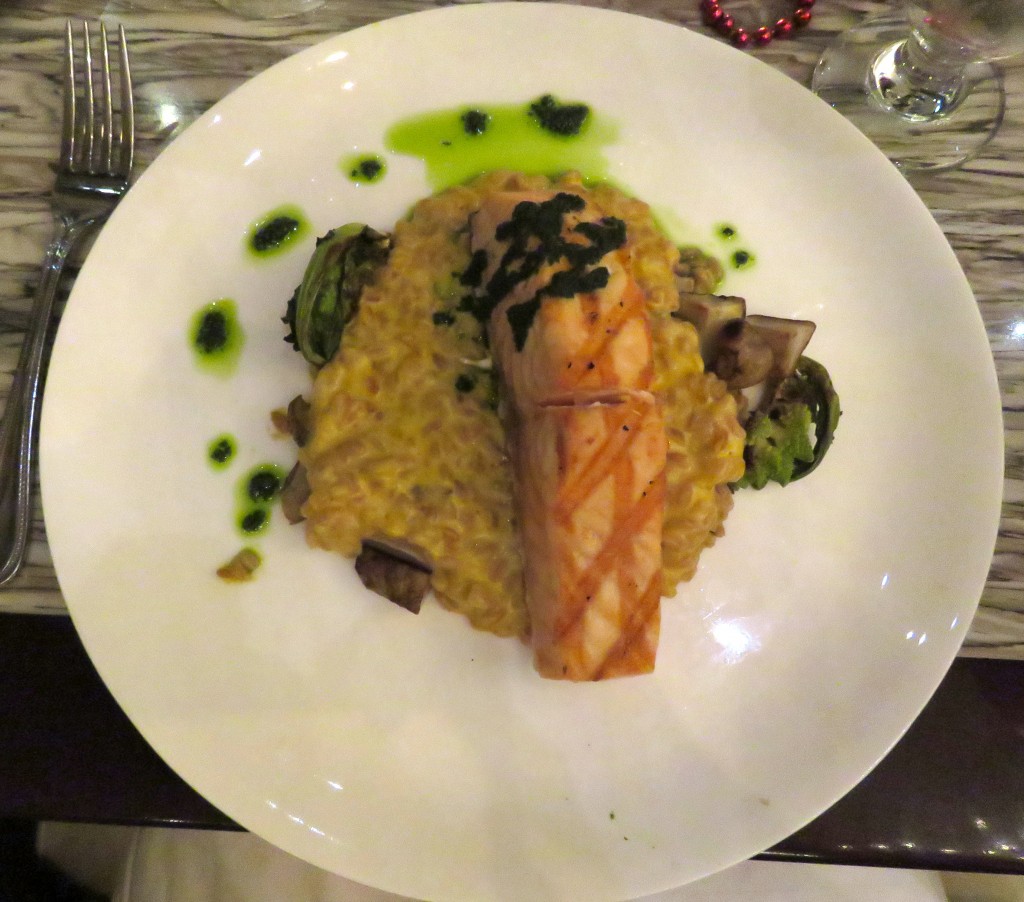 For my entree, I had the Grilled Wild King Salmon.
Hubby had the Iron Skillet Filet Mignon.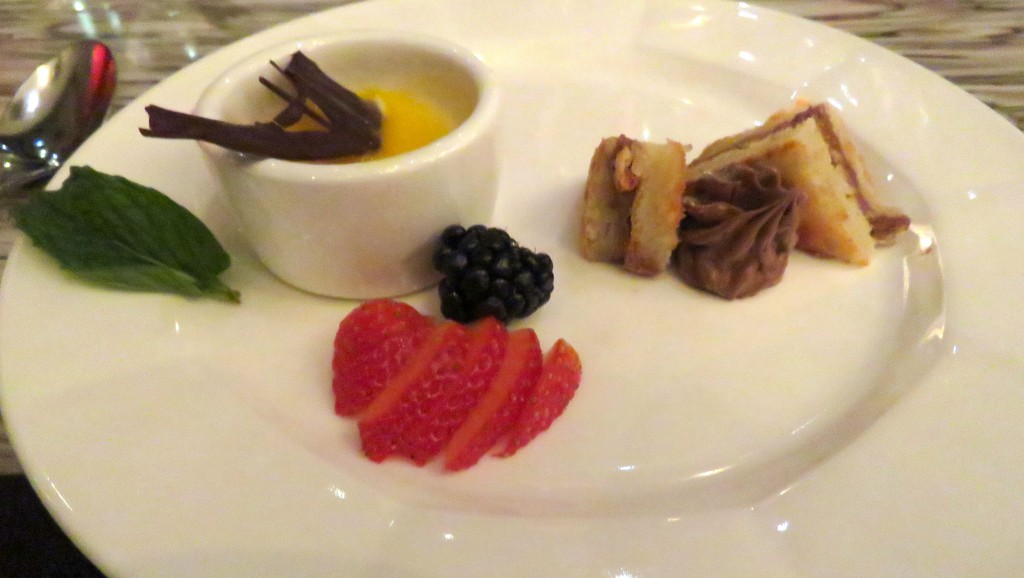 The Duo of Desserts was the same for all guests.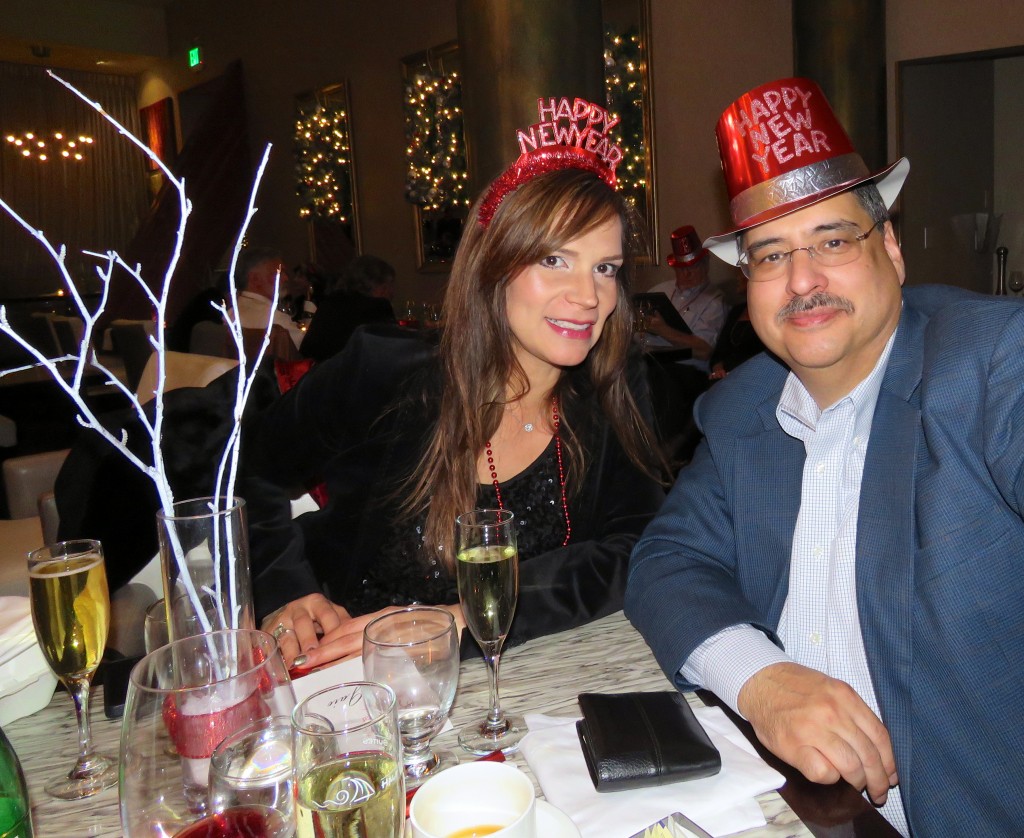 I was feeling festive & wore my New Year's Eve headband & beads all evening! My hubby put the hat on for the picture 🙂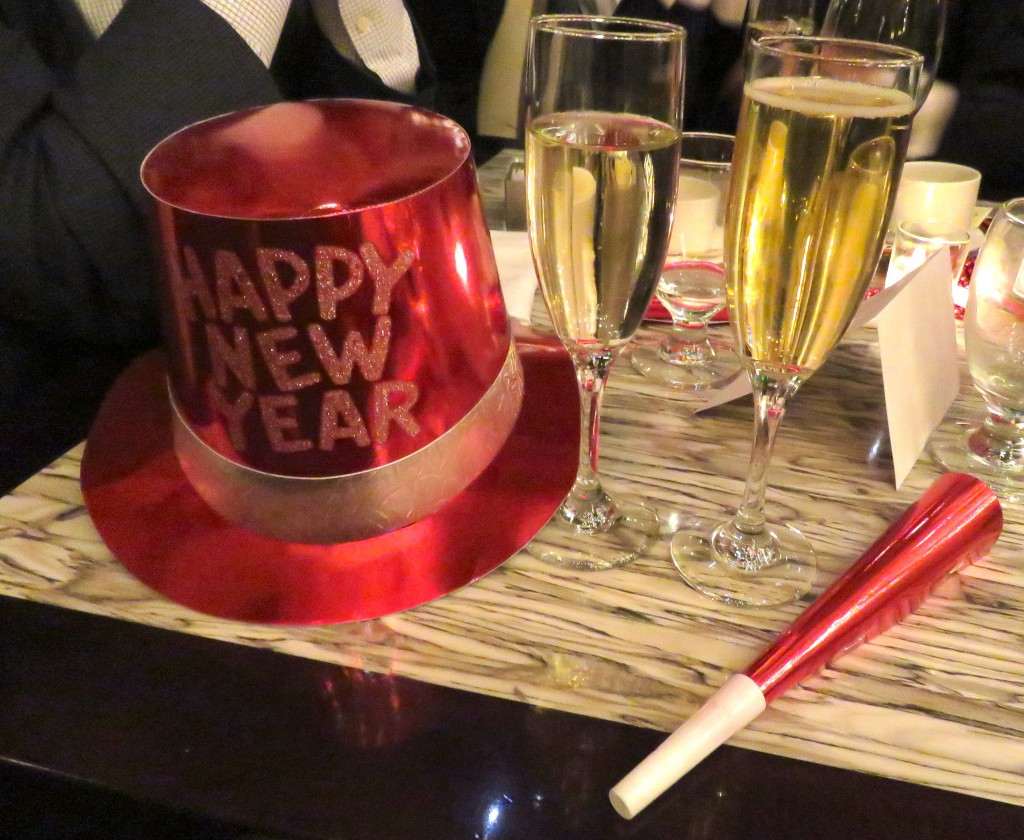 Getting ready for the Champagne Toast (mine was non-alcoholic)!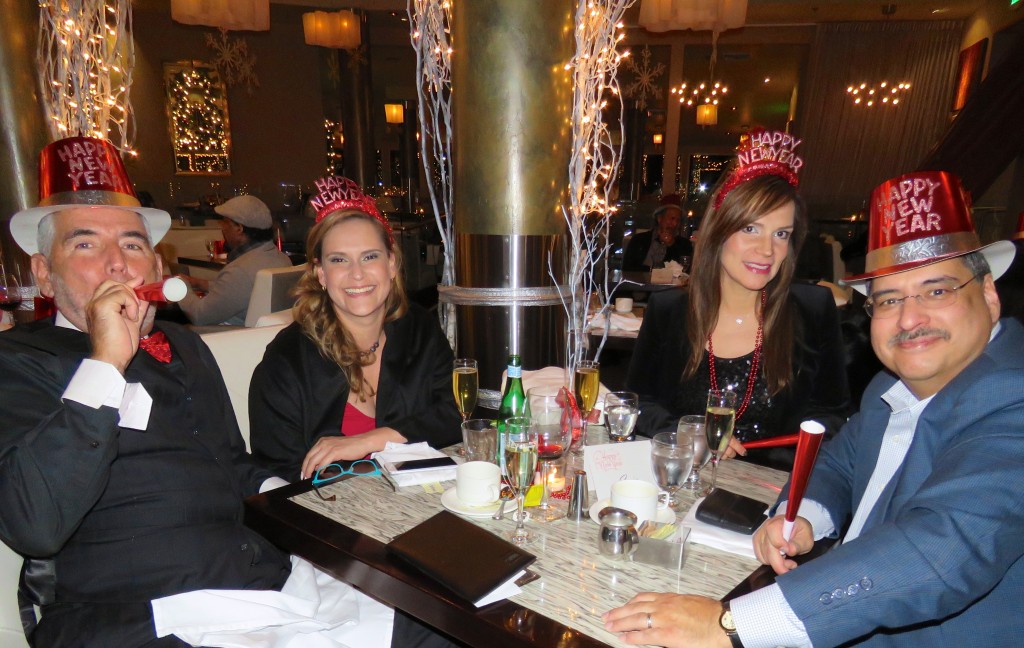 Minutes before heading to the dance floor for the New Year's countdown!
Reggie Smith & the band! They were quite good & got everyone dancing!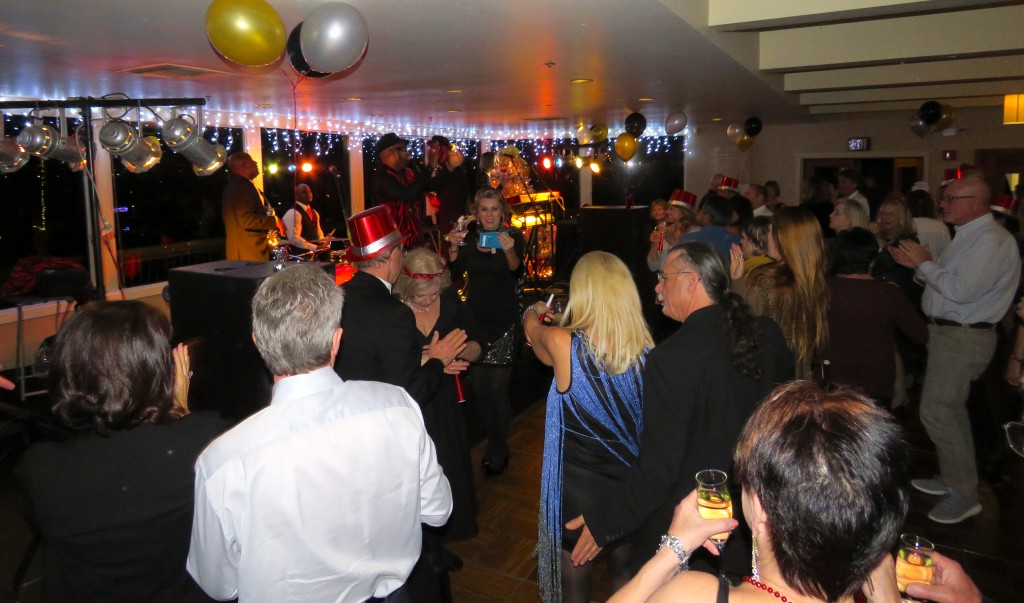 Dancing after the New Year's Eve countdown!