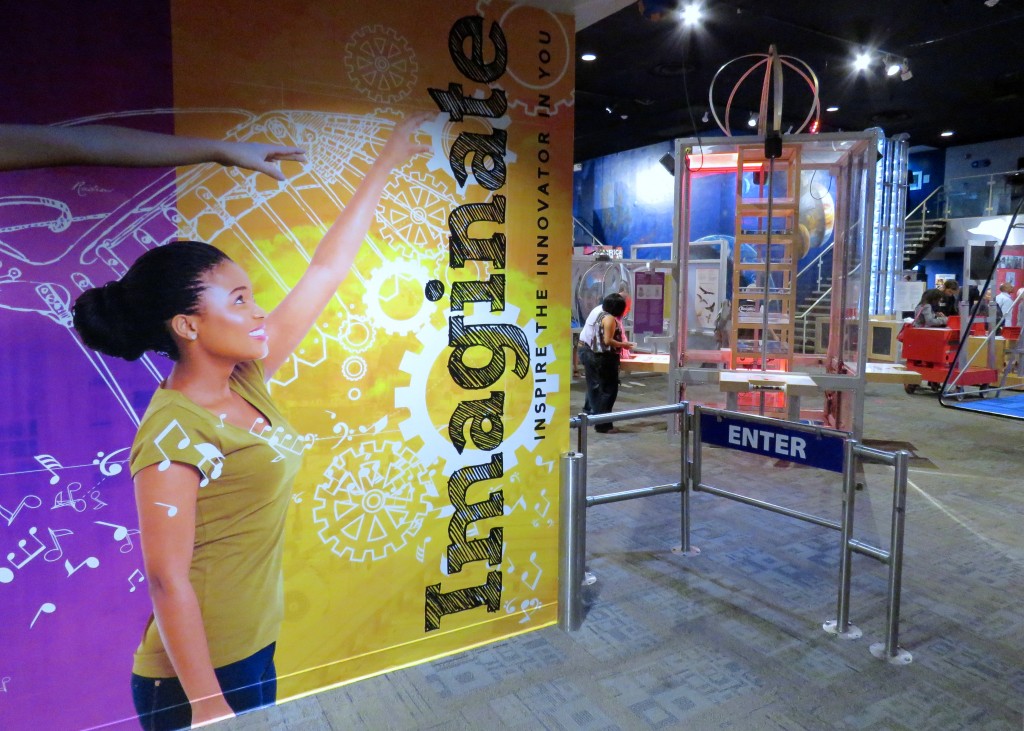 The Reuben H. Fleet Science Center is of my favorite museums to visit with my nieces and nephews! There are always interactive exhibits where the kids can not only play, but also learn! And, the adults play too! It is fun for the entire family! I recently attended the Opening Night for their new Imaginate interactive exhibit. Guests had the opportunity to check-out the exhibit and play! There was also music, food, and lots of fun activities!
Imaginate aims to inspire the innovator in everyone by making innovation fun. Visitors will have the opportunity to create, explore and test their ideas at the multiple activity tables. It was nice to see so many children (and adults!!) trying out the exhibits at the event…and having fun! The exhibit includes various sections, such as: Dream Big which researches how airplanes work, visitors can design their own little plane with friends and see which one will fly farther, faster, and straighter. Learn to Expect the Unexpected,  where visitors can make a pool of ferrofluid move by manipulating it with magnets. Collaborate or Compete, where attendees can create a musical composition on an interactive Sound Panel. Try, Try and Try Again, children can make their own Stop-Motion Animation video that tells a story. And lastly, Look to the World, where museum visitors learn about the innovations humans have developed over the millennia to grow food, transport water, and make shelters. It's all very interesting!
Imaginate runs until January 4, in the main exhibit gallery and is included with the cost of admission. The Reuben H. Fleet Science Center is located at Balboa Park in San Diego, California. For more details visit: Reuben H. Fleet Science Center.
Have you been to the Reuben H. Fleet Science Center? Do you have a favorite museum? Which one is it?

Hugs,
Paola
PS – Day At The Museum with my family and A Beautiful Stroll At Balboa Park 🙂