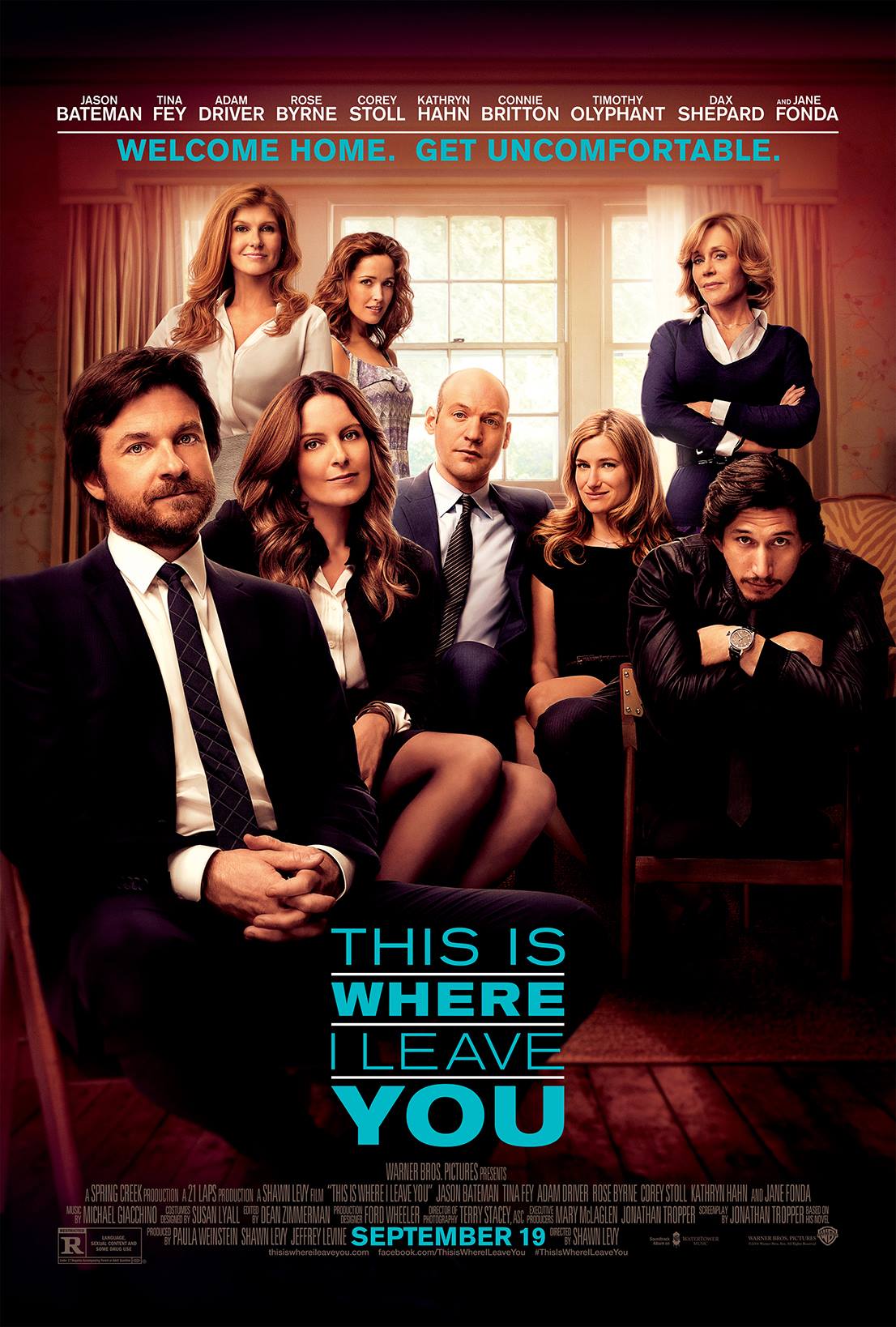 "This Is Where I Leave You" is one of those feel-good, dramatic comedy movies that you want to go see just from watching the commercial on television! I did! Then I watched the trailer on-line (watch it below) and was even more excited to see it!! First of all, the cast is an amazing star ensemble! I like Jason Bateman, had a crush on him when I was in  high school. Tina Fey is hilarious! And, respect goes to Jane Fonda for her talent, charisma, and successful career!
The movie is based on the hilarious best-selling novel by Jonathan Tropper. The storyline is based on four grown siblings, bruised by their adult lives, who are forced to return to their childhood home, with their mom, and live under the same roof together for a week, after their father passes away. There is an assortment of spouses and exes involved as well. The mother tends to over-share information and says those things our parents would say that may embarrass us in front of others.  The movie has many laugh out loud, hilarious moments and some touching one's as well! It reminds us that there is a special bond among siblings and no matter what, we can count on our family and they will always love us, unconditionally!
Coincidentally, my brother sent me a text the day after I saw the movie and I told him I had been thinking of him – because I saw a movie that reminded me of him 🙂
On of my favorite lines from the movie is from Jason Bateman's character, "Life is unpredictable and irrational, and complicated. And, I want a complicated life!" So true! We all try to live our lives in order, but at the end of the day, we can't control everything and life is complicated!
We left the movie smiling, and feeling warm and fuzzy!
You get more information regarding the movie, and theatre locations here:  This Is Where I Leave You. The film is rated R.
If you go see it, let me know what you think!
Hope you enjoy the movie as much as I did!
Hugs,
Paola
You can view the movie trailer here: