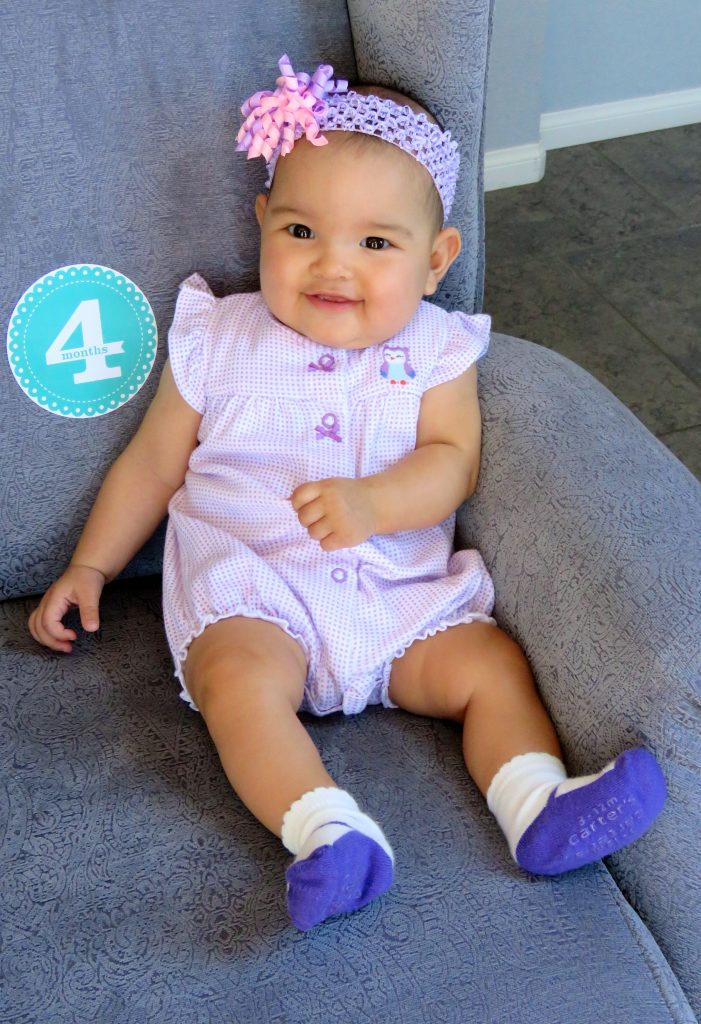 Our baby girl, Alessandra, turned four months….and before I knew it or had time to write about it, she turned five months! These past two months have included four trips, our baby's first time in a pool, and
we had a fun-filled summer! Here's our update:
Our fourth and fifth month together: With each month, parenting seems to be getting easier, or perhaps I should say less challenging and exhausting. She continues to sleep through the night and does not seem to be a light sleeper. Many parents tell me that is such a good fortune. Several friends and family members have shared stories about how their children never slept through the night for the first few years! Yes, years! That must be exhausting! Others told me their children were very light sleepers and even the slightest noise would wake them up. Early on I read about babies sleeping in a parenting book, and my mom also gave me the same advice, it (she) said to let the baby get used to some mild noise early on (such as having the television on or having a conversation), even when taking a nap. Otherwise, the baby would get used to having complete silence when she slept and it would be very hard for her to remain asleep for any long period of time.
The book also suggested we use noise making machines which resembled the noises the baby heard in the womb. Luckily, the Mama Roo chair we used to put the baby to sleep during the day included noises. We also have a stuffed owl (animal) which makes these sounds and plays music. We used the Mama Roo chair probably until the beginning of her fourth month, then she started to fall asleep better on her own and to roll around, so we stopped using it. I still use the stuffed owl to play her music occasionally when I put her down in her crib in the nursery for her nap.
Parenting is also, in a way,  more fun now. the first few months she slept lots, ate, and pooped. That was pretty much it. Now she is much more interactive and expressive! This makes our days together so much more fun! For the most part, I am getting seven to eight hours of sleep every night and this also makes for a much, much happier mom! I know I get cranky when I am tired…I even wrote about the benefits of sleep in this and this blog post.                  
Physical Changes: She has grown, grown, & grown! Since birth she has always been in the seventy to ninety percentile for length. She has been in the forties to fifties in weight, and one time dropped lower, which is when we introduced formula to supplement with breastfeeding. Thank God, she has been a healthy baby! She is also a happy baby! Some friends and family tell me she is a well-behaved baby. I read that babies are born with their own individual temperament and parents can work (through discipline) with that temperament, but overall it does not change. My reply to these parents' comments is usually, "Yes, we got lucky, she is well-behaved and a happy baby, thus far." I know as she goes through different stages of growth, her level of fussiness or irritability may change. Hopefully, her overall temperament will remain the same and she will continue to be a happy child and grow to be an adult with happiness in her life.
The three biggest physical changes these past two months are teething, rolling around, and playing on her own. She got her first tooth! So cute! She was a little fussy, but I massage her gums a few times per day and that seems to help. We also bought her some homeopathic pills and an ointment which help with teething pains. The pills are tiny and immediately melt in her mouth. I seldom use the ointment because I read it can numb the gums too much and babies can hurt themselves when chewing down too hard on toys or teethers. We also got her some teethers and toys she can chew on. She doesn't like to bite on cold teethers, so we stopped cooling these in the refrigerator. She no longer seems to like the pacifier. So, we no longer give it to her, this will be a good thing because we won't have to struggle with weaning her off of it later on. The first few days of teething were tough because she wasn't napping well and she would moan with a sound of irritability. It broke my heart. Several friends and family members had recommended we buy her an amber necklace. I did some research and could not find any medical evidence to how it helped. But, after a few days of seeing our baby irritable, I broke down and we ordered the necklace on Amazon. The amber is supposed to help by reducing inflammation and making the baby feel relaxed. I don't know if it is scientifically true, but it seems to be working! Many moms swear by it too! The necklace we purchased had more than two thousand positive reviews. She has been wearing the necklace for a few weeks and it has made a difference. During the day she wears it only while she is awake and we are watching her. I remove it for naps. At night, we put it on her leg as an ankle bracelet (loosely wrapped twice) under her pajama with footies. We are very careful to not leave her unattended while she is wearing the necklace.
She now rolls around and it is her way to get moving. She reaches for her toys and rolls around or pushes herself towards them. She has also learned to play with her toys on her own. She can spend a good amount of time playing. We will place her in her play pen or activity gym mat with a few toys and she entertains herself. I am not a big fan of buying a ton of toys for children, especially at this young age. I prefer to buy a few toys, mostly educational toys which will help with her development and toys she can use her imagination with while playing. I did some research and bought her a few toys which will help with her development. The most useful toys have been the following ones. For the trip & outings, I bought a butterfly which hangs from the stroller, it has a teether, the wings make foil noise, it has a mirror, rattle, and tags. Children love to bite the tags and look at themselves in the mirror. That butterfly is perfect! It is pretty much the only toy I take with us for outings and when we go for walks in the stroller. She can entertain herself for a good amount of time with it. I got the idea for this butterfly from a smaller version my friend Veronica gave Alessandra as a gift before she was born. She loves that little butterfly. The one I brought her is larger and has a few more development benefits. I also bought soft and cuddly elephant which has tags all over it. A small Einstein musical toy which lights up. And, a medium size cube with six sides of activities, music, and lights. She really likes the cube! I may write a blog post about the toys we have bought her and the one's which were passed on from my sister, and which one's she uses the most and have helped her development and motor skills. We still read to her and play with her. But, it is fun to watch how she pays on her own.
Motherhood Challenge: I am continuing to breastfeed, but am no longer as stressed about it as I used to be. I used to put lots of pressure on myself to try to breastfeed exclusively. Now that we have been supplementing with formula these past two months, I have accepted it and gotten used to it. Our baby is growing and healthy and this is the most important thing. I breastfeed her several times throughout the day. My challenge has been trying to keep up the breastfeeding schedule when we are out of the house or during our trips. What I do now is either pump before we leave and on a few occasions when we get home late and Alessandra is in a deep sleep, I have had to pump when we get home to avoid the pain of engorgement. I also try not to let too many hours pass between breastfeeding or pumping for fear that my milk may dry up.
The other challenge has been losing the pregnancy weight. I seem to have plateaued at seven pounds more than my pre-pregnancy weight (I was ten pounds above my ideal weight when I got pregnant).  I do not feel like myself, nor am I happy at this weight. I don't feel fat or extremely overweight, I just feel thicker and still have a small belly. I am used to having a small waist and flat stomach. I know there are more important things than weight, but for me being at my regular weight makes me feel better physically and emotionally. I know I will lose the weight, I just need to exercise more often. I can't go to the gym because Alessandra is still too young for the daycare they provide on-site. Some people have suggested I leave the baby at home with my husband in the evenings and go to the gym. I have done that a few times, but spending time with my husband and as a family is important to me. If I leave for the gym when he arrives in the evening, it will cut into the time we get to spend together. I also know he is tired from his workday when he gets home and it is easier to take care of the baby when we are both home, than if I asked him to take care of her on his own for a few hours multiple evenings per week. I know I can go for walks with her on the stroller, which I continue to do two to three times per week. The days just fly by and I am busy all day long, so unless I have plans with someone to go for a walk, like my exercise buddy Lorena (see picture here), I simply won't go on my own because I have so many other things which need to get done. I have tried exercising at home to videos, such as Zumba (see post here), and this may be the best way to go for the next few months. I know I will lose the weight, I just get frustrated when I try on my skinny jeans or pencil skirts and they are still too tight. I am trying to stay positive and be thankful that I am healthy, and so is our baby. Plus, it is only a few pounds. I think I would feel even more challenged if it were a larger amounts of pounds I wanted to lose. I know many women struggle with their weight, as I have my entire life. For me, is not only about vanity, it is about feeling better and being healthy.
Outings: These past two months included many exciting outings! Locally we went to the San Diego Zoo and took her to the pool with family (see pictures below). We have taken her to many restaurants since she was born, but these past two months we took her to several fancier restaurants (during our trips) and she behaved very-well. The big outings were the trips! Major steps for us, especially because they involved long flights!
If you read my bog often, you know I like to travel. We were supposed to go to San Francisco for my birthday, but I decided to postpone the trip until the baby was older because we were going to fly and she seemed so small at three months and vulnerable to catching something. Now, she's gotten more of her shots and her immune system is even stronger. Our first road trip was to Los Angeles. My hubby and I went together and I rode in the back seat with Alessandra. It was a smooth trip, except for the poop accident she had from sitting for a long period of time in her car seat. I ended up having to wash her, her clothes, and the car seat insert when we arrived. On the way back we stopped for a diaper change, and later for some lunch and shopping in Carlsbad, where I changed her again.
The second road trip was to visit my family in the Imperial Valley, a two-hour drive. This time it was just the baby and me. I planned and prepared for several days ahead of time. I was a bit nervous and later realized there was no need for me to worry so much. It all worked out and the baby was fine. We stayed at my grandmother's house and visited for a few days. It was wonderful to see Alessandra spending time with my mom and grandmother, as well as aunts, uncles, and cousins. I took only the essentials, which included formula and bottled water, the playpen (which she slept in), lots of diapers, a few toys, her organic shampoo/body wash, and her clothes. My mom and grandmother joked that I used to arrive with one small bag (for myself) and now I had to make several trips to the garage to pack the car up when we left. I may write a blog post in the future about how I pack for travel. I am still pretty practical and a minimalist when it comes to packing, but with Alessandra I probably pack more clothes and accessories (shoes, bows, bibs), than I do for myself. We also went to Las Vegas and Germany! These were Alessandra's first domestic and international flights. She is a good traveler! She was a trooper on both trips and made it easy for us to travel with her. This encourages me to want to continue traveling often! I took pictures on both trips and will post them soon. Here's a picture of Alessandra at the airport in Frankfurt, Germany.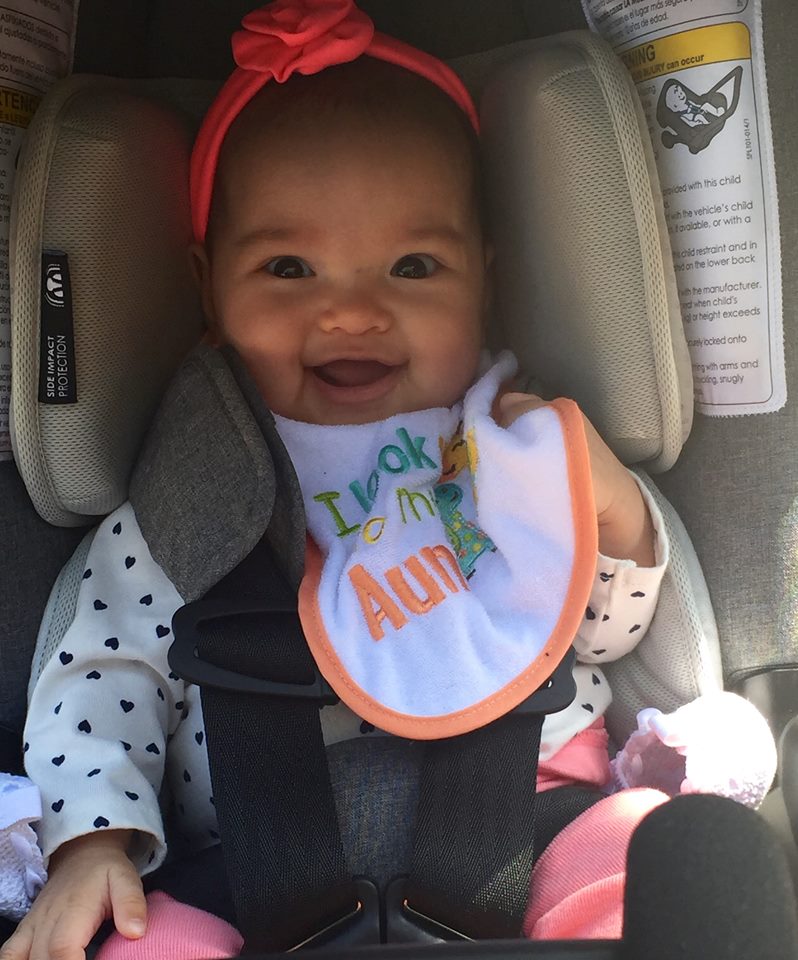 Visit to the San Diego Zoo with my brother's family, sister & nephews.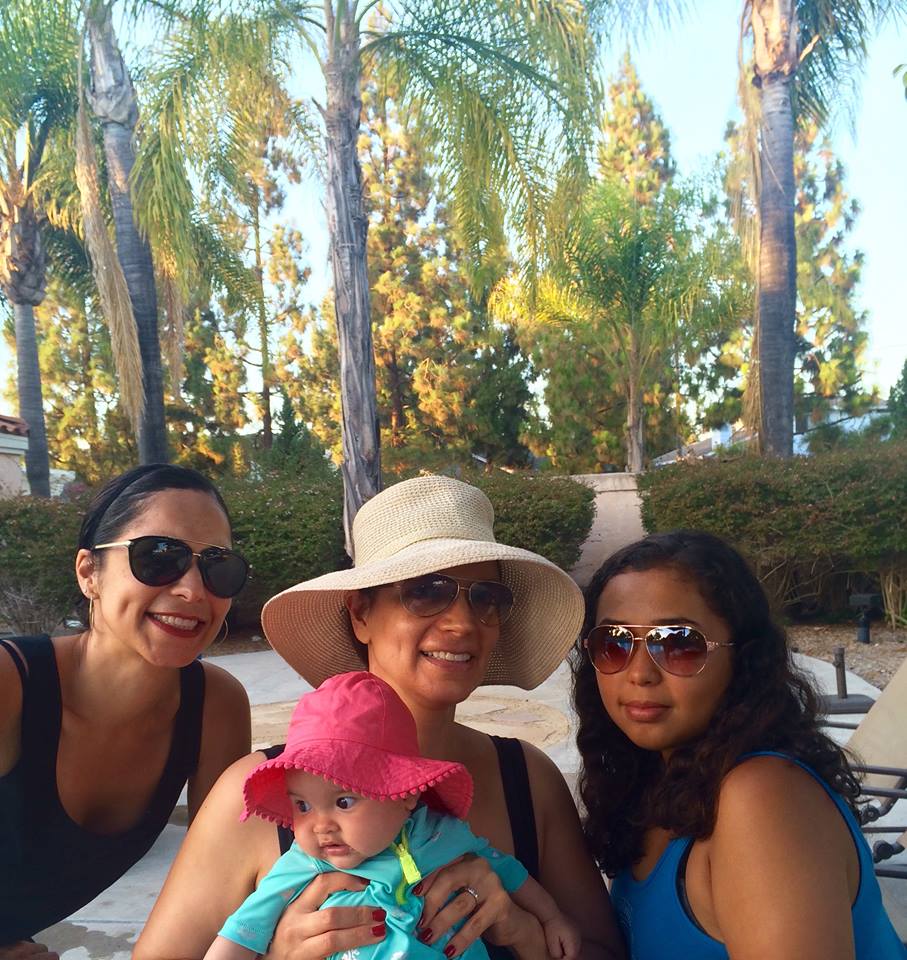 First time at the pool, with my sister and niece.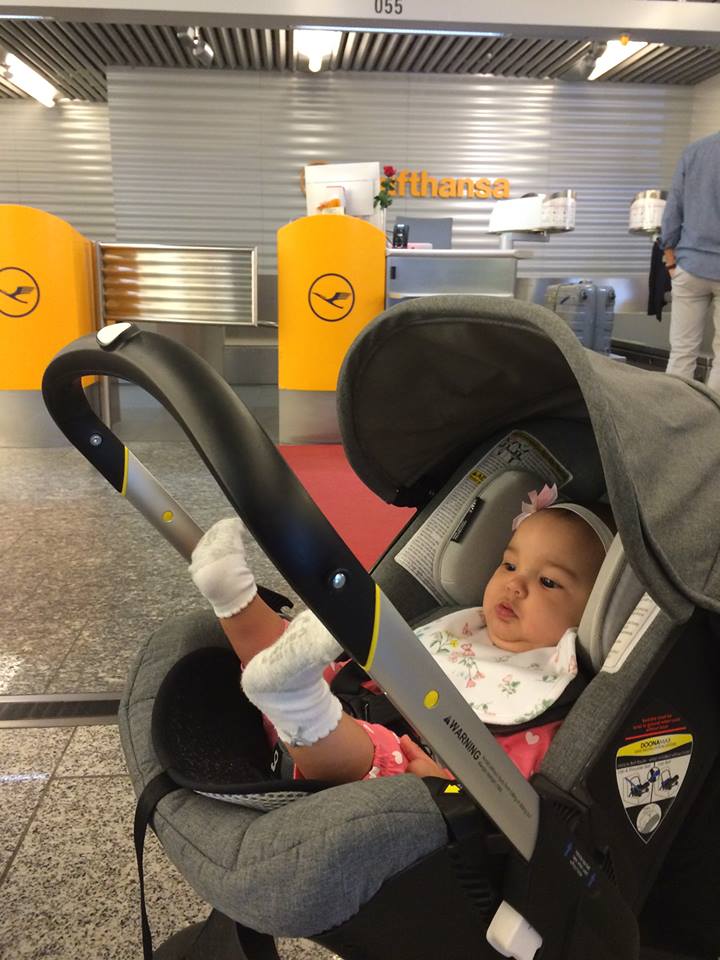 At the Frankfurt Airport in Germany.
Favorite Outfit: Since this post covers two months, I get to choose two outfits. Rompers and her yellow dress with bloomers. My friend Lizeth gave her two adorable rompers, one red with white, the other purple with white (wearing in four-month picture). These are not only cute, they are also practical and light! They were perfect for the warm summer we had. These are probably the clothing items which she wore most often during the summer. I even packed the red one for our trips to Los Angeles (see picture here), Imperial Valley, Las Vegas, and it made the trek with us all the way to Germany. I think the Germany trip was the last time she will be able to wear these rompers as she has now outgrown them. The yellow dress (wearing in five month picture) was a gift from my sister-in-law and nieces. Yellow seems to look good on our baby. It is such a cheerful color! I loved the polka dots and little bloomers. It is also a light dress and does not require ironing (I do not like to iron). She wore it multiple times throughout the summer. And you guessed it, this dress also made the list for our trips to the Imperial Valley, Las Vegas (pictured below), and Germany. The dress still fits her, so I am going to try to put it on her a few more times while the weather is still warm.                 
Favorite Motherhood Moment: There are so many! Right now, I am really enjoying making her giggle. She has begun to laugh and likes it when I kiss her in a playful way on her neck. She starts to giggle and let's out a few high-pitched sounds. Hearing her laugh is contagious! Sharing these special moments of pure joy with her are memories which will remain in my heart forever.
What were your favorite moments as a new parent? And your challenges?

Hugs,
Paola
PS – In case you missed it, Alessandra's first, second, and third month updates, and see more pictures of our everyday life on my Instagram (@paolahernandezjiao) and Facebook pages.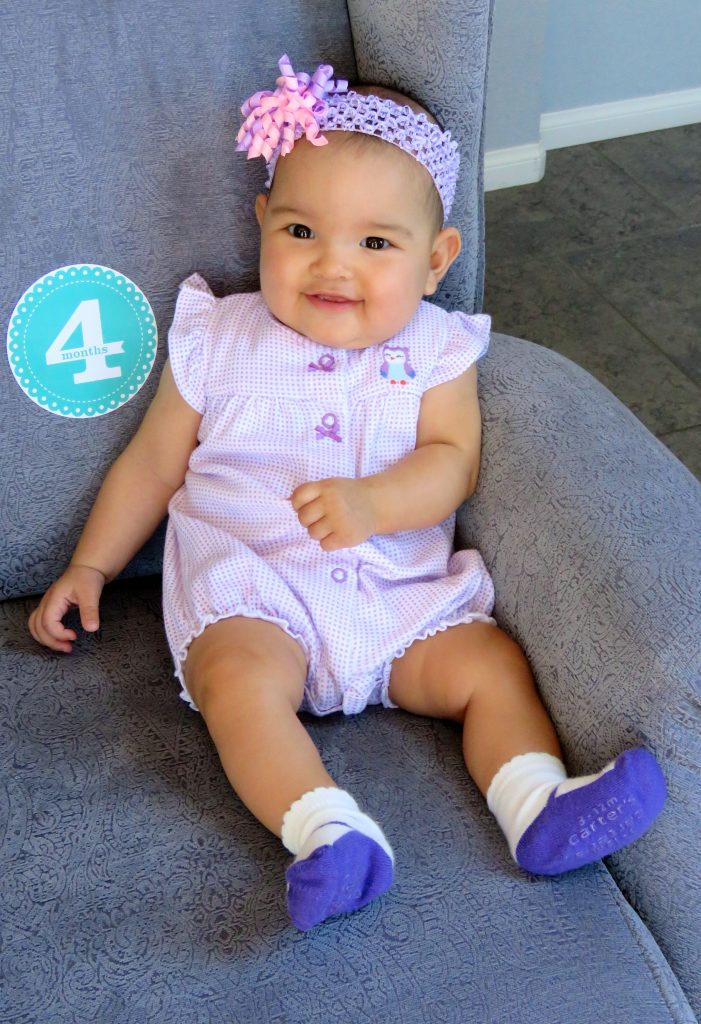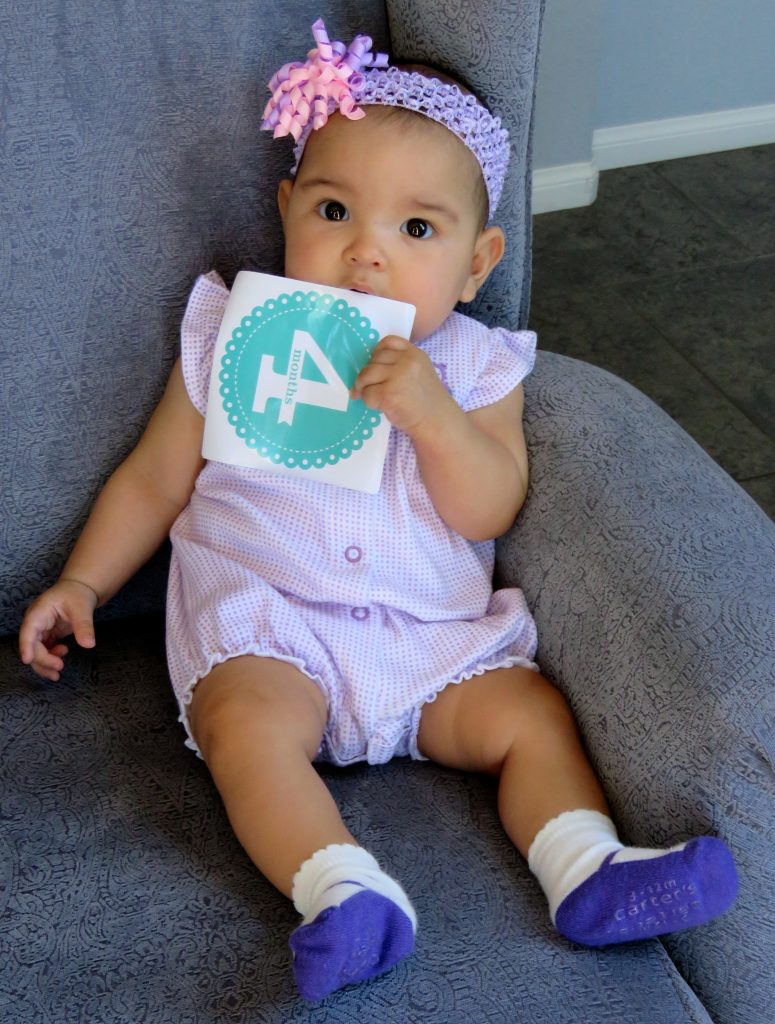 Sometimes, it is not easy to get her picture on the first try, even when my hubby helps me take it. Like here, she puts everything in her mouth right now and she kept biting the number, too cute!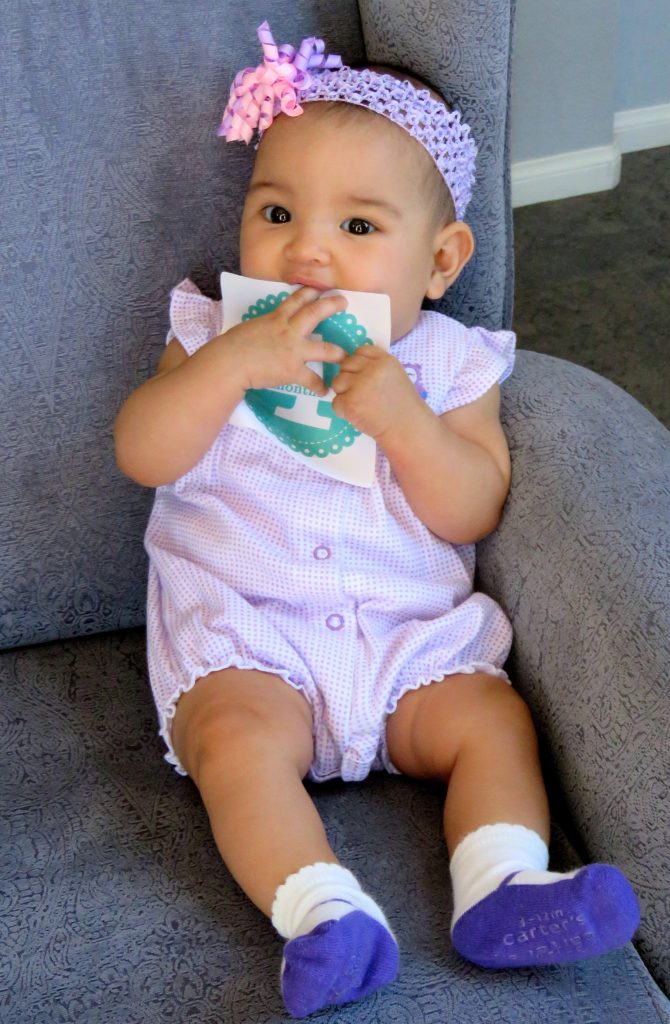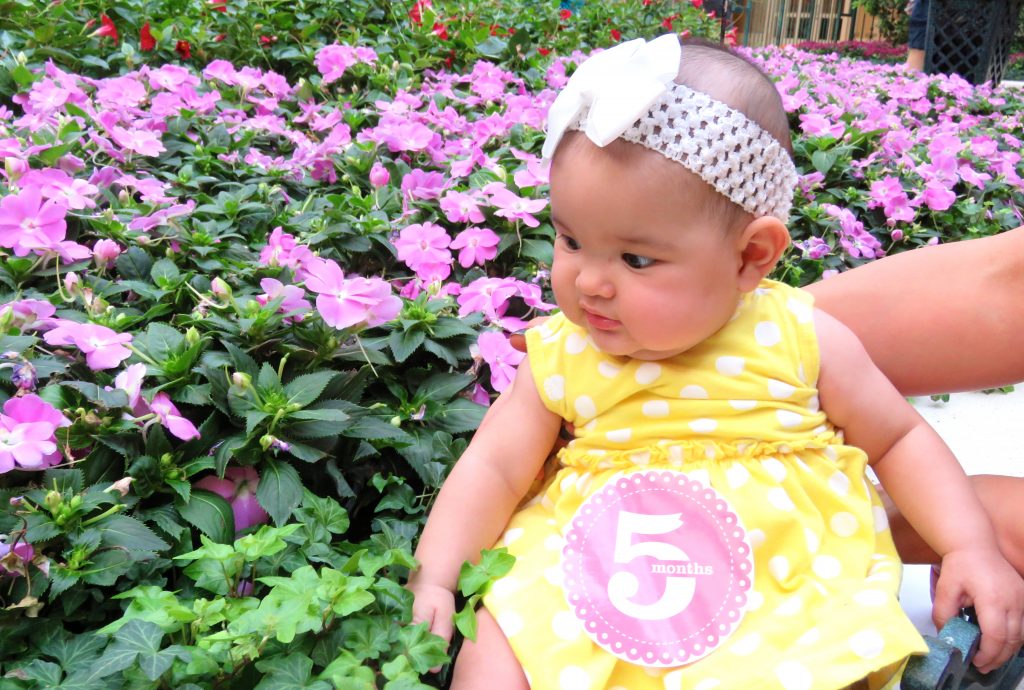 My friend Rosa helped me take Alessandra's five month picture in Las Vegas. We tried to take it at the Bellagio with flowers in the background, but she seemed so mesmerized with the flowers that she did not look at the camera.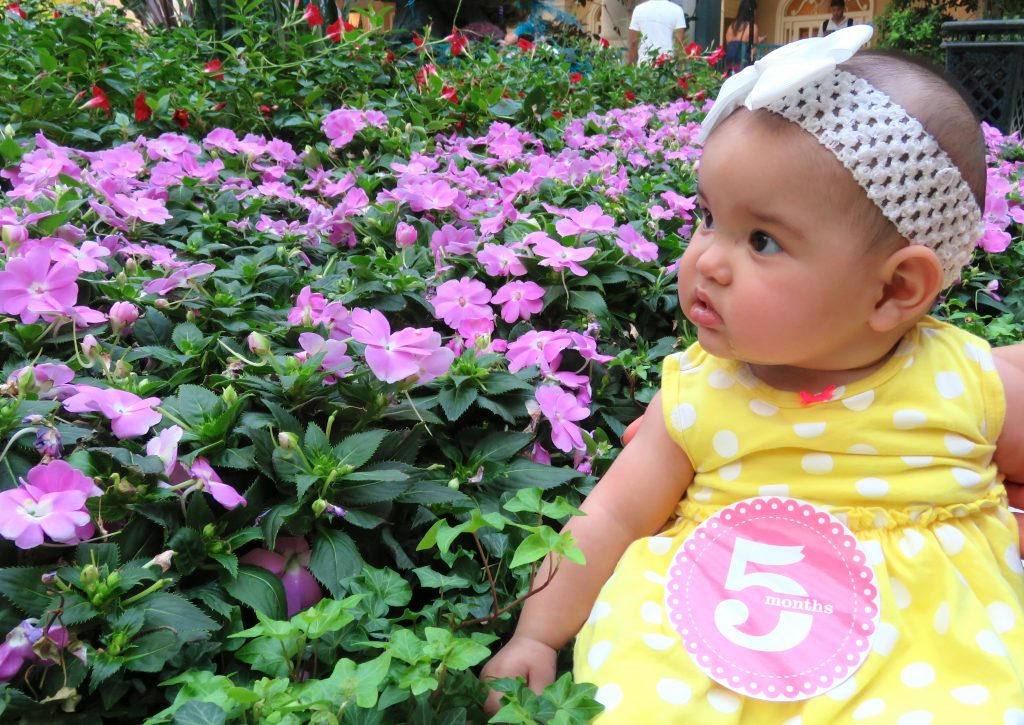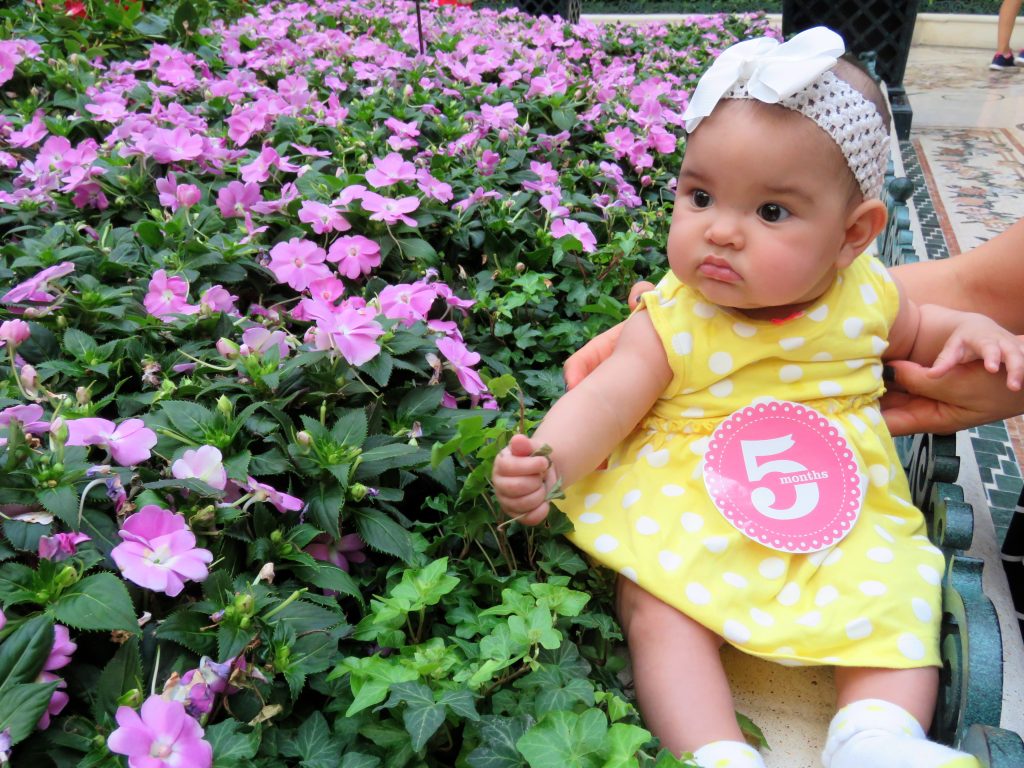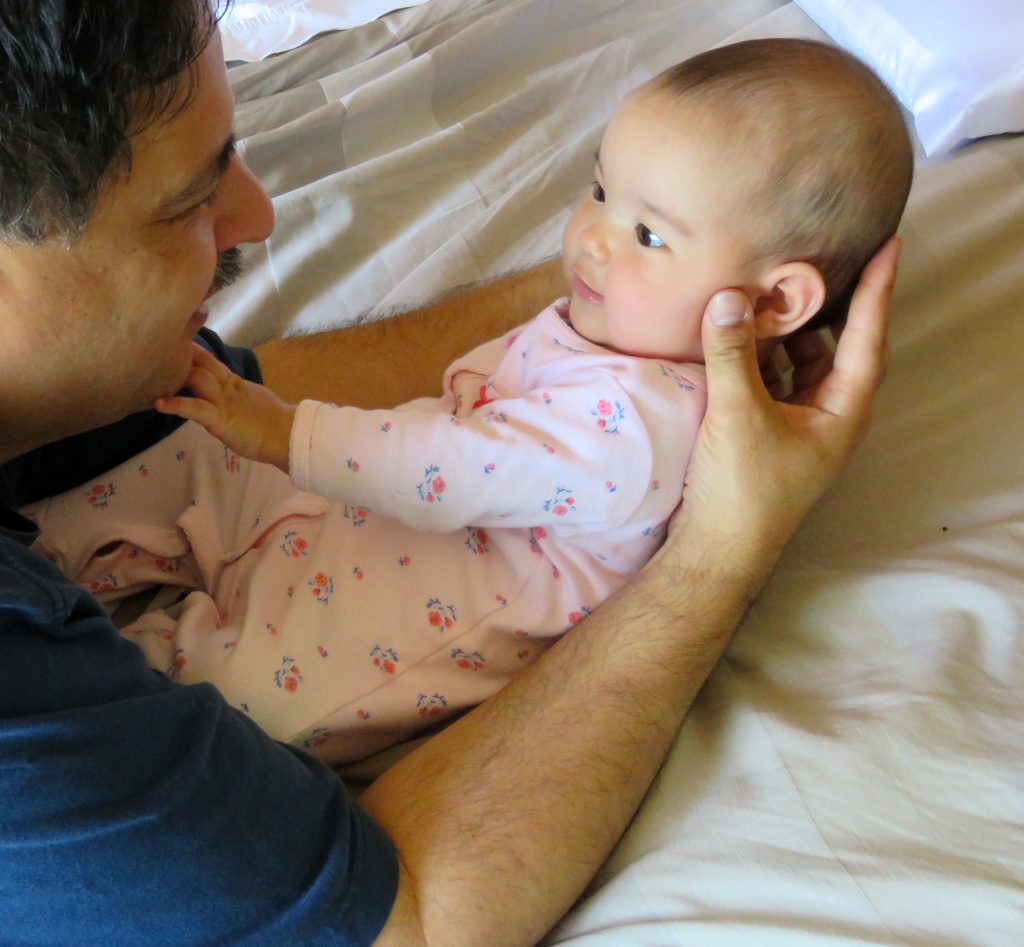 Daddy plays with her every morning and speaks to her in German. It warms my heart to see how he likes to spend time with our daughter.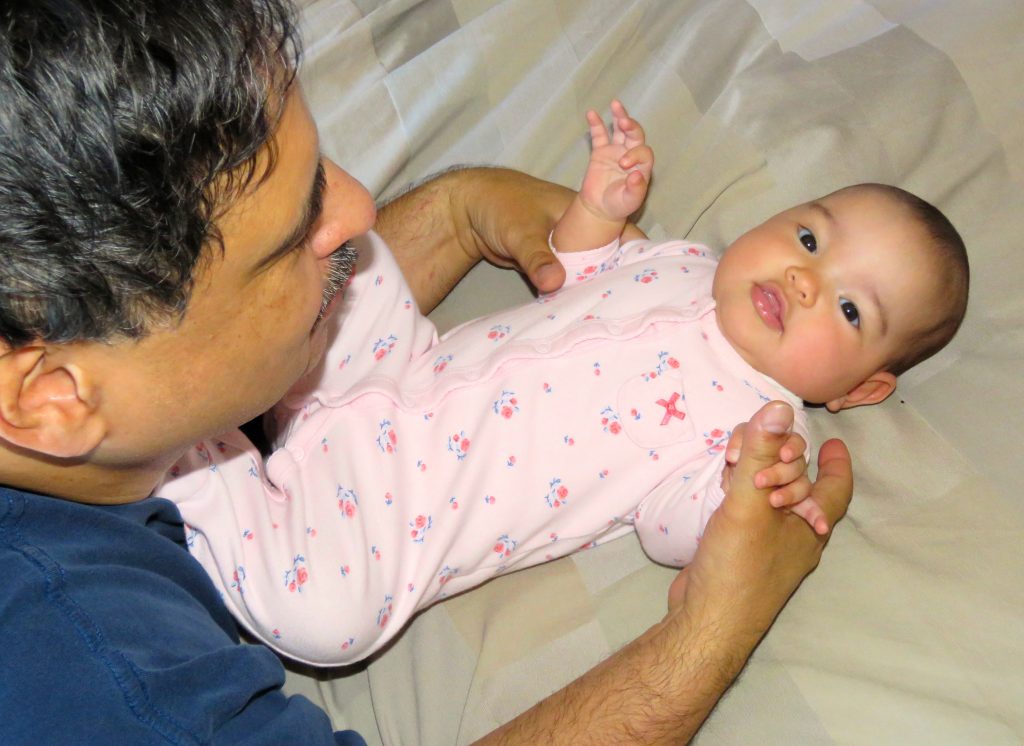 I like seeing her in her tiny pijamas with footies. Babies look so cute in these pijamas!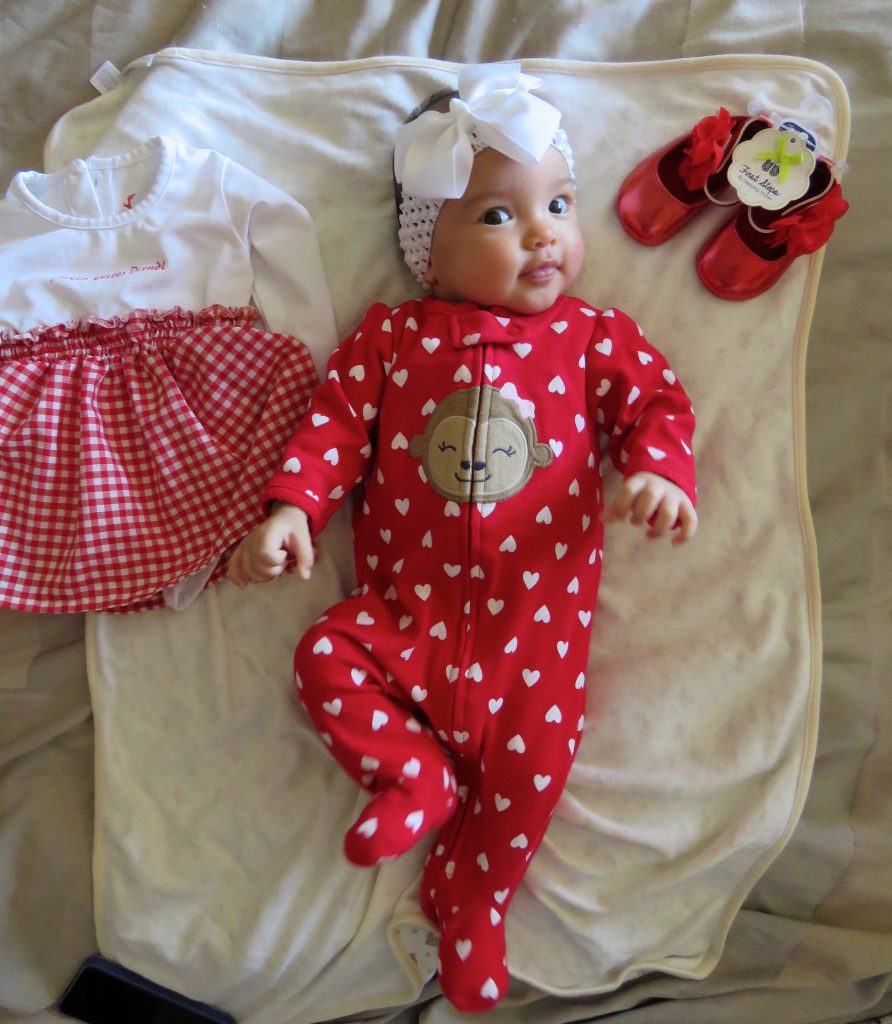 I put her outfits together everyday, it's fun! She's my little doll and I like to dress her up everyday. When we are at home and don't have an outing, I dress her more casually and do not put a bow on her head, so she is more comfortable and can roll around and play. In this picture, I was choosing a bow for her outfit. We went out to dinner with family that evening.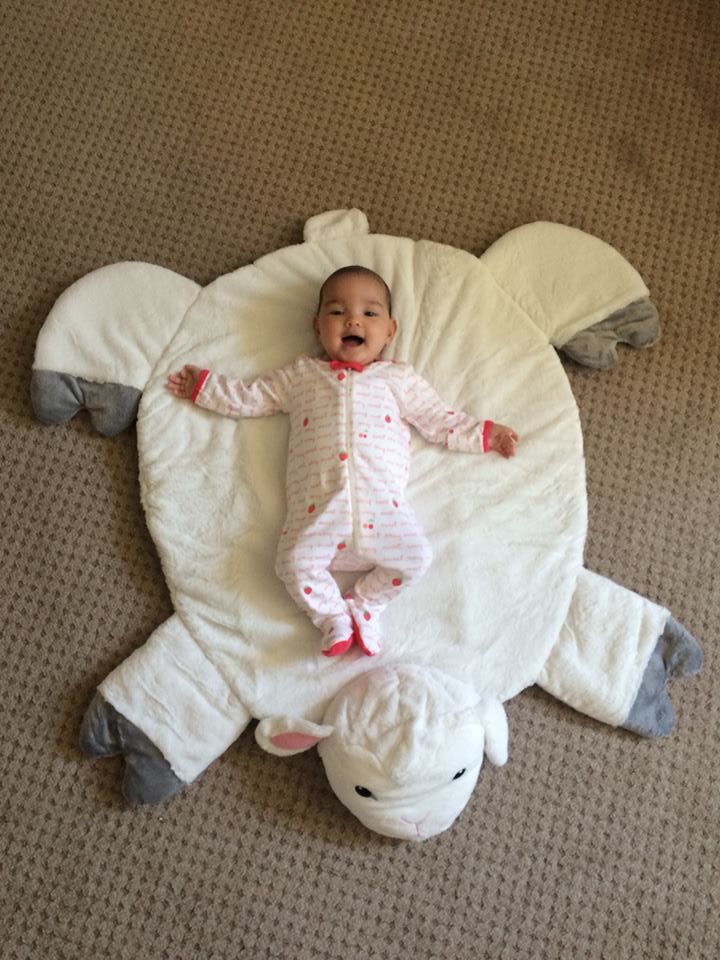 Our happy baby…laying on the play mat in her nursery!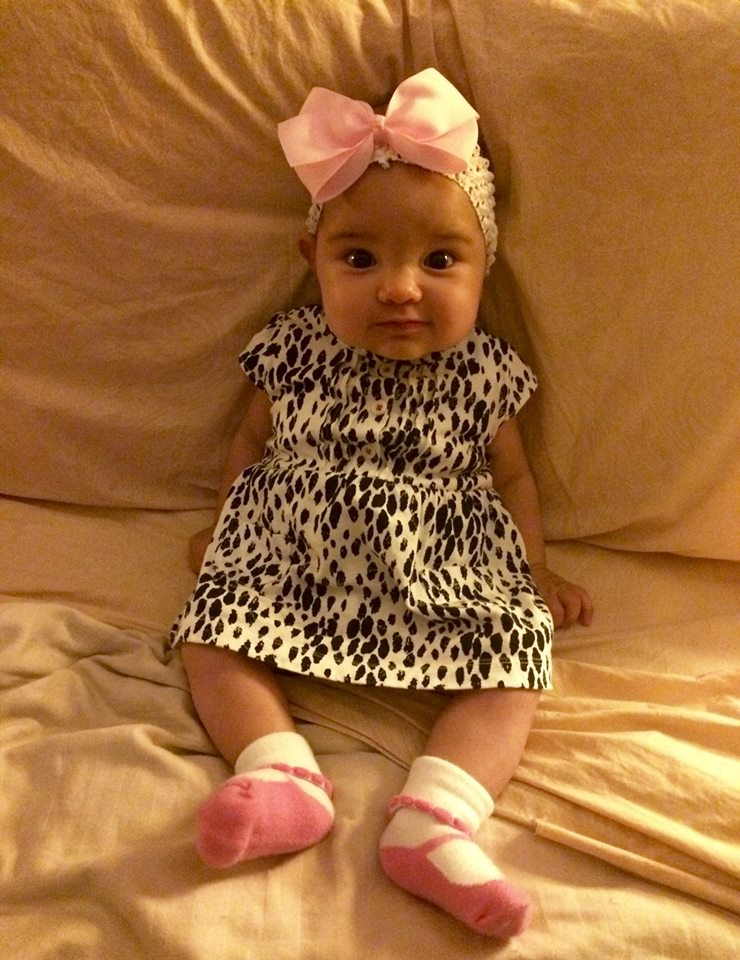 This outfit is so cute! And, look at those cheeks!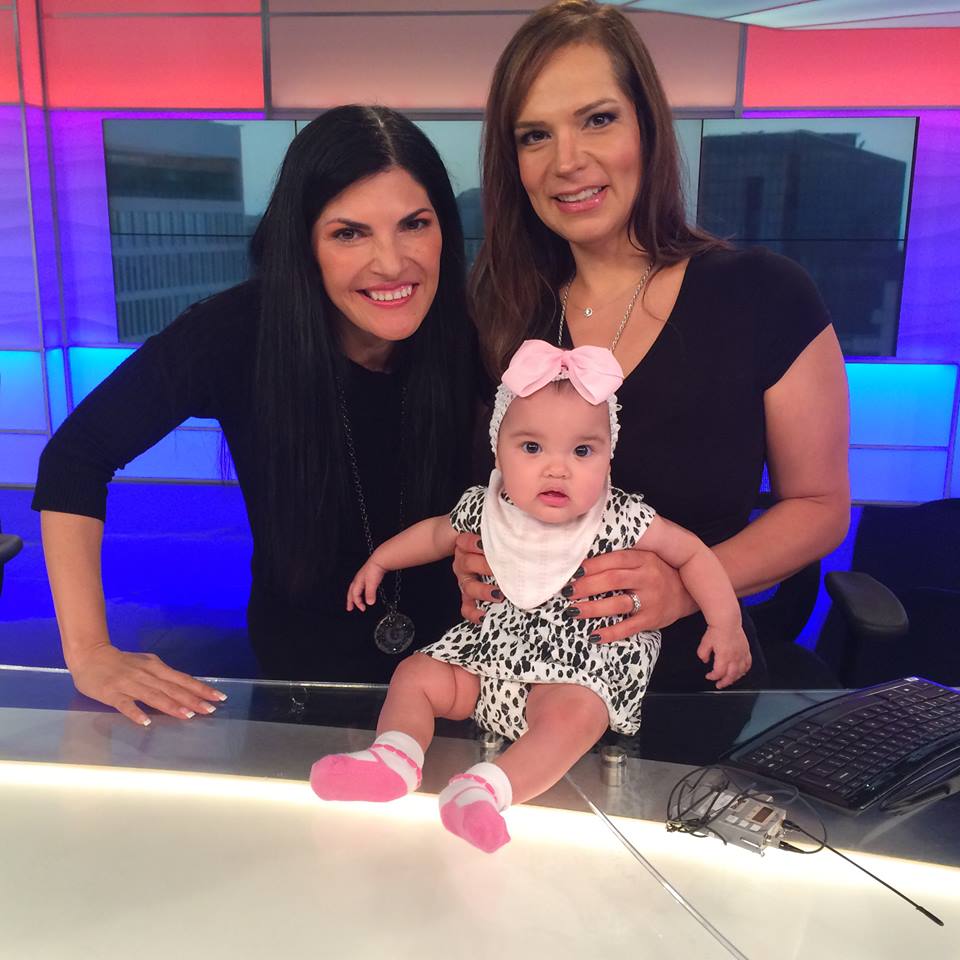 Alessandra joined me for an in-studio interview with Claudia Llausas, at Azteca San Diego.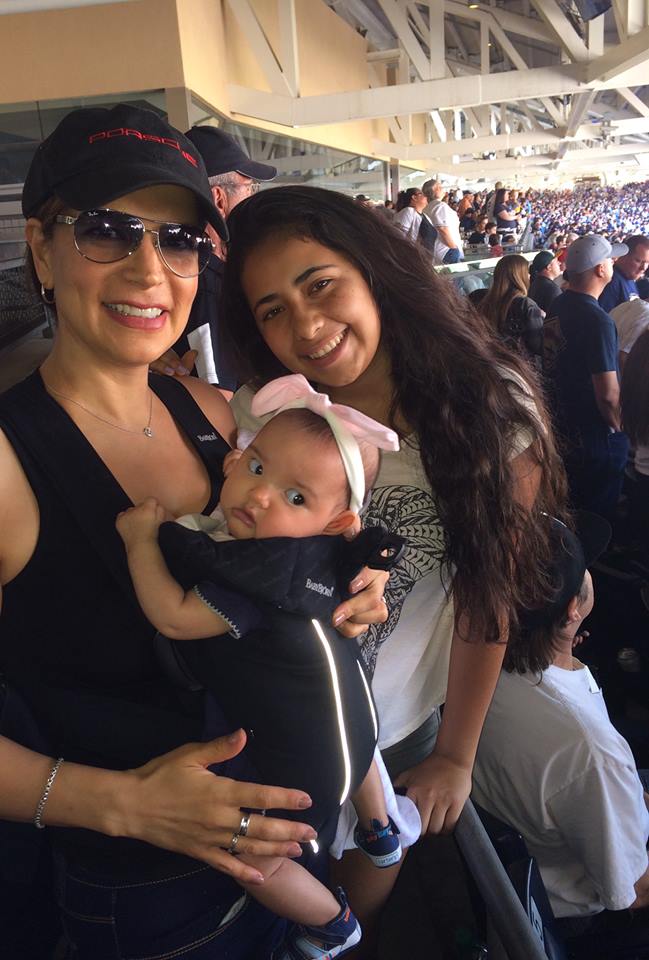 At a Padres baseball game at Petco Park, with  my niece.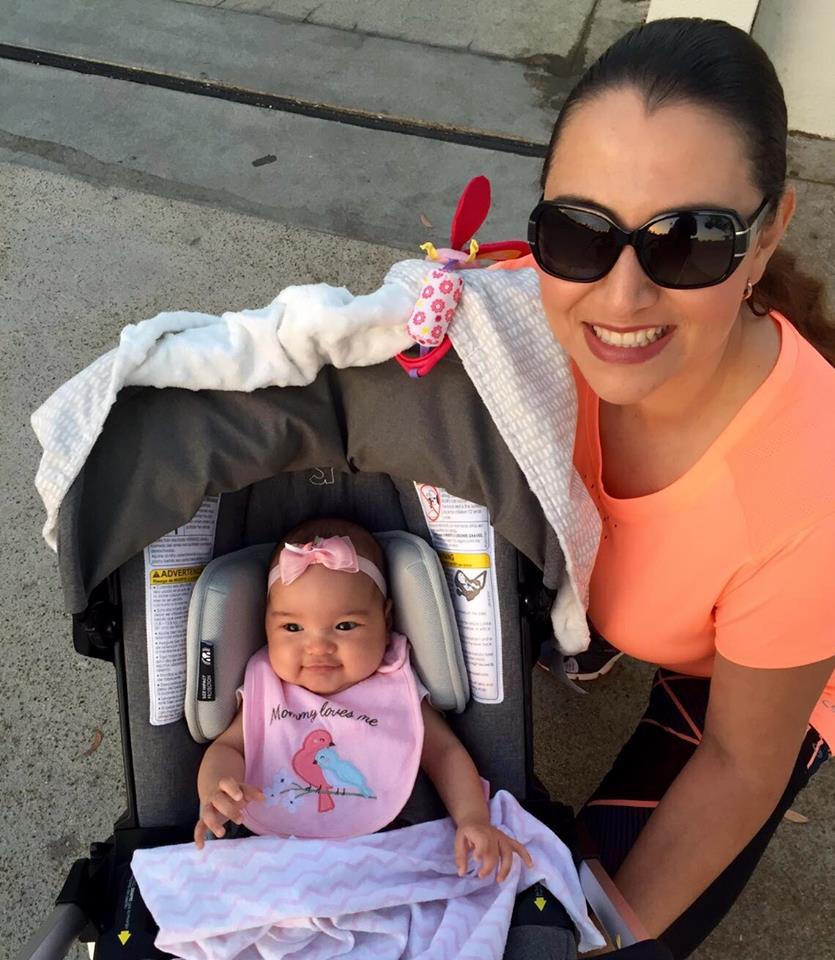 On a walk in Balboa Park with Lizeth.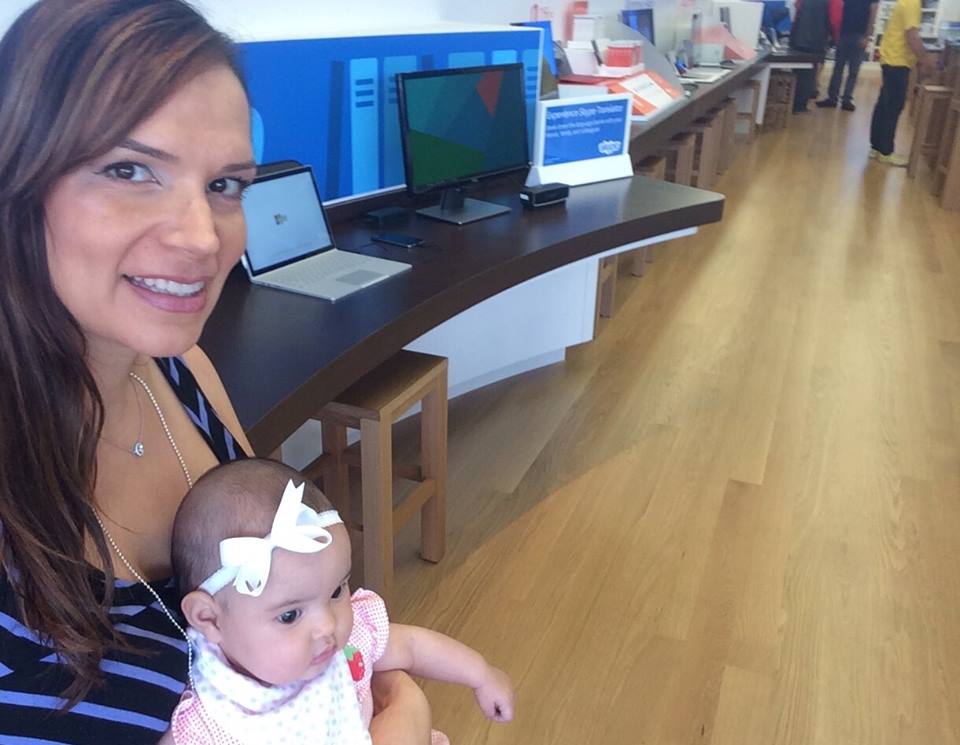 Wearing her red and white romper (mentioned in post)…out shopping with daddy.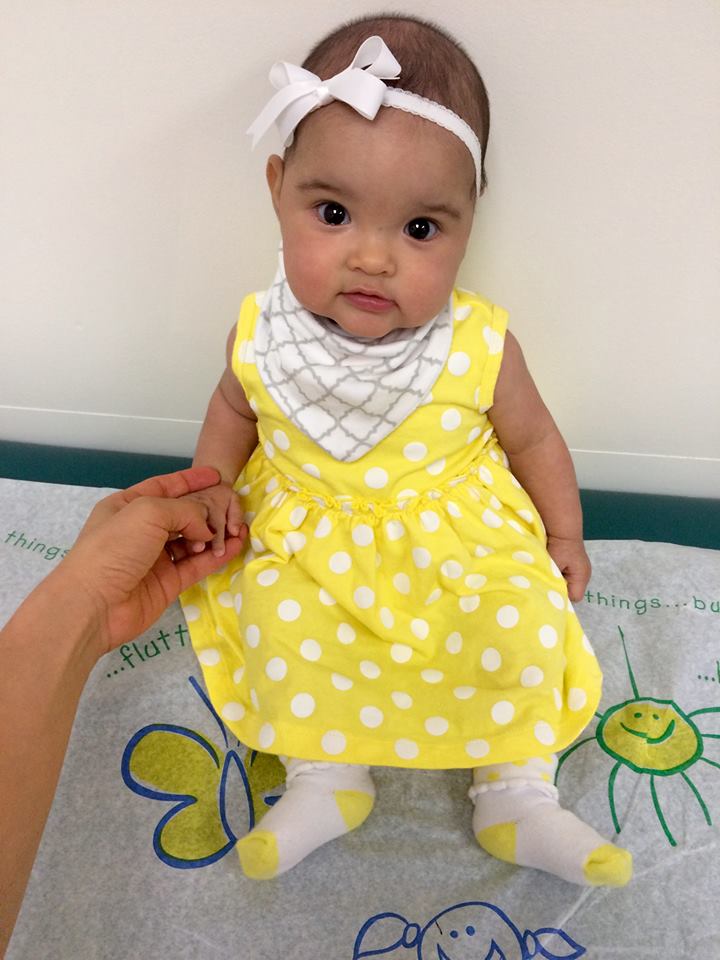 Her four month doctor check-up with Dr. Reed at Sharp Grossmont.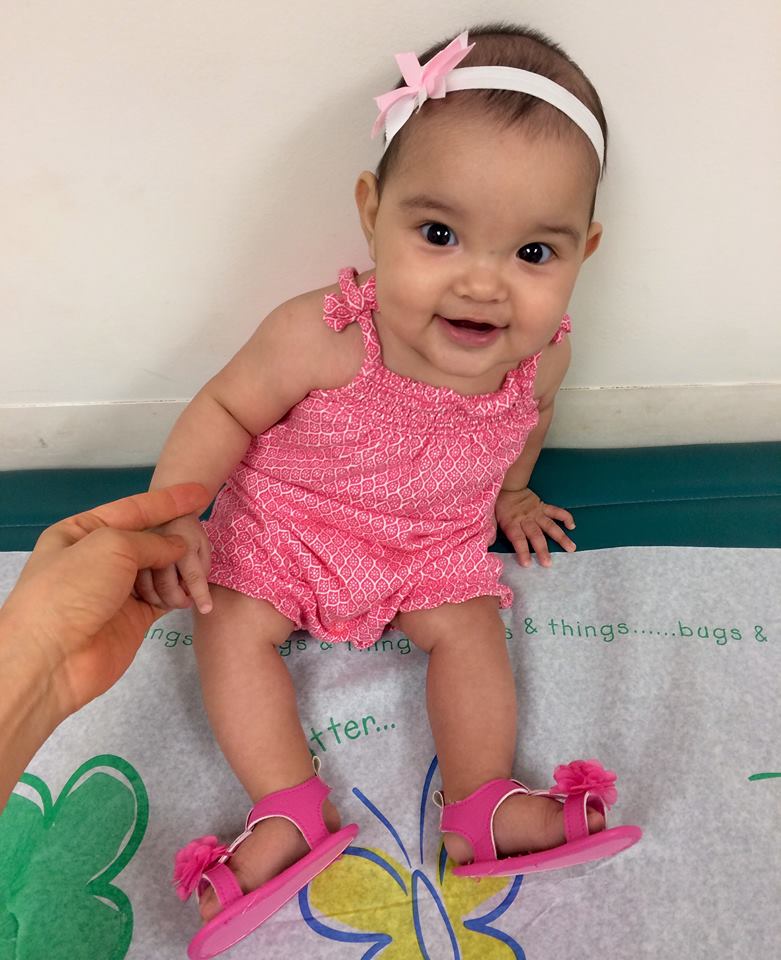 Right before leaving for Germany, I thought she had an ear infection because she kept grabbing her right ear and was being fussy, so I took her to the doctor. Luckily, she did not have an ear infection. She was probably fussy and touching her ear due to her teething, or she was simply exploring her ear (apparently a new discovery at this age).