As a young Latina, during my last year of college, I had the opportunity to apply for an internship with the Hispanic Association of Colleges and Universities (HACU). I was fortunate to be selected for a paid summer internship at the U.S. Department of Commerce in Washington, D.C. This was an amazing and eye-opening experience for me. I will write about it and how it changed my outlook on my career in a future post. One of the many positive things which came out of that internship was my introduction to Mana, A National Latina Organization. I also learned that they had a Mana chapter in San Diego. When I returned to San Diego after my internship, I enthusiastically looked up Mana de San Diego, called their office and began to participate in their events. I was an Hermanitas mentor for one year, which was a wonderful and satisfying experience. Over the years, I have continued to support Mana de San Diego as a member, sponsor, and volunteer on the Latina Success Conference Steering Committee. I have participated in several of their programs and attended their events. They are a wonderful organization which advocates on behalf of Latinas, empowers them, and helps them succeed.
This year's Latina Success Conference was a special one because it is Mana de San Diego's 30th Anniversary! As a volunteer Ambassador for Sharp Healthcare, I was honored to be invited to attend this year's Conference as their guest. I was also happy to volunteer on the Conference's public relations committee. During the Conference, I moderated two sessions. They were both educational and very informative.
The first workshop I moderated was titled, Lo Que No Sabes del Cancer y Como Prevenirlo (What You Don't Know About Cancer and How to Prevent It), presented in Spanish by Dr. Marilyn Norton, Physician at Sharp Healthcare. I learned valuable health information about cancer, particularly the types of cancer which affect women, how to prevent it, treatment options, and free community support groups hosted by Sharp. It was amazing how much information Dr. Norton was able to share with attendees in one hour! Cancer can be a complex subject, yet she presented the workshop in a way which made it relatable and easy to understand. I left feeling better informed about cancer and was to prevent it.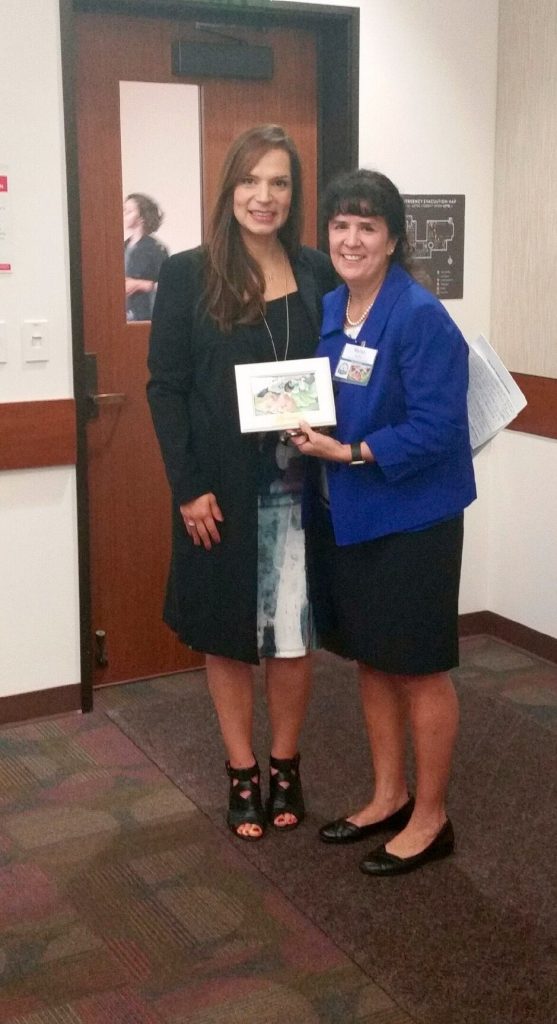 (with Dr. Marilyn Norton)
The second workshop I moderated was titled The Important Things You Need to Know About LinkedIn, presented by Linda Sierra, Executive Director, Toft Group Executive Search. Linda is an executive recruiter. She showed us the dos and don't of LinkedIn from a recruiter's perspective, as well as how to brand and market ourselves by understanding the sections and customizing our url. Linda's presentation included a hand's on demonstration of how to use LinkedIn. With the growing popularity of LinkedIn, this was a useful and contemporary topic to cover. Towards the end of the workshop, I included in my closing remarks that sessions such as the one presented to us by Linda are provided by consultants and search firms for hundreds of dollars. This was a unique opportunity to learn from an expert!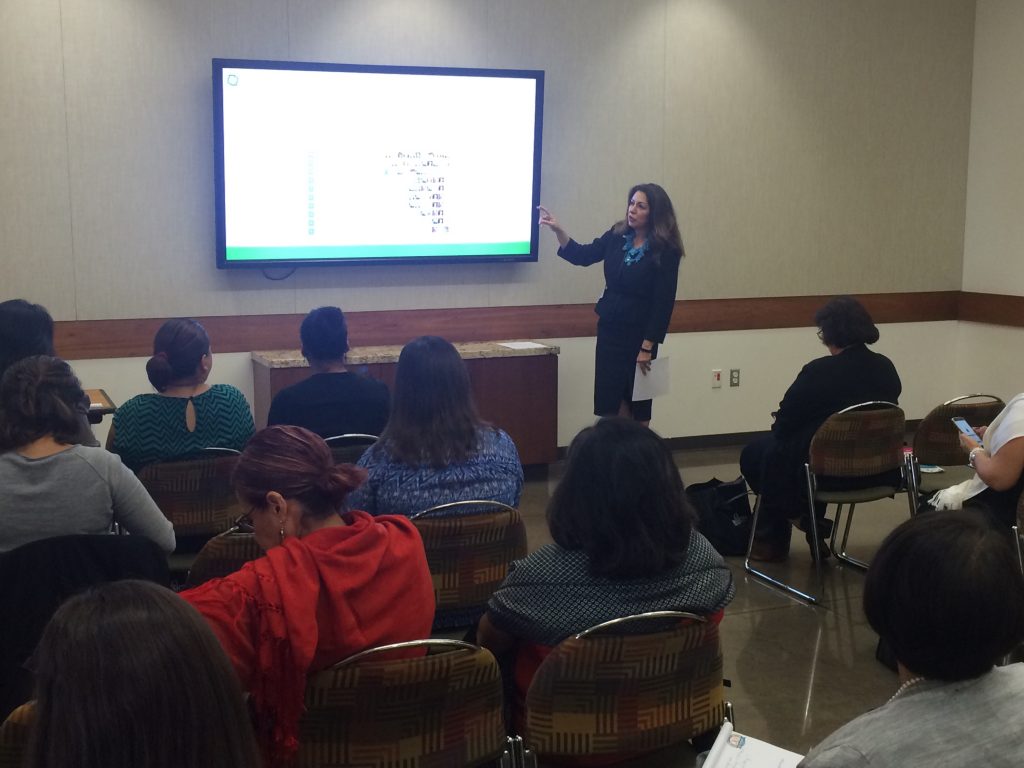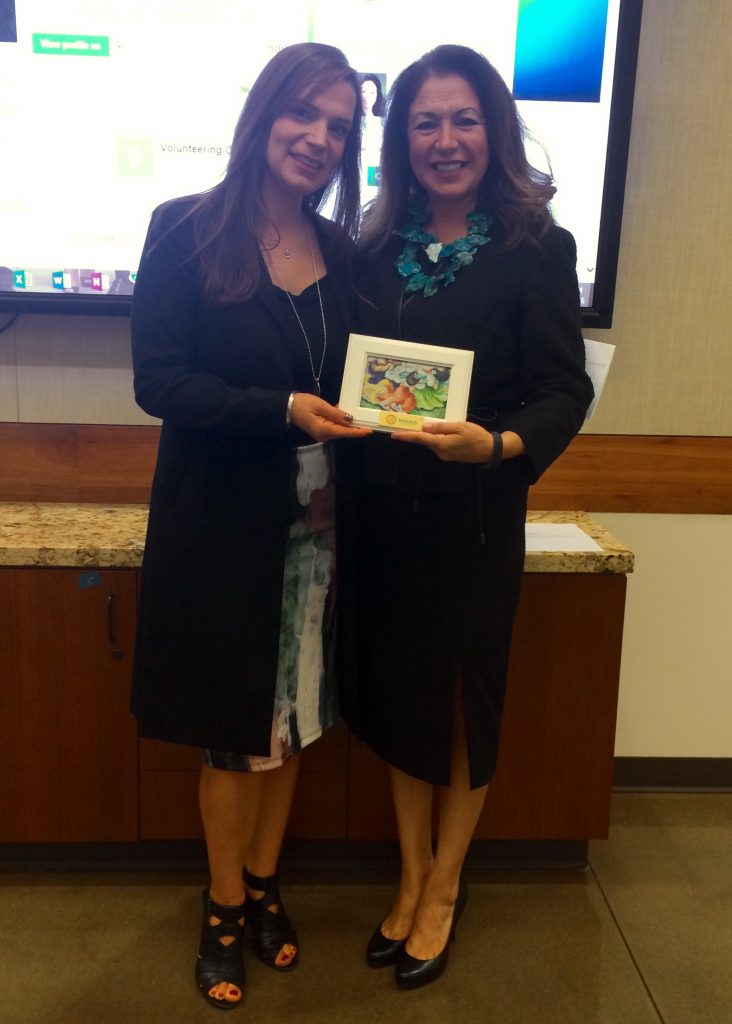 (with Linda Sierra)
At the end of both sessions, I thanked each speaker and presented them with an appreciation plaque from Mana de San Diego.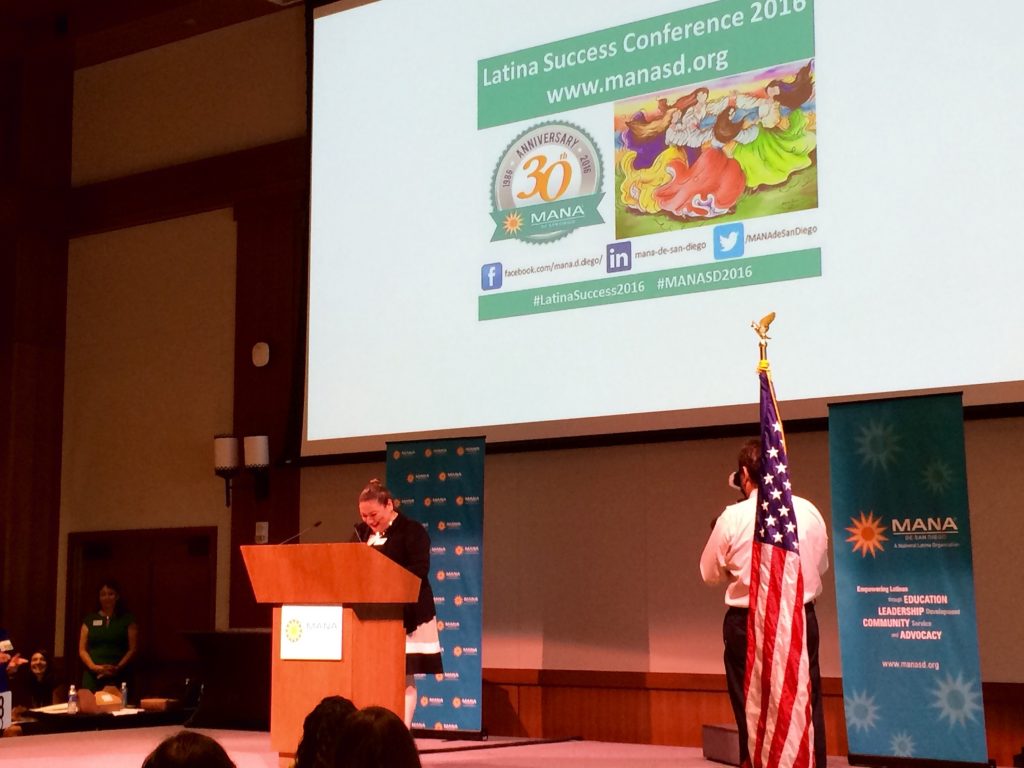 After the workshops, we headed to the Luncheon which included remarks by Mana de San Diego President, Catherine Arambula; Executive Director, Sofia Salgado; Keynote Speaker, Julissa Arce, Author, Immigrant Rights Advocate, and Former Wall Street Executive. In the morning there was a Continental Breakfast, with Azucena Maldonado, entrepreneur and founder of Latina Golfers Association as the Featured Speaker. The day ended with a Networking and Dessert Reception.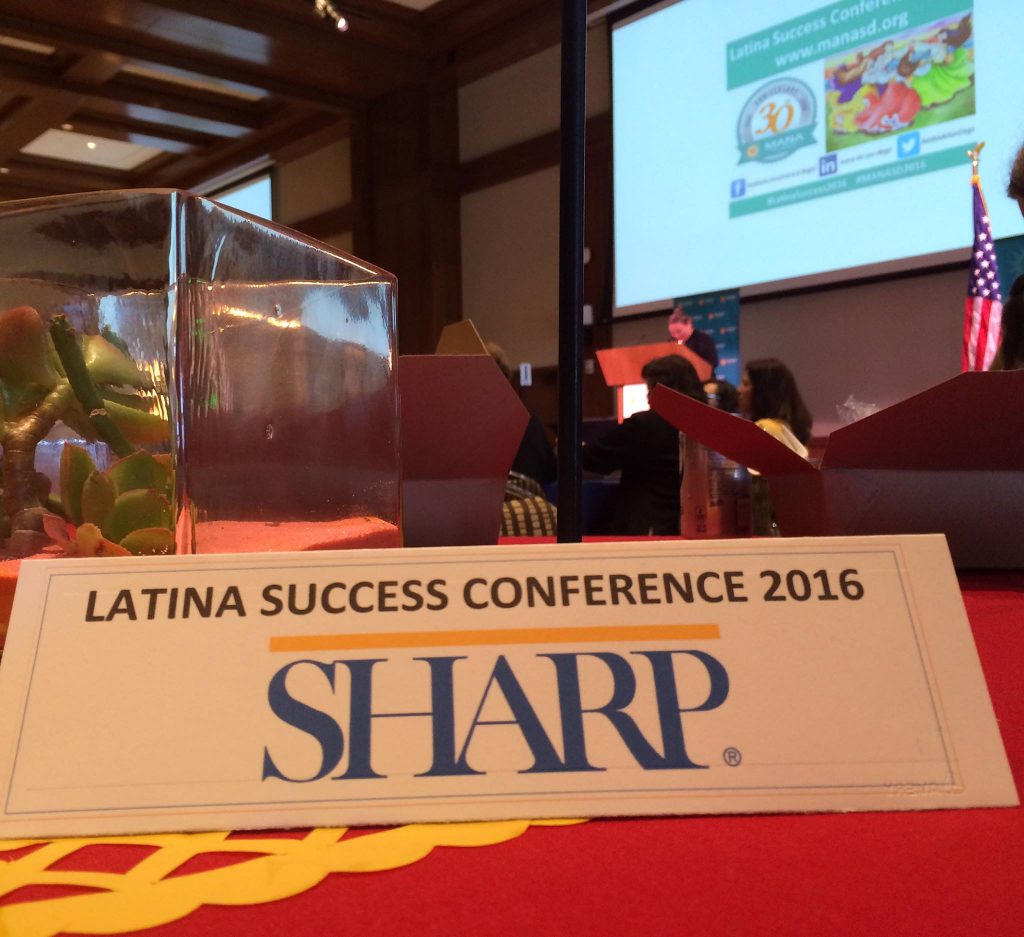 (Sharp has been a supporter and sponsor of Mana de San Diego for several years).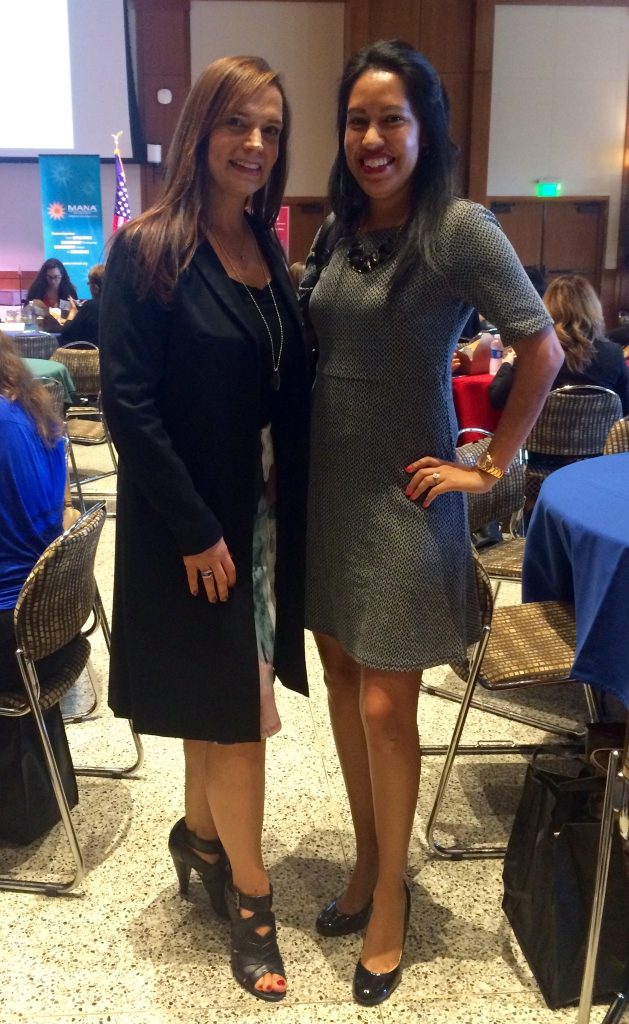 (with Jessica Ruiz, from Sharp)
(hundreds of attendees at the Luncheon)
In the past, I have written about conferences and events which I attend because they are fun.  Mana's Latina Success Conference is not only fun, it is also educational. I left feeling a level of satisfaction for the information and skills I had learned, in addition to the networking. I saw friends and had fun too!
My intention was to take pictures at the Conference with my camera. I charged it the night before and carried it around in my bag all day. As workshop moderator, it was challenging to multi-task and take pictures at the same time. I was able to capture a few pictures with my phone. I apologize for the quality, they did not come out as clear as they do with my camera. It was the best I could do with multiple things going on at the same time. You can see more pictures of Mana events here (the Conference pictures will be posted soon).
Mana de San Diego holds their Latina Success Conference every two years. They also have a Gala called Brindis every two years, a Health Fair, and on-going membership workshops, events, and mixers. I encourage you to become a member (only $50) and get involved. It is nice to be part of a group of Latina HerMANAs (sisters) and advocacy group. The best part, is that not only have I learned and grown from my participation with Mana, I have also met some wonderful women (and men) and formed friendships which have lasted for many years. Participating with Mana is also a good way to meet Latina mentors or become a mentor yourself. For more information regarding Mana de San Diego, visit ManaSD.org or call 619-297-0115. For more information regarding Mana, A National Latina Organization or find out of there is a chapter in your area, visit Hermana.org.
I look forward to seeing you at a Mana de San Diego event in the future!

Hugs,
Paola
PS – See pictures from the previous Latina Success Conference on my Facebook page.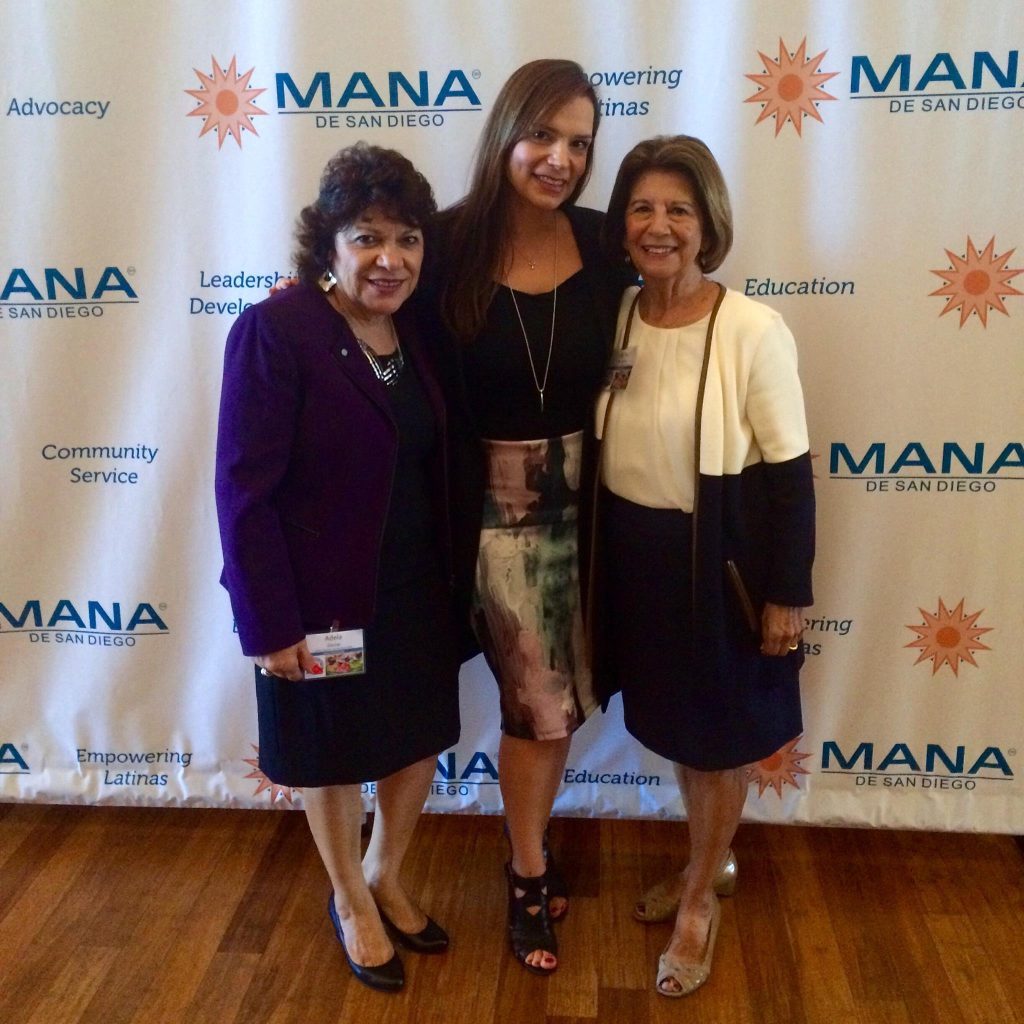 (With Adela Garcia, Co-Chair, Latina Success Conference, and Norma Hernandez, Board Trustee, Southwestern Community College District) 
(With Barbara Medina, we were colleagues at Azteca San Diego 15 and ABC10 / 10News)