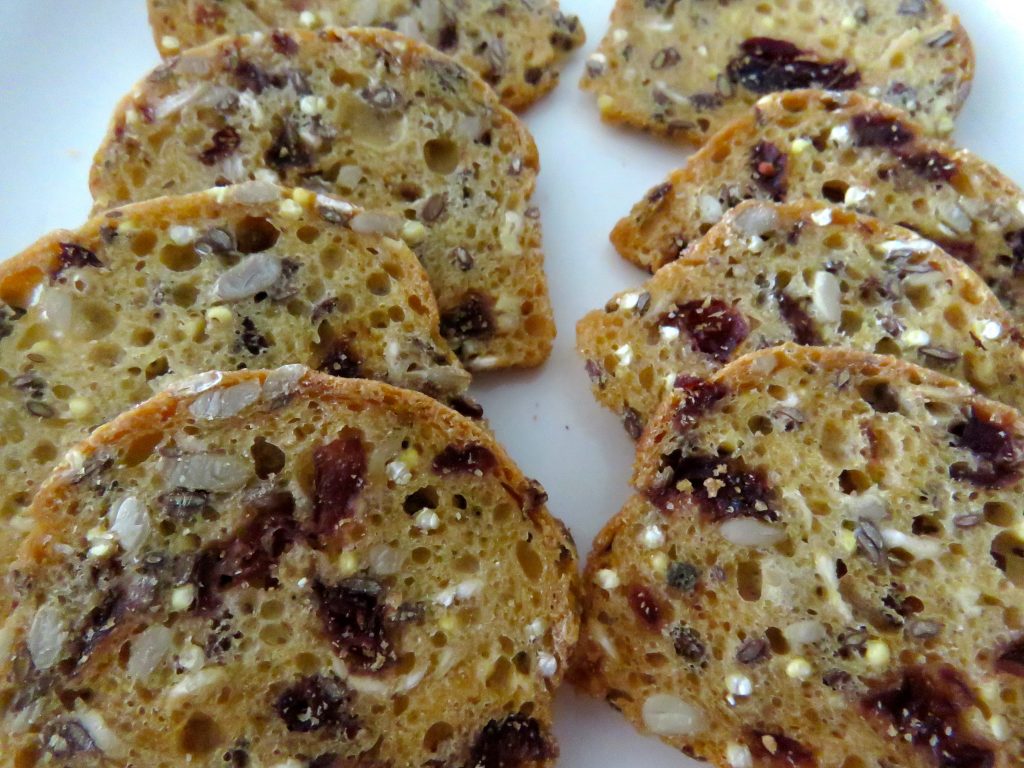 Eating healthy is something I try to do daily. Not only because I am breastfeeding, but because I care about consuming nutritious food. I still eat desserts occasionally and a little chocolate pretty often. I have two or three small meals everyday and snacks in between. I am a big snacker! Due to this habit, I am constantly looking for healthy snacks (apart from fruits and vegetables). In my quest to eat healthier, I am constantly looking at the nutrition labels on food I purchase. Losing weight and then maintaining it seems to be getting harder every year, as my metabolism gets slower. As a mom of an infant, I am spending more time at home than usual and that means my mind often wanders towards the desire for a snack. It also means I am more sedentary than before and I am burning fewer calories. So, I have been even more careful about the snacks I eat.
I don't buy cookies for myself to keep at the house, because I know I will eat them, and quickly. I only buy cookies for my hubby and these are cookies I don't like, so I won't be tempted to eat them. The grocery store I shop at the most frequently is Target. I am there almost once a week. It is convenient for me because I can find lots of the food and the household items we need, plus the baby's basics. Recently, I noticed Target is starting to carry more organic and healthy options. Under the Simply Balanced brand. The brand also seems to be less expensive than other "healthy and organic" brand names. As I was about to grab a box of the whole grain crackers I eat regularly, the Simply Balanced Cranberry Oat Multigrain Crips caught my eye. I purchased a box. I opened it the next day and was pleasantly surprised! They are crispy and tasty! They remind me of bagel chips, sort of a combination of a toasted cracker and a sliced biscotti. The next time I went to Target I bought two boxes. The next time I bought four boxes. These crispy crackers quickly became my favorite snack. They are a little sweet and make a good snack anytime of the day. They are also easy to take with me in a Ziploc bag on those days when I know I will be out for several hours or for road trips. I also like enjoying a few with a cup of hot tea or decaf coffee. They get me over my craving for something sweet and crunchy!
Even though they aren't organic, they are made with basic and natural ingredients. I know what each ingredient is. They contain unenriched unbleached wheat flour, sugar, dried cranberries, sunflower seeds, flax seeds, millet, oats, sea salt, baking soda, and buttermilk (partly skimmed milk, salt, bacterial culture). Each serving (about 8 crisps) is 70 calories, 10 calories from fat, 75mg of sodium, 13g total carbs, 1g dietary fiber, 6g sugar, and 2g protein. There are about 5 servings per box. I usually eat about one to two servings at a time (between 70 – 140 calories for a bowl full of crisps). A box costs $3.99. My rationale is that these are a much healthier option than eating cookies! And, I don't feel guilty after eating them! These crisps have become my latest snack obsession! On a recent visit to the San Diego Zoo, I gave a taste of the crisps to my sister, brother, and sister-in-law. They all liked them! Even though I haven't tried them with dips or toppings these are probably very tasty with cream cheese or cheese spreads.
I share this with you, because if you are looking for a healthy snack for yourself or your family this may be a good option. It may sometimes feel risky to try a new snack or a "healthy" option in fear that we will not like it and waste our money. Trust me, I've been there! Some healthy, organic, or gluten-free snacks which I have purchased end up tasting like cardboard. Plus, these only cost $3.99, so the risk is minimal. These Cranberry Oat Multigrain Crisps pleasantly surprised me and my palate!  They are yummy! Hope you like them too!
Do you have any healthy snacks you'd like to share with us? Are you a big fan of snacking, like I am?

Hugs,
Paola
*This post is not sponsored, I simply like to share good purchases and items I like with you.