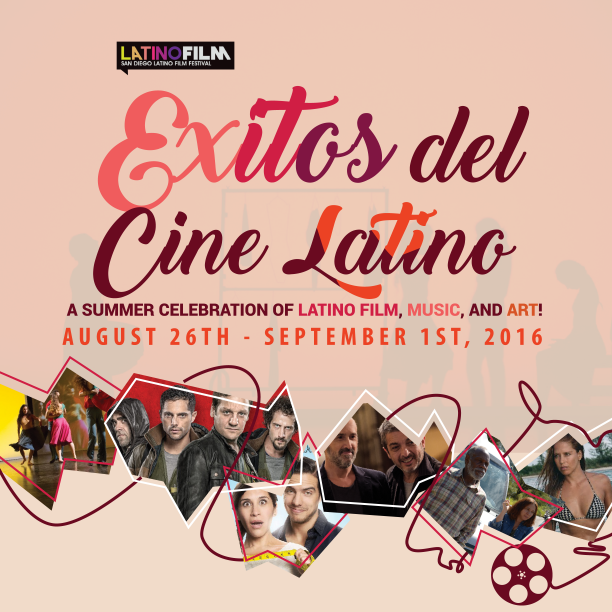 The San Diego Latino Film Festival presents the third annual Exitos Del Cine Latino, a summer celebration of Latino film, music, and celebrities. I am honored to be participating as the host and ambassador for the film festival! It will be held at Westfield Plaza Bonita's AMC cinemas from Friday, August 26 to Thursday, September 1, 2016.
This year's selection includes the premiere of fifteen must see Latino features, among them the Spanish-­Argentine thriller Cien Años de Perdón, starring Rodrigo de la Serna, Raúl Arévalo, and Luis Tosar; the award­winning dramedy Truman, featuring Ricardo Darín and Javier Camara; Diego Luna's emotional Mr. Pig, starring Danny Glover and Maya Rudolph; and, El Tamaño Si Importa, starring Vhadir Derbez, Ximena Ayala, and Eugenio Derbez!
The Opening Night Fiesta, which I will co-host with Luis Cruz (from the San Diego Union-Tribune), will be held on Friday, August 26 from 5:30pm-­7:30pm, on the second level of Westfield Plaza Bonita, outside of AMC cinemas. The event will include live music, special guests, drinks, food, and more!
All movies and activities will take place at Westfield Plaza Bonita. Individual movie tickets range from $8.50 – ­$11.50. Special film festival passes include: $45 Five ­Movie Ticket Pack, $80 Film Pass, and $135 All ­Access Pass. For more information and to purchase tickets visit: Exitos Del Cine Latino.
Throughout the week-long festival, there will be free live music and performances on the Sonido Latino stage on the second floor of Westfield Plaza Bonita! See the full entertainment schedule here.
All proceeds from the Exitos Del Cine Latino film festival benefit the Media Arts Center San Diego's, a non-profit organization, year­-round education and outreach programs and services.
I look forward to seeing you at the festival! Don't miss this opportunity to enjoy this film festival in the South Bay and see Latino movies, special guests, enjoy the music, and have fun!
See you at the movies!

Hugs,
Paola
Below is an Exitos Del Cine Latino video I shot for coverage on the San Diego Union-Tribune's website, you can read the article by Luis Cruz here.