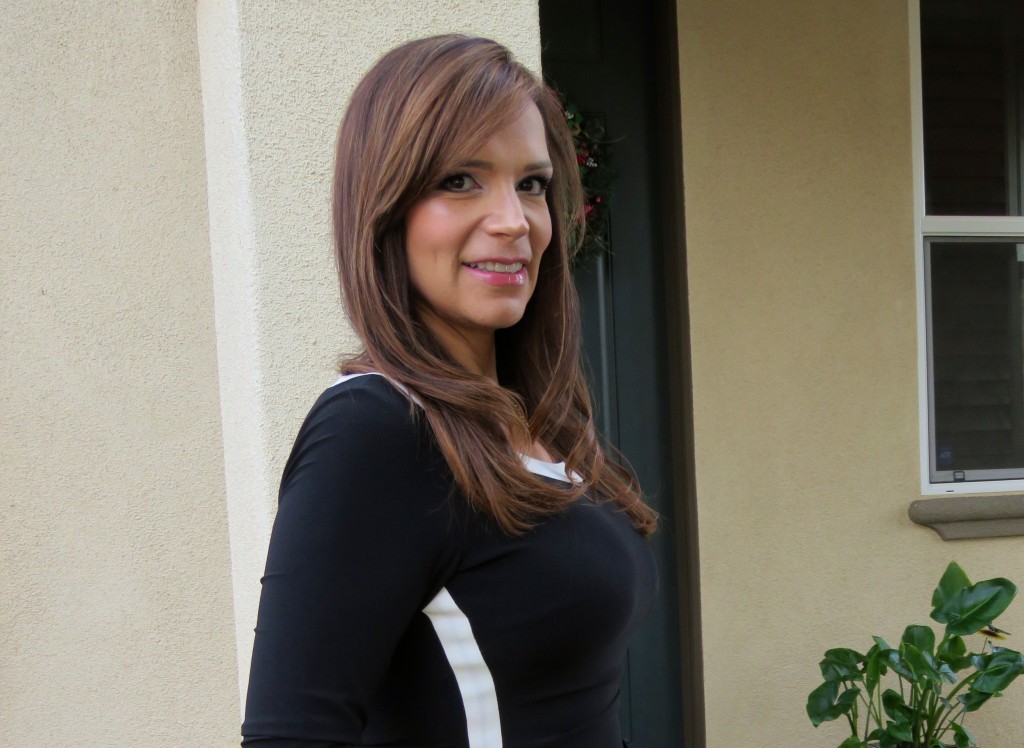 This is my first pregnancy and luckily, I have been able to continue to wear some of my dresses (regular dresses). Due to the multiple events I attend every month and the community events I emcee, I need to have a selection of dresses in my closet. I am now 26 weeks pregnant, which is in the last weeks of the sixth month. My baby bump has started to grow substantially in the last three weeks. I was aware this would happen, but it is still amazes me to see how my belly is expanding as our baby grows. In addition to the growth of the baby bump, my breast and hip sizes (and thighs) have also increased. This is normal in pregnancy. Not all of my dresses fit me, so this month I purchased some new dresses for the holidays and the remaining months of my pregnancy (hopefully). I am a power shopper, I don't go shopping often because I have limited free time, but when I do, I buy several items at one time! I am also a purpose shopper, I usually shop with a certain item in mind. Plus, I like to try clothing on before I purchase it, to make sure it fits properly and is flattering to my body type. I tried on about thirty dresses before selecting about eight to purchase.
In determining my pregnancy style, I decided I would try to purchase clothing in styles I would regularly wear even if I wasn't pregnant. With the holidays coming up, my baby showers, and some events which I will emcee, I need a few new dresses. Instead of buying maternity dresses, which will likely not fit me after my pregnancy, I decided to buy dresses one or two sizes larger. It worked! I am also saving money this way because some maternity dresses are expensive. I am aware I will not go back to my regular weight immediately after having the baby, so the dresses I am buying now (in larger sizes), will be useful during the months after I have the baby, until I return to my regular size.
I purchased this black Ralph Lauren dress because it is a style I would wear even if I wasn't pregnant. The material has some stretch to it, so hopefully I can wear it for the remainder of my pregnancy, as my baby bump continues to grow. The style is a sheath dress, with a ruched side at the waist (cinched on one side), which gives it additional room to stretch and is flattering for almost all body types. I liked the white side & collar stripes, they add a touch of color block to the dress. I am so pleased with this dress, I may have it altered to make it my size after I lose the pregnancy weight (I purchased it a size larger than my regular size).
This dress will come in handy for a holiday party, to emcee an event, or even wear to a meeting with a business jacket. Black is easy to mix and match, so it will be versatile. I can style it with the traditional red for the holidays (or any color), gold or silver accessories, even pearls, and boots or heels. On colder days, I can put on tights and for a dressier occasion some sheer black pantyhose. On this occasion, I styled it with gold accessories, blue suede booties, and my Tory Burch black clutch purse.
What do you think of the dress? What was your pregnancy style? Do you have pregnancy tips to share with me?

Hugs,
Paola
PS – Another option for the holidays, the Little BLUE dress. And, the Little BLACK dress which is ideal for any occasion!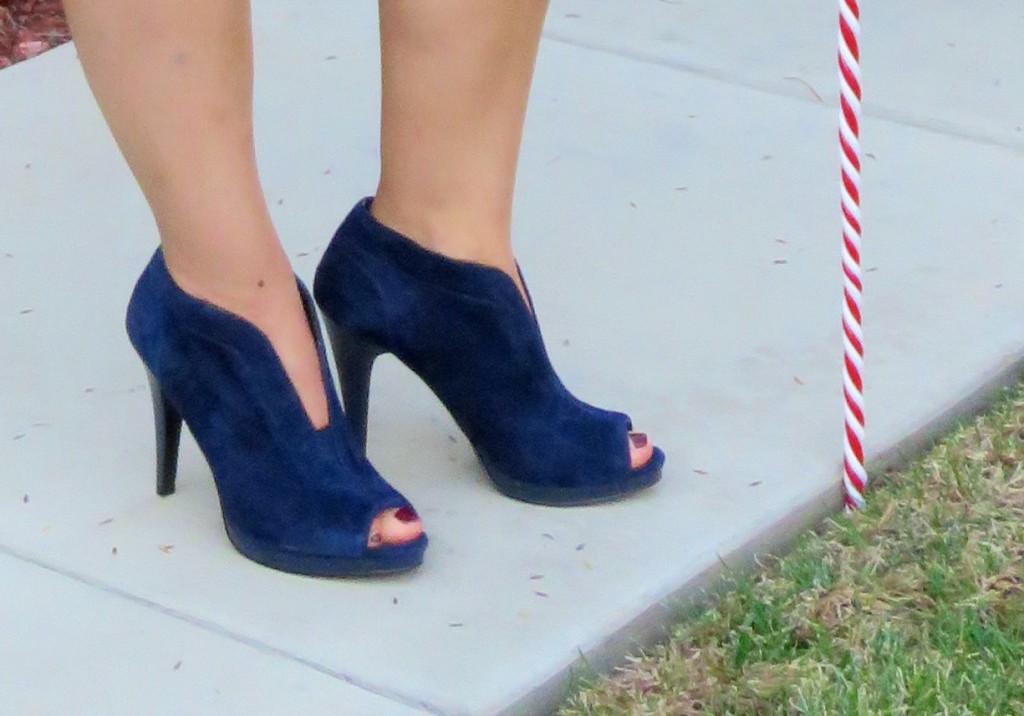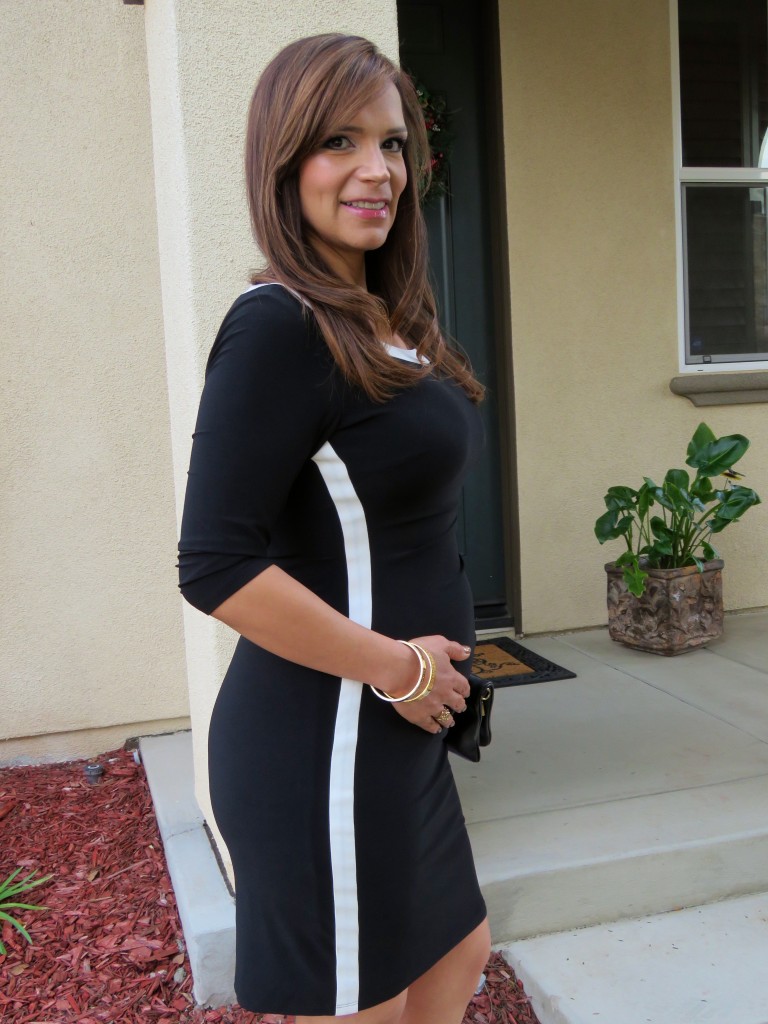 You can see my baby bump in this picture! Our baby is growing and I wear my bump proudly!
Dress: Ralph Lauren (also a similar style here); Shoes: Nine West (similar here); Purse: Tory Burch; Bracelets: Coach; Necklace & Earrings: gold (had these for years/my own)