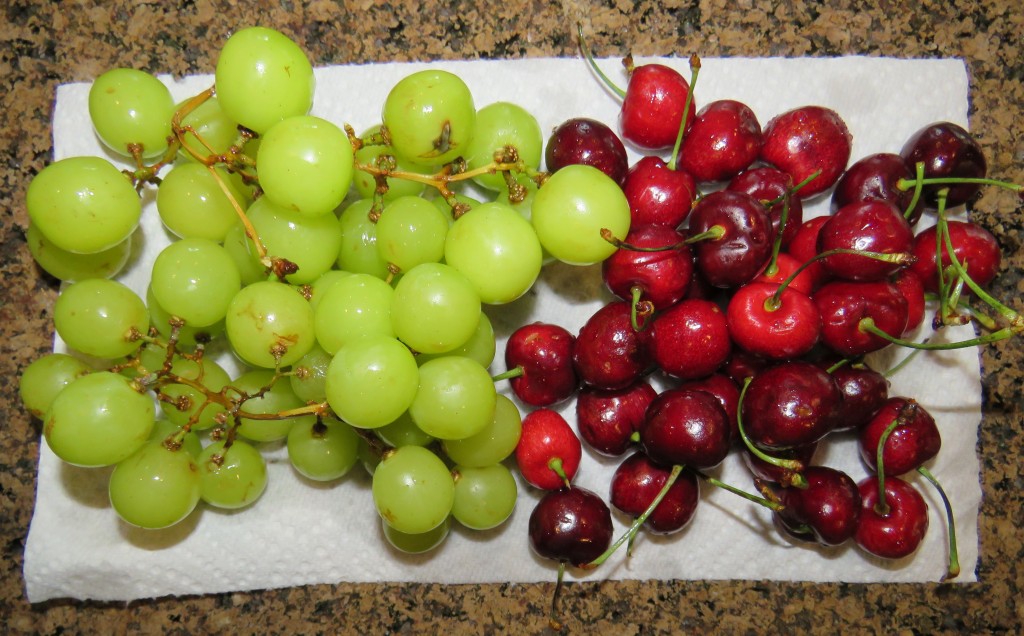 Two of my favorite fruits are grapes and cherries. Apart from being tasty and having lots of vitamins, they are convenient to eat because they don't require chopping or peeling. They are also easy to eat, not requiring utensils and can easily be taken on-the-go as a snack. During summer, I keep grapes and cherries handy for snacks. I freeze them and have a refreshing snack ready for hot days. They are also ideal for times when I watching television and want some munchies or as a snack between meals. I keep washed fruit in the fridge, this way it is ready to eat right out of the bag or to take with me if I leave in a rush. I dry it completely before placing it back in the refrigerator and keep the Ziplock bag open, so the fruit breathes and does not get mushy. The washed fruit should be eaten within a few days for optimal freshness. Since the grapes and cherries are not cut up in pieces, the pre-washed fruit will keep fresh longer than other fruit which needs to be chopped if kept pre-washed, ie: cantaloupe or apple. I freeze the fruit in freezer-safe bags or small plastic containers. For optimal results, it is best to dry the fruit completely before freezing it. Having frozen fruit or pre-washed fruit handy, helps me snack on healthy food instead of grabbing for a bag of chips or cookies. Hope this snack idea is helpful to you!
Do you freeze fruit? Which fruits? Do you keep fresh pre-washed fruit in the refrigerator?
Hugs,

Paola
PS – More posts regarding healthy snacks: health benefits of cherries and easy way to make delicious sorbet at home.