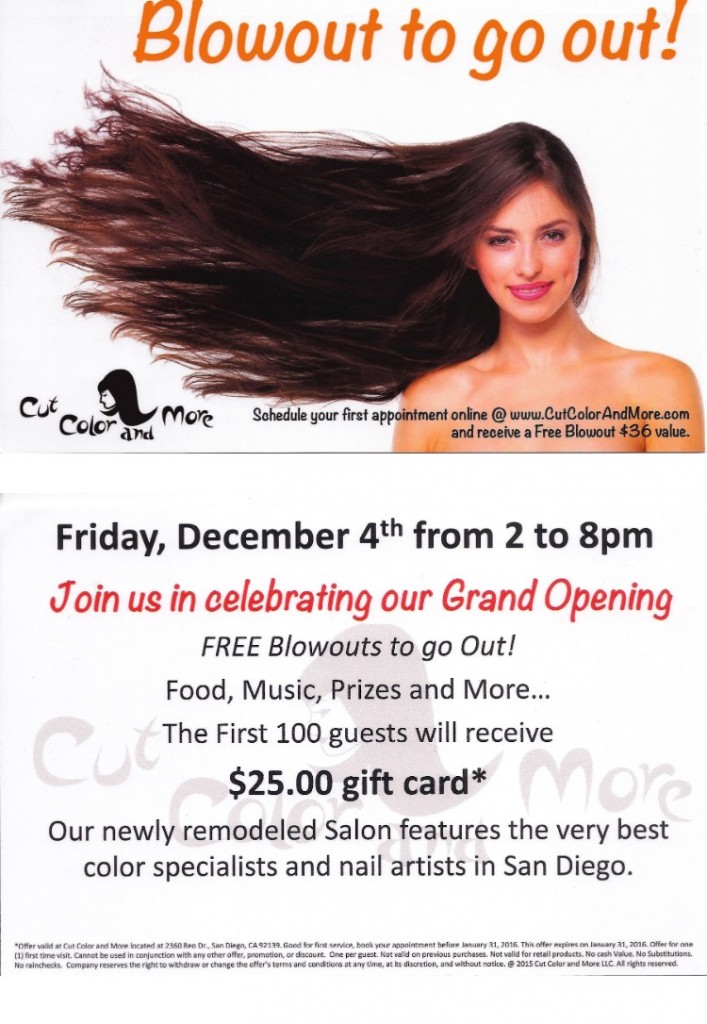 Every time I go to the beauty salon I know I will feel pampered! With our busy lives and schedules, it is a nice feeling to get some TLC, a break from the routine, and a little "me time"! It is also fun to get a blowout, a fresh look, new nail color, or even treat myself to a day of someone else doing my makeup and hair! So, when I was invited by my friend Edna to participate in the ribbon cutting for the Grand Opening of Cut Color and More salon, I was excited!
You are invited to join us this Friday, December 4, from 2:00pm – 8:00pm for the Grand Opening of Cut Color and More, located at 2360 Reo Drive, San Diego 92139 (East of Freeway 805 & North of Route 54)! There will be food, music, prizes, and the first 100 guests will receive a $25.00 gift card. Plus, if you schedule your first appointment online at CutColorAndMore.com (click here) you will receive a Free Blowout! I plan to be there at 3:00pm for the Ribbon Cutting Ceremony and will stay for the festivities, plus enjoy a little beauty pampering! I hope to see you there! Invite your friends and family, fun events like this are made even more fun when we enjoy them with friends! Come and get some beauty pampering!!
Will you be joining us this Friday?
Hugs,
Paola
ESPAÑOL:
¡Cada vez que voy a la estética, se que me voy a sentir apapachada! Con nuestras vidas ocupadas y agendas llenas de compromisos, es bonito sentirse atendida, tener un descanso de la rutina, un poco de "tiempo para nosotras mismas"! Tambien es divertido tener un nuevo look, color de unas diferente, y hasta que alguien nos maquille y peine para una ocasion especial! Asi que, cuando me invito mi amiga Edna a participar en el Corte de Liston de la Gran Apertura del salon de belleza Cut Color and More, me emocione!
¡Tu estas invitado a acompañarnos este viernes, 4 de diciembre, de 2:00pm – 8:00pm para la Gran Apertura de Cut Color and More, ubicado en 2360 Reo Drive, San Diego 92139 (al este del Freeway 805 y norte de Route 54)! ¡Habra comida, música, premios, y las primeras 100 personas recibiran una tarjeta de regalo de $25 gratis! Y si agendas tu orimer cita por medio de CutColorAndMore.com (oprime aqui) recibiras un "Blowout" (lavado y secado de cabello) gratuito! Yo planeo estar ahi a las 3:00pm para el Corte del Liston y me quedare para disfrutar de las festividades y un poco de apapacho de belleza. ¡Ojala nos acompañes! Invita a tu familia y amigas, eventos divertidos como este son aun mejores cuando los disfutamos con amigos! ¡Ven y deja que te apapachen con servicios de belleza! ¡Te esperamos!
¿Nos vas a acompañar este viernes?
Un abrazo,
Paola