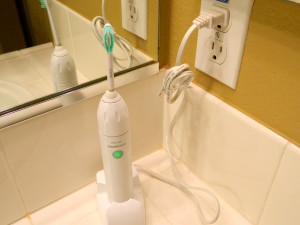 My teeth are important to me. Not just the appearance of my teeth, but the health of my mouth. I will need my teeth the rest of my life, so I try to take care of them. One of the products that I use to keep my teeth healthy is my Sonicare toothbrush. I have had a Sonicare toothbrush for about 15 years. I remember buying my first Sonicare for about $100 at Costco. Every few months I would change the brush head. That one lasted about 10 years, until I took it on a long trip to Europe and busted it by using the wrong converter for the charger. The charge lasts about 10 days, so the other times I had taken it on trips abroad I wouldn't take the charger because I didn't need it. If I was on a trip for more than ten days, I would use it as a manual toothbrush on the last days. After the trip where I busted the toothbrush charger, I did some research regarding prices and bought another one at Bed Bath & Beyond for about $90 (I used the store's 20% off coupon). Believe it or not, a few years later, while on my honeymoon in Europe, I busted it again with the converter. I remember hearing a small blasting sound in the hotel room after the brush had been plugged in for about an hour, the next day my toothbrush wasn't working. So, I bought another one, this time at Target, for about $75 or so (with mail-in-rebate offer). I preferred the first one I bought because it did a vibration motion which notified me when it was time to move to my other arch of teeth. The one I currently have does not have a vibration motion notification, but it does stop brushing after 2 minutes, which is the recommended time to brush your teeth. Needless to say, I have not taken my charger with me in the past trips we have made abroad. I plan to keep this toothbrush for a long time!
You may be asking yourself why I keep buying it over and over again. First of all the quality is excellent, I had the first one for about 10 years! It still worked perfectly. The handle had turned slightly off-white, but mechanically it was fine. I would probably still be using it if I hadn't charged it improperly in Europe. I like this toothbrush because in addition to seeing the difference in my teeth, I feel it in my mouth. My breath is fresher in the morning when I use this to toothbrush. To avoid traveling with the toothbrush's case, which is a bit bulky, I occasionally use a manual toothbrush on weekend trips. I can feel the difference on my teeth and in my breath when I wake up when I use a manual toothbrush.
According to usa.philips.com, the Sonicare toothbrush has three engineering innovations: Sonic technology drives bristle tip velocity, clinically proven results, and dynamic clean action for  clean feel. It delivers more strokes in two minutes, than a manual toothbrush can in one month. It also removes up to seven times more plaque, resulting in a cleaner and healthier smile. It has soft bristles, a powerful clean, gently massages the gums which stimulates blood circulation and helps dislodge plaque.
It is true – the bristles are soft and my mouth feels really clean after I use the toothbrush. I have had less plaque and a healthier smile!
I decided to write this post because the Sonicare toothbrush is one of my favorite products – and it is on sale tomorrow and Saturday at Macy's. When I saw the ad for the toothbrush, I started to think about who I could buy it for as a Christmas gift! It is that good of a deal. It is on sale December 20 & 21, before 1:00pm, for $39.99. That is the lowest price I have ever seen it at. It is regularly $199.99 and will be $79.99 after 1:00pm. So, if you want to buy a gift for yourself – get this toothbrush, your smile will appreciate it! Even though $40 may seem high for a toothbrush, if you buy four or six manual toothbrushes per year, you are already spending about $40 per year. If taken care of properly, a Sonicare toothbrush can last you for years, you only need to buy the brush heads and clean the base occasionally. I buy my replacement toothbrush heads at Target for about $25 for two. If you brush your teeth twice a day for two minutes each time, the brush head should be changed about every three months. The heads have a color indicator that let you know when it is time to change them.
If you miss the Macy's sale, you can also find it on sale at Bed Bath & Beyond, a set of two Sonicare toothbrushes is $129.99. So, you could give it as a gift to your spouse or another family member….and for yourself at the same time!
Do you have a favorite toothbrush? If you buy a Sonicare, let me know what you think.
Hugs….and happy brushing,
Paola

This is the sale Macy's is having on December 20 & 21, 2013, before 1:00pm.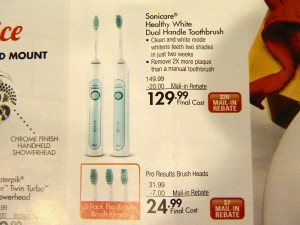 This is the 2013 holiday ad from Bed Bath & Beyond.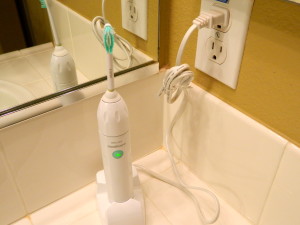 This is my toothbrush at home – I keep it plugged in next to my bathroom sink.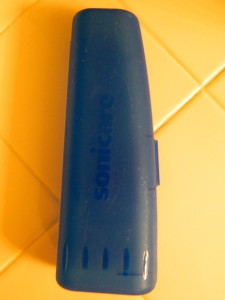 This is the toothbrush case. It was included with my first toothbrush and I have been able to continue using it with my other toothbrushes. The brush heads come with covers, so those could be used to protect the toothbrush when traveling (if you don't buy the case).