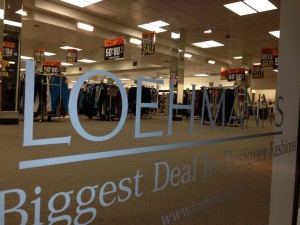 Hi friends – today Lola and I were at Westfield Mission Valley, and we when we walked by Loehmann's we noticed it had "Going Out of Business" signs. The entire store was on sale. I inquired and was told all the items in the store went on sale about a month ago. The last day the store will be open is this Sunday, February 9. Five days left, all items are on sale for 50% – 80% off the marked price. It took us about an hour of sorting through the racks and shoes, then try them on – and we found good sales! I found four items, two for me, two for gifts. I was tempted to buy two more Joe's jeans (at $50 each) and a  pair of Cole Haan shoes, but decided not to get them.
My biggest fid were these blue tuxedo Joe's skinny jeans for $50!  They were priced at $99, and retail for $185. I have other Joe jeans, so I knew this was a good deal!
Lola found four items as well – her bet purchase was a pair of stylish black leggings  (just last week, we had seen some very similar at BCBG for four times the price)!
There are all kinds of items, clothes, shoes, purses, hats, socks, scarves, accessories, even the store fixtures are for sale. There were plenty Joe jeans in multiple colors and sizes. I also tried on some cute skirts and dresses.
It may take you a while to look through the racks, but it will be worth your time, you can find great deals!
Happy shopping friends!
Hugs,
Paola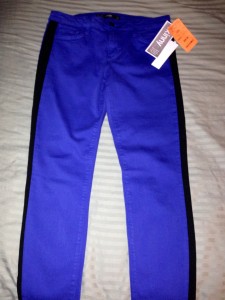 Front view of the jeans.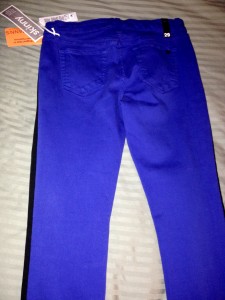 Back view of the jeans.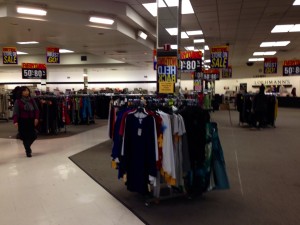 You may also like: