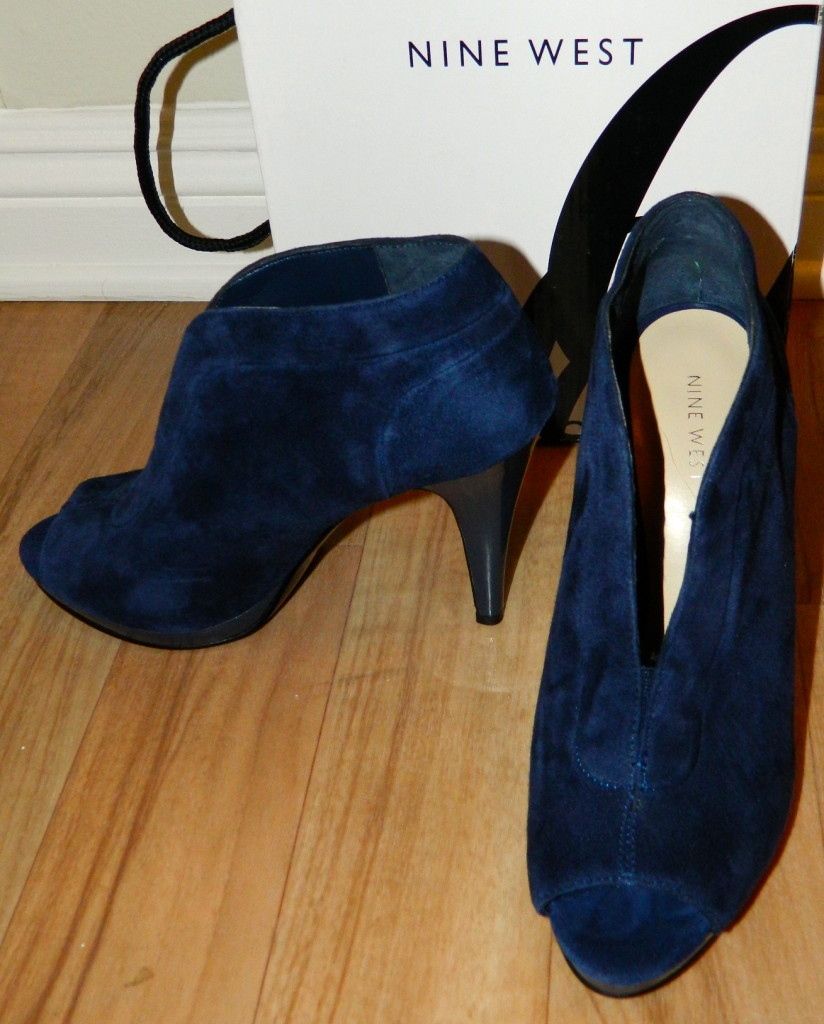 Hi friends, happy Saturday! Are you enjoying your weekend? I want to share this find of the week with you! I'll also share a new shoe term I learned – "shootie." It is is a combination between a women's heel & bootie, cute name. As you know, I am a fan of shoes, love, love, looooove them! So much, that an important part of the design of my closet was based around how many shoes I own. Well, I am kind of running out of space for shoes in my closet (even on the top shelves and even though I store boots in another closet during warm seasons), so I am becoming even more selective of the shoes I buy. First of all, I usually only buy leather or suede shoes because I find them to be more comfortable, better for my feet because they give in, and breathe better. I have some satin heels for black tie attire, and my tennis shoes and flip flops are not leather, but that is about it. Even my patent shoes and sandals are leather. Second, I no longer buy shoes (heels) I know I will not be able to wear for extended periods of time, meaning  wearable for at least a reception or party where I know I will need to walk or stand in them for a few hours. I call these types of shoes "dinner" or "studio" heels. Meaning, heels I will only wear to go to dinner, where I only need to walk to the car and the table at the restaurant, the rest of the time I will be sitting. Or "studio" heels, which I only wear from my desk to the studio for an interview, where I will stand for about 30 minutes maximum, sit during the interview portion, then walk back to my desk – where I change back into comfortable heels. I have actually walked away from gorgeous heels because I know I will just not wear them often enough….no matter the price (even great deals), if they are not comfortable, why buy them? I still buy beautiful heels, just not "unwearable" for me heels.  I own enough of these "dinner & studio" heels, in multiple styles and colors, and they do look beautiful on-air, ha! Plus, for me, at this point of my life, comfort is important – yes, style matters, but I try to combine style with comfort.
I have been purchasing Nine West shoes for years because their shoes tend to run wider than others – and these are more comfortable for me. Their quality is good and the prices are not over the top. This week, I stopped by the Carlsbad Premium Outlets and found these beautiful & sexy Pendanto Peep-Toe Platform Shooties in deep blue suede (labeled Pendanto Dark Monta Suede). The platform (a small one) and heel is patent. They are also available in suede in red, bright blue, and black, and in leather in black.
I had seen these at the store in December, but the size 9 available was too big for me. To my surprise, they still had them this week and I bought them in 8 1/2. They fit just snug enough to be comfortable & not slip out on the back, but will give in a bit, particularly since they are suede and it is a softer type of leather. I sometimes have a hard time finding booties and shooties that are comfortable because the upper rim may rub on my ankles. These shooties are open in the front, which allows the upper rim to also open up on the side by the ankle. These heels were of course on sale, for $29.99! Can't beat that price for suede shooties – and so stylish! There were still many left in all the colors, so if you like them, try them out!
Now….the fun this coming week will be to put together an outfit  to go with my new shooties!
Do you have any shooties? Or booties? Do you have any Nine West shoes? Any good finds this week, do share!
Hugs,
Paola
BTW, Lola and I were shopping at the Las America Premium Outlets about a week ago, and they also had these shooties on sale there! I checked the NineWest.com website and did not find these, so if you are interested in them, you may need to go to an outlet store near you. You could also call the store beforehand and inquire about your size and the color you are interested in, the style is Pendanto Shootie. Good luck & have fun wearing beautiful shoes this weekend….or none at all if you are relaxing at home!
You might also like

:

Changing It Up: Blue Nail Polish

Today's Look